Alert
We OPEN for Kamping! Our Office, General Store, Restrooms, Mini-Golf, & Paddle Boats are open with enhanced Covid-19 procedures. Our Playground is open and disinfected daily. You can fish in our lake - no license needed! Our Organized Activities are suspended until further notice. Happy Kamping!!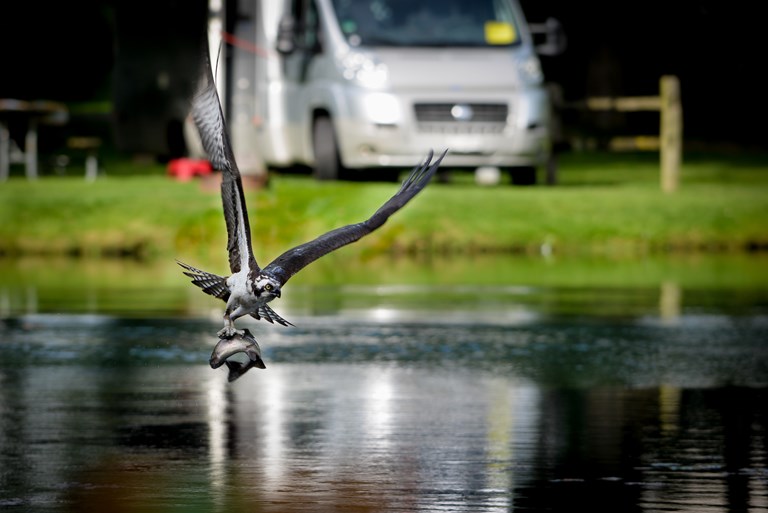 Lynden / Bellingham KOA Reviews
Spring into Summer!
Directions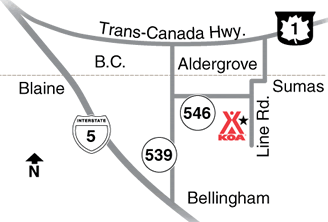 From I-5 N take Exit 256, Hwy 539, Guide Meridian. Travel 15 miles to Hwy 546, E Badger Rd, turn right. Travel 5 miles, turn right on Line Rd.
Get Google Directions
Mar 28, 2019
Amazing campground. Stunning location. Very friendly and helpful staff. One of the best KOAs in Washington...
Mar 25, 2019
Was quite disappointed that we were not told about the larger wash house being closed until May. The washrooms at the office were open, but were not cleaned during our stay. I wish we had been told that there were services not in use. I think that if you are closed during the winter, then once you open, all services should be offered. Other than that, we thoroughly enjoyed our stay.
Mar 21, 2019
Very friendly staff, clean restrooms!
Mar 21, 2019
Our family of three enjoyed our stay with our 20 foot travel trailer.Vicky our host was very accomendating.The sites are very clean and comfortable.Quiet time was around 2200hrs and it was a silent sleep.We are coming back for another stay. Washrooms were clean and we enjoyed walking in the grounds.Pull through site was level we stayed in #12 with a view of the pond/lagoon. Shane and Sarah C.
Mar 12, 2019
Still cold at this time of year but we enjoyed having most of the place to ourselves. Vicki at the office was very nice and helpful. We made some new friends that were camped next to us. Will come back.
Mar 11, 2019
We were here during the off season, so nothing was accessible, no front office or personnel to ask questions to, but all in all, very quiet, clean and met our needs for staying in the States while visiting Canada for a day.
Mar 10, 2019
We had a family emergency and they took care of us wonderfully thank you I appreciate it
Mar 09, 2019
Stayed 1 02-22-2019 night after picking up our new ESCAPE 21. Thank you for plowing the driveways and roads. We will be back!
Mar 07, 2019
It was my second night ever in my own RV. I was greeted by friendly people being very helpful and pleasant!
Jan 11, 2019
We stayed at off season in Nov. We liked the facility looks like its a nice place to be in the summer and would love to go back But disappointed at the lack of security or a staff member, seeing as we had some party animals camping behind us playing loud music etc until after 11pm. It was quite annoying as we small children, However it is not KOA fault it was the ignorant camper. We will be back
Jan 11, 2019
Stayed a few days while closed. Quiet, clean, only a few people there. Water faucet didn't freeze even tho temps got well below freezing.
Jan 09, 2019
It was our family's first stay at a KOA, and we loved it. Very clean campgrounds and lots of fun things to do with the kids :) We'll definitely stay again!
Jan 08, 2019
Beautiful property. We really enjoyed the pond and the ducks. It was off-season, so was quiet. There are tree branches hanging over the entrance that scratch your rig as you enter and leave. At night, it was extremely difficult to navigate to the right road in the campground in order to access our site from the correct direction.
Jan 08, 2019
When we arrived there was no one in authority there but we were able to find a spot easily. We had never been to the campground and had a little trouble finding it but we will certainly be back. It is quite lovely. Hal and Bernice Norrish
Nov 16, 2018
We camped in the off season and although many of the campground facilities were closed, it was very well maintained. The sites were clean and walking around the campground was very beautiful. I look forward to booking again in summer.
Nov 16, 2018
we just stayed one night as we are on our way south. We arrived late after the office was closed. found a site easily enough, most of the amenities are closed for the season that is understandable. It is a beautiful property, would love to come back in the summer!
Nov 10, 2018
Stayed here for two nights when I picked up a new ravel trailer in the area. This is a beautiful and peaceful park in the autumn.
Nov 07, 2018
Arrived at noon without reservation. Many open spaces. Later in the day, sites filled up. We have stayed at this location before. Sites are fairly level and gravel. Office was closed for the season however showers/toilets open for business. We will stay at this location again.
Nov 05, 2018
Clean all the way around even though this facility was semi closed for the season. Store was closed and had to check in using the box outside the building. Showers and laundry were great.
Nov 04, 2018
Your campground is Beautiful but your lack of sufficient power for all us 50 amp customers is terrible! It kept flipping our breakers off. So we had no power. We were going to a wedding that weekend and I couldn't blow dry my hair so we had to go to the church parking lot and turn our generator on so I could be ready in time for the wedding. But we were still late! We are very disappointed!! Th
Nov 01, 2018
Well maintained friendly staff
Nov 01, 2018
A nice quiet shoulder season weekend!
Oct 27, 2018
Arrived after office was closed...after hours check in paper did not have our name on the map so it makes it confusing which site we are assigned too. I get it you can choose, but when EVERY other KOA writes your name and site assignment on the map it's much easier for your guests to find the correct sites. It's also makes for a consistent seamless experience for your guests.
Oct 22, 2018
They need to improve the Wi-Fi.
Oct 18, 2018
Nice place except closeness of sites
Oct 14, 2018
Had a great time. Friendly staff. Nice playground close to sites.
Oct 14, 2018
Loved it!l Beautiful place to stay awhile
Oct 09, 2018
Nice clean bathrooms and showers. The garbage was overflowing though. More cans may be needed at the front or staff needs to clean them out more often? Anyways the park was very neat and tidy otherwise. Very happy with our stay. Love the Lynden KOA! Always fun to go there on Cdn Thanksgiving long weekend.
Oct 09, 2018
Always an awesome experience!
Oct 09, 2018
We had never stayed at a KOA before. And what a great first time we had! We are already talking about summer plans to return when the weather is warmer and other onsite activities are open.
Oct 09, 2018
We had two large groups on either side of us and the celebrating was loud and well past midnight. It would have been nice if staff had done an occasional circuit by. The office girls were wonderful, helpful and so friendly.
Oct 06, 2018
Nice and clean. Very friendly.
Oct 05, 2018
Had a nice time, the cabins were nice, didn't realize until we had moved in the first night that we weren't supposed to cook in the cabin, that's something that should be advertised broadly on your website AND when people call to inquire.
Oct 03, 2018
We enjoyed our spot on the pond - very relaxing Recommend if you stay book a lake spot (it says lake but it's more like a pond) Lots of geese when we were there which was neat
Oct 03, 2018
Very enjoyable
Oct 02, 2018
Overall stay, but here's some feedback... 1 Designated smoking areas please; choking back cigarette smoke for 5 days wasn't nice 2 Longer faucet & longer running water at outdoor dishwash station; 2-man job as tap was tricky to hold on while trying to fit dishes under 3 Fix huge pot hole before dishwash station please; very dangerous after dark 4 Most staff were good, but Hailey was rude & unh
Oct 02, 2018
Very nice and clean campsite. Even the wind and rain didn't dampen our stay!
Oct 02, 2018
Sites were very nice - ducks and geese were fun.
Jul 06, 2020
Clean, Very Friendly and great customer service 👌
- Kristal Gollihar on Google
Jun 11, 2020
Great place. Friendly stuff. Loved our stay.
- Natalia V on Google
May 19, 2020
Gorgeous campground! We stayed in site #91 on the lake and loved it. Daughter fished from our sight and caught a catfish. Ducks with their ducklings learning to swim. Geese protecting their eggs. Huge frogs along the shore. Owl at night. Very friendly staff. It's nestled in a neighborhood so I was hesitant on booking it but was very satisfied. The lake sites feel very outdoorsy. The grounds are kept very, very well. We will definitely be back.
- L G on Google

Lynden / Bellingham KOA
Open All Year
8717 Line Road
Lynden, WA 98264
Check-In/Check-Out Times
RV Sites, Tent Sites
Check-in: 1:00 pm, Check-out: 12:00 pm
Accommodations, Kabins
Check-in: 2:00 pm, Check-out: 12:00 pm
Get Google Directions

© 2020 Kampgrounds of America, Inc.