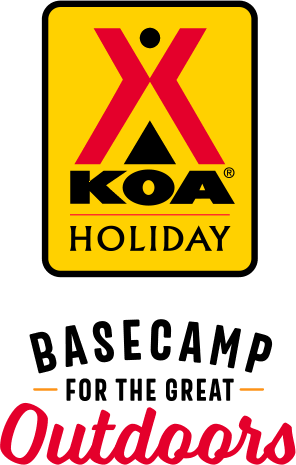 KOA Holiday Campgrounds
Whether you're exploring the local area or hanging out at the campground, KOA Holidays are an ideal place to relax and play. There's plenty to do, with amenities and services to make your stay memorable. Plus, you'll enjoy the outdoor experience with upgraded RV Sites with KOA Patio® and Deluxe Cabins with full baths for camping in comfort. Bring your family, bring your friends, or bring the whole group – there's plenty of ways to stay and explore.
KOA Holidays Feature:
RV Sites with a KOA Patio®
Deluxe Cabins with full baths
Premium Tent Sites
Group meeting facilities
Directions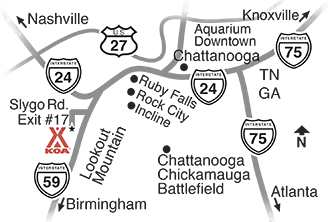 From downtown Chattanooga: Take I-24W into GA. Take ramp to I-59S towards Birmingham. Take exit 17 Slygo Rd. Continue West on Slygo Rd. Turn Left 1000 feet past the gas station. Follow KOA signs- our campground is 2.6 miles from the highway. Check in time is 2:00 pm EST and checkout time is 12:00 noon. An early arrival fee of $20.00 may be added if registration is before 2:00 pm Eastern Standard Time. Exit 11 on I-59 is not recommended due to higher traffic volumes. GPS: N34.918123, W85.489367
Get Google Directions
Jan 11, 2021
I had a fabulous stay with very friendly and helpful staff. They took pride in the upkeep and maintenance of their grounds and sites. Susan and Max were wonderful and truly took pride in making surer i was comfortable and all my needs were met. I was originally going to stay three days but was having such a great time ended up extending it to twelve days. I WOULD DEFINITELY RECOMMEND TO ALL!!
Jan 08, 2021
great campground! Excellent bath house!
Jan 08, 2021
Every one was very helpful and very clean park. Hope to get back one day
Jan 05, 2021
Very first time camping and it was a great experience. We had a pull in site and we got in and set up perfect. The campground was nice. The dog park was awesome. My only complaint was the bathrooms down by us were not open but it was ok because it was a Holiday weekend and I don't think they planned on being the busy. No big deal to walk to bathhouse which was very clean. Will be back
Jan 05, 2021
Very nice and quiet. We enjoyed our stay.
Jan 04, 2021
Great people! Great facilities!
Jan 04, 2021
Great stay. Clean bathhouse
Jan 04, 2021
Loved this KOA! One of the best we have stayed at. Wish we had more time then just the one night but will definitely be back. Bathrooms were nice, campsite was wonderful. Dog park was nice and loved the hiking trails. Only negative was a cat peed on our chairs that we put under our van to keep from getting rained on overnight but not a whole lot they can do about that!
Jan 04, 2021
The lady running it was polite and helped us to find the kool sites to see.
Jan 03, 2021
Checked in after hours and paperwork was waiting with a map to our spot. Very helpful as it was dark when we arrived
Jan 01, 2021
Had a good time
Dec 29, 2020
Staff was rude. Called me repeatedly to get payment while I was out trying to enjoy my day (NEVER HAS A KOA DONE THIS). Put us in a TINY little campsite that we hardly fit. Place was like a truck stop with all the noise. Very unhappy. Worst KOA I've ever stayed at. I will not be back.
Dec 29, 2020
We appreciated the cleanliness of the bathrooms and our cabin at this KOA. The staff was helpful, friendly, and organized. We also liked the location as it is near hiking on Lookout Mountain and Cloudland Canyon, and is not far from downtown Chattanooga. We definitely want to stay here again!
Dec 28, 2020
Great location. Beautiful area to stay in. The shower and bathroom facilities are some of the best i have seen. I will most certainly come back to this KOA.
Dec 28, 2020
We had a great time. The campground is spacious enough and while there were a lot of campers, it didn't feel crowded. The restrooms and showers were clean and always had hot water.
Dec 24, 2020
We loved the outdoor space, the amenities, and our lovely cabin! The jumping pillow is a total family favorite, and we enjoyed the hiking (wish there were more!). Such a treat to have a toilet and sink in our cabin!
Dec 24, 2020
Very clean and modern restrooms. Campground was located In very natural setting with excellent hiking trail and view of the mountains. Staff were friendly and helpful.
Dec 24, 2020
Very nice staff and facilities. The summer must be wonderful here. DC
Dec 23, 2020
This was are second time staying here and this time we did a cabin and it was very nice. All the workers are very friendly!! I would highly recommend.
Dec 23, 2020
Everything about this KOA is great. The staff is extremely helpful and friendly. The facilities were always spotless and very nice. We really enjoyed our visit and would definitely recommend it to others. It's a very welcoming place to stay!
Dec 23, 2020
Getting into our spot was really hard to do at night. The placement of the site relative to the trees made it difficult to back in. The bathroom and showers were outstanding. The individual shower/bathrooms were immaculate. The nature trail was not well marked but we were able to follow the tracks left by previous hikers.
Dec 18, 2020
Staff is very accommodating. We enjoyed the nature trails.
Dec 16, 2020
Very accommodating to my requests dying my stay
Dec 08, 2020
Very clean and friendly staff!!!
Dec 07, 2020
It was a pleasant stay! Cabin G was smaller than we had hoped. Cabin D was fine, but there NO HOT WATER. It's winter, we certainly need hot water for hand/face washing. Brrrr. Mak was great, so friendly. He replaced the batteries in fire alarm w/in 15 minutes of our request. Loved the fire pits, tables, swings. Good shower house.Needs better playground for the grandchildren to explore! Quiet/Cozy!
Dec 07, 2020
We visited in early December, the area is very nice and the staff was great. I think the summer would be a great time to visit when all the amenities are available (pool, kids play areas). The Kamp K9 for the dogs was awesome, needs a little work on the fence to be more secure. Overall very nice campground and very close to Chattanooga attractions.
Dec 07, 2020
Loved the little cabin. Also the showers and bathrooms were spotless. Loved my stay.
Dec 04, 2020
one of the best campground we've been. Clean facilities, Brian is awesome and very helpful. Love the mountain set-up.
Dec 02, 2020
Friendly people, nice views around.
Dec 02, 2020
Beautiful setting with nice heated private bathrooms and showers. Wonderful place to stay!
CAMPGROUND RESPONSE / COMMENTS:
Thank you for your wonderful comments! Glad you enjoyed our KOA.
Dec 01, 2020
It was awesome!!!
Dec 01, 2020
Staff was very friendly and very hospitable, bathrooms were some of the best & cleanest I've ever seen at a campground, and location is wonderful - easy drive to many attractions but still have the feel of a secluded mountain getaway. We had two sites for the week of Thanksgiving and had a wonderful time. We would definitely stay here again if we return to the area.
Dec 01, 2020
Great place to camp! The bathrooms are amazing. I would definitely recommend to anyone.
Dec 01, 2020
Very nice park and dedicated staff, would stay with them again if in the area.
Dec 01, 2020
We only had three days. We had a real good time. Looking forward to our next visit.
Dec 01, 2020
Awesome!!
CAMPGROUND RESPONSE / COMMENTS:
Thank you!
Nov 30, 2020
Very family friendly. Very clean bathrooms. We will be there again this summer!!! The staff was great also!! Loved everything about it!
Nov 30, 2020
We enjoyed spending our beautiful Thanksgiving weekend at the Lookout Mountain/Chattanooga West campground. Site 84 was a great location! The campground host was extremely friendly and informative! Very clean facilities and overall a great experience!
CAMPGROUND RESPONSE / COMMENTS:
So glad you had a great experience. Thank you for choosing our KOA for your family Thanksgiving celebration.
Nov 30, 2020
We arrived late and with Covid did not use many of the provided features. Loved the signs on the way in since it was off of the major roads. We appreciated the level site even though we were located on the side of the mountain. We did like how close we were to the Kamp K9 but the fence could use some work as there were gaps that could allow a dog to get out. Very scenic location.
CAMPGROUND RESPONSE / COMMENTS:
Thank you for your comments and suggestion. We have supplies on site and ready to repair the Kamp K9. Maybe you'll come see the improvements.
Jan 03, 2021
We only stayed for a night passing through in the winter. Looks like a nice campground and would be a nice place to stay for more nights in the summer.
- Jeffrey Cunningham on Google
Dec 31, 2020
Really beautiful and fun! Cabins are adorable!
- Dan Oreo on Google
Nov 29, 2020
Campground & campsites are well maintained, very helpful and friendly staff. Bath houses are beautifully done and clean. Great location. We will definitely be back!
- Sara Ranta on Google