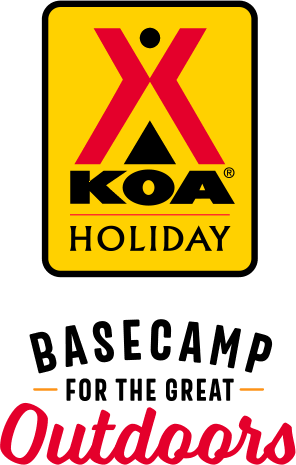 KOA Holiday Campgrounds
Whether you're exploring the local area or hanging out at the campground, KOA Holidays are an ideal place to relax and play. There's plenty to do, with amenities and services to make your stay memorable. Plus, you'll enjoy the outdoor experience with upgraded RV Sites with KOA Patio® and Deluxe Cabins with full baths for camping in comfort. Bring your family, bring your friends, or bring the whole group – there's plenty of ways to stay and explore.
KOA Holidays Feature:
RV Sites with a KOA Patio®
Deluxe Cabins with full baths
Premium Tent Sites
Group meeting facilities
Directions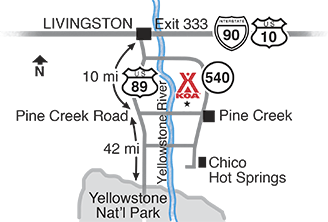 From I-90 Exit 333: Head south for 10 miles towards Yellowstone Park. Turn left on Pine Creek Rd. Drive slightly more than 1 mile, our KOA is on the left just across the bridge.
From Yellowstone Park: Take Hwy 89 north towards Livingston. Take a right Pine Creek Rd between mile marker 43 and 44. Drive just over one mile. 
The road getting to our KOA is at times a little rough. The state is planning to redo the road, but that project is a few years out. Please take your time and drive slowly. 
GPS: N45.51206. W110.57971
Get Google Directions
Aug 09, 2019
Friendly helpful staff. Camper ground was clean and lovely. We would come back if traveling in this area again.
Aug 09, 2019
Only issue we had was how the other guests felt free to wander through our site. Not an experience we were used to.
Aug 09, 2019
My mail that I sent from your campground never arrived!
Aug 09, 2019
We love the KOA Livingston. Best little hidden gem! So kid friendly, our dog was welcome, the hosts were so awesome! I hope we can stay once more before school starts!
Aug 09, 2019
What a awesome park. Sites were good , campground neat& very active. Bathrooms clean. Staff wonderful. Loved the breakfast served by Carl& Barbara! Had a great time!!
Aug 09, 2019
Very nice park, only wished we could of stayed longer.
Aug 08, 2019
Nice campsite. Friendly staff. Close to the Yellowstone River. Nearby hiking and kayaking available. Would definitely recommend.
Aug 07, 2019
Great folks and beautiful place
Aug 07, 2019
We were amazed at the entrance and friendliest people in our first stay. Wish we would have had more time. But will return. Our BBQ dinner was delicious.
Aug 06, 2019
Fantastic in every way!
Aug 06, 2019
great location. Loved the view from our site #1. Staff was very friendly and maintained the grounds superbly. Thanks yall!
Aug 06, 2019
Someone was in our requested site when we first got there so we had to wait over a hour to get into our site. Other then that we love the campground.
Aug 06, 2019
We found the store at the office quite useful, and we enjoyed the breakfasts cooked at the pavilion. The park is quiet and friendly.
Aug 06, 2019
The sites are tight - very close together. It is great other than that.
Aug 06, 2019
It was to short of time really to rate
Aug 06, 2019
Nice campground. Road into the park is rather rough and could use some repaving. Fishing access on the river and breakfast are pluses for the facility.
Aug 06, 2019
Just simply a lovely, welcome, relaxing experience. Staff is above and beyond, unpretentious, friendly, helpful, respectful, and courteous.
Aug 06, 2019
Staff was helpful and friendly. Kids loved the outdoor exercise equipment and the candy in the store. Dump station was not working, so that was disappointing.
Aug 05, 2019
Stayed July 31; site 58. Only here one night. The site itself was fine and restrooms at the office were good. Construction occurring by the office but it didn't really affect anything. One thing I did not like was the constant flow of people walking through my site since I had a site right on the river. Had I been there more than 1 day I would have advised management.
Aug 05, 2019
Awesome spot right on the lake with a beautiful sunset. Hosts were wonderful. Bring plenty of bug spray!
Aug 05, 2019
Right on the Yellowstone River, beautiful. The people were very nice.
Aug 05, 2019
Wonderful stop. A bit crowded spaces but clean. Nearby Yellowstone River. Great breakfasts.
Aug 05, 2019
Peaceful & relaxing second stay @ site 64
Aug 05, 2019
Very nice and good friendly staff. Very clean and close to other things to see and do. Will stay again when this way again.
Aug 05, 2019
No mention pool heater not working, firewood we bought was far too green couldn't cut it even with a maul. I think when something is not working when you book it needs to be posted on your website other than that it was pretty good Great staff working there
Aug 05, 2019
We had a great time with our kids and grand kids. The pool however was so cold that is took your breath away. The site we had #39 was not ideal for our camper. The fire pit is way to close to the camper and the tree roots were kinda bad, kept tripping on them. We are coming again the week of the 15th and gave us that same spot. Hoping for something different
Aug 05, 2019
they were older people working there, perhaps around my age, they were helpful, I STAYED IN NUMBER 66, THERE WAS HARDLY ANY WATER PRESSURE AND COULD BARELY FLUSH THE TOILET, STEVE HELPED BACK UP MY TRAVEL RV, SOMEWHAT FRIENDLY TERRY
Aug 05, 2019
Nice grass area for tent. Great view. Was a bit of a wait to get into the bathroom/shower.
Aug 04, 2019
Nice little cabin to sleep in very appropriate name!
Aug 04, 2019
It is a nice campground, friendly staff. The sites backing up to the river were really nice.
Aug 04, 2019
Loved that it was right next to the river.
Aug 04, 2019
Very nice campground and setting, with mountains and Yellowstone River. Bathrooms and laundry were great. Spacious sites, and FANTASTIC breakfast by Carl and Barbara!
Aug 03, 2019
Great place, friendly staff.
Aug 03, 2019
I will never stay here again if at all possible. I could not believe what we were given was called a pull-through site. It was just horrible, awkward and a tight squeeze to get in, to leave it was far worse, in order to hitch up, I had to park in the roadway and into other occupied sites across the way and block the roadway entrance while new customers were trying to pull through to check-in.
Aug 03, 2019
Great location for a quiet stay. Close to Yellowstone Park and right alongside the River. Welcoming staff and clean conveniences. Would definitely use again.
Aug 03, 2019
So far out of town, which wasn't mentioned. Road to get there was gravel and pot holes. Spaces were very small, gravely, people were nice but the grounds seemed unkepted. Parking was very tight. Gift shop was small with outdated grocery items, by five days! Not impressed at all.
Aug 03, 2019
Absolutely great people and a beautiful location!
Oct 20, 2020
I enjoyed the place its everything you expect from a campground
- ww2 history boii on Google
Sep 27, 2012
Excellent. Very friendly, nice wood tent sites/no hook ups. It's not like some KOA's that are like parking lots. The washroom and shower were excellent.
- Acoustic Chris on Google
Oct 02, 2020
Great campground with level sites. Ready in and out.
- The Autry Experience on Google