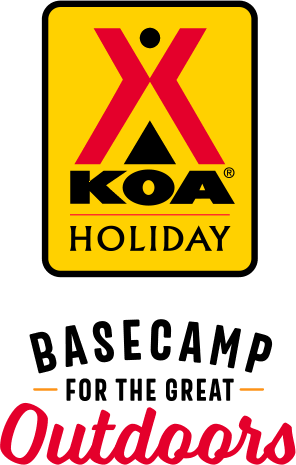 KOA Holiday Campgrounds
Whether you're exploring the local area or hanging out at the campground, KOA Holidays are an ideal place to relax and play. There's plenty to do, with amenities and services to make your stay memorable. Plus, you'll enjoy the outdoor experience with upgraded RV Sites with KOA Patio® and Deluxe Cabins with full baths for camping in comfort. Bring your family, bring your friends, or bring the whole group – there's plenty of ways to stay and explore.
KOA Holidays Feature:
RV Sites with a KOA Patio®
Deluxe Cabins with full baths
Premium Tent Sites
Group meeting facilities
Directions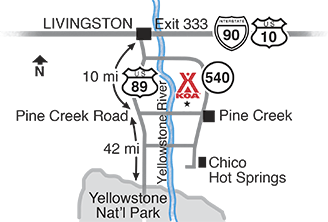 From I-90 Exit 333: Head south for 10 miles towards Yellowstone Park. Turn left on Pine Creek Rd. Drive slightly more than 1 mile, our KOA is on the left just across the bridge.
From Yellowstone Park: Take Hwy 89 north towards Livingston. Take a right Pine Creek Rd between mile marker 43 and 44. Drive just over one mile. 
The road getting to our KOA is at times a little rough. The state is planning to redo the road, but that project is a few years out. Please take your time and drive slowly. 
GPS: N45.51206. W110.57971
Get Google Directions
Aug 26, 2019
Smell re too many trailers to close, seemed they jammed them in , even cabins were too close, dog run area was way too small and to far away. Service was bad way too long wait 20 mins, others were ticked too as staff were talking about serving ice cream when 5 to 6 groups were lined up to get in.... based on my research, the koa was to be best but I found it almost 3 star. Dated washrooms.
Aug 26, 2019
Our second visit..... we travel with our 8 year old grandson and this is a great place for kids!! The facility is clean and well run with helpful staff everywhere. Great place!
Aug 26, 2019
We love this campground! We have stayed here twice—two nights the first time and three nights the second time. It is quiet, clean and friendly!!
Aug 26, 2019
Super clean and very pleasant staff! Would definitely return to this KOA!!
Aug 26, 2019
I was disappointed in the pool temperature it was cold when I have stayed there before it has been a decent temperature and we were all getting tired of the dogs that were swimming in the river and running up into our campground otherwise things were good I had always enjoyed staying at this koa
Aug 26, 2019
Very friendly staff. Great location. Views of mountains and right on Yellowstone river.?
Aug 26, 2019
What a wonderful find. We enjoyed the location, hospitality and delicious breakfast!!
Aug 26, 2019
Amazing Campground! Quiet, clean and friendly staff.
Aug 26, 2019
It is a nice facility, we have stayed there before, being next to the playground would be more of a families liking, not that of a couple of old people. The rest facilities were very clean.
Aug 25, 2019
Most beautiful KOA I've ever stayed at with great folks. Thank you see you again for sure. '68 Globetrotter
Aug 25, 2019
Nice campground ground for a stop over. Very nice staff
Aug 25, 2019
Everyone was so friendly and helpful. It was close to everything that we wanted to see. Bring bug spray!!!!
Aug 25, 2019
They were great. We had truck problems and they were able to accommodate us for another night! Will stay there again the next time we are in town.
Aug 24, 2019
Friendly people. Very clean park. Great location.
Aug 24, 2019
My sister and I stayed at the park for one night on our way to Yellowstone. This KOA was wonderful!! The staff were all very friendly and helpful. The laundry room was comfortable and actually made washing a pleasure. :) The breakfast that was made to order was delicious. I HIGHLY recommend this KOA!!
Aug 24, 2019
Quiet, friendly, easy access—by the river. Will stop by again.
Aug 23, 2019
Great location right on the Yellowstone River and very friendly staff. Cabin was even nicer than expected. We had a great some great times around the campfire and would love to come back.
Aug 23, 2019
Great stay, thanks
Aug 23, 2019
The amenities were great and very convenient.
Aug 23, 2019
Pull through sites are long but narrow if you have slide outside. They have access to the Yellowstone River. Really good a la Cart breakfast, very reasonable price, and cooked to order at the pavilion. It was chilly so they put out 3 patio heaters. Breakfast available every day. Pool is indoors and building is ventilated. Absoroka mountain range in view. Farmers Market in town. Narrow roads.
Aug 23, 2019
It was great. Our kids loved the playground, pool, and river. Very friendly staff.
Aug 23, 2019
Staff very friendly, very clean campground, great cook
Aug 23, 2019
Awesome out of the way spot right on the river! Loads of laundry machines! Friendly staff. Bathrooms could have been a bit cleaner. But over all GREAT SPOT!
Aug 22, 2019
Short but sweet. Clean, friendly and quiet
Aug 22, 2019
Staff was very nice, sites are not level, narrow roads and like most KOA's sites are too close to each other.
Aug 22, 2019
Great spot and wonderful staff
Aug 21, 2019
We had a great site, #50. Great area with lots of space. Bunnies hopping around and birds everywhere. The site backs up to a road, but there is not a lot of traffic during the night, some big gravel trucks during the day. The river is steps away. The owners are very welcoming and helpful. Breakfast every morning and movie night on friday.
Aug 21, 2019
We gouged our camper when we clipped a truck as we tried to get out of a flooded gas station on the way to the campground. When we arrived, we told them what'd happened and they immediately sent up a staff member, who brought all the supplies we needed to patch the holes temporarily and helped us secure the camper. I don't know what we would have done without them. Amazing breakfast, too!
Aug 21, 2019
They went above and beyond to accommodate us and make are stay easy
Aug 21, 2019
This is undoubtedly a beautiful place, far from a city, very clean and quiet, but the site we were assigned was so close to our neighbor that we couldn't extend our awning without hitting our neighbor's trailer. We paid for a pull through, but had to back out of it because of the tight space. Pretty, but a little disappointing.
Aug 20, 2019
Great location. Very nice delux cabin. Lots of extras at the camp.
Aug 20, 2019
All I can knock you down for is showerheads, or lack of. I was in a cabin close to the pavilion and the showers definitely need showerheads instead of the mist that it sprays out. Otherwise I'm heading back to you in a couple of nights (although your policy of charging for extra cars is a bit greedy). I work at a KOA and we would never dream of charging our guests. We just smile and accommodate!!!
Aug 20, 2019
I had a very easy check in process, and the staff were very friendly and helpful.
Aug 20, 2019
What a great place! Very friendly reception on arrival, and our campsite (92) has a spectacular view and feels very secluded for a fairly tight space.
Aug 19, 2019
I have not stayed at the Livingston KOA since 2017 due to the camp being overrun with unauthorized campers in a clear theft of services crime spree that was not addressed by the staff. After a wedding reception at the rental hall out at the highway, dozens of late 20 somethings swarmed the camp. They poached every available parking spot where they could park there trust fund SUV's. Unsatisfactory.
Aug 19, 2019
Very Clean, Friendly Helpful Staff, beautiful scenery, Thank You!
Aug 19, 2019
A great time was had by all. The breakfasts were wonderful and the friendly folks were great. Several workers interacted with us and all were great friendly and helpful people. We will definitely return....
Aug 19, 2019
We love the Paradise Valley KOA! Always clean, quiet and friendly staff. The breakfast is especially enjoyable and Carl and Barb are the best. Thank you.
Aug 19, 2019
beautify nestled along the Yellowstone river. has the feel of rustic and yet has all the amenities needed.
Aug 19, 2019
So enjoyable
Aug 19, 2019
The cabin was comfortable and clean. Campground was quiet.
Aug 19, 2019
Beautiful location nestled into the Paradise valley. The cabin we stayed in was great, but should probably have a sign on the steps to watch your head- the porch overhangs the steps and I hit my head very hard while carrying a baby and my husband and I both nearly hit it repeatedly throughout our stay. Desk check in people were less than friendly.
Oct 20, 2020
I enjoyed the place its everything you expect from a campground
- ww2 history boii on Google
Sep 27, 2012
Excellent. Very friendly, nice wood tent sites/no hook ups. It's not like some KOA's that are like parking lots. The washroom and shower were excellent.
- Acoustic Chris on Google
Oct 02, 2020
Great campground with level sites. Ready in and out.
- The Autry Experience on Google