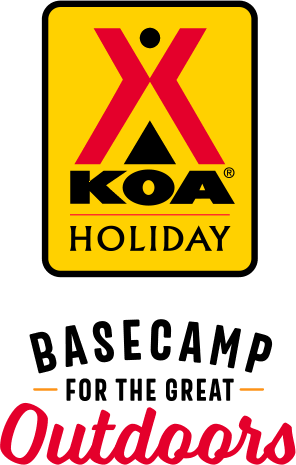 KOA Holiday Campgrounds
Whether you're exploring the local area or hanging out at the campground, KOA Holidays are an ideal place to relax and play. There's plenty to do, with amenities and services to make your stay memorable. Plus, you'll enjoy the outdoor experience with upgraded RV Sites with KOA Patio® and Deluxe Cabins with full baths for camping in comfort. Bring your family, bring your friends, or bring the whole group – there's plenty of ways to stay and explore.
KOA Holidays Feature:
RV Sites with a KOA Patio®
Deluxe Cabins with full baths
Premium Tent Sites
Group meeting facilities
Directions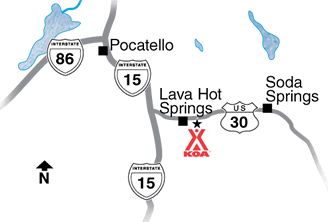 Take exit 47 off of I-15.

Turn East onto US-30

12.7 miles turn right onto Bristol Park Lane. Watch for big yellow KOA  Holiday sign.

There are two KOA Holidays in Lava Hot Springs; East and West. To save frustration do not exit under the speed slides, as this is the exit for Lava Hot Springs West KOA. Lava Hot Springs East KOA is located 1/2 mile east of the speed slides.

Get Google Directions
Jul 22, 2019
We had a great time. The kids enjoyed so much playing in the river next to our camp site, it made our stay so fun. We had 6 camp sites for our family and it was a great stay. The restrooms were clean and the showers were great.
Jul 22, 2019

Loved you KOA, but the road and train noise was very hard.
Jul 22, 2019
We were only able to be there for 1night as we were on our way to a family reunion. We really enjoyed the area & would definitely plan to come back for a longer stay.
Jul 22, 2019

We love this place! Last week was the first time we rented a cabin without a bathroom and we were surprised by the amenities provided. The shared bathroom area was SO nice. Each bathroom had its own door and shower. Nothing like you see in a locker room. The town and hot springs are also a fav! We stay at this KOA about 2 to 3 times a year and we love it. Summer or winter always fun!
Jul 22, 2019
IT was amazing.. Like always.
Jul 22, 2019
The folks are so friendly and helpful. Campgrounds are great. Value is in question because of the trains and road. Hard to sleep at night. 6 trains on Friday night until 3 in the morning, maybe later. They are inescapable anywhere in town. If I went back to Lava Hot Springs, I would stay here again but there are tons of quieter towns in Idaho.
Jul 22, 2019
Nice clean sites a little tight could have used more full service hookups
Jul 21, 2019
Nice friendly, knowledgeable staff. Very clean facility. Staff can be still constantly cleaning up after people.
Jul 21, 2019
Nice campground
Jul 21, 2019
Is was a nice smaller campground. Very clean and the bathrooms were well kept. The only thing I would say that was a little bit of a drag was that we parked under the trees (which was nice) and the sap from the trees got all over the outside of our camper and the bikes we had on the back. But I would recommend this to anyone.
Jul 20, 2019

Jul 20, 2019
Nice location. Family friendly. Awesome bathrooms. While we love trains, you might want to mention the many trains that pass through the night.
Jul 20, 2019
The campgrounds and facilities were wonderful. The only problem was the trains and the traffic. Very, very noisy.
Jul 19, 2019
Lovely camp ground. To much road and train noise. Maybe a privacy fence in front would help. Very nice people.
CAMPGROUND RESPONSE / COMMENTS:
We sure wish there was a reasonable way to dampen the noise of the train and highway 30 noise. Unfortunately, the whole town of Lava Hot Springs was built along those means of transportation. However; it is still a lovely place and the hot springs are a "one of kind". We strive to provide a clean and beautiful KOA Campground. Thank you for staying with us.
Jul 18, 2019
I would definitely stay there again the staff was great and super friendly the bathrooms and showers were always clean, the only thing that happened was that one of the neighboring camps was involved in a domestic and my husband had to go break it up and keep them separated until the cops arrived
Jul 18, 2019

Jul 16, 2019
We had a blast at the cabins. Great location to the river. Very clean. Friendly staff at the office. We will definitely stay here again!
Jul 15, 2019

Jul 15, 2019
Very Super Spot..Love all The Shade ..And Our Cabin was Perfect .
Jul 15, 2019
we absolutely loved our stay here, so beautiful.
Jul 15, 2019
Daily cost is getting to HIGH and bathroom / shower needs cleaned a lot more daily!
CAMPGROUND RESPONSE / COMMENTS:
Our average daily site charge for the holiday season for a full hook up pull thru RV site is $62.95 + tax for 2 people, 1 RV per night.
Jul 14, 2019
The campground is exceptional. The only drawback was the road traffic and train traffic.
Jul 13, 2019
Noisy by the highway and train tracks but worth it for the location and amenities. Easy access to town and hot springs, will be back
Jul 13, 2019
We were so impressed with the design and space of the campground, it was perfect! The impeccable bathrooms and showers are commendable! Thank you for a memorable stay!
CAMPGROUND RESPONSE / COMMENTS:
Thank you for your kind review.
Jul 13, 2019
It was to expensive for my family to stay at KOA
CAMPGROUND RESPONSE / COMMENTS:
Our average daily site charge for the 2019 holiday season for a full hook up pull thru RV site is between $57.95 - $62.95 + tax for 2 people, 1 RV per night for sites #70-84.
Jul 12, 2019
Very nice, quiet, clean and close to town campground.
Jul 11, 2019
There was a family reunion that had 120 people they over took all the amenities, rest room shows, and the WI FI didn't work. I felt like you are charging for every spot of grass you have.
CAMPGROUND RESPONSE / COMMENTS:
We only charge for sites that are rented and any extra people, cars, or tents. The 4th of July is a very busy time of year.
Jul 10, 2019
I love the deluxe cabins and the beautiful views with the noise of the river and the train that passes by.. love love this place �ϋ�
Jul 10, 2019
Lava Hot Springs is a pretty clean place however the spaces are so close together. Couldn't use our fire pit because spaces so close , I was afraid a fire would scorch neighbors' truck. Walking distance to the main attraction. Restrooms and showers were pretty clean.
Jul 10, 2019

Everyone is friendly and helpful. Bathrooms are always clean and I love the outdoor kitchen at the pavilion.
Jul 10, 2019
Friendly staff, knowledgeable host.
Jul 10, 2019
Didn't realize check wasn't till 3pm, all other campgrounds were 1pm. When we got there at 12:30pm we couldn't check-in till 3pm. There was only 1 RV in the park so I have no idea why we couldn't check in. The park was completely empty. Dont think I will stay at KOA again.
CAMPGROUND RESPONSE / COMMENTS:
Even though the check in and check out times are listed on every reservation confirmation email and advertised on our website, and our super reservation staff has been trained to remind every guest of those times when making reservations, we understand it can still be expected to check in early. This time of year we need time to water, mow, and clean sites thoroughly as it is a super busy time.
Jul 09, 2019
The only problem was that we got that sap all over our 5th wheel and truck and had to clean them multiple times. Also you can't pick up dish from your lower section or under the trees anywhere. Otherwise, all is great.
Jul 09, 2019
We like where we had the spot next too the river and the staff was very helpful and friendly.
Jul 09, 2019
Excellent and clean facilities, very friendly and helpful staff, and convenient location walking distance to town. The wifi range could be improved for RV sites in the upper half of the hill.
Jul 09, 2019

Wonderful, clean facilities. Some road noise for the cabins but the other amenities make up for it.
Jul 08, 2019
We had a trailer site and we were in a accident with our trailer. We still came to koa and they accommodated us after the tragic news by putting us in a cabin. Thank you to all the caring staff
Jul 08, 2019
We really enjoyed out time and really liked our camping spot by the river! We will differently be back again.
Jul 07, 2019
Been there a few times and love it
Jan 05, 2021
Location, cleanliness, and comfort are the main reasons for staying here. We were in a deluxe cabin. They're right by the hot springs. We were able to take a couple minute walk to go soak. Also, right behind the cabin is the river. There's a wonderful deck with chairs, picnic table, grill and gas fire. The cabin was warm (has AC for the summer). The kitchen has dining ware, grilling utensils, cutting board, microwave, fridge and a hot plate. The shower had great pressure. I can't think of a rental where I've had a better bed. It was great! The staff was really nice and had great suggestions on where to eat.
- Aaron Rogers on Google
Nov 18, 2020
Extremely comfy and cozy little cabin. Temperature dropped into the 20's both night's we were there. The cabin was toasty warm. Within walking distance to hot Springs and restaurants. Staff was great to work with, even answering several calls prior to arrival through check out.
- BRENDA SOMERS on Google
Nov 14, 2020
We stayed in a cabin. It was clean and comfortable. Has a fridge, great water pressure in the shower. Thank you koa for a wonderful stay.
- Jackie Lewis on Google