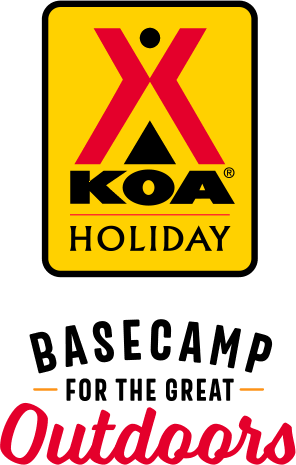 KOA Holiday Campgrounds
Whether you're exploring the local area or hanging out at the campground, KOA Holidays are an ideal place to relax and play. There's plenty to do, with amenities and services to make your stay memorable. Plus, you'll enjoy the outdoor experience with upgraded RV Sites with KOA Patio® and Deluxe Cabins with full baths for camping in comfort. Bring your family, bring your friends, or bring the whole group – there's plenty of ways to stay and explore.
KOA Holidays Feature:
RV Sites with a KOA Patio®
Deluxe Cabins with full baths
Premium Tent Sites
Group meeting facilities
Directions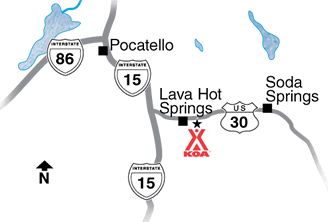 Take exit 47 off of I-15.

Turn East onto US-30

12.7 miles turn right onto Bristol Park Lane. Watch for big yellow KOA  Holiday sign.

There are two KOA Holidays in Lava Hot Springs; East and West. To save frustration do not exit under the speed slides, as this is the exit for Lava Hot Springs West KOA. Lava Hot Springs East KOA is located 1/2 mile east of the speed slides.

Get Google Directions
Aug 19, 2019
It was overpriced for what we got. It was $100 to put 3 tentson one site +2 cars. Maybe it was because we got the Wi-Fi?Also, it was very noisy! Lots of trains! Ear plugs didn't help. We also had campers who stayed up till midnight making lots of noise! Wish there were a rule about lights out at 10:30. The site was nice, lots of trees. It isn't near the hot pools though FYI.
Aug 19, 2019

Small cabin was great for us. Nice outdoor space and fire pit. Upper bathrooms were in fair condition and appeared to lack daily cleaning by management. The shower my GF used didn't have a shower head. Lava hot springs is within easy walking distance. Close to highway and train tracks, but I love trains. Beautiful stream runs through the canyon, great fishing. Beautiful lawns and nice RV sites.
Aug 17, 2019
Our only concern is your sites for RVs are not wide enough as they slope off and leveling put strain on the jacks. It is a neat and clean campground!
Aug 17, 2019
The noise was unbearable. Sites were too small.
Aug 16, 2019
Very beautiful and clean. The sites were well maintained and the staff (especially Kip) were friendly and helpful. If any drawback it's the amount of space per each site, a bit small. Will return!
Aug 14, 2019
I love this location! It's an annual repeat. However, it seems odd that the nickel and dimeing to include WiFi seemed very odd.
Aug 14, 2019
Everyone at Lava Hot Springs KOA were very pleasant and helpful. This is our second time staying there and it was nicely kept both times.
Aug 14, 2019
Enjoyed the stay. Showers were close and they were clean. Will definitely stay again. Sorry my friends dog got loose. Know she must always be on a leash. We were hooking up to leave inadvertently snuck out the door. Thank you.
Aug 13, 2019
This KOA is a yearly trip for us. We alway stay here because they are friendly and the area is clean and not crowded. The river running through the campground is a bonus.
Aug 13, 2019
Our first visit to Lava! We stayed in cabin D1 (family of 5) and it was fantastic. Town was a short walk, the back deck was perfect with the seating, grill & propane fire as well as a great view of the portneuf river. After reading reviews, I was concerned about traffic/train noise and it wasnt bad at all. Will stay again with KOA.
Aug 13, 2019
I had problem with billing and they let a teenager handle it instead of talking to me since I was upset that I was told wrong when I registered. The whole weekend not a single person addressed me or greeted me. Not a customer friendly place. I love KOA but this one had no personality. They didn't seem to care that I had issue with my billing. I won't recommend this one
Aug 12, 2019

Very fun! Only not fun part was that there was a giant group of people who were in tents by the bathroom and they took over it. If you went to use the bathroom, you had to move peoples' clothes, charging chords and 'stuff' to uncove a sink to wash your hands. They left garbage and clothing tags all over the floor and stationed themselves in front of the mirror so it was difficult to have any space
Aug 12, 2019
Great campground. We had to shorten our stay due to an injury and they even refunded us the cost with no advanced notice. Completely unexpected and very much appreciated!!!
Aug 12, 2019
Fantastic except people kept walking through our camp. We has to block off our area
Aug 12, 2019
We had a blast!! The facility was Excellent!! Excellent Staff!! Beautiful Camping spots and very clean:) We will be back:)
Aug 12, 2019
The RV sites were fine but very dissatisfied with the renting of the pavilion could not even use it till 3:00 pm and when we got up there it was not cleaned very good and there was standing water on the floor and there were seniors with walkers and children that could slip and fall. NOT GOOOD!!!!!
CAMPGROUND RESPONSE / COMMENTS:
Check in time for the pavilion and all other RV, Tent, or Cabin sites is 3:00 p.m. The standing water was from the spraying and scrubbing of the concrete. We will make certain the water gets swept better in the future.
Aug 12, 2019
The premium internet was awful. Too close to the road and trains. Truckers honked their horns at 2 and 3 am just to be rude. There should be a rule to outlaw this. The facility was fine, bathrooms were clean, campsites were shaded and well maintained. Check in hosts were friendly and in bright yellow shirts. Other guests at campground were respectful.
CAMPGROUND RESPONSE / COMMENTS:
If a guest logs onto the free WIFI, and then chooses to upgrade to the premium WIFI they have to tell their device to "forget" the previous WIFI. This may have not been explained very clearly at check in. We will improve this task. We wish we could redirect the semis and trains, but unfortunately we can't. We suggest using ear plugs. We always have them available in our camp store.
Aug 11, 2019
Loud semis and trains less than 50 feet away all night. Loud party who let their kids run around screaming until midnight and start again at 7am with no staff intervention.
Aug 11, 2019
Very loud sleeping next to the highway.
CAMPGROUND RESPONSE / COMMENTS:
Hwy 30, and the railroad tracks run parallel to the town of Lava Hot Springs. Ear plugs are available in the camp store.
Aug 10, 2019
It's a very nice, relaxing place to stay with clean restrooms and friendly staff.
Aug 10, 2019
Great place. Great location.
Aug 09, 2019
The only negative on our stay was the guest across from us was allowed to wash his fifth wheel trailer and truck
Aug 09, 2019

Great bathroom facilities. It separates you from the rest! Great job, great foresight, great investment!
Aug 09, 2019
We love it here!!!
Aug 09, 2019
My only disappointment, the noise. Being our first time ever in any KOA when booking (which we did in person, making it clear it was our first time) it would have been nice to have been told about the noise..all night. Otherwise, we had a great time.
CAMPGROUND RESPONSE / COMMENTS:
Lava Hot Springs is located on hwy 30, and the train tracks are parallel to the hwy. Anywhere a person stays in Lava Hot Springs will hear the noise of our country's means of travel. We are glad you still had a great time. Thanks for staying with us.
Aug 08, 2019
We had a beautiful site near the river and in the trees. Easy walking to town. We hope to visit again.
Aug 07, 2019
Great place and can't wait to get back
Aug 07, 2019
Our stay at Hot Springs was 2 nights with our family (2 adult and two kids of 17 and 13). We were heading for Salt Lake and drove from Yellowstone. The facilities were clean and complete. Highway 30 and the railroad with very long trains made a lot of noise and a bit overwhelming at the beginning of our stay. The village is very nice and the Hot Springs and Olympic Swimming Complex are near.
Aug 06, 2019

Love this cute koa. The staff was extremely friendly, it's well maintained, and clean.
Aug 06, 2019
This KOA was great as far as value for the price. The bathrooms were very clean and the campsites were wonderfully shaded - especially in the heat of July/August. The staff are incredibly friendly and very knowledgeable about the area and the Hot Springs. Do be aware that this KOA abuts a US Highway with some night traffic so there is a bit of traffic noise.
Aug 06, 2019
Nice campground! Friendly people. Walking distance to hot springs. Showers and rest rooms cleans. We would stay again.
Aug 05, 2019

We made reservations almost 1 year ago for a family get together of a mixture of RV's, Trailers, tents and 1 cabin. They were able to put our sites all quite close together. We had a great time. The rest room/showers were clean. We really want to shout out to the employees, they were all awesome, and polite and helpful. Thanks!
Aug 05, 2019
We were in site 15 and the sewer smell was awful. I also feel like the campground has put too many camping spots in the camp ground. We felt like our neighbors were right on top of us. It was nice to be able to walk into town easily.
Aug 05, 2019

Good, clean , safe.
Aug 05, 2019
I'm not a regular campground camper so I'm not used to the crowded camping experience.... but I got the campground mainly for the extras that for my girls could enjoy. I have been through many KOA and am usually impressed. This koa has a tiny and ancient playground and that's it. It was a huge disappointment for me and the girls. The staff were great.
Aug 04, 2019
We enjoyed the running water and ability to shower. My husband said "that was the hottest shower he has had in along time". My only regret is that I didn't know you had tent sites with power. My husband and I need to use medical equipment at night. This was a helpful resource to have power access. We were accommodated by moving our reserved site.
Aug 03, 2019
Perfect spot! We loved it!
Nov 18, 2020
Extremely comfy and cozy little cabin. Temperature dropped into the 20's both night's we were there. The cabin was toasty warm. Within walking distance to hot Springs and restaurants. Staff was great to work with, even answering several calls prior to arrival through check out.
- BRENDA SOMERS on Google
Nov 14, 2020
We stayed in a cabin. It was clean and comfortable. Has a fridge, great water pressure in the shower. Thank you koa for a wonderful stay.
- Jackie Lewis on Google
Nov 07, 2020
Great campground very clean. Friendly knowledgeable staff
- terry newman on Google