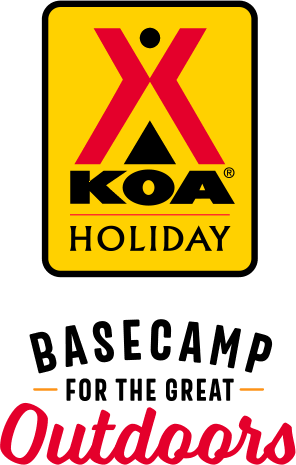 KOA Holiday Campgrounds
Whether you're exploring the local area or hanging out at the campground, KOA Holidays are an ideal place to relax and play. There's plenty to do, with amenities and services to make your stay memorable. Plus, you'll enjoy the outdoor experience with upgraded RV Sites with KOA Patio® and Deluxe Cabins with full baths for camping in comfort. Bring your family, bring your friends, or bring the whole group – there's plenty of ways to stay and explore.
KOA Holidays Feature:
RV Sites with a KOA Patio®
Deluxe Cabins with full baths
Premium Tent Sites
Group meeting facilities
Directions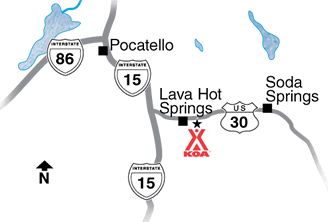 Take exit 47 off of I-15.

Turn East onto US-30

12.7 miles turn right onto Bristol Park Lane. Watch for big yellow KOA  Holiday sign.

There are two KOA Holidays in Lava Hot Springs; East and West. To save frustration do not exit under the speed slides, as this is the exit for Lava Hot Springs West KOA. Lava Hot Springs East KOA is located 1/2 mile east of the speed slides.

Get Google Directions
Sep 13, 2019
Trains, highway noise, person checking us in was more concerned with going home than making sure we could find our campsite.
Sep 11, 2019
The park was very nice and clean, playground was nice too. Only reason we didn't love it was because of the trains that frequent the tracks nearby. They are really noisy.
Sep 10, 2019
The large cabin was very clean and spacious and we enjoyed the deck and river that was close by. I would definetly stay here again. Thank you.
Sep 10, 2019
clean, friendly, within walking distance from activities in town very beautiful place THANK YOU
Sep 10, 2019
Great showers & clean bathrooms. Loved our site along the River. Easy walk into town from CG.
Sep 09, 2019
It was great. Road noise and train noise was a surprise, but we didnt stay in out cabin much anyways, and it's just the way the canyon is put together. I wish there was a dog yard in the middle instead of just on the one end.
Sep 09, 2019
We come to lava hot springs at least once a year. We will definitely switch to staying at your place. We were later in the season this year, it was a little cold. We will see you next summer.
Sep 09, 2019
Beautiful location right on the river!
Sep 09, 2019
I shouldn't have to pay extra for WiFi
CAMPGROUND RESPONSE / COMMENTS:
We do have free WIFI. We also offer an option for guests to purchase "Premium WIFI" for downloading movies, apps, music, gaming,or streaming. This gives the guest more signal bandwidth to a designated device versus the "free WIFI". The cost is $5.99/day.
Sep 06, 2019
Great, kind, helpful and friendly staff. Very efficient. Great facilities. Clean.
Sep 06, 2019
pretty expensive for one night for a little square, and to camp in the middle of a bunch of people you don't know ...
Sep 06, 2019
Campground is lovely, lots of trees and the river runs behind the grounds and if you are lucky, you can have a spot by the river. Campground employees are very helpful and keep the campground clean and well groomed. Bathrooms were very clean, shower was spacious and the hot water was plentiful. Unfortunately, it is right next to the hiway and train track.
Sep 06, 2019
the people were nice. the spot was ok for a gravel old campground. the price was wasy to high because of the closeness to lava hot springs. but the compression brakes on the trucks on the roadway 100 ft from the sites was unbearable . and the rairoad tracks besice thew roadway was even worse. all day and night. had to keep the windows closed with the AC on. could not enjoys anything outdoorsi
Sep 05, 2019
The best part about this KOA is the bathrooms! They are big and nice and new looking and kept pretty clean. The biggest con on our stay was the campsite. We had a very small piece of grass between us and the next camper and they managed to fit a picnic table and a small little bowl for the fire pit. The park is a nice feature but it's too big for smaller kids.
Sep 04, 2019
Good shade. Power and water stable and pressure good. Spots mostly level. Noises from road and trains a problem.
Sep 04, 2019
We stayed 2 nights on a last minute reservation. Only sites left were up front by the office. Deluxe patio sites 100-102. It was a holiday weekend and very busy. Being by the office/restrooms and entrance, there was a constant flow of car and foot traffic. The main road was right in front of us and behind that was the train. Noisiest place we've ever stayed. We won't be back.
Sep 03, 2019
We were here for a family reunion. The accommodations were great. We would stay again. Thank you.
Sep 03, 2019
Had a great time! Clean bathrooms and lots of trees for shade.
Sep 03, 2019
Era un fin de semana festivo pero todo estava bien limpio. Gracias KOA
Sep 02, 2019
We like staying there
Sep 02, 2019
Had a great time, the staff in the office were very friendly and helpful.
Sep 02, 2019
Employees were friendly and helpful. Other than the road noise the camp was well kept, nice!
Sep 02, 2019
We've been a few times and have loved it but don't appreciate staff telling us to be quiet when trains are still going by and making so much noise. They never asked us if we needed anything but 10:01 pm she cones to tell us to shut up. Now that bingo is gone we may never return.
CAMPGROUND RESPONSE / COMMENTS:
We had several complaints of your music being too loud. Regardless of the train and traffic noise, of which we cannot control, we do try to control the noise from music being played too loud by our guests. We also have no control over the Lava Lions Club being shut down for Bingo. For the future maybe the Fish and Game campground would better suit your experience for camping.
Sep 01, 2019

Sep 01, 2019
Apparently folks from Utah are not aware of campsite etiquette. Walking across our site while we were sitting there to visit their friends in other sites. Not just the kids either. Although one of the boys turned off our water twice.
Aug 31, 2019

It was really good and I felt like at home
Aug 30, 2019
Restrooms not safe because of steps to toilets and showers. Very little grass. Train noise was not mentioned. Unfortunately lava pool dos not share schedule with camp when they will be closed.
Aug 30, 2019
Loved it!! Great location. Quiet mostly. Engine brakes aren't good but I kept the AC fan on all night. Slept great. Super clean!!!!
Aug 30, 2019
Lovely spot, clean and well run.
Aug 29, 2019
Beautiful big trees right on the river and a short walk to the hot springs...super clean grounds and utilities were well maintained...5 stars all the way!
Aug 28, 2019
The office help was somewhat mixed up and could be a bit more organized. Rentals online are directed towards the less attractive sites.
Aug 28, 2019
We can't wait to come back�
Aug 27, 2019
Shower broke the last day, maintenance people in and out. No shower usage.
Aug 27, 2019
Great cabins
Aug 27, 2019
Staff not very accommodating. After 6 hours of being on the road we pulled in. Would not let us go to site because it was not check in time Had to clean fire pits. The wind was 25 mph so no one had fires. Man doing yard work very rude. Made us wait for two hours We finally just went to our site and pulled in. There were others that they would not let in also. They are Just not KOA people
CAMPGROUND RESPONSE / COMMENTS:
Unfortunately, when guests as yourself try to check in at 12:30 it does not give our grounds employee enough time to water, mow, and clean all 85 sites. We simply asked you to wait until our groundsman was finished with your site. For future guests reading this review, please note our check in time is 3pm and check out time is 11am. If your site is ready we always allow guests to check in.
Aug 26, 2019
Insanely close spots, campsites were awkwardly accommodated (firepit was right next to a tree and couldn't really be used) and quiet time rule was not enforced. Several campers around us played loud music until midnight every single night. WOULD NOT RECOMMEND.
Aug 26, 2019
My family enjoyed our stay @ Lava Hot Springs KOA & will very likely return in the future. I found the staff to be very friendly and the sites well organized & maintained & the campground is in a wonderful site! The amenities were quite good however, WiFi service was horrible, even the poorly named 'premium' service was bad & practically unusable. PLEASE get that upgraded.
Aug 26, 2019
As always it was very good.
Jan 05, 2021
Location, cleanliness, and comfort are the main reasons for staying here. We were in a deluxe cabin. They're right by the hot springs. We were able to take a couple minute walk to go soak. Also, right behind the cabin is the river. There's a wonderful deck with chairs, picnic table, grill and gas fire. The cabin was warm (has AC for the summer). The kitchen has dining ware, grilling utensils, cutting board, microwave, fridge and a hot plate. The shower had great pressure. I can't think of a rental where I've had a better bed. It was great! The staff was really nice and had great suggestions on where to eat.
- Aaron Rogers on Google
Nov 18, 2020
Extremely comfy and cozy little cabin. Temperature dropped into the 20's both night's we were there. The cabin was toasty warm. Within walking distance to hot Springs and restaurants. Staff was great to work with, even answering several calls prior to arrival through check out.
- BRENDA SOMERS on Google
Nov 14, 2020
We stayed in a cabin. It was clean and comfortable. Has a fridge, great water pressure in the shower. Thank you koa for a wonderful stay.
- Jackie Lewis on Google