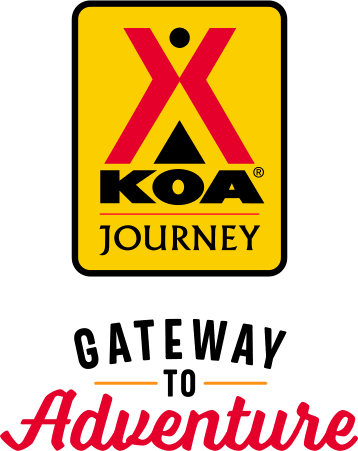 KOA Journey Campgrounds
KOA Journey campgrounds are the perfect oases after a day on the road. Whether it's along the way or a quick getaway, they've got you covered. Located near the highways and byways of North America with long Pull-thru RV Sites, they deliver convenience to the traveling camper. Pull in, ease back and take a load off.
KOA Journeys Feature:
Pull-through RV Sites with 50-amp service
Premium Tent Sites
Well lit after hours check-in service
Directions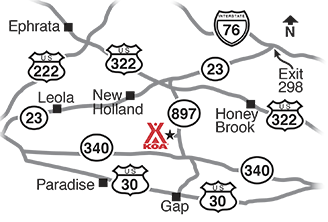 Check In Time: 2:00 PM - 6:00 PM. (Cabin Check-In at 4:00 PM.) Early arrivals are not encouraged. If you'll be arriving after 6pm look for YOUR site map on the office porch.
From PA Turnpike: Exit 298 then take Exit B, then right on Route 23/10. At traffic light go straight on Route 23. At Route 897 go South. KOA is 4 1/2 miles on the right side of the road. From Harrisburg: Take 283 East to 30 East to 340 East
From Route 340: Stay on Route 340 until Springville Rd (897) then go north on 897. At the stop sign, go right. KOA is on the left 3/4 of a mile. DO NOT TAKE SNAKE LANE!!
Get Google Directions
Aug 15, 2021
WIFI needs improvement. Everything else is great.
Aug 14, 2021
Excellent location to relax. Will definitely stay here again on a return trip to Lancaster County PA
Aug 14, 2021
We stayed at lot 101 with our motorhome, it is a large pull through site shaded by tall trees, which was very helpful during our stay as temperatures reached the low 90s. On arrival check in was was great very friendly young lady checked us in and provided details on how to get to the site. Other than the weather it was a great stay.
Aug 13, 2021
2nd time here and love it!
Aug 13, 2021
Our stay was awesome! I was waiting for a package of medical supplies so we could leave for our next stop on vacation. The office staff went over and above making sure I got my package. They even delivered it to our campsite when it arrived! Beside that our site was large and shady. Many sites to sit and admire and enjoy the country side.
Aug 12, 2021
Wanted a quiet place that was centrally located, we found our campsite to be of good size , clean and very easy to back into . The facilities were well kept and the staff was very helpful in all aspects of our stay. This is one beautiful location . Already talking about a return trip. Thanks
Aug 12, 2021
Very peaceful and relaxing!
Aug 11, 2021
Come for the views, but enjoy the campground too! This place should be a model for all others on how to run a campground... it is clean, well-maintained, and the staff are friendly and helpful. A+++ in my book, we visit at least once a year.
Aug 11, 2021
Our stay at New Holland/Lancaster was great. The owners could not have been nicer. We has an incident the first night there (a large tree limb fell through the roof of our camper). As soon as it was light they were right there to assist us in repairing the damage. I can't praise these owners enough. They are supper from office staff to actual owners. Thanks go out from us to these wonderful people
Aug 11, 2021
Beautiful view, clean sites, very friendly staff. Large open area to walk around. Will definitely stay there again.
Aug 10, 2021
Love staying there in spot A right at the entrance. Able to enjoy the beautiful scenery and the amazing Amish that come by every day. Our 4th year and looking forward to next year too. Staff is very friendly and helpful especially Emily in the office. Keep up the good work and we'll see you in 2021. God Bless you…����
Aug 10, 2021
We have stayed at this KOA several times now and it is always a satisfying experience. The view is fantastic and it is always very quiet.
Aug 10, 2021
Well maintained campground with a beautiful view! We would definitely stay here again.
Aug 10, 2021
This was really a very simple stay. The facilities were clean and well maintained and the staff was friendly and helpful. The next time I want to spent the weekend in the Lancaster area, this will be my first choice.
Aug 10, 2021
We had stayed at this campground under the former ownership. We had a horrible experience. Under the present owners we had a wonderful experience & they have turned the campground around. We will not stay anywhere else when we come to Lancaster county again.
Aug 10, 2021
It was great views, quite, shady site enjoyed the time there
Aug 10, 2021
The staff is very friendly and helpful! We love staying in this very clean, beautifully kept campground! We already booked our next stay!
Aug 10, 2021
View was wonderful! It was a nice queit stay!
Aug 10, 2021
We had a very nice time. We loved where our RV site was.
Aug 10, 2021
the view from our site was absolutely fantastic! The staff were friendly and very helpful. I an already looking forward to my return stay there,
Aug 10, 2021
This is a beautiful country side KOA campground for those that like the country side, quiet location and a great view of the farmlands and hillsides! Although the campground does not have a Pavilion or organized events in the camp area, it would be nice to have a place for the campers to meet each other and share camping experiences and socialize.
Aug 10, 2021
A great place to do nothing but relax and refresh. Campgrounds are well maintained, beautiful view of Amish countryside, friendly and courteous staff. Will return regularly when in need of a getaway.
Aug 10, 2021
Great place and the site manager clearly cares about the grounds and facilities. It just can't get any cleaner. :)
Aug 09, 2021
The campground is well kept and the views are beautiful. Always enjoy our stay there.
Aug 09, 2021
We really enjoyed this clean, well run campground with its amazing view over farmland with the occasional Amish horse buggy in the distance. The extra clean bathroom stalls had sanitizer bottles to use, and I received a small bag of sugar cookies upon arrival. Overall, a nice break on our journey across the country! We'll come again!
Aug 09, 2021
Outstanding office staff and clean park. Quiet and in a beautiful area. Such a treat to be there. Thank you for being so welcoming.
Aug 07, 2021
This was a beautiful campsite. We loved that it overlooked farm fields. It was very well kept ant the staff was very friendly.
Aug 07, 2021
We enjoyed are stay, this was are first time there. We plan on returning in a few weeks.. very quite and the view was fantastic.
Aug 07, 2021
This was an amazing park. Very quiet and clean. Great for a quick get away.
Aug 06, 2021
It is just beautiful, peaceful and great place to go and relax. Friendly, super clean and they have great cookies.
Aug 06, 2021
We absolutely loved it here. Beautiful surrounds, large lots, plenty of Amish sightings. Great location to all the surrounding towns.
Aug 05, 2021
The quiet nature and beautiful vistas of this campground suit us perfectly. We visit several times a season and use it as a base for exploring the Lancaster County countryside and visiting flea markets and antique shops. It is very clean and well-maintained, and has grown by 20+ sites since our last visit earlier this year!
Sep 12, 2021
GREAT PLACE TO CAMP! Camp sites are clean, has great views, it was very quiet (and campground was full), the sites are spacious and are not real close to one another, so, you don't feel smushed in like sardines! I highly recommend!
- Jilline Garges on Google
Sep 04, 2021
Probably the best KOA experience I've had. We lucked out with the best camp site. We had a very secluded site that was but a short walk to the center of camp and showers. The showers themselves are noteworthy. Individual, exceptionally clean shower rooms. Lots of hot water with good water pressure. There is beautiful view of the valley. Everything is very tidy and well kept. As you can see in the attached photos, we had some charming inhabitants who let us share their site.
- andreaw401 on Trip Advisor
Sep 01, 2021
Beautiful, peaceful, clean, quiet, pet friendly, and very welcoming campground! We very much enjoyed our stay, just wish we could have stayed a few more days. The views of the lush hills of Amish country at sunrise were the best! We were very comfortable with the size and set up of our site, even our dogs loved it! Lots of little shops close by, and even more to do a little more into town. Just driving around the beautiful area was so enjoyable with tons to look at! If it were closer than 6 hours away, this would be our regular little get away spot!
- Pamela Brown on Google