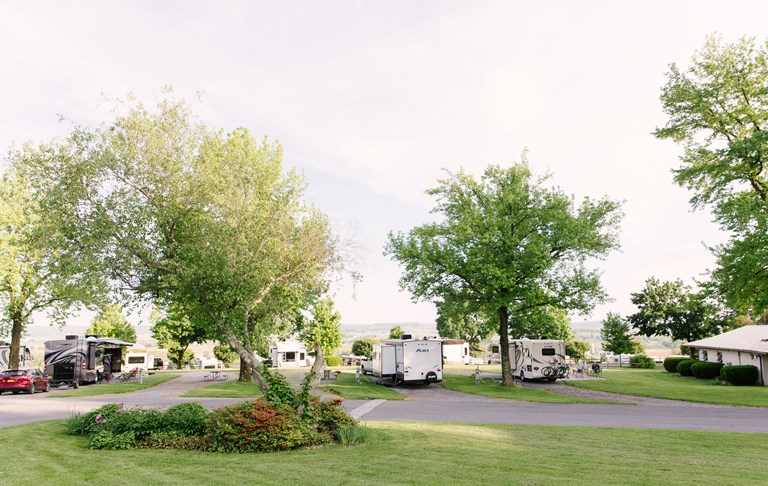 Lancaster / New Holland KOA Reviews
Directions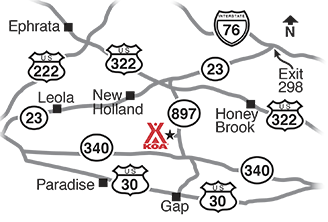 Check In Time: 2:00 PM - 6:00 PM early arrivals are not encouraged. If you'll be arriving after 6pm look for YOUR site map on the office porch.
From PA Turnpike: Exit 298 then take Exit B, then right on Route 23/10. At traffic light go straight on Route 23. At Route 897 go South. KOA is 4 1/2 miles on the right side of the road. From Harrisburg: Take 283 East to 30 East to 340 East
From Route 340: Stay on Route 340 until Springville Rd (897) then go north on 897. At the stop sign, go right. KOA is on the left 3/4 of a mile. DO NOT TAKE SNAKE LANE!!
Get Google Directions
Jun 27, 2020
Our cabin was super cute inside, cozy and comfortable. Great little get away! We will definitely be back soon.
Jun 25, 2020
The cabin was great. Nice, clean, well stocked and had a fabulous view.
Jun 25, 2020
I absolutely loved my cabin and this KOA! Receptionist was very nice. Beautiful area for some cycling. Clean and well run place. Other guests were low key and friendly.
Jun 23, 2020
We stayed in a cabin. It was wonderful. Loved having the the fridge and microwave for snacks. Amenities were really nice. Enjoyed the front porch and the view was great. Used the firepit all weekend long. They even had chairs for the firepit which was a nice surprise. The KOA very family/pet friendly and feel like your in the woods. We have plans to return. Would highly recommend this KOA.
Jun 22, 2020
Beautiful cabin! Every clean. It was nice having the linens/towels and lawn chairs provided. Close to everything. Very quiet!
Jun 07, 2020
Very clean, beautiful campground. The cabin was clean an had all the amenities an necessities we needed.
Jun 01, 2020
The cabin was beautiful very clean and moderately decorated to today
May 11, 2020
The only thing that would of made it better was some sort of seating by the fire pit. I'm not sure if the website stated no seating was available, but if known we would of brought chairs with us.
May 11, 2020
Location good Beautiful view Cabins are comfortable and clean Bed was very comfortable Shower was clean including curtain There were a lot of bugs ants and stink bugs and spiders inside On the whole campground was very clean and kept up Overall very good
May 04, 2020
It was nice but our bed was dirty like the sheet weren't changed at all. We paid for the cabin but the cable for the tv didn't work. Alot of ants came out of the window when we opened them.
Apr 15, 2020
Nice campground, first night there was very cold cabin didn't have much heat. Did have plenty of blankets to get through the night. Cabin was nice and very clean.
Nov 22, 2019
Very enjoyable stay to relax.
Oct 22, 2019
we had 15 people with us an enjoyed every minute, cabin was perfect, some of the sites with us were on a hill so we partied on cabin site was great an roomy.
Oct 15, 2019
I stayed in one of the cabins and was very impressed with how clean and stocked it was with necessities like toilet paper, paper towels, dish soap, hand soap, etc. There was plenty of room and it was beautiful inside! The grounds were kept very nice and the people were very friendly. Loved seeing all the dogs! I loved it there and would definitely love to go back again!
Oct 05, 2019
Can not wait to go back nice and relaxing peace and quiet very clean and very nice people that run the camp ground beautiful scenery
Oct 03, 2019
Great place!
Sep 23, 2019
Beautiful Place
Aug 27, 2019
Cable tv. And internet could be better but a great place to stay
Aug 12, 2019
For the very steep price there is a total lack of amenities that is usually expected from a KOA. Do not recommend to anyone with children.
Jul 22, 2019
Very nice place , rented a cabin , it was really nice , I would recommend this KOA to everyone .
Jul 04, 2019
It is a peaceful, lovely , very quiet property. Staff is very welcoming. Wish there was a pool.
Jul 03, 2020
Nice and quiet campground with beautiful scenery.
- Denise Milburne on Google
Jul 03, 2020
very nice campground nice owners and very welcomeing
- Curtis b on Google
Jun 27, 2020
Loved my cabin and bicycling in the area.
- Kimmie Kilpatrick on Google

Lancaster / New Holland KOA
Open April 1 - November 30
354 Springville Road
New Holland, PA 17557
Check-In/Check-Out Times
RV Sites, Tent Sites
Check-in: 2:00 pm, Check-out: 1:00 pm
Accommodations, Deluxe Cabins
Check-in: 2:00 pm, Check-out: 11:00 am
Lancaster / New Holland KOA
Get Google Directions

© 2020 Kampgrounds of America, Inc.