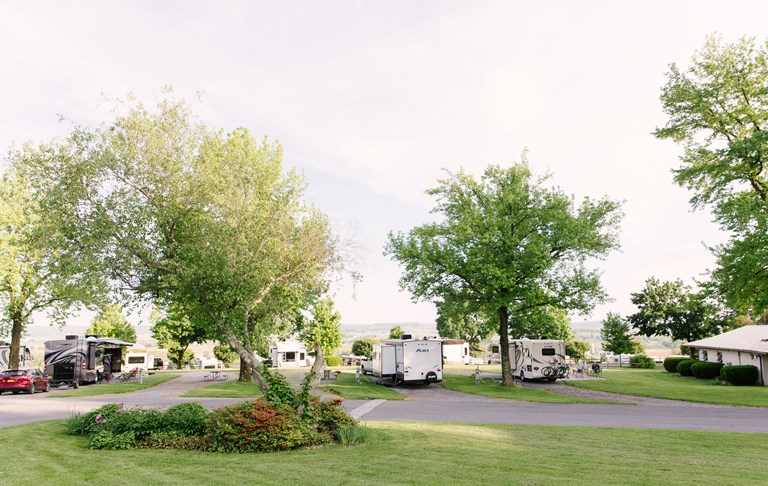 Lancaster / New Holland KOA Reviews
Directions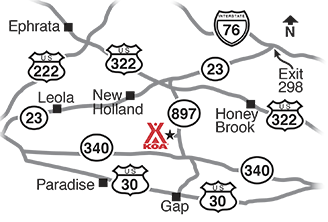 Check In Time: 2:00 PM - 6:00 PM early arrivals are not encouraged. If you'll be arriving after 6pm look for YOUR site map on the office porch.
From PA Turnpike: Exit 298 then take Exit B, then right on Route 23/10. At traffic light go straight on Route 23. At Route 897 go South. KOA is 4 1/2 miles on the right side of the road. From Harrisburg: Take 283 East to 30 East to 340 East
From Route 340: Stay on Route 340 until Springville Rd (897) then go north on 897. At the stop sign, go right. KOA is on the left 3/4 of a mile. DO NOT TAKE SNAKE LANE!!
Get Google Directions
Jun 17, 2020
We stayed on two of their three tent sites. It's a little awkward backing into the sites. Overall the campground was nice, clean and quiet. The view was breath taking. The staff was very friendly. They only have a few items for sale in the office. Make sure you bring everything you need.
Jun 16, 2020
My stay was very peaceful n relaxing
Jun 16, 2020
Chad was very helpful and friendly throughout my stay. He was even nice enough to come by our camp site and deliver our fire wood. The facilities were always clean and well stocked and the overall site was really comfortable.
Jun 16, 2020
Secluded tent site. Nice friendly checkin with cookies!
Jun 10, 2020
The spot was good, but the neighbor who stayed the next tent site was pretty bad. Three(3) tents were there. Idk how many ppl were there but is it allowed? They never stopped talking loud even after 1 AM. Yes, AM. Can you believe it?? Getting louder and louder. Loud talks and music at midnight. The most horrible camping memories.
Jun 03, 2020
quick, peaceful, perfect
May 24, 2020
I only had to stay one night, so this campground was fine for that. However, the tent camping I was put in was extremely hard to navigate my van into (especially at night). Also, if I was bringing an RV, I'd be disappointed with how packed in those spaces are.
May 18, 2020
It was perfect! The staff was very helpful and happy! Thank you. We will definitely be staying again.
May 14, 2020
Friendly staff and clean facilities.
May 09, 2020
Staff was extremely helpful and very polite. Place was beautiful and very well maintained.
May 05, 2020
Really awesome stay, very nice tent site. Clean bathrooms/showers.
Oct 15, 2019
Beautiful setting, clean and comfortable Nice job!
Oct 07, 2019
I enjoyed my stay although challenged in my tent by the Wed. night rain and the Friday night cold.
Sep 17, 2019
The service was top of the line!
Aug 24, 2019
I believe this KOA was set up to be an RV stopover and the three tent site were an after thoought. The bath house was at one end of the camp ground and our site was on the opposite end. Another bath house would have been a plus. The temperature was in the high 80s so a pool would have been a nice amenity.
Aug 06, 2019
Drive was a little tight to the tent sites, but being serenaded to sleep by frogs was well worth being away from everyone else. Beautiful foggy morning wake up! Did not hear traffic as campground was on a less traveled road.
Jul 20, 2019
The manager went out of his way to accommodate us with our motorcycle parking and we got caught in a major micro cell with tornado force winds. Chad came to our tent site with his personal van and brought us up to his house/office to keep us safe. He also made tea to warm up and calm us down. We can't say thank you enough for the level of concern he has for his campers.
Jul 17, 2019
New management is doing an amazing job upgrading the facilities. Everything is always clean and stocked. The only thing we encountered is the tent sites are not exactly motorcycle friendly due to their layout. The staff however accommodated us by letting us park in the adjoining level camper site for the duration of our stay. Highly recommend this campground if visiting the Amish country in PA.
Jun 29, 2019
This was a very nice and quiet camp ground. Our reason for being in Lancaster required traveling the northern end of the county, but we are glad those campgrounds were full during our stay. We will stay here again when we are in the area.
Jul 03, 2020
Nice and quiet campground with beautiful scenery.
- Denise Milburne on Google
Jul 03, 2020
very nice campground nice owners and very welcomeing
- Curtis b on Google
Jun 27, 2020
Loved my cabin and bicycling in the area.
- Kimmie Kilpatrick on Google

Lancaster / New Holland KOA
Open April 1 - November 30
354 Springville Road
New Holland, PA 17557
Check-In/Check-Out Times
RV Sites, Tent Sites
Check-in: 2:00 pm, Check-out: 1:00 pm
Accommodations, Deluxe Cabins
Check-in: 2:00 pm, Check-out: 11:00 am
Lancaster / New Holland KOA
Get Google Directions

© 2020 Kampgrounds of America, Inc.