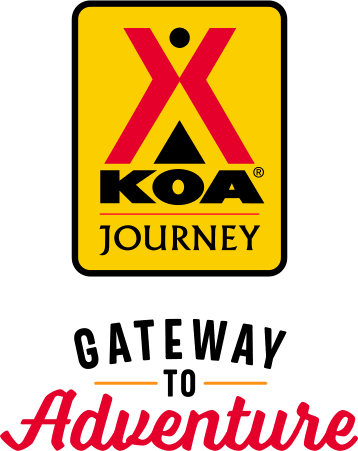 KOA Journey Campgrounds
KOA Journey campgrounds are the perfect oases after a day on the road. Whether it's along the way or a quick getaway, they've got you covered. Located near the highways and byways of North America with long Pull-thru RV Sites, they deliver convenience to the traveling camper. Pull in, ease back and take a load off.
KOA Journeys Feature:
Pull-through RV Sites with 50-amp service
Premium Tent Sites
Well lit after hours check-in service
Directions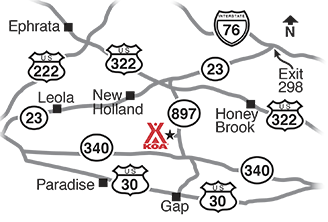 Check In Time: 2:00 PM - 6:00 PM. (Cabin Check-In at 4:00 PM.) Early arrivals are not encouraged. If you'll be arriving after 6pm look for YOUR site map on the office porch.
From PA Turnpike: Exit 298 then take Exit B, then right on Route 23/10. At traffic light go straight on Route 23. At Route 897 go South. KOA is 4 1/2 miles on the right side of the road. From Harrisburg: Take 283 East to 30 East to 340 East
From Route 340: Stay on Route 340 until Springville Rd (897) then go north on 897. At the stop sign, go right. KOA is on the left 3/4 of a mile. DO NOT TAKE SNAKE LANE!!
Get Google Directions
Oct 22, 2021
Quite and beautiful!
Oct 22, 2021
The site was really nice. Campground has great views of the farms in the area. The wifi was very hit or miss and at times not at all. The cable had a lot to be desired, had better channels over the air tv. The listed Fox channel was actually the Travel channel.
Oct 22, 2021
We stayed at this campground many years ago. We came back as we heard it was under new management. Great renovations and improvements. Spacious sites with great views. Friendly and helpful staff. Definitely plan to return
Oct 21, 2021
Very enjoyable…clean, tidy campsite:) A favorite campground!
Oct 21, 2021
We consider the Lancaster KOA our Home Campground, only 63 miles from Home. 5 Star Experience! ���� ���� ���� ���� ����. Easy In, Easy Out. Amazing 5 mile Panorama View. Lots to do, hiking, biking, sightseeing, shopping. Repeat Campers for 4 years. Staff is Excellent, Easy to deal with!
Oct 21, 2021
This ranks among the nicest KOA's ever! The grounds are meticulously groomed- sites have varied vantage points- from the open tiered vistas to the others that are nestled in the woods. Plus- it's quiet!
Oct 21, 2021
The campsite is in a beautiful location snd is so well maintained.
Oct 20, 2021
View was beautiful as always. Nice and quiet with no issues.
Oct 20, 2021
great campground, love the woods and the views
Oct 20, 2021
We loved this campground! Every country side view site is easy to get into and the view was beautiful! We will be back!
Oct 20, 2021
Very enjoyable, quiet campsites. The other campers that we met during our stay were great.
Oct 20, 2021
Short but sweet.
Oct 20, 2021
As always, we stay here around October 17th for our wedding anniversary, (with the exception of 2019 - our 30th). The park is always clean and in tip-top shape. The new owners show their pride in their campground. See you in 2022!!
Oct 20, 2021
The campground is first class and so is the staff. They seem like family,
Oct 19, 2021
We love it here! Quiet campground with beautiful views!
Oct 19, 2021
Excellent staff, very clean restrooms and campsites, quiet campground and beautiful views. We will return back there.
Oct 19, 2021
Sites and facilities were, as usual, great. The weather was not so.
Oct 19, 2021
Great location and they have added many new wooded sites. Only reason i didn't give them a 5 is they only have one bathhouse and it's a bit of a walk back. The unisex bathroom is wonderful. Looks like something you would see in a 4 star hotel. The office has been redone as well and looks fantastic
Oct 18, 2021
Our recent stay was great as usual. The campground is the cleanest and most well kept of all the places we camp. The view overlooking the valley is hard to beat regardless of where you go. We'll be returning next fall for a longer stay. Thanks for having us.
Oct 18, 2021
Awesome view from the pull thru sites
Oct 18, 2021
Great location, clean, friendly staff are all the reasons we will be staying there again.
Oct 18, 2021
Beautiful grounds spectacular views. Wonderful places to shop nearby
Oct 18, 2021
this our favorite campground what a great place to stay !! we already booked for next year !!
Oct 18, 2021
Loved this campground. Clean and well maintained and so glad the new owners are eliminating the seasonal sites. Only just a couple left. Makes for a much more attractive campground. Will definitely be returning in the spring and summer of next year.
Oct 18, 2021
Clean, quiet, friendly, helpful staff, nice shopping in the area
Oct 18, 2021
Very nice clean and quiet place to stay
Oct 18, 2021
Everything was great. Would have been nice if there was kids events or activities
Oct 18, 2021
Was very nice and very quite
Oct 18, 2021
Could use an additional bathroom in the upper section
Oct 18, 2021
Lancaster/New Holland KOA is our favorite place to stay. Its clean, very nicely kept, employees are very nice and friendly and always have a smile and ready to assist.
Oct 18, 2021
Very quiet, the view is amazing.. The office folks are very friendly.. We will be back..
Oct 18, 2021
It was about our 7th time in the last few years and you can tell the owners really care about the campground
Oct 18, 2021
Lives up to the name the quiet one. Always a peaceful relaxing stay. Can't go wrong with any of the sites.
Oct 18, 2021
The people and the campground were both great!
Oct 17, 2021
Enjoyed the peace and quiet of our site in the woods.
Oct 17, 2021
Beautiful scenery,well maintained,very friendly people running campground.
Oct 17, 2021
Quiet, peaceful camping experience
- Patricia Kura on Google
Oct 16, 2021
We had a countryside view for our stay and it was beautiful! We had a "countryside" RV site. What a great campground. It's quiet - not a ton of kids activities, but it's a Journey - not a Holiday. Oh - don't forget to walk across the street and get some fresh made donuts!! We will definitely be going back!
- Rick P on Google
Oct 14, 2021
Quiet, beautiful views, well maintained property. New owners have taken this property to the next level.
- Melanie Weiler on Google