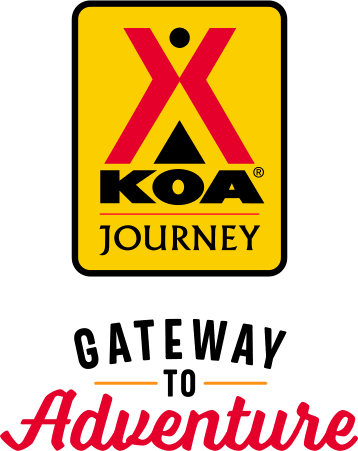 KOA Journey Campgrounds
KOA Journey campgrounds are the perfect oases after a day on the road. Whether it's along the way or a quick getaway, they've got you covered. Located near the highways and byways of North America with long Pull-thru RV Sites, they deliver convenience to the traveling camper. Pull in, ease back and take a load off.
KOA Journeys Feature:
Pull-through RV Sites with 50-amp service
Premium Tent Sites
Well lit after hours check-in service
Directions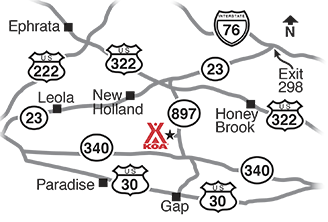 Check In Time: 2:00 PM - 6:00 PM. (Cabin Check-In at 4:00 PM.) Early arrivals are not encouraged. If you'll be arriving after 6pm look for YOUR site map on the office porch.
From PA Turnpike: Exit 298 then take Exit B, then right on Route 23/10. At traffic light go straight on Route 23. At Route 897 go South. KOA is 4 1/2 miles on the right side of the road. From Harrisburg: Take 283 East to 30 East to 340 East
From Route 340: Stay on Route 340 until Springville Rd (897) then go north on 897. At the stop sign, go right. KOA is on the left 3/4 of a mile. DO NOT TAKE SNAKE LANE!!
Get Google Directions
Jul 27, 2021
Beautiful campground! Peaceful and serene. I loved being in the middle of Amish farms. I will definitely be back!
Jul 27, 2021
It was great
Jul 27, 2021
enjoyed it very much. Beautiful view, quiet, neat and clean
Jul 27, 2021
Very clean and quiet campground staff was friendly only thing is no pool would have been nice to take a swim after sight seeing. Would go back for another stay
Jul 27, 2021
The staff was fantastic. Very helpful and courteous. The grounds were impeccable. The bathroom/shower facilities were the best I've seen. And finally, the view was gorgeous. I wouldn't hesitate to recommend this campground to anyone.
Jul 27, 2021
Our favorite campground.
Jul 27, 2021
Great campground! Nice and very clean. However the day we were packing up the water pressure was at a trickle, my husband tried to call the office and no one answered the phone to let them know.
Jul 27, 2021
Nice campground, great view and well maintained sites. The only negative thing I have is the water pressure is questionable. The water pressure in the morning was near zero. I went ahead and filled up the fresh water tank, and used my water pump. Other than that, great campground. The sites are spacious and the majority of the sites had a tree next to them for shade.
Jul 27, 2021
Not very kid friendly they need a pool
Jul 26, 2021
Nice quiet campground, beautiful, large, well maintained sites. My wife said the water pressure is better then home.
Jul 26, 2021
This park is probably one of the nicest KOA's we've ever stayed and the park itself was beautiful and well cared for. The staff was amazing - very friendly and helpful.
Jul 25, 2021
Very nice campground! New owners are fantastic!
Jul 25, 2021
Nice wooded site with full hook up.
Jul 25, 2021
Very happy with our stay. Nice bathrooms. Great view! Utilities were up to date. Wifi worked well.
Jul 25, 2021
Enjoyed the stay and the views. Would be nice to have a pool, and a little easier to back into the sites.
Jul 25, 2021
Very nice quiet campground… staff very friendly and helpful
Jul 25, 2021
Very Enjoyable
Jul 24, 2021
Amazing stay we will return. Place was spotless, views amazing and office well run.
Jul 24, 2021
A very nice campground, easy walk across the street to a bakery on Friday and Saturday mornings as well as a fruit farm with veggies and cheeses. Would rate it higher but they really need to add to the playground
Jul 23, 2021
This is by far one of the best managed KOA's we have stayed at in our 20 plus years as members. Super clean bathrooms and the grounds and sites are immaculate and well groomed landscaping. Quiet, quiet and quiet are the best features and the view is spectacular. It is centrally located in Pennsylvania Dutch country for seeing the area. Highly recommend this KOA.
Jul 23, 2021
We really enjoyed our stay here. Our campsite was very nice with beautiful views. We will be going back there.
Jul 23, 2021
The owners are doing a fantastic job growing the campground and are super nice to the guests.
Jul 23, 2021
The campground was very clean and quiet. The staff was friendly and VERY helpful. Right when I was about to pull out I had trouble with my camper brakes. They allowed me to keep my camper parked until I was able to fix my brakes and were very accommodating and kind. The campground is in a great location to nearby attractions. We had a great week seeing the Lancaster area. Highly recommend!
Jul 23, 2021
Beautiful campground with polite staff and the showers and bathrooms were very clean and roomy!
Jul 23, 2021
Very quiet and enjoyable
Jul 22, 2021
We camped at site 5 and family had site 6. It was the first time for us in Lancaster and it was a wonderful stay. Had no problems and everyone was very friendly
Jul 22, 2021
Great location in Amish country.
Jul 22, 2021
We enjoyed our space and it was quiet and comfortable!
Jul 22, 2021
I can't get enough of this place!!!
Jul 21, 2021
Beautiful view and quiet. Staff needs to circulate around the park more to clean up sites when campers check out. A swimming pool would be a great addition.
Jul 21, 2021
This is frequent stop on our travels and it continues to rest and relax us. The office staff is outstanding and camper friendly.
Jul 21, 2021
keep up the good work, I love this place. see you soon
Jul 21, 2021
Our stay was wonderful and the staff was helpful and friendly. Our view was amazing!
Jul 21, 2021
Very nice KOA. Very well Maintained.
Jul 21, 2021
This is one of our favorite KOAs. We thoroughly enjoyed our 2 night stay. We stayed at one of the new sites. It was spacious and quiet. Looking forward to going back.
Jul 21, 2021
We had the opportunity to meet a couple that had the same as Airstream as we did. Made a new friend! The cookies were amazing. The speed limit on the roads was far from amazing and found myself waking up in the middle of the night praying for the local families traveling by horse/bike. Semi trucks driving 45 mph or more in narrow roads. Very sad about the stress I saw on folks faces. 25 mph!
Jul 20, 2021
We were there with friends and we really enjoyed the buddy spots. It is a very enjoyable campgrounds and very relaxing for us. We will be back sometime in the future.
Jul 20, 2021
We truly enjoyed our stay each year at this campground very clean welcome. In the management is terrific over the previous.
Jul 26, 2021
Excellent KOA , New owner is very friendly and the campground was immaculate, we had No complaints at all. Great location with amazing views and minutes from all activities. We were in the new section site 96 , sites are roomy not packed ontop of each other like some KOA's we have been to. Office staff was very accommodating and nice and took us to our site. They do have a few things for sale in the office , eggs , milk a few essentials. There is a big checker board to play with across from the office that my husband and I used while we were there. We had no problems with the wifi in the back it connected well and we had television with just our antenna , which for us we never watch anyway but wanted to include for others. Would visit again if we head down that way.
- Bonnie Garwood on Google
Jul 25, 2021
Last stop on our 62 day trip. Clean park great views full hookups easy in and out clean rest rooms. Glad we found it.
- Anthony Allen on Google
Jul 24, 2021
We claim Section 106.. our home away from home!!! It's so very tranquil and beautiful ❤️
- Kam-Marie Seghit on Google