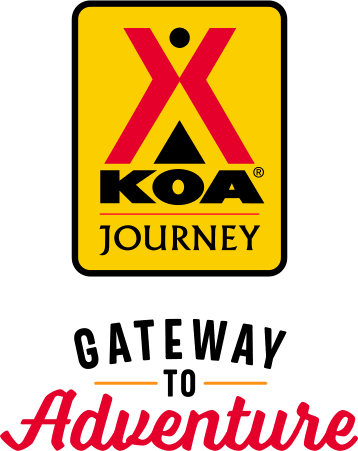 KOA Journey Campgrounds
KOA Journey campgrounds are the perfect oases after a day on the road. Whether it's along the way or a quick getaway, they've got you covered. Located near the highways and byways of North America with long Pull-thru RV Sites, they deliver convenience to the traveling camper. Pull in, ease back and take a load off.
KOA Journeys Feature:
Pull-through RV Sites with 50-amp service
Premium Tent Sites
Well lit after hours check-in service
Directions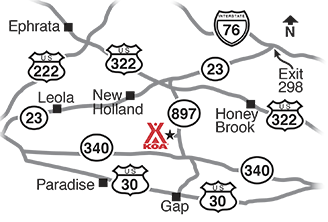 Check In Time: 2:00 PM - 6:00 PM early arrivals are not encouraged. If you'll be arriving after 6pm look for YOUR site map on the office porch.
From PA Turnpike: Exit 298 then take Exit B, then right on Route 23/10. At traffic light go straight on Route 23. At Route 897 go South. KOA is 4 1/2 miles on the right side of the road. From Harrisburg: Take 283 East to 30 East to 340 East
From Route 340: Stay on Route 340 until Springville Rd (897) then go north on 897. At the stop sign, go right. KOA is on the left 3/4 of a mile. DO NOT TAKE SNAKE LANE!!
Get Google Directions
Apr 18, 2021
Always a pleasant place to stay. Grounds well kept and staff very friendly.
Apr 17, 2021
Quiet and serene location. Beautiful bire of the valley below. Clean campground.
Apr 17, 2021
This is our second time here and love it. Everyone is nice and very clean campground.
Apr 15, 2021
My wife and I have a great time. The site's are perfect nice size and clean. The only thing we can suggest would be a larger store supply of basic needs . The staff was very friendly and helpful. We are looking forward to our stay here and have told our friends about this great place
Apr 15, 2021
Clean, beautiful campground with very friendly staff, roomy sites and will stay again
Apr 15, 2021
We love this RV park...
Apr 15, 2021
Our particular sight was not the best as there were no trees between neighbors. The restrooms and showers were fabulous and super clean with lots of hot water! We left early due to no fault of yours but someone was trying to get into our truck in the night and the truck alarm went off three times while sleeping. We had been on the road for seven weeks and had not had it happen once.
Apr 14, 2021
Spent the week after Easter with my wife and granddaughters (4 & 5 yrs. old). Had a patio site right in front of the playground. Perfect spot for us. The staff were kind and courteous. Will definitely be back.
Apr 14, 2021
Very good as always
Apr 14, 2021
Excellent customer service and atmosphere.
Apr 13, 2021
Love this campground, super clean, nice size sites, friendly staff, beautiful scenery. This was our second time staying here and we will defiantly be back.
Apr 13, 2021
There really was nothing for kids to do except a very very small playground. The fire pits are located at the end of the site next to the road and we were not allowed to move them. Very unsafe when you have young children. A camper was playing loud music and the owners were partying until 3am keeping the rest of the camp ground awake all night.
Apr 13, 2021
We absolutely love this campground. Its clean and quiet. The view is amazing. The staff is very friendly and polite. We definitely will return and give recommendations to friends and family about this campground as well. Love it. Glad we found it.
Apr 13, 2021
It was a wonderful stay as always. The view of the Amish farms were amazing. And could tell there were a lot of updates to the campground since last yet.
Apr 13, 2021
Beautiful campground, awesome view, wish the site would have been a little bigger, definitely thinking of coming back and hopefully book a bigger site Friendly and helpful staff
Apr 13, 2021
Very beautiful and clean place definitely will be back
Apr 13, 2021
Very nice camp site. Peaceful and relaxing stay. We will be coming back soon.
Apr 13, 2021
Whish they had more pull-threw Patio,
Apr 13, 2021
It was our first time out this year and a weekend trip to celebrate our 51st wedding anniversary. We enjoyed our stay and it was in a good location for the things we wanted to do. We would have no problem coming back again.
Apr 12, 2021
This was our first time camping with our two small children (4yrs old and 2 yrs old). Both kids were so excited. My husband and I were at ease with everything. The grounds were perfect for our family. We stayed right next to the playground and it was perfect. The other campers were friendly which is always an added bonus. We are looking forward to coming back again!
Apr 11, 2021
We really enjoyed our stay and are looking forward to a return trip!
Apr 10, 2021
Great clean excellent scenery only thing no container for recycling.
Apr 10, 2021
Campground is very nice and clean , quiet-even though it was full with lots of people young and old and dogs too. Office staff were very nice . We would definitely visit again.
Apr 10, 2021
We stay there often, it's one of our favorite campground"s.
Apr 10, 2021
Very clean, well maintained grounds. The view of the surrounding farmland is beautiful.
Apr 10, 2021
One of the best koa s we have stayed st the view from our site is great you can see for miles This was our 6 time staying here n plain to return this fall Would recommend to any one looking for a nice clean n quiet camp ground
Apr 09, 2021
Clean beautiful grounds great friendly staff Can't wait to go back Thank you!
Apr 09, 2021
Mid week stay early April, low occupancy, Quiet, Peaceful, the Usual Great Panoramic Scenery!! Areas to Improve...Weak Internet Connection, please correct ASAP and Fire Resistant Firewood...You need new firewood vendor!!
Apr 09, 2021
The campground and the staff is first class. I always enjoy my visit.
Apr 08, 2021
It was wonderful! Clean, nicely kept and quiet! Beautiful views is the valley to watch the Amish working. The fields and coming and going. Will visit again and again. Very relaxing.
Apr 08, 2021
Love it here,,been here many times
Apr 08, 2021
Very clean nice campground with beautiful views! Staff and owners are very friendly and professional.
Apr 08, 2021
We loved this campground! Lovely views, very clean! Downside was the internet was non-existent. Tried to work/school from site and had to use our hot spot the entire time. Couldn't get any local channels but otherwise that I would highly recommend!
Apr 08, 2021
We wanted a nice peaceful location for our family and we found it. The beds were comfortable and our children had fun. Everyone in the park was friendly and everything was clean. We would return here in the future.
Apr 07, 2021
It was amazing!
Apr 07, 2021
Beautiful campground. Well maintained.
Apr 07, 2021
We've been here 4 times and it's a nice campground with great views. This past stay wasn't all it should've been, upon arrival we we're told that there's no fire pits because of straw on the ground to grow grass after utility upgrades. We weren't notified before arriving but at checking in What's camping w/ a camp fire ? Very unprofessional !
Apr 07, 2021
Great campground. Very clean, and staff is great. The sites are well maintained, and very clean. You really could not ask for a nicer place. If you are looking for a pool, you will not find one here, but that is not a problem.
Apr 06, 2021
Love it there was great
Apr 20, 2021
The new owners have made huge strides into modernizing this park in the past couple of years. It always had fantastic views, nestled in the side of the hills overlooking Route 30 and Route 340 the two famous roads that cut across the heart of Amish communities. They are in the process of adding new sites, have clearly done electrical and other upgrades over the winter. The communal restrooms are extremely clean and the ground of well kept. We have stayed at most of the campgrounds in the greater Lancaster area and while it may not be a resort and have amenities like pool or tractor ride, it makes up for it with its view, location, fantastic hosts and well maintained park!
- Ian Murdock on Google
Apr 19, 2021
It is one of the best campgrounds visited. Nice location, beautifully layed out. Spacious and perfect. 5 stars just for the quiet and peaceful surroundings.
- Greg Lutter on Google
Apr 18, 2021
Stayed here recently over the weekend. Staff is very pleasant and accommodating. Property is well maintained and more upgrades were in progress. Great views of the valley and Amish farms. Great place for a relaxing stay. Be sure to visit Lapp Valley Farm for some delicious ice cream.
- John Kane on Google