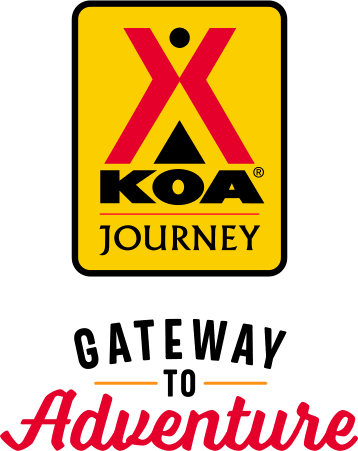 KOA Journey Campgrounds
KOA Journey campgrounds are the perfect oases after a day on the road. Whether it's along the way or a quick getaway, they've got you covered. Located near the highways and byways of North America with long Pull-thru RV Sites, they deliver convenience to the traveling camper. Pull in, ease back and take a load off.
KOA Journeys Feature:
Pull-through RV Sites with 50-amp service
Premium Tent Sites
Well lit after hours check-in service
Directions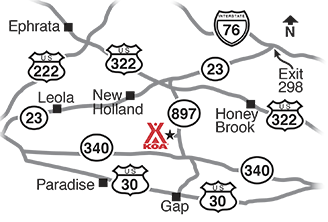 Check In Time: 2:00 PM - 6:00 PM. (Cabin Check-In at 4:00 PM.) Early arrivals are not encouraged. If you'll be arriving after 6pm look for YOUR site map on the office porch.
From PA Turnpike: Exit 298 then take Exit B, then right on Route 23/10. At traffic light go straight on Route 23. At Route 897 go South. KOA is 4 1/2 miles on the right side of the road. From Harrisburg: Take 283 East to 30 East to 340 East
From Route 340: Stay on Route 340 until Springville Rd (897) then go north on 897. At the stop sign, go right. KOA is on the left 3/4 of a mile. DO NOT TAKE SNAKE LANE!!
Get Google Directions
Jun 15, 2021
Friendly, helpful staff. Safe, clean, quiet. My new favorite campground in Lancaster.
Jun 15, 2021
Quiet, clean and always a great view
Jun 15, 2021
Excellent facility and well taken care of by the owners and staff
Jun 15, 2021
Love this place. Very nice campground with great views. Very quiet and folks are friendly.
Jun 15, 2021
From check in to leaving, our stay was great. Emily, in the office, was pleasant and helpful in directing us to our site. We were in the X row and the view was INCREDIBLE!! Campground was clean, fellow campers were friendly, location was perfect for checking out the area. We will definitely return.
Jun 15, 2021
This campground was very clean and quiet. Best sites have to be overlooking the countryside. Very level too! If it had a pool, it would have been 5 stars. Kamp K9 could have been a little larger but it was fine for us. Will definitely be back!
Jun 15, 2021
This campground is so clean. The bathrooms/shower rooms are spacious and very clean. Our camp site was plenty big with everything we needed. We will definitely recommend it. The office staff, Emiky, was so cheerful and helpful.
Jun 15, 2021
Nice quiet campground with level sites, a dog run and pretty views.
Jun 15, 2021
Very clean. Quiet.
Jun 15, 2021
Not enough for kids to do. Sites a packed in tight. But extremely clean and had nice areas to go with the dogs on-site.
Jun 15, 2021
The campground is very neat and clean. The location was amazing. Our check in was easy and the staff very friendly.
Jun 14, 2021
One of our favorites. Very clean and quiet. Staff is helpful and friendly!
Jun 14, 2021
Camp ground was clean just fire pit was really close to camper did not use. Seems like most sites had same problem was not just ours.
Jun 14, 2021
Very nice park. Nice lots, very quiet and close to all the places we wanted to visit.
Jun 14, 2021
Best KOA around. Friendly staff, clean and improved sites along with new sites!!!
Jun 14, 2021
We have stayed here on several occasions. Always clean and very relaxing. The owners and staff are outstanding. I highly recommend staying here!!
Jun 14, 2021
Beautiful and peaceful as always. This is our favorite campground, and we come here a number of times each season. Its location is ideal for exploring the scenic Amish countryside and nearby attractions. The campground is clean and well-maintained and the staff are helpful and friendly.
Jun 14, 2021
Peacefully pleasant, Great staff and clean.
Jun 14, 2021
Beautiful views, very well kept!
Jun 14, 2021
We had a good time. This was our second stay, and we will be back
Jun 14, 2021
We were in the new section on site 106. Our view was a bulldozer and construction yard. Worst site ever. They should not even use this site until construction is done. Very disappointed and deserve a refund.
Jun 14, 2021
Wonderful campground ! Beautiful views of Lancaster. Well kept, quiet and peaceful !
Jun 13, 2021
Very peaceful park. Seems to be well taken care of.
Jun 13, 2021
Really nice setup with big trees on every site. The girl that welcomed us was very nice & sweet. Great place to stay!
Jun 12, 2021
The campground is clean and you overlook a beautiful farming valley.
Jun 12, 2021
It is a very clean, well kept KOA. Showers & bathrooms were spotless. The available stations on cable were terrible! We had no major stations-no ABC, NBC, CBS-cheap and useless. Nothing to do but watch the view! This park needs a pool & activities.
Jun 12, 2021
Very enjoyable stay this RV park is kept in beautiful condition and owners are very friendly and helpful
Jun 11, 2021
The campground is very well maintained and quiet. We enjoyed walking around and taking in the beautiful views.
Jun 11, 2021
Pleasant staff, clean facilities.
Jun 10, 2021
Didn't go to office except for check in friendly though. . The rest rooms were clean and the grounds were nice
Jun 10, 2021
Quit and Clean!!!!
Jun 10, 2021
Great time, like that your making it bigger. Always like that campground, glad that new owners have it.
Jun 10, 2021
Very relaxing!! Beautiful place to stay!!
Jun 10, 2021
very clean very quiet see you soon
Jun 09, 2021
We were in spot #1 - and enjoyed having no next door neighbor on the one side. The entire campground is very well taken care of, with beautiful flowers and plants. The staff we encountered were friendly and helpful. The bathrooms were clean. We enjoyed walking around seeing where we would stay when we come back!
Jun 09, 2021
Beautiful view, 3 toilets, one out of order, no pool, small store, store closed at 5.
Jun 09, 2021
Enjoy this place everytime we pass this way. Peaceful and beautiful views.
Jun 15, 2021
Very nice, clean KOA with awesome views of the valley and farm country. Staff was friendly. Look forward to visiting again. There's no pool, but that is not important for us. Great Amish bake shop across the street with donuts, cinnamon buns and biscotti, open Fri & Sat.
- Dawn Kirk on Google
Jun 08, 2021
Terraced sites overlooking Amish farmland. Local bakery and a berry farm right across the road from the campground. Beautiful, relaxing spot to use as base camp when exploring the Lancaster area.
- Road Abode on Google
Jun 07, 2021
Clean, organized and well maintained. Not to mention the incredible calming view. We met some nice people and will definitely return many times.
- Taino Indian on Google