Alert
Stage Coach Road Closure. After exit, take Route 44 South for 5 miles to Carey Station Rd. Follow Carey Station Road 5 miles to campground.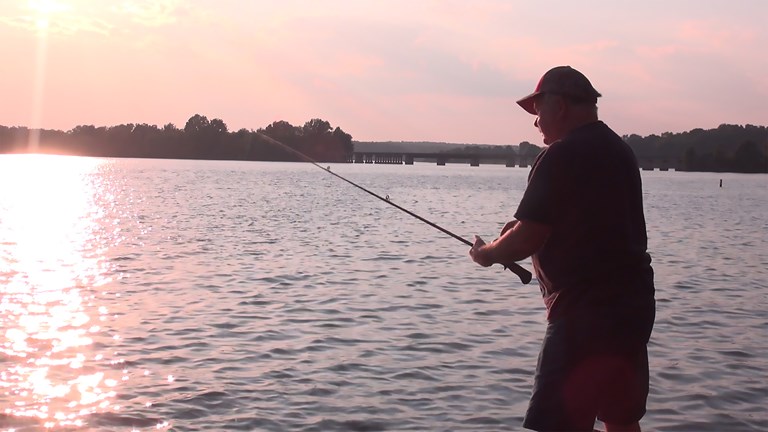 Lake Oconee / Greensboro KOA Reviews
Directions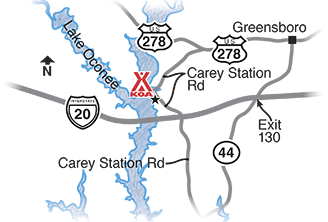 From I-20 midway between Atlanta and Augusta, take Exit 130, GA-44 South 5 miles to Carey Station Road. Turn right on Carey Station Road and travel 5.1 miles to the campground on the left.  ROAD CLOSURE NOTICE: If you are coming from East or West on 1-20 your GPS will instruct you to take Stage Coach Road. It is closed. Heading West take exit 130 and then take a left onto GA-44. If heading East take exit 130 and take a right onto GA-44. 
From the north take US-129 S/US-441 S/GA-15 S. Turn left onto GA-12W/US-278 W/W Broad St for 3 miles, Turn right onto Carey Station Road for 2.7 miles to the campground on your right.
From the south take GA-44 E to Carey Station Road, turn left on Carey Station Road 5.1 miles on the left.
Get Google Directions
Jul 06, 2020
The park is nice and the staff was friendly. However, I would not recommend it for those camping in tents. The tent sites are limited and present challenges. Additionally, please be mindful of the slips you place boats in. We were asked what kind of boat we had, and size and were given a slip that was too small and too shallow; ultimately damaging our boat.
Jul 06, 2020
Site was clean and nice, staff was great ESPECIALLY JEFF! Jeff went out of his way to ensure our stay was pleasant. Awesome guy.
Jun 30, 2020
We stayed four nights at a tent site 142 and had a great time. The site is close to the club house and bathrooms/showers which was convenient. There was a pool nearby but it was closed. The pool by the visitors station was open but we swam in the lake. Took our six year old granddaughter fishing but did not catch any fish just some good times together and great memories.
Jun 29, 2020
The only reasons I don't give it a 5, is the ants were unbearable at our site and the 2nd pool was not open. Other than that, it was a great experience!
Jun 08, 2020
The KOA as a whole is very nice w/ super nice staff. I'd return in a RV or lodging in a heartbeat. We stayed in 1 of the 4 tent sites that was situated at the base of a hill (amazing view, not so amazing terrain, no flat area to be had) in the blazing sun (only T1&T4 are wooded), tho this spot would be perfect on a crisp fall day. Very muddy from rain run off, but that's the joy of the outdoors!
Jun 01, 2020
Nice place to stay, the staff for checking in Friday evening was very nice, the park it's self Is clean, the camp ground had a great view, I just wish I would have known that you had to park on a hill and walk everything down to the camp site, myself I like the kind you can pull up to.
May 18, 2020
We enjoyed tent camping on site 4 with a fantastic view of the lake. The tent site was very unlevel near the fire ring which made it difficult to sit around the fire in your camp chairs. We did have to clean out our tent pad which had poop in the sand...smelled it during our entire stay...yuck. Neighbors were very loud both nights. Didn't get much sleep.
May 04, 2020
I went for a fishing trip but turned into an amazing camping trip with amazing staff and very clean !
Nov 25, 2019
Very Nice staff and location. The only thing that would have made my stay better would be covered picnic tables ( Forsyth KOA has them). I can't wait to go back!
Oct 28, 2019
The campground itself was fine. But the drunk neighbors were a bit much. Deciding to drive there vehicle down to the lake shore at midnight etc etc. Once they settled down at 2ish all was well. People just dont have any respect for others anymore. Great place really enjoyed the place.
CAMPGROUND RESPONSE / COMMENTS:
Thank you for staying with us. Halloween turned out to be one of our busiest weekends bringing all kinds of campers. We're glad you enjoyed our park.
Oct 14, 2019
We enjoyed our stay. Three issues came up that made it less than 5 stars. One main one, isn't something that can be changed, unfortunately. The traffic noise from the interstate is very distracting and takes you out of the experience of being in nature. Second, it would be very helpful to have some steps to get up the hill to the bathroom. Third, there was never toilet paper in BR #1!
Oct 07, 2019
We had a great stay with our family! We will be back!
Aug 14, 2019
Wonderful breezes off the lake, beautiful campground, great restrooms, clean and friendly staff.
Aug 07, 2019
Loved being near the lake with it's wonderful cool breezes! Restrooms are private and clean. We will definitely return!
Jul 29, 2019
The location was great. The bathrooms need work. The pool needs so serious attention. The liner for the pool is loose, when you walk on it you can tell there is a lot of water under it. This leads to questions about the viability of the water (bacteria/mold). And the actual safety for all the kids in the pool. Overall the stay was ok outside of the issues stated above.
Jun 25, 2019
Tent site was on sand lot and on and incline it rained and washed away our site and made hill very slippery and unsafe there were no activities scedualed but one and it was at 1pm no hiking trails and no way to do anything if you bring pets as they are not allowed anywhere and they can not be left unattended at camp site
Jun 21, 2019
I went with a 3 because the pool situation was deplorable. Very hot weekend - only one pool operational and it had liner separation issues. Otherwise still a nice park!
Jun 12, 2019
Clean bathrooms, activities for kids and beautiful view
Jun 03, 2019
We loved staying at the tent site! Only downside was how far the restrooms were and the hill going down to the lake could use some stairs! Overall very satisfied!
May 28, 2019
We had a great stay for my birthday. I was very unhappy that I am a c2c member and a good Sam and was not able to use my membership and had to pay 120
May 20, 2019
used to camping at spots that arent so close to each other. It was still nice. The staff are very friendly including the people camping there.
May 17, 2019
We stayed in a tent campsite. The actual site was on a downward slope. Nearly a complete angle. That isn't the worst part. There were very serious concerns for our safety. An argument broke out with a large group of people around us. We were not involved. But we were woken up in the middle of the night with people running through our campsite and screaming. Management did nothing.
May 10, 2019
So nice for tent camping right on the lake with amazing sunset and sunrise views. Massive Koa with all facilities you need and very clean.
Apr 07, 2019
The view was truly breathtaking. They had activities for all ages. Easy access to the swim/beach area. Easy access to fishing. Honestly some improvements could be steps to go up the hills from the tent area to the toilets. Or even supply the tent area with portapottys. And also do construction elsewhere. It's hard to enjoy the beautiful area with the sounds of grinding metal in the background.
Apr 05, 2019
Well..... Be prepared to lug All of your stuff down a Mt. Just to get to Your Tent Campsite. I have Never encountered a situation like this, except at "Primitive" sites, which Ours was Not!! NOT 1 Garbage Can anywhere in the Campgrounds!! Poor to NO Lighting. Dogs being OFF Leash and peeing & Disrupting several Sites.... UNACCEPTABLE!! Nevermind, The Race War that broke out at Midnight.
Feb 09, 2019
Staff was very friendly and helpfull and made us feel welcomed. We loved the whole area, especially our tenting spot in the beach! We will definitely come back!
Dec 31, 2018
Very friendly staff. Bathrooms were spotless, but a little far from the tent camping area, and up a steep hill. Wonderful views from all over the park, and a really nice clubhouse. Laundry facilities were nice as well. There are only four tent sites, and they are also on a steep hill, although right above the lake with great views. Water and electricity at all of them for a very low price.
Nov 05, 2018
We were impressed by the bath houses and activities in the club house. The view of the lake was fabulous, but--and it's a big but--the traffic noise echoing across the lake from I-20 and the railroad tracks was so disruptive. We had trouble sleeping from all the noise, and during the day sitting by the lake, it was hard to disconnect when instead of birds, water, or wind, all we heard was traffic.
Oct 24, 2018
Great Camp site. Friendly staff. Really enjoyed my time at this KOA
Oct 06, 2018
We went kayaking on the lake it was awesome
Oct 01, 2018
This camground is absolutely beautiful. The staff is very friendly. The restrooms were immaculate we stayed on tent sites 2-4.
Sep 17, 2018
We were there from.myrtle beach sc during the hurricane.. staff was awesome every single person my daughter wrecked he scooter a employee took my wife and daughter back to the cabin,just awesome... bathhouses and pools were very clean and that important for me... thank you lake oconee koa staff ,, anthony and karen Brown
Aug 11, 2018
I don't know who Jacob is or the closet KOA near Richmond, Virginia is, but I would be more than happy to rate a complimentary stay at the closest KOA near Richmond. I'm sure Jacob had a lovely time.
Jul 31, 2018
Nice location. Good facilities.
Jul 30, 2018
Great,friendly staff.Quiet ,clean,relaxing, good fishing. Tent camping this time,but for a week's stay, the cabins are it.Will definitely be back.
Jul 04, 2018
Tent camp sites need work. Site 4 picnic table was on a hill and there was 2-2 by 4s trying to level it. Access not easy. At end of steps to get to site was washed out . Last step was s doozie . Sites very close to each other......Other than that it was good
Jul 03, 2018
Our camp site (tent) was terrible. I feel that you should let people know that is on a STEEP hill!! It was almost impossible to sleep because every 15 minutes I had to crawl back up the hill.towards my pillow!! Even our picnic table was on an incline!! My family and I literally fell 15 times trying to walk around our camp site! The only thing I enjoyed was meeting your employee Bj.
Jun 12, 2018
The first time I visited this KOA it was with the Grown-Ups but this time I brought the grand babies and we had a blast. They enjoyed themselves immensely. It didn't rain and everyone was so friendly and family oriented. We hope to visit again soon. Thank you so much for the Hospitality!!
Jun 11, 2018
The tent sites are on an awful hill. They need to level the land out. Pretty views but the hill sucks when you park and carry your stuff up& down. You are literally on an incline the whole time.You have to climb 2 hills just to use the restroom.No shade on T2&T3. Mini golf was tore down after we were looking forward to playing it.

Lake Oconee / Greensboro KOA
Open All Year
2541 Carey Station Road
Greensboro, GA 30642
Check-In/Check-Out Times
RV Sites, Tent Sites
Check-in: 1:00 pm, Check-out: 11:00 am
Accommodations
Check-in: 3:00 pm, Check-out: 11:00 am
Operating Hours
Sunday: Open 9:00 AM to 5:00 PM
Monday: Open 9:00 AM to 5:00 PM
Tuesday: Open 9:00 AM to 5:00 PM
Wednesday: Open 9:00 AM to 5:00 PM
Thursday: Open 9:00 AM to 5:00 PM
Friday: Open 9:00 AM to 5:00 PM
Saturday: Open 9:00 AM to 5:00 PM
Lake Oconee / Greensboro KOA
Get Google Directions

© 2020 Kampgrounds of America, Inc.