Alert
Stage Coach Road Closure. After exit, take Route 44 South for 5 miles to Carey Station Rd. Follow Carey Station Road 5 miles to campground.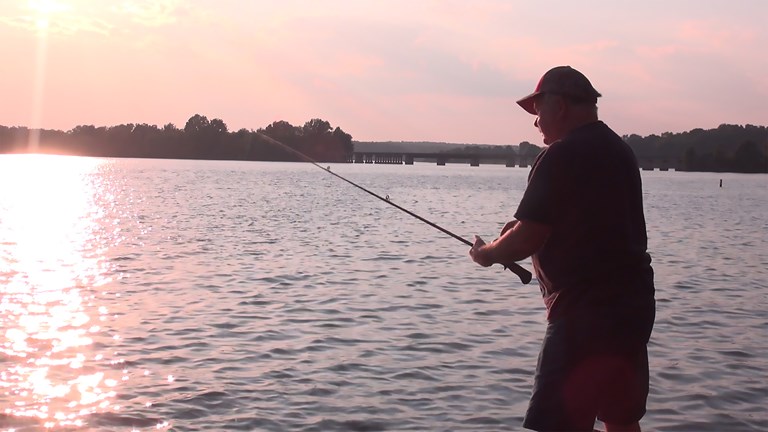 Lake Oconee / Greensboro KOA Reviews
Directions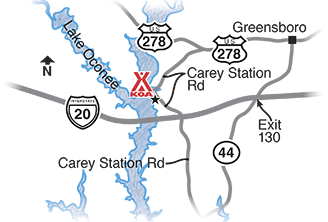 From I-20 midway between Atlanta and Augusta, take Exit 130, GA-44 South 5 miles to Carey Station Road. Turn right on Carey Station Road and travel 5.1 miles to the campground on the left.  ROAD CLOSURE NOTICE: If you are coming from East or West on 1-20 your GPS will instruct you to take Stage Coach Road. It is closed. Heading West take exit 130 and then take a left onto GA-44. If heading East take exit 130 and take a right onto GA-44. 
From the north take US-129 S/US-441 S/GA-15 S. Turn left onto GA-12W/US-278 W/W Broad St for 3 miles, Turn right onto Carey Station Road for 2.7 miles to the campground on your right.
From the south take GA-44 E to Carey Station Road, turn left on Carey Station Road 5.1 miles on the left.
Get Google Directions
Oct 20, 2020
This is our go to stopover as we travel north and south each year. Staff is great, checking was a breeze and I just cannot say enough about the view of the lake. We look forward to staying here each year.
Oct 19, 2020
Amazing but the site we had [#3] was a little to tight for our 32' coach but beautiful. Would love to have had more time but it was quick needed weekend get away
Oct 18, 2020
The staff was very accommodating. Our site was phenomenal. We enjoyed it so much we are planning on returning next year
Oct 18, 2020
It is a beautiful park, but difficult for people our age to navigate on foot. We had to leave early because of a family emergency. The only caution we would give our associates would be to watch the hills, roots, unloved ground and distance form park amenities. All-in-all a good stay.
Oct 18, 2020
The caboose was a little disappointing. The furniture was cheap futon and extra arm chair. Kitchen chairs were broken, toaster was broken and the curtains fell off the wall. The shower was a joke on getting water adjusted to hot/cold. The whole place needed a huge makeover. The park was ok. We rode our bicycles fished and walked. The putt was pitted out-there was none.
Oct 16, 2020
We had a wonderful stay. Staff was super friendly. We will definitely be back.
Oct 12, 2020
Disappointed to have our 43' Motorhome squeezed into a site literally surrounded by small trailer campers with no room for any of us to relax. If the office hadn't closed right after our check in we would certainly have made our feelings known. What total disregard for your guests comfort. Would not recommend to anyone.
Oct 12, 2020
Was concerned about falling walnuts from trees
Oct 12, 2020
I booked online with very little information about the campground or the area. We were very pleasantly surprised! The folks checking us in were very polite and helpful. They even helped us back into our spot. The campground was very clean and well maintained. We were just passing through, but we hope to return for a longer stay in the future.
Oct 12, 2020
Not good 45 degree wet roads, a few slots in the park. Joe the security man backed me off the padded site I was to be at. The roads were wet and due to have more rain 45 degrees and 50 degree angles wet...it was on the side of a mountain. I left due to not thinking I could not pull out the next day. They definitely charged me the 45.00 for the night. Without even offering anything back. Dont stay.
Oct 11, 2020
Staff was so helpful, very well put together! The lady at the front desk very easy on the eyes!
Oct 10, 2020
Great stay ecceeed expectations.
Oct 09, 2020
Awesome place to be but the beds are very uncomfortable. It was like sleeping on plywood.
Oct 07, 2020
Excellent staff. Quick to respond to our needs. Beautiful lake string for camp sites.
Oct 07, 2020
Great place to visit! We will be back!
Oct 06, 2020
Only issue I had was that they were out of fire wood. We would have enjoyed a campfire.
Oct 06, 2020
Stay was great. Just the hill we had to tote our tenting equipment up and down was the issue. Loved the view, the lot, and amenities.
Oct 05, 2020
Everyone was so friendly and helpful. I can't wait to go back! Already booked our next stay!
Oct 05, 2020
Nice park, the spots are tight in many areas. We were fine but saw several people really struggling getting in or out of their site. Overall nice place nice people beautiful lake access��
Oct 04, 2020
Staff very friendly and helpful. My son and I was on our 1st campout and had a wonderful time. Very clean also.
Oct 03, 2020
The staff is amazing and rides be and checks with campers frequently and it absolutely is the best campground we have ever stayed in and it is so convenient for fishing since I am disabled.
Oct 03, 2020
Nice campground. Lots to do. Friendly and helpful camp host. Wish we had more timethere.
Oct 01, 2020
Not bad but picnic table needs to be replaced
Sep 30, 2020
Friendly staff clean park nice level site. except for the huge hickory nuts randomly falling on tp of the camper it was quiet and peaceful.
Sep 29, 2020
we were not happy with our stay this time. We could not enjoy the outdoors because of the may flies. They flew in my face and hair. Spent all weekend inside. Wish I know they were there I would not have gone. Usually love that place. We were right on the water and everything was covered solid. Hated it. We usually love the place. But unhappy this time.
Sep 29, 2020
Anniversary weekend spent with kids and grandkids in camp area T41 with boat slip 10. The campsite and area was beautiful and restrooms were super clean. The staff was amazing, the escort took us to our camp and the boat ramp and was very cordial The gal behind your counter for check in was so happy and beautiful and so friendly. Thank you for everything.
Sep 28, 2020
Our second stay here. Love it! Do wish you had cable TV, though. Thank you.
Sep 28, 2020
Just a quick overnight stay on our way home. We were very impressed with the entire KOA. Staff was friendly and helpful, facilities were clean and comfortable. After a quick drive through as we were pulling our we began talking to each about returning for a vacation.
Sep 26, 2020
Staff extremely helpful and pleasant. Our site was uneven but we could level using blocks. Seemed great for families, beach area clean, pools, club house, and pet area. Experienced a hatch of mayflies that caused us to cut our visit short as we were in a lake front site. Not the fault of KOA.
Sep 22, 2020
The staff were all amazing. Very helpful and nice. Clean campgrounds and community areas. Quiet. We had an AMAZING time there.
Sep 21, 2020
We enjoyed our stay, but definitely would only want to be in the lower part of the camground. We were happy with our spot, however like to be able to choose our spot before arrival. We thought the activities offered were great choices. Wish there were as many activities, such as basketball , volleyball, ect offered near the lower clubhouse, instead of all the way at the front.
Sep 21, 2020
This was our second stay there. Our first one was a free visit for the other resort there and we were not happy with the site at all. This time we stayed and had an awesome site. The staff was very friendly and we still had a few events even with social distancing.
Sep 20, 2020
This camper comment has been removed by KOA due to profanity.
Sep 18, 2020
Put my 34 ft rig in a spot only big enough for a 25 ft rig. Was told since no one else was coming in my trailer could stick out into the road. Stayed on night in a very difficult to access site; won't be back. Still doing KOA's just not this one.
Sep 16, 2020
We are return campers...this KOA is the nicest, cleanest, most friendly and beautiful KOA we have stayed at on this trip! Each time we come here there are improvements which seems impossible since it has always been wonderful.
Sep 14, 2020
Overall the Oconee koa was a very nice place. Restrooms were very clean and activities were well organized. Except LOT #21 had a tree in the way so I could not put out my awning more than 2 feet, a lot of dirt and gravel in the site, and uneven concrete pad to park RV on. I would visit again if only I would have another site. The new owners are working hard to make an enjoyable experience
Sep 12, 2020
One night only but very pleasant. Night clerk Joe was wonderfully helpful.
Sep 11, 2020
This was our first camping trip so we chose KOA Lake Oconee since KOA has a good reputation and Lake Oconee had been recommended to us. We greatly enjoyed our 2 night stay here. The only thing we were disappointed in was the lack of trees on our site compared to others, but we were on the lake. The place was so clean and well kept. Nice concrete parking pad. Friendly, welcoming staff.
Sep 11, 2020
The site we were given was not at all what we were expecting. The description on the website had a patio. There was no patio-only rocks. We asked for another site only to be told there were none available. However of the several vacant sites on the water-none were offered and none were occupied during our stay. This was our 1st stay at this KOA, and will probably be our last.

Lake Oconee / Greensboro KOA
Open All Year
2541 Carey Station Road
Greensboro, GA 30642
Check-In/Check-Out Times
RV Sites, Tent Sites
Check-in: 1:00 pm, Check-out: 11:00 am
Accommodations
Check-in: 3:00 pm, Check-out: 11:00 am
Operating Hours
Sunday: Open 9:00 AM to 5:00 PM
Monday: Open 9:00 AM to 5:00 PM
Tuesday: Open 9:00 AM to 5:00 PM
Wednesday: Open 9:00 AM to 5:00 PM
Thursday: Open 9:00 AM to 5:00 PM
Friday: Open 9:00 AM to 5:00 PM
Saturday: Open 9:00 AM to 5:00 PM
Lake Oconee / Greensboro KOA
Get Google Directions

© 2020 Kampgrounds of America, Inc.