Alert
Stage Coach Road Closure. After exit, take Route 44 South for 5 miles to Carey Station Rd. Follow Carey Station Road 5 miles to campground.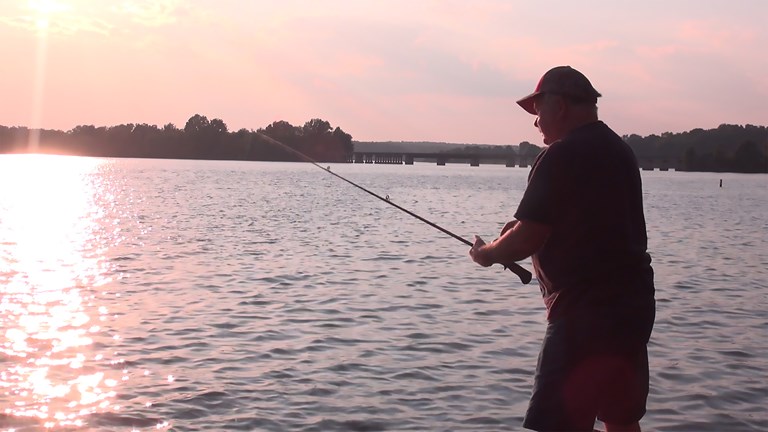 Lake Oconee / Greensboro KOA Reviews
Directions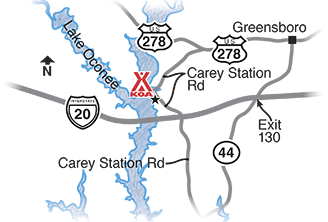 From I-20 midway between Atlanta and Augusta, take Exit 130, GA-44 South 5 miles to Carey Station Road. Turn right on Carey Station Road and travel 5.1 miles to the campground on the left.  ROAD CLOSURE NOTICE: If you are coming from East or West on 1-20 your GPS will instruct you to take Stage Coach Road. It is closed. Heading West take exit 130 and then take a left onto GA-44. If heading East take exit 130 and take a right onto GA-44. 
From the north take US-129 S/US-441 S/GA-15 S. Turn left onto GA-12W/US-278 W/W Broad St for 3 miles, Turn right onto Carey Station Road for 2.7 miles to the campground on your right.
From the south take GA-44 E to Carey Station Road, turn left on Carey Station Road 5.1 miles on the left.
Get Google Directions
Dec 02, 2019
The front office was very welcoming. Steve the manager was very polite and gave a warm welcome. Jeff the on site contact helped me to back up on site and responded to request on time. Well managed, clean site, bath rooms cleaned and well stocked. Will be going back soon.
Nov 30, 2019
It was awesome! Beautiful views and the clubhouse was a nice bonus.
Nov 25, 2019
Needs better WiFi and cable to justify the 40/night fee. Also, the sites are kinda tight.
Nov 25, 2019
It was very well kept. Only down side was access to dumpster for trash. They need one at the back of the park. We will definitely go back and have even told our family and posted on FB how beautiful it was!
Nov 19, 2019
We had booked for one night and had requested pull thru. We were first put on a small site that was not level and would be hard to keep trailer and truck hooked up. There were many bigger more level sites available. We requested a different site, the manager finally told the office which site to move us to which worked better for us. She did come to our site and apologized.
Nov 15, 2019
Excellent treatment by all staff.
Nov 12, 2019
staff friendly nd helpful. Enjoyed our weekend.
CAMPGROUND RESPONSE / COMMENTS:
Thank you for staying with us!
Nov 12, 2019
Only stayed over night. Helpful staff for late arrival. Grounds very clean, good maintence.
CAMPGROUND RESPONSE / COMMENTS:
Thank you for staying with us! See you soon.
Nov 11, 2019
quiet everyone very helpful
Nov 11, 2019
Had great time - friendly courteous staff - clean
CAMPGROUND RESPONSE / COMMENTS:
We appreciate your business. Thank you for staying with us.
Nov 07, 2019
We had a wonderful stay. Richard was helpful and a calming force helping us re-locate when we were first assigned a rocky site with a bad power pole. But, once we resettled, our stay was enjoyable.
CAMPGROUND RESPONSE / COMMENTS:
Thank you for your kind words. We always relay the message to our staff. No two sites are the same at our park so always ask what is available when you check in! See you soon
Nov 05, 2019
A major problem for me was lack of good Wi-Fi. I was going to do some work but the internet connection was poor..
Nov 04, 2019
Really appreciate the golf cart guide to the site at dusk. Perfect assistance after a long day drive.
Nov 04, 2019
Facility was good. Had help at late check in. Showers and restrooms were clean. Very pet friendly!! We are not allowed to bring firewood from outside and the bag we bought at the office was bad, Just smoked and did not burn at all. On 11/3 morning water pipe burst and no water while check out. It was difficult to clean out the dump tank without water.
Nov 04, 2019
The attendant on duty was fantastic. Helped us in every way. There was no water in the morning which was a bummer. Don't know what time it was fixed but no water when we left.
CAMPGROUND RESPONSE / COMMENTS:
Sorry you had to experience our water leak that morning. Luckily, we were able to fix it quickly. We're glad you chose to stay with us!
Nov 02, 2019
Campground was outstanding! Beautiful view of the lake. I'm sure once Stagecoach road reopens it will be easier to get to.
Nov 02, 2019
Only there overnight, loved the property, if we're your way again we would certainly stay there. John Pauline & Laking
Oct 30, 2019
Horrible sites... very unkept park. Roads were tight and the pull through was a joke! Would never recommend this park to anyone!
CAMPGROUND RESPONSE / COMMENTS:
We're sorry you didn't enjoy your stay. We recently just paved our roads. We hope you'll give us the change to win back your business. Thanks!
Oct 29, 2019
4th time there. Will go again
Oct 29, 2019
Great find for us. The staff was as friendly as any we have encountered at ANY campground.
Oct 28, 2019
Nice looking place
Oct 24, 2019
Overnight stay. Very clean and accessible. Friendly staff, Will stay there again.
Oct 23, 2019
It was awesome. The deck/patios were great and there was an amazing sunset over the lake on our first night there. The campground offered a haunted trail ride and trick or treating which, even though we didn't participate, seemed like a lot of fun.
Oct 23, 2019
Nice website pics and concept, but should have left when we saw the spot we were given. Spent hours to level RV due to a rented space being washed out and unlevel. Large rock gravel on our spot definitely a challenge to walk on. Don't advertise free or premium wifi if it is not available. Too many live in residents like a trailer park. Large dogs on chains barking. Couldnt get out quick e
CAMPGROUND RESPONSE / COMMENTS:
We're sorry you did not enjoy your stay. We're happy we were able to move you to a nicer spot.
Oct 22, 2019
Staff is very friendly ALL employees seem to wear a happy face. Sites are well groomed and maintained. We will book another trip soon.
Oct 22, 2019
The staff was very friendly and helpful, especially the lady at the front counter. Our spot was very nice. The campground was clean and well maintained.
Oct 22, 2019
Richard was very helpful getting us to our site and backed in. He also rounded up a grill for somebody and delivered firewood for several people! Awesome guy! I'm sorry to learn about the change in ownership. We probably won't be able to stay here again. Janet was also very helpful moving to a different site.
Oct 21, 2019
when we tried to level our rv at the first site they put us at it would not level with the auto levelers, the 2nd site was able to level BUT when connected to the sewer it was uphill, when does stuff run uphill, so could not use the dump part of the site. We also rented a park model cabin, the cabin had roaches in it, the tub was dirty, and entering from the car we sank in the dirt as we walked.
Oct 20, 2019
Too far off road but beautiful campground
Oct 20, 2019
The site is VERY difficult to find. We came down SR15 into Greensboro; it was at night. We took 278/12 out of Greensboro as per the directions in the book. We couldn't find Carry Station Road because it's not a lit intersection. What is needed is a KOA sign on 278/12 with an arrow to direct people to the campgrounds. Internal traffic pattern is very confusing. Otherwise, good place.
Oct 18, 2019
Lovely site. Lots of deferred maintenance. Staff was outstanding. We enjoyed our stay. Hope they update the great features that are in need of renovation.
Oct 17, 2019
We reserved a 30/50 amp site with a patio as in the pictures online. It was a nice view of the lake but Site #10 was dangerous. We had half a patio with no rail. The drop off the patio was about 14 inches. Bad for kids and grandparents. Only a 30 amp and could not use the microwave with AC. The cement pad had crumbling edges on the walk side and another drop off. Table dripping with old spider web
Oct 17, 2019
We loved our patio rv site...a beautiful resort.
Oct 16, 2019
This campground and the people running it are fantastic and a joy to be around. There were activities for the children and adults. Very clean campground and the sites were spacious. Will definitely be returning next year.
Oct 15, 2019
Campground was very nice, people were very nice, we will definitely be back!
Oct 15, 2019
Unlevel sites on a hill hard to get out of ..no grass not a great place
Oct 14, 2019
This place was awesome! Plan on coming back soon. Got there about 6 PM. I think his name was Steven, and he was great. Took us to our lot and helped getting me lined up where u needed to be.
Oct 13, 2019
Campground is excellent. Great spaces and the Lake is wonderful. Staff terrific. Highly recommend
Oct 12, 2019
The lady at front deck told me that I wasn't listening to her when I didn't understand her directions how to get there .When I made reservations it said pull thru overlooking campground instead I was looking at maintenance building with very unlevel site .will not stay again
Oct 12, 2019
A great area to visit but our site placed us in a bad spot as the camper could not be leveled while attached to my car as with many other sites I have stayed in over the past month, but walking around the area was great.

Lake Oconee / Greensboro KOA
Open All Year
2541 Carey Station Road
Greensboro, GA 30642
Check-In/Check-Out Times
RV Sites, Tent Sites
Check-in: 1:00 pm, Check-out: 11:00 am
Accommodations
Check-in: 3:00 pm, Check-out: 11:00 am
Operating Hours
Sunday: Open 9:00 AM to 5:00 PM
Monday: Open 9:00 AM to 5:00 PM
Tuesday: Open 9:00 AM to 5:00 PM
Wednesday: Open 9:00 AM to 5:00 PM
Thursday: Open 9:00 AM to 5:00 PM
Friday: Open 9:00 AM to 5:00 PM
Saturday: Open 9:00 AM to 5:00 PM
Lake Oconee / Greensboro KOA
Get Google Directions

© 2020 Kampgrounds of America, Inc.