Alert
Stage Coach Road Closure. After exit, take Route 44 South for 5 miles to Carey Station Rd. Follow Carey Station Road 5 miles to campground.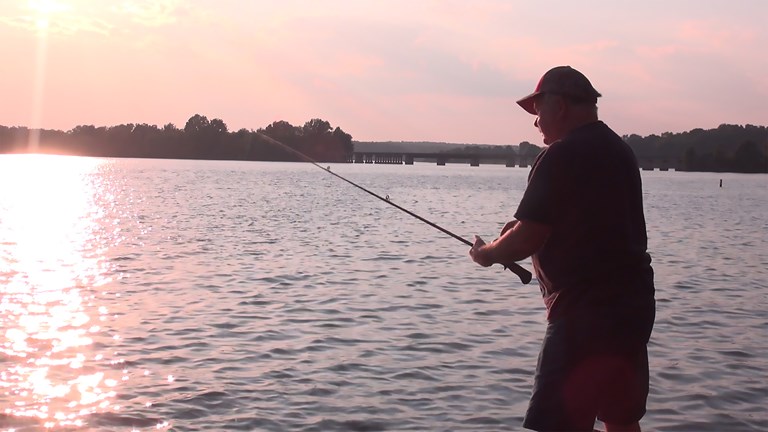 Lake Oconee / Greensboro KOA Reviews
Directions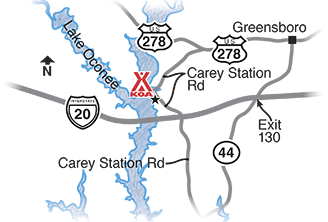 From I-20 midway between Atlanta and Augusta, take Exit 130, GA-44 South 5 miles to Carey Station Road. Turn right on Carey Station Road and travel 5.1 miles to the campground on the left.  ROAD CLOSURE NOTICE: If you are coming from East or West on 1-20 your GPS will instruct you to take Stage Coach Road. It is closed. Heading West take exit 130 and then take a left onto GA-44. If heading East take exit 130 and take a right onto GA-44. 
From the north take US-129 S/US-441 S/GA-15 S. Turn left onto GA-12W/US-278 W/W Broad St for 3 miles, Turn right onto Carey Station Road for 2.7 miles to the campground on your right.
From the south take GA-44 E to Carey Station Road, turn left on Carey Station Road 5.1 miles on the left.
Get Google Directions
Oct 18, 2020
The caboose was a little disappointing. The furniture was cheap futon and extra arm chair. Kitchen chairs were broken, toaster was broken and the curtains fell off the wall. The shower was a joke on getting water adjusted to hot/cold. The whole place needed a huge makeover. The park was ok. We rode our bicycles fished and walked. The putt was pitted out-there was none.
Oct 09, 2020
Awesome place to be but the beds are very uncomfortable. It was like sleeping on plywood.
Sep 08, 2020
Great campground, super friendly, and helpful, staff.
Aug 16, 2020
We had a wonderful time with friends and family and we look so forward to our next visit!
Aug 14, 2020
We enjoyed the stay, mainly because it gave us the opportunity to visit with family members who were staying at the Lake Oconee/Greensboro KOA. We were also very impressed with the friendliness and helpfulness of the staff. Other than that, we can't find much else to praise. Our cabin was infested with cockroaches, the plumbing hardware needed a lot of work, and there were other problems.
Aug 02, 2020
What a wonderful campground. Truly a gem.
Jul 23, 2020
The lady at the office was very unfriendly. The cabin listed as sleeping 6 only provided 2 bath towels and no extra toilet paper for a several day stay so we had to walk to the office for more. The futon was so uncomfortable to sit on and the staff didn't have the pool Open during the listed pool hours. We've stayed at much nicer KOA's and won't be returning to this place.
Jul 08, 2020
The caboose we stayed in was not clean. Had trash in the garbage can, used soap in the shower, and a cigarette under the fold-out sofa to name a few. It is a beautiful campground though!
CAMPGROUND RESPONSE / COMMENTS:
We're sorry to hear you didn't enjoy your stay. We did offer to come back in and clean up what you had reported but you declined our services. We're also happy that we were able to give you part of your money back. Thanks for staying with us.
Jul 01, 2020
Our stay and the KOA in Oconee was great!The staff is wonderful from booking to cabin to checking out.We bought wood and as they was lrading us to our cabin they brought the wood as well and put it in the fire pit.They were doing tours and spoke to us ever time the Road by.the pool was very clean and the bathroom at the pool.We use to visit the KOA in Forsyth but when we gound Oconee.
Jun 22, 2020
Super nice. Very clean. Hard to negotiate roads in a rig over 34 feet. Would love to have had garbage pick up at site.
Jun 06, 2020
Great stay real nice folks.
Jun 01, 2020
We really enjoy renting the golf carts and the hammocks and unfortunately neither was available. The cabin we stayed in needs to be upgraded. The chairs outside we not even usable. The futon and the kitchen chairs are almost broken. My friends stayed in another cabin and there's was upgraded.
Jun 01, 2020
The Grounds were clean and lovely. The Staff were so nice and helpful! Beautiful lake views and pool was awesome. Such a relaxing weekend, loved it!
May 29, 2020
Friendly and helpful staff! The caboose was a fun place to stay in for our vacation. Very nice facility!
May 27, 2020
Stayed one night in caboose. Had a great time.
May 17, 2020
It was great. The accommodations the fishing the people. Perfect.
May 11, 2020
We reserved a two bedroom caboose. Upon arriving, not prior to, we were told that the unit was damaged and given a single wide trailer, not the other caboose. Additionally, the single wide we were given was not ready at check-in time. My husband arrived at 3:30 and he and the children had to wait around while the unit was cleaned.
Jan 01, 2020
Great place and great people, thanks
Dec 30, 2019
Made a reservation to stay in Caboose, specifically. Got to park, told caboose wasn't available. No further explanation. So we got a random trailer with NO WATER! They worked on water till late at night. Then left us with no water. No way to flush toilets. No word from management. No one cared. Will never stay again, will never recommend. Management needs serious customer service training.
Dec 04, 2019
Cabin was clean and everything worked. Had a great view of the lake. Really enjoyed staying there. Grocery and gas was only a few miles down the road.
Nov 08, 2019
Staff was very accommodating from checking in to taking you to site,grounds were clean well taking care of,cabins were clean had everything you would need,and the views awesome. Great time look forward to going back thanks again!
CAMPGROUND RESPONSE / COMMENTS:
We can't wait to see you again!
Oct 21, 2019
This camper comment has been removed by KOA because it contained inappropriate content.
Oct 10, 2019
My stay was wonderful! This is a lovely park right on the lake. The accommodations had a lake view and were comfortable and clean. The employees, especially Steven and Heather, were so nice and so helpful! Would definitely recommend!
Sep 27, 2019
Thouroughly enjoyed the caboose/cabin. The location is lovely and the accommodations are so very quaint. It was a pleasure to visit...wish it could have been a longer stay. So very relaxing!
CAMPGROUND RESPONSE / COMMENTS:
Thank you for your review! We're so excited that you enjoyed your stay in one of our caboose's. We hope to see you back soon!
Sep 09, 2019
Everything was awesome and people we're very friendly. Only suggestion would be new beds in the cabins they were a bit hard. But besides that we will be back again
Sep 07, 2019
We had a nice cabin however the kitchen was lacking. There was only one type of glass, there was only 1 knife to cut with and it was a large chiefs knife. The house service was prompt and very quick to respond. Unfortunately we would not bring our coach to stay as it is to crowed and very close. I believe I would have some trouble parking my 45ft coach in a lot of the sites that I saw.
Sep 04, 2019
Everyone was so friendly and made sure our stay was pleasant!
Aug 01, 2019
We didn't like our stay. The camp area where we stayed had full time trailers that need alot of TLC. We stayed in the caboose and was very disappointed. No electricity for bathroom to shave or blow dry hair,etc. We did not stay second night. One pool was closed. Part of camping area down by lake nice. We hope KOA will get this up to your standards. Caboose is good idea.

Lake Oconee / Greensboro KOA
Open All Year
2541 Carey Station Road
Greensboro, GA 30642
Check-In/Check-Out Times
RV Sites, Tent Sites
Check-in: 1:00 pm, Check-out: 11:00 am
Accommodations
Check-in: 3:00 pm, Check-out: 11:00 am
Operating Hours
Sunday: Open 9:00 AM to 5:00 PM
Monday: Open 9:00 AM to 5:00 PM
Tuesday: Open 9:00 AM to 5:00 PM
Wednesday: Open 9:00 AM to 5:00 PM
Thursday: Open 9:00 AM to 5:00 PM
Friday: Open 9:00 AM to 5:00 PM
Saturday: Open 9:00 AM to 5:00 PM
Lake Oconee / Greensboro KOA
Get Google Directions

© 2020 Kampgrounds of America, Inc.