Alert
Stage Coach Road Closure. After exit, take Route 44 South for 5 miles to Carey Station Rd. Follow Carey Station Road 5 miles to campground.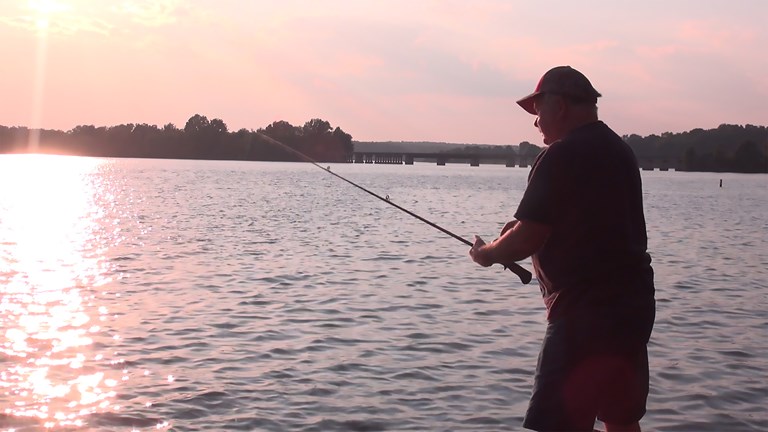 Lake Oconee / Greensboro KOA Reviews
Directions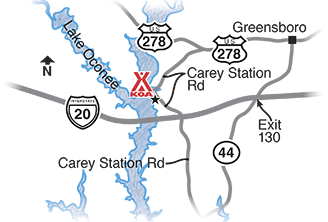 From I-20 midway between Atlanta and Augusta, take Exit 130, GA-44 South 5 miles to Carey Station Road. Turn right on Carey Station Road and travel 5.1 miles to the campground on the left.  ROAD CLOSURE NOTICE: If you are coming from East or West on 1-20 your GPS will instruct you to take Stage Coach Road. It is closed. Heading West take exit 130 and then take a left onto GA-44. If heading East take exit 130 and take a right onto GA-44. 
From the north take US-129 S/US-441 S/GA-15 S. Turn left onto GA-12W/US-278 W/W Broad St for 3 miles, Turn right onto Carey Station Road for 2.7 miles to the campground on your right.
From the south take GA-44 E to Carey Station Road, turn left on Carey Station Road 5.1 miles on the left.
Get Google Directions
Jul 10, 2020
People here couldn't be nicer. Recent rains have created a lot of wash outs that make for tricky docking and leveling on the gravel and dirt sites. Loved the lake and beach. Lots of people out having fun. Bathrooms/showers are modern and clean. Definitely coming again.
Jul 10, 2020
For our one night stay, it provided everything we needed. Very quiet. We enjoyed it.
Jul 09, 2020
Decks around the lake sites need some updating and expanding to accommodate larger campers
Jul 08, 2020
Unlevel sites
Jul 07, 2020
My husband and I enjoyed our 4th of July weekend! Toni, Jeff and the rest of the staff were friendly and very helpful. When we checked in we discovered we had been given an upgrade because someone cancelled. The park was clean and well maintained. Our RV site was close to the lake. We took advantage of the beach. We will certainly return to this KOA in the future.
Jul 06, 2020
The spots do not have grills, they do not have trash pickup. You have to take your trash across the camp group to the dumpster. The worst part is the sewer system smell is awful. The spot we had is where all sewer goes, it's not something you want to smell. They are aware of this, but will not fix it.
Jul 06, 2020
When I checked in I was never told where anything was and what kind of amenities they had. We didn't even know there were showers! I also called ahead of time to make sure everything was open and I was told yes but the playground and one of the pools was actually closed. Also, we spent a lot of time with family at lot 7 and the smell of the sewage was UNBEARABLE! Made us not want to eat!!
Jul 01, 2020
Very nice. Staff very helpful and friendly. Only issue is we had a ton a little ants, I was at 158 not sure why so many ants as I didn't have anything open and had to go buy and spray
Jul 01, 2020
The bathroom was horrible. Absolutely filthy in the middle of a pandamics. I couldn't wait to get out of there. The road directions from the website were incorrect and we ended up at a dead end under construction. The road construction has been going on for 1.5 years so no excuse. There was no clear understanding for check in. We ended up aimlessly driving around to find the host.
Jun 30, 2020
Some of the campsites were nice, especially the few on the water but our campsite was a rain washout site. The campers across from us had to move due to sewage issues. For the price of $45 per night, this wasn't what I expected. Disappointed
Jun 29, 2020
love the lake spots
Jun 29, 2020
The park is catering to Travel Resorts of America members. The regular spots that the KOA travelers would use are not taken care of. The spaces lack gravel are so uneven that the coach would not level. When you go to the KOA website it always shows that there are no vacancies. While we were there 20 spaces remained open. There are way too many permanent campers for a KOA.
Jun 29, 2020
Just a great place , wish we were able to stay longer, we will definitely be back.
Jun 28, 2020
We enjoyed our stay very much. The private beach and pool we're great! Both were very clean and well maintained as was the entire campground. The staff was friendly and helpful. My only criticism/suggestion is that there needs to be an additional laundry room and bath house at the top of the hill near the entrance. It was a long walk for those of us staying in that area.
Jun 28, 2020
The space was not as advertised(online) Not even picnics table Neighbor was permanent had gutter drain that drained h20 into my campsite Electric outlet was upside down I'm not happy
Jun 28, 2020
We stopped here on our way to Tybee Island We immediately called Tybee Island to cancel
Jun 27, 2020
Under the circumstances of the Covid virus, thus campsite did a great job with cleaning and making you feel protected.
Jun 26, 2020
Great experience. Employees super helpful. Only complaint is the workers start their daily clean-up/ tasks early in the morning. Using blowers, mowers and loud machines before 9am. I would recommend they not start those tasks until after 9 or 10am.
Jun 25, 2020
The security officer and employee Jeff was extremely helpful and friendly!!
Jun 25, 2020
Not really impressed. They stuck us in a site smack dab in the middle of permanent sites. The permanent sites are trashy and there seems to be a competition for who can have the most crap. You really should not put nightly campers in between permanent sites.
Jun 23, 2020
Nice but tight parking with lots that are not level. No curbside trash pick up. Staff were friendly.
Jun 23, 2020
Kinda of uneven ground. We only stayed 1 night. camp host lead us to our space. He was very pleasant. Nice lake.
Jun 22, 2020
The campground was nice, the staff was very courteous. My objection to the campground was we could not pick our site, we ended up on a site with no trees. Very hot when it is 90 degrees out. I probably won't come back for that reason.
Jun 20, 2020
Although we had a reservation no one from the office answers the phone and returns calls. With detours to the KOA no directions were posted on the website. Arrived late and the host or security person was very rude. No late access since gate is locked at 11:00 we were told. We've stayed at hundreds of KOA's and this one was lacking.
Jun 19, 2020
Friendly staff & efficient check-in process; great overnight stop and a place to relax for a few days! Well maintained property with great pull through sites.
Jun 19, 2020
We really enjoyed our stay there. All workers are very friendly and knowledgeable about their campground. This one is close to home about an hour away so I'm sure they will be seeing a lot of us and our family! We were right off the lake with beautiful view! See you again soon!
Jun 18, 2020
Traveled for 45 yrs and this beautiful is at the top of my favorites. Great acomodations, staff and beauty. Admittedly we had a perfect site but all were nice and not crowded together.
Jun 17, 2020
My reservations was for site 38. The office put me in 37. I explained when makeing reservations that I needed a pull through site. My husband had to make a 2 hour trip to back me out of site 37. I have canceled my reservations for July due to this. Unless KOA can give me a free week guaranteed with a full through site then I no longer will visit.
Jun 17, 2020
We were pleasantly surprised after reading some of the reviews previously left. It is clear this campground has made much progress at upgrading and improving. The staff were all very friendly and helpful as well. The only downside is the sites are pretty close together.
Jun 16, 2020
As KOA campground goes, we were there for 3 days and we were stationed between full time resident camp site; to the right, left and behind. Maybe that was because my unit required 50 amp. The roads are very narrow, so when they state 40' max, they mean it. A lot of erosion was noticed. Very kind and polite though. Saw personnel drive by on a regular basis and was clean.
Jun 16, 2020
The staff was super helpful and friendly. They have been swamped during covid and near Full capacity during our stay yet the staff efficiently navigated RVs in and helped drivers get into their spots. The staff went out of their way to get our group of 4 different RVs as close together as possible. The campground was kid friendly and quiet during quiet time. Shower houses were decent and clean.
Jun 15, 2020
The water pressure was poor and the campsite was on a slant . The setting is very pretty if you can see the lake
Jun 12, 2020
Good The beach area could stand to be cleaned and raked with a few more sitting areas in the shade. When it rains and the hillside runs into the lower plots the maintenance should shovel and water it off. Makes the campers a mess inside.
Jun 10, 2020
Perfect stay..everyone was helpful and happy great place will be back real soon
Jun 09, 2020
The site I stayed at was not very level. It was also muddy
Jun 09, 2020
Clean, staff is friendly. Sites are wodded. They are intermingled with some sort of timeshare company. Nothing to do here. Lake is muddy near shore a d inexplicably they do not rent any water craft of any kind. If you bring booes and paddleboards you will have some fun.
Jun 09, 2020
It was a red mud gravel parking lot on a severe drop off requested a different sport & was offered another spot that was a mud hole with no gravel finally saw a spot after much frustration we were allowed to move there was advised that all spots were booked & no one ever took the spots over night lady at front desk quite rude & not happy that we were frustrated over the accommodations
Jun 08, 2020
All the facilities were very clean and the staff was helpful at all times. We love coming here as we camp here every year. A great place and the antique stores are a blast.
Jun 08, 2020
It was our first time using our new RV and Jeff not only walked us through the whole hook up process but he came back on checkout and helped us do that as well Outstanding Support. Thank you so much The Gerald's
Jun 07, 2020
Staff did great job.
Jun 07, 2020
Staff was extremely nice. There were some improved sites that were improved with concrete pads but ours was not. It had rained and there was no gravel just red mud. This KOA has a lot of potential but really needs a lot of work.
Jun 03, 2020
Check in great, super nice lady, it went downhill fast. Site very small,wasn't aware one of the pools was completely out of service/dilapidated, other pool in poor condition but open but no pool furniture or umbrellas just a note on gate saying BYOC. We ended up leaving a day early due to being harassed by employee on her day off repeatedly!! This employee was very rude, I will never be back.
Jun 02, 2020
Beautiful area and very nice campground. Office staff and technical workers were very friendly and kind. Campground is very hilly which I loved because it was great exercise. It did get a little crowded over the weekend (not a holiday) but would definitely go back and highly recommend. One of the best KOAs.
Jun 01, 2020
Beautiful! Stayed in site#7. Staff was VERY helpful at check in and helping us get backed in our spot. We will definitely be back!

Lake Oconee / Greensboro KOA
Open All Year
2541 Carey Station Road
Greensboro, GA 30642
Check-In/Check-Out Times
RV Sites, Tent Sites
Check-in: 1:00 pm, Check-out: 11:00 am
Accommodations
Check-in: 3:00 pm, Check-out: 11:00 am
Operating Hours
Sunday: Open 9:00 AM to 5:00 PM
Monday: Open 9:00 AM to 5:00 PM
Tuesday: Open 9:00 AM to 5:00 PM
Wednesday: Open 9:00 AM to 5:00 PM
Thursday: Open 9:00 AM to 5:00 PM
Friday: Open 9:00 AM to 5:00 PM
Saturday: Open 9:00 AM to 5:00 PM
Lake Oconee / Greensboro KOA
Get Google Directions

© 2020 Kampgrounds of America, Inc.