Alert
Stage Coach Road Closure. After exit, take Route 44 South for 5 miles to Carey Station Rd. Follow Carey Station Road 5 miles to campground.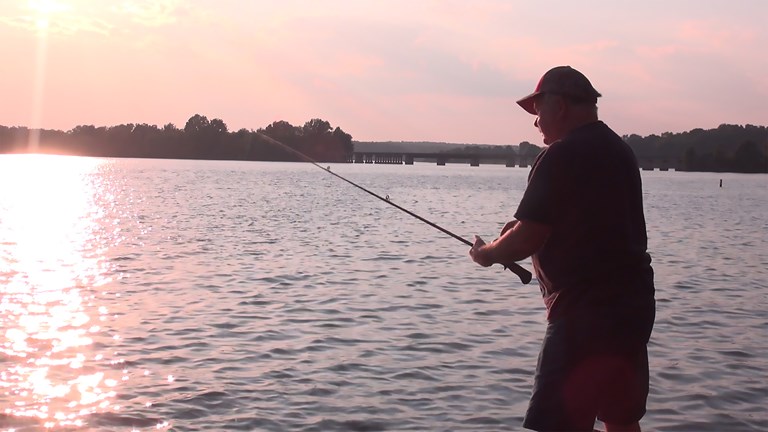 Lake Oconee / Greensboro KOA Reviews
Directions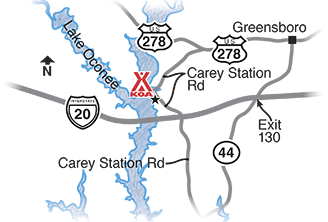 From I-20 midway between Atlanta and Augusta, take Exit 130, GA-44 South 5 miles to Carey Station Road. Turn right on Carey Station Road and travel 5.1 miles to the campground on the left.  ROAD CLOSURE NOTICE: If you are coming from East or West on 1-20 your GPS will instruct you to take Stage Coach Road. It is closed. Heading West take exit 130 and then take a left onto GA-44. If heading East take exit 130 and take a right onto GA-44. 
From the north take US-129 S/US-441 S/GA-15 S. Turn left onto GA-12W/US-278 W/W Broad St for 3 miles, Turn right onto Carey Station Road for 2.7 miles to the campground on your right.
From the south take GA-44 E to Carey Station Road, turn left on Carey Station Road 5.1 miles on the left.
Get Google Directions
Jun 01, 2020
The workers were great, truly. The park is a bit run down,. Bathrooms/Showers were really bad and that was at 6am. One pool closed the other was not concerned with Covid19 or social distancing. The picnic table was 'OLD" I mean maybe older than myself and definitely looks worse than I with out a level board and yes we tried moving it all around. No Fire ring on site...
CAMPGROUND RESPONSE / COMMENTS:
Our bathrooms get cleaned during posted cleaning times. We do not have staff on duty to clean at 6am unfortunately. We are renovating one pool and the other doesn't offer furniture because of covid-19. We do have some old picnic tables but would've been happy to replace yours had you asked. Thanks!
May 30, 2020
We did appreciate the precautions taken at the office concerning Covid problem. The park is very tight as far as spaces but that is because it is right on the lake. Easy location for resupply stop -gas and grocery nearby.
May 29, 2020
Friendly and helpful staff! The caboose was a fun place to stay in for our vacation. Very nice facility!
May 27, 2020
Our first time out in our new RV. Staff was very friendly and helpful. Loved the pool and the dog park. Kids had a great time too!! Can't wait to come back soon.
May 27, 2020
Stayed one night in caboose. Had a great time.
May 26, 2020
So much fun! We'll be back in July!
May 26, 2020
The staff was great, but this campground needs some work. We were put in a circle that had spaces so close together that if they hadn't booked every other space, we wouldn't have been able to move. Once suggestion I'd make is to remove the hookups on the non-used sites as they were less than 3 feet from our door so we had to step around them constantly. Also we had no shade trees.
May 23, 2020
Check in staff very rude! Pools were not open, office hours need to be changed say 8 am to 5 pm instead of 11 to 5 pm. Kids swimming in boat ramp and slip areas.
CAMPGROUND RESPONSE / COMMENTS:
We're sorry you did not enjoy your stay. The dept. of health prohibited us from having our pool open that early during COVID. The store was open 9-5pm and we were happy to help you when you came up. We wish you luck with your travels.
May 20, 2020
Loved it. Stayed right on the lake. The staff was amazing.
May 20, 2020
The park is beautiful but communication from the manager was very poor we arrived an hour after closing of the office received our site and two days later were informed it was the wrong site that it cost $30 more dollars than what we payed and we would have to move within 2 hrs for the people who were coming into that site we were informed because we had questions that we were argumentative.
CAMPGROUND RESPONSE / COMMENTS:
We apologize again for the miscommunication. We did offer to move you to another lake front site and did not ask you to pay the up charge. We wish you the best of luck with your camping travels. Thanks for staying.
May 19, 2020
FIRST time at Lake Oconee/Greensboro KOA !!! Very simple making reservations, and checking in. The STORE was well stocked, and the campground was well maintained. Beautiful Lake, and nice atmosphere. We met some of the kind folks on THE KOA TEAM: Tony, Lupe and Jeff:) :) :) They helped us to get to our site, and to get properly set up. We are "RV NEWBIES" so we asked for some help. #SuperbTips:-)
May 18, 2020
We enjoyed tent camping on site 4 with a fantastic view of the lake. The tent site was very unlevel near the fire ring which made it difficult to sit around the fire in your camp chairs. We did have to clean out our tent pad which had poop in the sand...smelled it during our entire stay...yuck. Neighbors were very loud both nights. Didn't get much sleep.
May 18, 2020
loved the helpful attendants
May 18, 2020
Lake is full of sand bars and stumps. We were on lot 3 and 5. The sites are too narrow to back all the way in and extend our slides due to trees and electrical boxes. Then by the time we got our steps out they were 3" from the railings on the deck. Very dated park. Needs an over haul and at least 5 trees cut down. They did replace the worn out wood on the picnic table when we got there.
CAMPGROUND RESPONSE / COMMENTS:
We're sorry to hear about your complaints after you left and would've welcomed your input while you were with us. We do not control the 19,000 acre lake, but perhaps contacting Georgia Power would be a better place to voice your concerns. We're always working to improve our park, and we hope to see
May 17, 2020
It was great. The accommodations the fishing the people. Perfect.
May 13, 2020
We had a awesome weekend my 1 year old daughter really loved the slide at the playground. The site we had was very tight. Don't understand why they put us there if there was open sites available but the park was clean and very nice.
May 13, 2020
Nice park, staff us very helpful and welcoming. The campground is well maintained, but sites some sites are very uneven. Ours was very uneven and we had to extend front jacks to extreme. Very nice campground otherwise.
May 12, 2020
Great stay with good friends. Would only have been better with cable TV
May 11, 2020
The campsites are too close together. Very steep,curvy and unlevel grounds. Son in law was not able to unhook from his truck due to the steep hill that he was on. Asked to be moved but was not allowed to. Not recommended for boat launching as you have to park your trailer a good distance from the boat ramp.
May 11, 2020
We reserved a two bedroom caboose. Upon arriving, not prior to, we were told that the unit was damaged and given a single wide trailer, not the other caboose. Additionally, the single wide we were given was not ready at check-in time. My husband arrived at 3:30 and he and the children had to wait around while the unit was cleaned.
May 11, 2020
Staff was very rude and camp ground needed work cleaned up
May 05, 2020
The only thing I did not like was one person allowed in the store at a time but I understand why but that does not mean I have to like it. Other then that nice place
May 04, 2020
The campground is beautiful. This was our first time staying at a KOA, we will not be back unfortunately! The campground was not boat friendly. Also once we got there we had to pay more for our campsite. When booking online be very careful! I thought I was booking a patio site, once we got there it was not a patio site. The office told us that they just use one picture for each site!
May 04, 2020
I loved the lake, and everyone was very friendly. The only thing I would change is possibly add a general store closer to the lake, not everyone have golf carts and shouldn't have to rent one for store runs.
May 04, 2020
I went for a fishing trip but turned into an amazing camping trip with amazing staff and very clean !
May 04, 2020
Nice view sites of lake. Good value for the money. Very helpful and cheerful staff. Marginal WiFi unless you pay extra. Limited bathrooms, but very clean.
May 03, 2020
This is one of the more unique KOA's I've stayed at. the sites are varied as open, wooded or water front. The staff was very friendly and helpful. Helpful in that they were a big help in guiding me in some of the more tricky sites to maneuver into. I plan on visiting here again when I have more time.
Apr 27, 2020
The staff was awesome very helpful it was my first camping in a rv park and was my first RV set up !!
Apr 13, 2020
We totally loved site 43!
Apr 13, 2020
It was just so peaceful everyone was friendly
Apr 10, 2020
Always a great experience at Lake Oconee KOA! It's our favorite place to chill for a weekend away. Staff members are super nice and helpful too.
Apr 06, 2020
nice lake, camp sites are a little close to each other, but very very nice grounds. just don't drive guests thru the boat grave yard trashy area on the way in. also please tell campers to keep their kids from screaming bloody murder... I mean some people are there to relax. we couldn't relax the entire time. but we're probably still coming back. very nice lake views.
Apr 01, 2020
The staff is great. Very friendly and accommodating. This is not a park for big rigs. The sites are not level and in need of some TLC. The setting for the campground is very nice - overlooking the lake. We were lucky that the spaces near us were empty and we could get out - we have a 44 ft Motorhome.
Mar 31, 2020
Hard to get to campsite
Mar 29, 2020
Could not level after 2 sites so we asked for a refund. They were polite and nice. Gave us a refund and we found another camp ground.
Mar 28, 2020
Thanks for being Open!
Mar 16, 2020
Beautiful campsites right on the lake
Mar 11, 2020
Staff was very helpful and friendly. The sites were tight for a Class A motorhome. They were also not very level. Clubhouse and showers were nice. The recent rains created a little mess and ruts from others. Sites could definitely use some maintenance.
Mar 09, 2020
first time RV'rs!! It was a great weekend. The staff was helpful; but no intrusive at all. Grounds were clean and the campgrounds were quiet.
Mar 08, 2020
Séjour d'un soir seulement. N'avons pas eu la chance d'utiliser les infrastructures énormément mais semblaient très très bien.
Mar 05, 2020
It was nice!
Mar 05, 2020
Generally not a fan of campgrounds with so many seasonal/permanent sites. But this campground was very nice, clean facilities, in a wonderful setting along the lake.
Mar 04, 2020
It was great. Staff was very helpful and went out of their way to make sure we were happily set up. Pretty, tons to do and great camp sites. Would highly recommend and we want to eventually make our way back to see what it's like in summer!

Lake Oconee / Greensboro KOA
Open All Year
2541 Carey Station Road
Greensboro, GA 30642
Check-In/Check-Out Times
RV Sites, Tent Sites
Check-in: 1:00 pm, Check-out: 11:00 am
Accommodations
Check-in: 3:00 pm, Check-out: 11:00 am
Operating Hours
Sunday: Open 9:00 AM to 5:00 PM
Monday: Open 9:00 AM to 5:00 PM
Tuesday: Open 9:00 AM to 5:00 PM
Wednesday: Open 9:00 AM to 5:00 PM
Thursday: Open 9:00 AM to 5:00 PM
Friday: Open 9:00 AM to 5:00 PM
Saturday: Open 9:00 AM to 5:00 PM
Lake Oconee / Greensboro KOA
Get Google Directions

© 2020 Kampgrounds of America, Inc.