Alert
We are still experiencing temporary restrictions on our Pizza Pub (take out only), pancake breakfast and summer weekend activities.
Please call or email for further details or updated information.

Thank you from
All the Staff at Lake Isabella Kern River KOA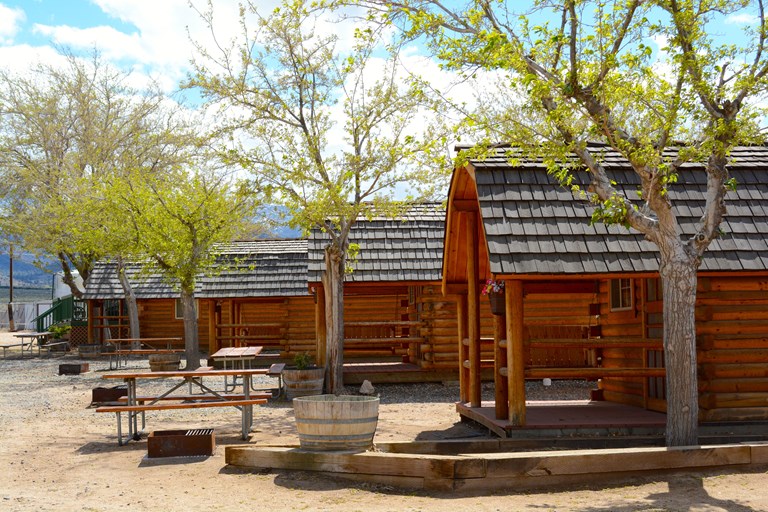 Lake Isabella / Kern River KOA Reviews
Directions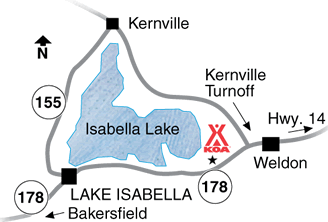 11 miles east of the town of Lake Isabella on Hwy 178. 32 miles west on 178 from Hwy 14.
GPS: N35.654805. W118.342632
Get Google Directions
Oct 28, 2019
The staff was friendly. They were always attentive and helpful. The facilities were clean and there was always a flurry of activity by the employees cleaning and organizing. There really wasn't much for the kids to do, no activities, it is offseason. Some of the playground equipment looked a little rough and did not look sturdy. A good campsite for a layover but not an extended stay with kid
Oct 28, 2019
Been going to that campsite for almost over 10 years haven't been there in the last five but it's always good people of warm and welcome and very helpful
Oct 25, 2019
onfrendly lady at the desk, but when I re-act on the same way she was easy to go. The facilty is a bit oldfashion, and the water in the pool was much to cold!
Oct 23, 2019
enjoyed my time there. Very friendly staff
Oct 21, 2019
Great site staff is always very nice love this place
Oct 18, 2019
We were welcomed by the lovely smiles of Mary, Meghan and I think the other young woman was Sophie. The pub was a nice addition. Even locals who aren't camping we're patrons. Great hospitality! Well stocked store and nice campsites. We'd come back.
Oct 15, 2019
The website discussed a lot of weekend activities and we were super excited for them. The pamphlet given to us listed them. I didn't bring breakfast for both mornings expecting pancake breakfast on Sunday AND it didn't happen. It turns out it is a peak season thing it was not clear it was peak season only.... disappointing.
Oct 15, 2019
Utilities are very old , need a lot of upgrades But employees are very friendly
Oct 12, 2019
Dump station has a LOT to be desired! The access is impeded by the utility cart that parks adjacent to the area and the grade surrounding the dump port slopes uphill and away from the dump receptacle, making it virtually impossible to get an acceptable tank discharge. Not good!
Oct 09, 2019
Very kindly desk employee���
Oct 08, 2019
No wifi campsite needs updating
Oct 05, 2019
Tight entrance to park. Once you get in there enough room to maneuver. Friendly staff
Sep 30, 2019
This stay was cut short due to the weather. However, we have stayed here before. This is one of our favorite KOAs due to it's location.
Sep 27, 2019
Very enthusiastic staff, keen to do well. They are aware of improvements that can and will be made. Very pretty area, excellent facilities nearby.
Sep 24, 2019
It was clean of trash, but all dirt...none of the campgrounds in the area have asphalt or cement pads. Dog walk area is under construction, staff nice, no local channels were found on the antenna so We used our directTv. Canyons in and out of Weldon are narrow, and challenging for a 40' 5th wheel. Office staff very accommodating and they did have pancakes on Sunday morning. They are updating 50
Sep 16, 2019
Very clean, not terribly crowded when we visited. Ice cream at social was really great! Women's shower slow drain which encouraged a quick shower.
Sep 15, 2019
Great personel. Very good service. Big kampground
Sep 12, 2019
The management was great, very friendly, very accommodating, the campsites were very adequate, but some sites could use some tree trimming for larger units. The pool while satisfactory, could use a good cleaning. Of note, this part of California is rural and fairly arid, so expect some wind & dusty conditions. All in all we enjoyed our stay. The surrounding area offers hiking, boating, ohv & mtb.
Sep 10, 2019
Very nice,friendly employees. Nice atmosphere. Very much enjoyed it.
Sep 09, 2019
Great pool (7 ft deep in deepest end), cool ranch style look, easy to locate & bonus has a little bar on site.
Sep 05, 2019
Worst KOA ever. All dirt lot, no kid activites, horrible manager that took it upon herself to park her trailer in a spot that my friend had reserved , therefore breaking up our group of 4. They closed the pool on Sunday and Monday during Labor Day weekend because they had to shock the pool. Easily could have done that at night to have the pool ready for Sunday since it was 105 degrees.
Sep 04, 2019
Place was just ok. We went for a major holiday weekend. It was about 100F° daily, the pool was closed 2 of the days we were there so the kids had little to do being the pool was a major reason we choose that spot during our visit to lake Isabella. Kids ended up just having to play catch with a ball by our camp along with the 4 other pull thru rv camps we occupied. They were told not to play there
Sep 03, 2019
Our reserved pull through spot was taken by the new manager. We were never notified prior to our arrival. We book this months ago and had 4 other groups that also reserved PT spots. This KOA is not well kept & the pool was out of service all day on Sunday and Monday. It wasn't the fault of the KOA but there was no other activities for the kids. Our kids was not allowed to play catch in shapes ar
Sep 03, 2019
We had a nice visit to your area
Aug 29, 2019
Thanks for giving us a nice shady spot! Friendly service.
Aug 26, 2019
Although the weather was hot and our AC failed us, it was an otherwise pleasant experience. The staff was excellent. The camp ground is basic but it worked well for us. We would have enjoyed it more if our AC (2019 coach) performed its task as designed.
Aug 19, 2019
Staff was friendly and helpful. However, campground only had 30 amp electrical service available, and spaces were not very accommodating for large RVs. Also, in order to activate the wi fi, it required you create a profile. I tried doing this and it said I already had an account, but it would accept my pass word. I never did get on their wi fi.
Aug 11, 2019
Just one night passing through. Clean park would be great place for the grandkids. Lots of fun and cool things for them to do.
Aug 07, 2019
Nice level sites with shade in an area where shade is a precious commodity. Showers were clean but need updates. Laundry facilities were top notch. Pub on sote was an added bonus. Friendly and courteous staff. Nice pool. Any on-site "problems" were immediately addressed and rectified by management.
Jul 29, 2019
It was a great time and excellent experience. The staff are friendly and informative. Interacted with the kids My complaint is about the bathrooms in general. The cleanliness was terrible insect everywhere sink and shower the windows could use a little broom. We arrived at 2pm and the bathroom was being cleaned/serviced for 40 minutes, so we waited. Sign outside said cleaning time is 10am to 1
Jul 29, 2019
Loved it there
Jul 28, 2019
This is the dirtiest uncared for campground ever. Our air conditioner burned up because of low voltage. I would not recommend this place to znyone.
Jul 27, 2019
Liked the shady spot replacing our original assignment. Accessible shower stalls need grab bars.
Jul 26, 2019
Pool was not well maintained. Water was yellow. RV has dog pin full of dog feces 1 site away from us. Dog run had feces in it from people who didn't pick up after them. Bathrooms we're not clean. Dead bugs all over the counters so bad I thought it was part of the granite. Toilets didn't flush well. KOA Lake Isabella is no where close to the lake or white water rafting. I felt pictures lie
Jul 24, 2019
Website claimed ice cream social Friday, movie Saturday and pancake breakfast Sunday. Sign at registration said no ice cream social or pancake breakfast. Don't know what happened to the movie. 3/4 of park had shaded spots like website said. Ours had a tree next to it. Minimal shade. Overall park was ok but not the quality that was described on website or what I expect from KOA.
Jul 22, 2019
The restrooms were dirty and disgusting. You should put a lot more efford in cleaning them. The site itself and the restaurant close to the campingground are nice.
Jul 21, 2019
Terribly dirty and dusty. Gravel or pavement would make a big difference. All dirt. Men's room/showers were horribly filthy even after cleaning hours. Cobwebs, dirt on trays, hundreds of dead insects on vanity tops, toilets constantly running or did not flush. Filthy. Staff needs motivation or owners money to make greatly needed infrastructure improvements.
Jul 17, 2019
V hot but the shade and the breeze under the cottonwood trees was just lovely. Staff helpful and friendly. Bathrooms need a bit of a facelift.
Jul 11, 2019
Staff excellent, shame the stay was generally marred by some other campers being less than considerate; noisy and brash. The facilities were cleaned daily, but were often dirty with a lot of flys, compounded by inconsiderate other campers; rustic feel to site may not help people take care of facilities. The pool was good as was the shop, bar and pizza.
Jul 07, 2019
Too much dust, quads riding around camp, dumpster over flowing all week, bushes dead in buckets, no dog poop bags, we left a day early. The best part of the campground was the beautiful shade trees.
Jul 06, 2019
Dusty dirty and noisy. Great staff.
Jul 05, 2019
Well placed as far as seeing the area. Comfortable stay and great little pub. Friendly staff.
Jul 05, 2019
The campground was extremely dirty. We will not stay here again. The bathrooms have not been cleaned for a long time and it looks like garbage hasn't been picked up for at least a week or two. There also is not ample space between the sites. Very disappointing! The only positive is that we only stayed one night.
Sep 09, 2020
Stop by to visit friends
- Mike Vaughn on Google
Aug 31, 2020
Camp was great and was really impressed how clean they kept the bathrooms. Friendly staff and nice cabins.
- Stacey Alphonso on Google
Aug 30, 2020
The staff 2as great, lots of trees for most spots. Lots do to for day trips. Wasn't impressed by the lake, but did white water rafting on the Kern River, which was great!
- Don Gib on Google

Lake Isabella / Kern River KOA
Open All Year
15627 Highway 178
Lake Isabella Kern River KOA
Weldon, CA 93283
Check-In/Check-Out Times
RV Sites, Tent Sites
Check-in: 2:00 pm, Check-out: 12:00 pm
Accommodations
Check-in: 2:00 pm, Check-out: 11:00 am
Operating Hours
Sunday: Open 8:00 AM to 10:00 PM
Monday: Open 8:00 AM to 10:00 PM
Tuesday: Open 8:00 AM to 10:00 PM
Wednesday: Open 8:00 AM to 10:00 PM
Thursday: Open 8:00 AM to 10:00 PM
Friday: Open 8:00 AM to 10:00 PM
Saturday: Open 8:00 AM to 10:00 PM
Lake Isabella / Kern River KOA
Get Google Directions

© 2020 Kampgrounds of America, Inc.