Alert
We are still experiencing temporary restrictions on our Pizza Pub (take out only), pancake breakfast and summer weekend activities.
Please call or email for further details or updated information.

Thank you from
All the Staff at Lake Isabella Kern River KOA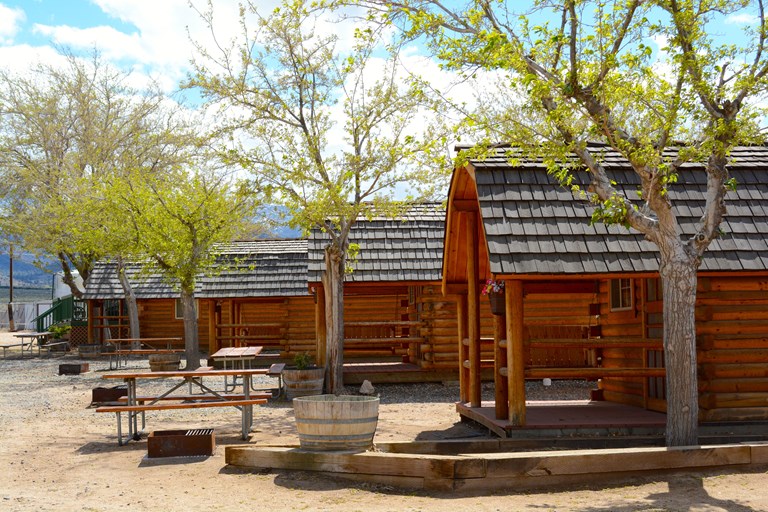 Lake Isabella / Kern River KOA Reviews
Directions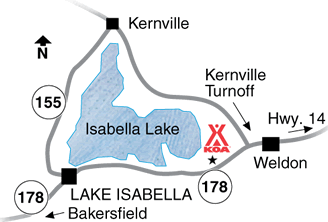 11 miles east of the town of Lake Isabella on Hwy 178. 32 miles west on 178 from Hwy 14.
GPS: N35.654805. W118.342632
Get Google Directions
Jul 08, 2020
We stayed on spot 25 the people on spot 26 allll they did was smoke mariguana day and night we have 2 small kids they keep saying whats the smell we had to stayed out of the campsite just so we can smell fresh air the smell was to strong i can't belive an associate didn't smell it my five year old felt sick at night our tent smell like pure mariguana
Jul 01, 2020
We love Lake Isabella! Less wind would have been nice, but not your fault �. We hope all the fun activities can resume soon (Stupid Covid). The kids love the playground area! Keep up the great job!
Jul 01, 2020
Quiet hours were not enforced at all. No one was on site to enforce them and there was no phone number posted for someone to call.
Jun 29, 2020
The only thing we didn't like about our stay was that "quiet time" is supposed to be no later than 10pm but there was 2 other sites that were very loud until 2AM and no staff members advised them to respect "quiet time".
Jun 29, 2020
Facilities were nice and staff was friendly. There was a dog that lived next door to the camp that barked a good portion of the night. The playground needed a little bit of maintenance but overall it wasn't a bad place to stay.
Jun 27, 2020
Pool was refreshing, staff welcoming, campsite maintained, not close to river, but we drove there easily. We had noisy neighbors, popping popcorn and talking loud til 2am, so we were exhausted. At another campsite someone was yelling out every hour very loudly til 3am ( possible handicap child?) .
Jun 27, 2020
We really loved camping at KOA. The only concerns are that we had no electricity after 10 PM on the night of 6/25 and there are no phone numbers or emergency numbers to call, so we had to share our neighbors electrical outlet. Also, when we checked out we were told we could stay a third night for free because we purchased 2 nights. Had we known that we would have planned to stay a third night.
Jun 26, 2020
We had a great stay! The staff was very helpful and nice � we can't wait to return!!
Jun 26, 2020
Camp ground was alright, everyone there was very friendly. My issue with this KOA is that it was very dirty. The bathrooms were unkempt and there were so many bugs in and around the sink. My tent site had a big wet patch from someone perviously leaving the water running. This created a large area where I could not set my tent up as well as a 2-3 foot ditch. I do not think I would stay here again.
Jun 20, 2020
Been using this campsite for over 15 years never had an issue except this day but the manager of the camp took care of it everything was great she was great and double check on us to make sure we were happy ���������
Jun 20, 2020
No late arrival package. We had to pick our own site after going through the late arrivals to figure out which were available. Was harassed by a person in the a.m. about throwing our trash away. I suppose it was an employee as we saw no one. Had to ask a fellow camper for the bathroom codes. Very disappointed expected more when paying for a night's stay.
Jun 14, 2020
My son loved the kid's splash pad and playground, and I loved how friendly the ladies working the grounds and the desk were.
Jun 07, 2020
Site T5 seemed to be an old dog run turned overflow? only separated from hwy by short wall traffic noises bullhead sticker weeds throughout T1-T5 area no place to park except right next to propane for our 2 motorcycles only a couple trees there is a nicer area for tents I would recommend the tent sites 15-23 the staff is friendly the restrooms/showers are clean store is well stocked
Jun 06, 2020
No one was there from 3 pm Thursday until Friday morning to check in with, & phone calls went to voicemail. A camper helped me find my papers, which was in a shelf I didn't know opened. A father with 4 was kids who booked a camping cabin online was stuck.He had a tent with him, so I offered him my site and I slept in my SUV. Why isn't there an on-site camp host there 24/7? Or live phone hel
Jun 05, 2020
Even though there were covid restrictions, representatives could have answered their phone. I was assured many times that the site would accommodate my pop up trailer. No way would the tent site work. No one to talk to so we just left. Still trying to get a refund.
Jun 01, 2020
I understand that it was a busy weekend, but the bathrooms were disgusting. I have a 2 year old and I didn't even want to take her in there to use the toilet.
May 26, 2020
Perfect place for family with kids , the hot showers and stove and microwave make life easier and store on site makes everything very convenient
May 26, 2020
Great!, Clean amenities. Although in COVID lock down, everything needed was provided and clean.
May 26, 2020
Staff was nice and friendly and was delighted to get a spot during Covid. We spent most of our time on the river and not at campsite, we just stayed at night. However, there was alot of "soar eye" stuff around grounds. I would clean up stuff dumped around camp ground like old chairs, doors, hide dump area so we can enjoy the natural ambiance. Area was quiet and I felt safe.
Mar 20, 2020
Well kept, friendly staff. Nice campsites. Strongly recommend
Feb 20, 2020
Bathrooms were very very dirty. From blood to mud. it was all there. My girlfriend said that while she was in the stall, a guy entered the bathrooms to clean it which is unacceptable when the stalls are occupied. We saw that the cleaning time was from 10:00-11:00am so made it a point to go freshen up by 9:00 am but they came in unannounced at 9:15. This is unacceptable.
Jan 24, 2020
I would definitely stay at this campsite again especially during the off camping season when nobody else is around. It was quite and the amenities were clean.
Oct 28, 2019
It was an all around great stay at Kern River KOA. Everyone that worked there always has a smile on their face and were helpful. They even let us move camp sites to a shaded area and it was a great move.
Oct 14, 2019
Fun and clean location, staff was very friendly.
Oct 08, 2019
This rating has nothing to do with staff and amentities those were great. My rating is based on the tent site layout. There are no barriers between tent sites ( I.e logs, stones). Tent sites have hardly any shade and we could not park our car on the site. Our parking spot wasn't conveniently located near our site (#4) and the site was right on the road. We were so insulted we ended up just leavi
Sep 03, 2019
The staff was very welcoming! A lot of fun amenities!
Aug 21, 2019
Started out as great family vacation. Unfortunately it turned into the worst camping experience I have had with my family. The Manager of the campground threatened to make the last part of our stay unpleasant and she did. The other staffers were great, and could not help my family except to apologize that this Manager was know for this and the other Manager was out sick. No good publicity from us
Aug 18, 2019
My husband and I habe stayed here before and loved it. This was our 11 year old daughters first time camping and she had a blast! The staff was amazingly nice! Bathrooms are always clean despite the bugs which hey we are camping bugs are to be expected! The other campers are friendly and camp sites are clean and large!
Jul 29, 2019
Unfriendly staff. There was a leak at our site and they took their time fixing it. It almost flooded our site. They advertised activities on their website, but were all cancelled for the weekend, then at the last minute they decided to have 1 of the events, the ice cream social, but didnt inform their campers. Pool was not maintained, it had a lot of water beetles, a sign of lack of chemicals
Jul 18, 2019
We stayed for three days and during that time the bathrooms were never cleaned! Thousands of dead mosquitoes everywhere and a simple wipe down would have been nice! Also, the camp kitchen was ill-kept, dirty and mostly broken gas ranges that had worn knobs. Hard to tell which ones were working because dials were wore down. All kid activities cancelled. What a shame!
Jul 12, 2019
Very nice campground. The tent sites are huge, and have lots of shade. Clean bathrooms and a laundry room. The only thing that would make it better is if the store had more food stuff for sale.
Jun 14, 2019
The restrooms are not very clean , bring your owned TP.
Jun 08, 2019
Nice and quiet!
May 29, 2019
It was great.
May 13, 2019
Great staff. WiFi was only about 2.5Mb; so nothing outstanding. The handles on toilets needed to be held down to do full flush. Many people didn't realize or didn't care, so often I was greeted by someone's discharge still left in the toilet. Which I was then able to flush by holding the handle down until the water jacket had emptied and finally sent the crap down the drain. Only 1 shower seat.
Apr 27, 2019
We stayed for one night In the tent area. The Staff was very friendly and the Campground was clean and we had a good stay.
Apr 24, 2019
Arrived late, with reservations, and no note left on door with bath code, site number, etc. Very disappointing
Apr 13, 2019
The staff here were amazing. The grounds were clean and we absolutely loved our stay here!
Nov 20, 2018
The restroom is well maintained.
Nov 06, 2018
We had a great time. The entire KOA had a lot of charm. The employee named Summer was particular friendly and helpful. We'd definitely come back.
Oct 02, 2018
we had a great time ! thanks everybody out there
Sep 21, 2018
Friendly staff, good customer service. Lots for kids to do. Convenient location.
Sep 20, 2018
Really dirty restrooms and showers. Didn't look like they been cleaned daily.
Sep 18, 2018
Great place. Fun staff.
Jun 27, 2020
It was hot! But the boys loved their time! Very fun campground!
- Lisa Griggs-Riordan on Google
May 28, 2020
Very nice people, very clean park, loved our time there
- kathleen curran on Google
Apr 19, 2020
Highway 178 give different curve roads from Bakersfield CA to lake Isabella CA to onxy ca to more until end of highway to other highway to mojave CA and Ridgecrest ca. Sometimes feel dizzed, so bored, fun, calm, and have many emotions to feel driving on highway 178. Good dream catcher, good thinking, and good view.
- Bianca Veisaida Borrero on Google

Lake Isabella / Kern River KOA
Open All Year
15627 Highway 178
Lake Isabella Kern River KOA
Weldon, CA 93283
Check-In/Check-Out Times
RV Sites, Tent Sites
Check-in: 2:00 pm, Check-out: 12:00 pm
Accommodations
Check-in: 2:00 pm, Check-out: 11:00 am
Operating Hours
Sunday: Open 8:00 AM to 10:00 PM
Monday: Open 8:00 AM to 10:00 PM
Tuesday: Open 8:00 AM to 10:00 PM
Wednesday: Open 8:00 AM to 10:00 PM
Thursday: Open 8:00 AM to 10:00 PM
Friday: Open 8:00 AM to 10:00 PM
Saturday: Open 8:00 AM to 10:00 PM
Lake Isabella / Kern River KOA
Get Google Directions

© 2020 Kampgrounds of America, Inc.