Directions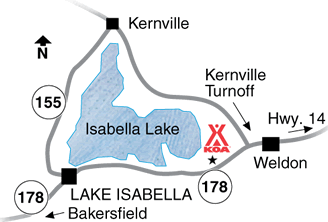 11 miles east of the town of Lake Isabella on Hwy 178. 32 miles west on 178 from Hwy 14.
GPS: N35.654805. W118.342632

WE ARE NOT LOCATED ON THE LAKE NOR ON THE RIVER, BOTH ARE WITHIN A 10 TO 15 MINUTE DRIVE
Get Google Directions
Sep 13, 2021
We enjoyed staying at KOA I was just disappointed not being notified that the lake was closed for the weekend. An email would have been great.
Sep 01, 2021
Our family had a wonderful time. The staff was great. Would definitely go back!
Aug 23, 2021
It was an ok stay. We had a very loud neighbor the first night and heard the cars driving by overnight. It was mostly dirt on the camp ground so lots of dust everywhere. The staff was friendly. Camp ground was nice and flat, but no much space between the campers. Bathrooms clean. It was quiet for the most part. Has small playground (too hot, not covered), and had splash pad and pool (very cold).
Aug 17, 2021
Very nice shaded area for our tent site, we needed it! Just wish the camp site had closer bathrooms located on the northern side. Bathrooms were clean and friendly staff.
Aug 16, 2021
We tent camp and the facility was excellent.. very clean and well maintained.. we had a great experience!
Aug 09, 2021
Horrible stay. The campground posted quiet hours, but was not enforced. Others were being loud and unruly which made my family and myself uncomfortable. The campsites are right on top of each other with no privacy. We left the campsite early because my family was not enjoying our stay.
Aug 08, 2021
Lots of noisy people being noisy right next to me well past midnight, somebody showed up at 11:30 and made a ton of noise. I was told I could drink the water from the kitchen area but was not warned it was extremely high in toxic nitrates. That place sucks.
Aug 08, 2021
Sierra is an amazing, kind, and helpful person
Aug 04, 2021
It was a great experience at KOA.
Aug 03, 2021
Great place to stay with young kids who love to swim and get wet! Fun playground, splash pad, the pool had several different levels so kids of all ages to be safe enjoy independent water play, and calm enough traffic on the camp ground for kids to ride bikes. Great shade cover on campsites with water and electrical hookups & most campers. An outdoor clock around the pool area would be wonderful.
Aug 03, 2021
We had a great time despite the heat. It was nice to have a pool and the splash pad available. The bathrooms could be cleaner, the toilet paper ran out a lot. Also the playground is a little run down. Maybe add some shade to that area. Otherwise we had a good stay.
Aug 02, 2021
Just what I needed. Peace and quiet mid week.
Jul 25, 2021
Loved the pool . Look forward to you starting the pizza Again.
Jul 25, 2021
Very rude to locals and they made my kids cry cause 9am they came and told us we hadd to leave cause we were locals
Jul 25, 2021
My 4 boys and I stayed for two nights and every thing was great, nice clean restrooms, hot showers and friendly staff…. We really enjoyed our stay.
Jul 24, 2021
We came for 3 days but we have a horrible experience we just stay 2 days . First night was ok but second night a tree family cheking with 3 spaces at the right they where like home and at 1 am they have all the lamps on and talking .on the left we get 4 drug people the talk super high like a party sleep at 2:30 am nobody come to check them embarrassing honestly we didn't sleep .
Jul 15, 2021
The staff and facilities were well kept and polite. The only complaint I have is the camp next to us came in at midnight on Friday 7/9 and was super loud and woke up my kids setting up camp.
Jul 07, 2021
The location was great, it has lots of stuff to do around that area. The only thing is the pool and bathroom where dirty but I think it was because of the 4th July weekend. Tip on holiday weekends clean the bathrooms at 9:30 PM so we there is not the wait time for cleaning and have extra toilets paper. Other then that was a nice place, would come back.
Jul 06, 2021
We left a day early due to obnoxious neighbors allowed for be disrespectful to the quite hours rules. Loud music, fluorescent light strung up into the tress allowed to run all night (which illuminated our tent). Children running through our campsite even after we personally told them not to run through our site. Neighbors also had a loose dog that would come over to our site and urinate.
Jul 02, 2021
Bathrooms and pool needed to be cleaned. Tent site was small but good location.
Jul 01, 2021
Had a great stay, nice KOA !!!
Jun 28, 2021
It was really great, the host are amazing. The only little negative part will be that bathroom and shower are very sleepery.... but the rest is amazing:) we will definitely come back
Jun 28, 2021
This is the second time we stayed here and it was just as good as the first time.
Jun 23, 2021
No problems at all. We checked in facilities were working and kept clean. Trees provided adequate shade from the hot sun. 15 min or less drive to the town.
Jun 17, 2021
Clean, shade, noisy birds, lack of policing during quiet hours, people were not quiet, people trespassing on your campsite which I have never seen before in my over 50 years, the wind; trying to pitch a tent or light a fire was insane, but kept the bugs away. The stars at night were amazing as well as the pool. Not near body of water as advertised. Weather was amazing & staff was friendly.
Jun 10, 2021
We had a great couple days there I wasn't too busy just real windy you can't control that just be aware that it does say that you're allowed to have up to six people but they don't tell you that they're going to charge you extra for every person that you have which got sprung upon us because we had a couple friends show up halfway during are stay and they charge us, so just be aware, but great tim
Jun 09, 2021
Very windy, very dry, facility needs to be updated
Jun 07, 2021
Wonderful place, friendly clean and
Jun 05, 2021
The campsites are so close together that my sister and I felt uncomfortable staying there. We ended up moving to a different campsite so that our site wasn't six feet away from a stranger's tent. It turned out ok for our one night stay but would never recommend it to anyone looking to go on a fun camping trip. Very disappointed in this place
Jun 01, 2021
Quiet hours were not enforced. Loud music and talking into the night both nights. We barely slept. Also, on a busy holiday weekend, the bathrooms should have been cleaned hourly. They got pretty gross. I appreciated the shade and the kids had a great time and enjoyed the pancake breakfast. Still better than the forest service campgrounds in the area.
Jun 01, 2021
Really nice environment and easy to book
May 29, 2021
Been coming there over 15 years off and on stuff for always helpful and welcoming campsites always clean plus on the showers and restroom ���������I've always recommended this campsite
May 25, 2021
Stayed two nights. Windy in the afternoon and early evenings, but the campground was nice and we had a good time. I am planning on returning for another visit.
May 24, 2021
We had 3 sites and a large group, our only issue is with only one bathroom for it to be closed for cleaning for one hour is a long time when you have 9 small children. Plus the tpaper was not stocked thur out the day.
May 21, 2021
Staff was fantastic!
May 18, 2021
The staff was extremely helpful & pleasant, from the first phone call through the end of our stay. The weekend was very busy, but all campers were respectful of each other which made it super relaxing. Some things are being repaired/upgraded, but that did not affect our enjoyment at all. It is obvious they care about the facility & their campers. We will definitely come back again!
May 17, 2021
The tent site was very spacious and had lots of shade. Bathrooms were pretty clean.
May 17, 2021
We had a nice stay, the bathrooms were clean and the area we camped was nice and shaded. We had a nice weekend getaway.
May 17, 2021
I started camping this year and have been to five campgrounds so far. Lake Isabella KOA blew out the competition from every aspect. Super friendly and knowledgeable staff, amazing amenities, and clean restrooms. Have already recommend to family and friends.
May 10, 2021
Staff was very friendly. The tent site was right next to the highway and on a hard dirt surface.
May 07, 2021
Horrible. Bathrooms are disgusting and never cleaned. Shower barely even works, the drains don't drain when showering.
Jul 20, 2021
Good
- Steve "S&R" Roze on Google
Jul 22, 2021
It's okay. Nothing to brag about.Big sites. 30 amp only. It was very hot and could only run one air conditioner.
- Letha Whipple on Google