Directions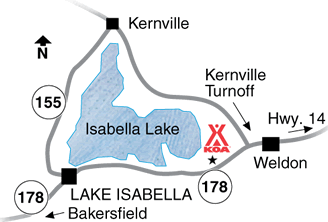 11 miles east of the town of Lake Isabella on Hwy 178. 32 miles west on 178 from Hwy 14.
GPS: N35.654805. W118.342632
Get Google Directions
Nov 30, 2020
Tho hostess was very helpful, the campground was clean and quiet and the camp spots are a comfortable size.
Nov 29, 2020
The stay was pleasant. Only issue was with a few campers allowing their dogs off leash to wander other campsites. Wouldn't have been an issue but our dog is very protective.
Nov 29, 2020
I'm sure it could be lovely. We were placed between the trash and someone with a leaking septic. Concerned about the safety of one of the playground items it shook so much. Beautiful views and quiet nights.
Nov 29, 2020
Upon arrival, we were told the two sites we reserved would not accommodate our rigs, "we need to remeasure our sites." We were rerouted to sites 61 and 62 (50 Amp FHU sites but, were told not to use the 50-Amp or the sewer because they were bad. The park is very tired and not well kept. The people are very nice but, it's not up to the expected standards. OK for an overnight stop-over.
Nov 29, 2020
They took us on one day notice. Was able to get propane and firewood upon arrival! Very friendly staff and very helpful! One major problem is that they have some very serious issues with trees that have prickers that will get into your animal's feet. I love the location but my shoes were imbedded with theses prickers after a brief visit. So disappointed that my dog's couldn't go outside!?!?!
Nov 29, 2020
All the pipes in the campground froze including the bathrooms, sites we messy, internet pictures highly inaccurate, host provided info was lacking. Stay down the road in the FS campround.
Nov 27, 2020
Pleasant staff and nice campground. Though, this being our first stay at this location and with health restrictions in full effect, I would've felt better if people were spaced out a lot more. There were very many open spots, and yet we ended up seemingly all grouped together rather than being dispersed evenly throughout the grounds. We had someone assigned next to us while dozens of other spots o
Nov 23, 2020
Clean sites and restrooms. Friendly and cheerful staff. Totally enjoyed our stay
Nov 18, 2020
The Check in staff was friendly and knowledgeable. They greeted us and answered all of our questions. The place was clean. I only wish the Pub and restaurant would have been open COVID junk. Craig was extremely friendly and greeted us each day. He kept us informed of the days events and changes and made recommendations for our visit. Thank you so much for the amazing time!!!
Nov 18, 2020
Excellent, but internet was out of order in the site I was and one expects to have it available…
Nov 16, 2020
The KOA was great. Loved the spacing between the cabins and the shared Kitchen area was awesome.
Nov 15, 2020
Very peaceful, real campfires! Friendly staff. Not much to do and small, which suited us for this trip.
Nov 15, 2020
Nice clean area. Not crowded at all during this time of the year. Space can be a little bigger so can park travel trailer a little easier. Other than that, I would definitely stay here again.
Nov 11, 2020
Friendly place and quiet. We were lucky enough to see little of snow.
Nov 10, 2020
Where do I start. I have been staying at this koa for at least 5 years about 15x a year . But the head maid dose not like me. She has accused me if smoking in the cabin once but your manager of 20 years stood up for me. And now she has accused me of moving furniture which is not true at all the only thing I have ever moved was a bunk bed mattress. And for that I have been put on a do not rent to l
Nov 09, 2020
We had a great time and we didn't want our first time experience camping to end!!
Nov 05, 2020
It would be great if you had a designated smoking area, so non-smokers don't have to breathe in cigarette smoke. We had to keep our windows closed and stay inside our trailer because we were surrounded by smokers. It would have been a better stay without the smokers.
Nov 04, 2020
Kids had an awesome time celebrating Halloween!!!
Nov 03, 2020
Nice staff and clean park.
Nov 02, 2020
We just stayed one night to break up a long drive home. So we weren't fully prepared to camp. The best part was the customer service provided by the managers and staff. They were very attentive & friendly. The reason I did not give this place a 5-star rating is because the stoves in their outdoor kitchen were pretty banged up and malfunctioning. If we stay again, I will bring our propane stove.
Nov 02, 2020
Very Nice!!!!
Nov 02, 2020
Loved the Halloween event! All the staff is friendly and helpful! Can't wait to go back.
Nov 01, 2020
We had a great visit and even during hard times we were impressed with the friendliness of staff and the amenities.
Oct 28, 2020
Great campsite very friendly staff. Not a lot to do in the off season at L.I. But we still had a good time.
Oct 26, 2020
I failed to mention that the hot water in the shower fluctuated from hot to cold then back to hot. Somewhat frustrating. The staff was very friendly. Grounds were clean
Oct 26, 2020
The staff was very friendly and accommodating to us. We forgot a blanket and they lent us one free of charge which normally costs a little bit. Overall it was a great stay.
Oct 26, 2020
Had a great tine! Jackie is a great manager.
Oct 26, 2020
Awesome. I bet the summer will be even better. Will come back again.
Oct 26, 2020
There is should be someone from the office to enforce or to remind campers about quiet time around campground at the beginning of quiet time at night.
Oct 25, 2020
Customer service was pleasant. Bathrooms were in goid shape. Did not like the dusty ground.
Nov 11, 2020
This campground was great. Nothing but good things to say about it. That staff was awesome. I will definitely be back.
- Eric Schmitter on Google
Nov 09, 2020
You would love it
- Kasey Clark on Google
Nov 05, 2020
The front desk lady was really nice. The cabin is great: it has heating and AC. They also serve beer on tap 🍻
- Lukasz Citowicz on Google