Directions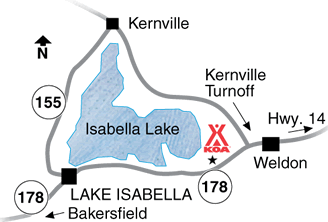 11 miles east of the town of Lake Isabella on Hwy 178. 32 miles west on 178 from Hwy 14.
GPS: N35.654805. W118.342632
Get Google Directions
Apr 06, 2021
We just needed a place to stop over for the night. We were very pleased with the campground. Friendly office staff, clean and quiet.
Apr 06, 2021
Nice desert mountain view at the back yard . Decent Wi-Fi . Road noise at night and early morning when cars passing by . Shower drainage problem during my stay .
Apr 05, 2021
Dishes were still dirty, didn't realize we wouldn't have a stove inside of our deluxe cabin. Air conditioner/heater didn't work well, shower needs to be fixed, would be helpful if pots and pans were provided to cook. Also did not appreciate the 3 night minimum to book a cabin.
Apr 04, 2021
Very nice and quiet. Front desk employees are very professional and friendly. Will stay again.
Apr 02, 2021
Staff was very nice and helpful, but we were SO bummed about the showers that flooded while taking a shower. There was always water running out of the shower that left the bathroom floor very wet.
Apr 02, 2021
We had a nice time. The showers would flood, didn't drain properly. Because of covid there was only one usable sink and half of the toilet stalls were locked. With the rules they have to follow, nothing they could really do about that. All in all, it was fun.
Apr 02, 2021
Nice place. I wish it were a little closer to the river or town, but it's a quick drive to each. The staff is great, very nice, helpful and kind.
Apr 02, 2021
We really enjoyed staying at the Kern River KOA. The RV & tent spaces are very well kept and clean. We love the Bark Park for the dogs. The store has some fun items for the kids to do. It's a perfect spot to stay and close to many things to do. There were a couple of things that were disappointing; people who didn't pick up after their dogs, and groups of kids who were very loud at night.
Apr 02, 2021
Staff was very friendly and grounds were very well kept.
Apr 01, 2021
We had a pleasant stay but thought we would see the river or the lake. So we would warn people about that. Hence the lower rating. But otherwise service and our location were very satisfactory. Thank you
Mar 31, 2021
I had great stay here at LAke isabella KOA.
Mar 31, 2021
Restrooms were not well maintained. Rest is great. I like the views of the mountains from the campground and also the kamper kitchen.
Mar 31, 2021
Never stayed at a KOA that allowed off road motorcycles and utvs to start up and Rev their engines while at campsite. I personally have a Can Am Maverick X3, there's a time and a place for everything but this wasn't what I expected, not a happy camper. Management did nothing even after I mentioned it very nicely. Trash dumpsters removed, new trash cans not adequate.
Mar 31, 2021
It was cold in the kabin (no bathroom) the first night. This site offers no space heaters, so we had to buy our own to sufficiently heat the kabin. The noise level is high at this site between dogs barking, kids yelling, and music blasting. The bathrooms are not cleaned regularly. The location is great to the Sequoias and distance to the nearest town.
Mar 31, 2021
It was great customer service excellent. One thing I was sad that we only stayed 2 nights. It was one of those trips where you need a place to stay because you're already on you're way home. We want to come back and stay for a week. Love you volunteers have been trained very well to deliver good customer service.
Mar 29, 2021
The staff at Lake Isabella/Kern River KOA have always been accommodating, pleasant, and responsive to my needs. My stays there have been pleasant and hassle free.
Mar 29, 2021
Shower drain plugged slow flowing standing in water could not use sewer dump station not working left after 1day paid for 2 said no refunds because of on weekend will not return
Mar 28, 2021
The bathrooms could have been cleaner... the shower was pretty gross and the drain was clogged so I was in ankle deep water after about 5 minutes. Other than that it was a nice grounds, quiet and accommodating staff
Mar 27, 2021
The staff was awesome and very accommodating. The weather was so windy and cold that we didn't get out much. But the grounds were great. Better weather would have been nice. They have a cool splash pad for the kids. Can't wait to come back when it's a little nicer.
Mar 26, 2021
Had a great time at the campground, bathrooms were clean
Mar 25, 2021
Easy to make reservations and the staff was very helpful very knowledgeable about the area campground was clean a work in progress that was explained that they were doing upgrades which is not a problem Just a very nice little campground nice people very helpful we will more than likely stay there again in the future thank you so much
Mar 24, 2021
Winter cond. still exist in March. Bathrooms under constr. I'm sure late spring will improve appearances and bathrooms will be ready. A diamond in the ruff.
Mar 23, 2021
Great location. Everything in good repair. Bathrooms clean. People who run the shop are very nice and accommodating. My only complaint is the size of the back-in sites.
Mar 22, 2021
It was a nice little escape for us. Loved how it felt like such a different area (we're from Santa Clarita) but wasn't some super far drive. Loving the fact we can make this trip a quick weekend getaway. The cabin was great and the heater worked SO WELL! We actually had to turn it off at one point in the middle of the night.
Mar 22, 2021
GREAT place to stay. Very friendly and welcoming � clean campgrounds and cabins. We have been visiting this KOA for the last 4 years in a row and a planning our next trip back already.
Mar 22, 2021
Just stayed the weekend to visit with the grandkids.
Mar 22, 2021
The staff was very nice. Loved their little store. Close to Lake Isabella and Kernville!
Mar 22, 2021
It was very nice. The staff is very friendly. All of the campsites are clean with tent sites, cabins available. We will definitely stay again.
Mar 21, 2021
Beautiful place! Lots of wide open spaces. In fact we pretty much had three place to ourselves most of the week. They did set up a trailer RIGHT NEXT to us when there was literally 4 trailers in there whole park which seemed weird but otherwise it was great.
Mar 20, 2021
Friendly managers, clean, dog friendly! Great stay in our cabin!
Mar 11, 2021
Our stay was brief--just a stopover for the night. However, I was truly impressed with the staff that I communicated with by phone and email. Jacqui certainly went the extra mile to keep us informed about what to expect since we would be arriving after the office was closed, complete with an offer for us to call or text her anytime. Fortunately, it wasn't necessary as she told us all we needed.
Mar 11, 2021
The staff was SO great!!! They got us everything we needed to check in late, so it went perfectly smooth. The cabins are adorable and its such a cozy, inviting spot!
Mar 10, 2021
Quiet, off season and very accommodating!
Mar 09, 2021
VERY TIGHT PULL THRU SITE, LEAKING WATER HOOK UP. NO ROOM FOR SLIDE OR FIRE. ONLY ONE OTHER CAMPER THERE YET WEBSITE CLAIMED ONLY ONE SITE LEFT. DISAPPOINTED
Mar 07, 2021
Clean site, friendly owners who appreciated our business. Would definitely stay there again.
Mar 01, 2021
IT was fantastic! It was even better than we imagined! I am going to be joining the KOA membership so that we can experience your other properties! VERY WELL DONE! Than you! :)
Mar 01, 2021
Very nice staff clean camp ground. Only thing was bathroom lock needs replacement
Feb 27, 2021
Heat didn't work all night!! I couldn't sleep from 4am and blankets are super thin. They have upgraded to very nice AC/heater units but I guess power arriving to the cabin is not enough to make these units fully functional... they must have same problem in very hot summer days not cooling down enough. The fire pit outside is totally destroyed. Annoying And there is no sink in the "FULL"
Feb 26, 2021
The staff was very friendly and helpful the grounds were kept up we took our razor 4 wheeler and were able to drive across the road to trails for days we had a great time.
Feb 23, 2021
The ONLY reason that I gave an 8 instead of a 10 is because of the wind! I forgot how much the wind blows in that high desert locale and it blew the entire 4-day weekend. I would recommend the location with a caveat of recommending a weather check before confirming. Overall, the KOA was well-run, clean and maintained perfectly - which is exactly what we love in a campground. Thank you!
Feb 23, 2021
We loved our time in the cozy cabin!! The camp hosts were so nice and so helpful! We cannot wait till our next time!
Mar 22, 2021
Nice little campground couldn't hook up to 50 amp only had 30 amp. No pool due to coronavirus.
- joanne fern on Google
Mar 21, 2021
Es la primera vez que vengo a California y mi hijo me trajo a campar al lago Isabella. Muy bello el lugar.
- Nydia Reyes on Google