Directions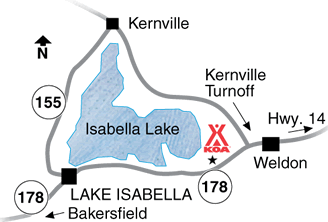 11 miles east of the town of Lake Isabella on Hwy 178. 32 miles west on 178 from Hwy 14.
GPS: N35.654805. W118.342632

WE ARE NOT LOCATED ON THE LAKE NOR ON THE RIVER, BOTH ARE WITHIN A 10 TO 15 MINUTE DRIVE
Get Google Directions
Oct 12, 2021
Not clean, nothing to do, playground needs maintenance, "pizza" place doesn't have pizza…really needs some updating and better workers.
Oct 12, 2021
We greatly enjoyed our stay. Playground and camp k9 were clean and fun for our son and our dog. Only complaint is that the wifi was extremely slow.
Oct 12, 2021
The host on charge was very rude and disrespected
Oct 11, 2021
Too good to stay with you!
Oct 04, 2021
Great place to stay!! Will be Back!!
Oct 02, 2021
Nice clean campground.
Sep 30, 2021
The host is really friendly and helpful
Sep 29, 2021
The staff was good. Grounds needed a lot of work! Internet didn't work. Only 2 washers worked and 1 dryer. No operational dump station. I expect more from a KOA.
Sep 27, 2021
My friends and I come to this KOA yearly. Always a pleasant stay. Great staff Great facilities.
Sep 27, 2021
We stayed 3 nights, the sites are very clean and easy to locate. The staff was very friendly and welcoming. Everything was excellent except for the kids play area. Its outdated, there r nails sticking out, the little houses had spider webs in them. Our kids had fun there but we had to warn them about the nails and screws that were poking out of the wood
Sep 23, 2021
It was overnight, but we did enjoy the solitude.
Sep 21, 2021
First time camping, and had an wonderful experience , a lot of wind on that day , will definitely go back.
Sep 17, 2021
Seamless processing for my stay, quiet and comfortable and clean. As always, the staff keep things ship-shape and are very friendly and responsive.
Sep 17, 2021
We were very impressed with the park. The location right on the river cant be beaten and our campsite was spacious and well shaded. The showers and toilets were clean and the park was generally well maintained. We will be back.
Sep 17, 2021
We arrived at 6pm. A lady in a trailer, not the office waved us down and told us to just pick a spot. So we parked and walked around. Everything was locked. Store, office, laundry and pool (was to have been open for a Few more weeks. There was no internet connection, kept saying it was offline. They tried to reset but nothing...
Sep 15, 2021
Staff was great, facilities were clean and welcoming. Sites were spacious and well laid out. Unfortunately, through no fault of the KOA, the national parks were closed and the Lake Isabella was closed. Rafting on the river, fishing, etc., couldn't happen so there was little in the way of external things to do that we had planned. It, we made the best of our time and enjoyed it.
Sep 14, 2021
I loved this KOA. The negative reviews make me sad! Yes, it's a little old and needs TLC. I hope it gets a makeover soon and I'll be writing to KOA about that, but there's a Splash Pad, a pool, a kids play area, a store, Friday ice cream social, Sunday pancake breakfasts, and the staff are all great!!! The location was perfect for Kernville/Kern River also. Would definitely stay again.
Sep 13, 2021
Love this little place… it's just a pretty long drive to get to, but it's cute and relaxing little koa with a Pool and good shade trees! They really need to update the park our kiddos got a couple of splinters from it… It usually tends to be a windy at this KOA for tents, but this weekend we got a cabin instead of tents to not deal with the wind and there was a slight breeze haha of course
Sep 13, 2021
We enjoyed staying at KOA I was just disappointed not being notified that the lake was closed for the weekend. An email would have been great.
Sep 13, 2021
Always nice frendly and helpful!
Sep 13, 2021
The campground was clean and quiet. Everybody was very helpful letting you know where to park and what to do answering all questions. I would definitely stay there again. The only advice I would have for them is to clean the bathrooms which include the showers after the 11:00 check out time. Closing the bathrooms from 10:00 to 11:00 seems like an inconvenience.
Sep 08, 2021
We had a wonderful stay. The staff was very friendly and made great suggestions for activities due to the National Parks being closed. Will definitely stay again on a future trip to Kern County.
Sep 07, 2021
Why have rules you won't enforce? Dogs on a leash. The few days we were there , there was a dog in the tent area opposite the pool that ran free the whole time, peeing everywhere and barking and charging the dogs on leashes. Myself and others told those people to leash their dog and your office was made aware as well. No response. 5 mph? The 4 wheeler in and out all day,too fast! Dust everywhere.
Sep 07, 2021
Very enjoyable. Nice pool. Not far from the Lake and Kern River.
Sep 07, 2021
I would rate higher if it were not for the guests who were so drunk at the available pool, that they were twerking, leaving beer cans all around the pool, and blaring their music to levels which made it impossible to hold a conversation with the guest next to you. This was brought to the attention of the staff and nothing was done to correct the issue. Mind you this is all in front of children!!
Sep 07, 2021
The staff was amazing. But far from the lake and river and there was extremely loud music playing contanslty from all over the campground.
Sep 04, 2021
Great folks running this place.
Sep 01, 2021
Our family had a wonderful time. The staff was great. Would definitely go back!
Aug 30, 2021
Due to the dry season, I guess the park was very dusty. Very good customer service. Not much to do.
Aug 30, 2021
Very nice stay, we were evacuated for fire and they got us and more of my neighbors places to stay, we had a pull thru with a big shade tree, big sites and Very nice hosts.
Aug 29, 2021
Very enjoyable, loved the opportunity to have a cold draft beer and visit with employees!
Aug 27, 2021
I got there and the area was being evacuated due to a fire and I had to leave and since then I have not been able to reach anyone and haven't received any refund
Aug 23, 2021
It was an ok stay. We had a very loud neighbor the first night and heard the cars driving by overnight. It was mostly dirt on the camp ground so lots of dust everywhere. The staff was friendly. Camp ground was nice and flat, but no much space between the campers. Bathrooms clean. It was quiet for the most part. Has small playground (too hot, not covered), and had splash pad and pool (very cold).
Aug 17, 2021
Very nice shaded area for our tent site, we needed it! Just wish the camp site had closer bathrooms located on the northern side. Bathrooms were clean and friendly staff.
Aug 17, 2021
I enjoyed my stay. The staff were very friendly and knowledgeable about the area. They were also helpful and kept the bathrooms clean.
Aug 16, 2021
We tent camp and the facility was excellent.. very clean and well maintained.. we had a great experience!
Aug 12, 2021
The property is very well managed and very clean. I felt very safe bringing my friends and family up for a few days. I wish I would have known exactly what to expect in our room though- I would have packed differently.
Aug 10, 2021
Staff was friendly and helpful. The placement of water and electrical on the site was less than convenient but it all worked. The bathrooms at this location although clean really do need to be updated as they have been patched about as much as they can be.
Aug 09, 2021
Horrible stay. The campground posted quiet hours, but was not enforced. Others were being loud and unruly which made my family and myself uncomfortable. The campsites are right on top of each other with no privacy. We left the campsite early because my family was not enjoying our stay.
Aug 09, 2021
No dog poop bags after several requests in dog run, I was there for three day's
Oct 11, 2021
I appreciate the fact that this family run campground made things right over a bad situation. This is a well run KOA that is, unfortunately, from time to time, plagued with a derelict element from the city that has no respect for the rules.
- Anthony Zinnanti on Google
Jul 22, 2021
It's okay. Nothing to brag about.Big sites. 30 amp only. It was very hot and could only run one air conditioner.
- Letha Whipple on Google