Alert
We are still experiencing temporary restrictions on our Pizza Pub (take out only), pancake breakfast and summer weekend activities.
Please call or email for further details or updated information.

Thank you from
All the Staff at Lake Isabella Kern River KOA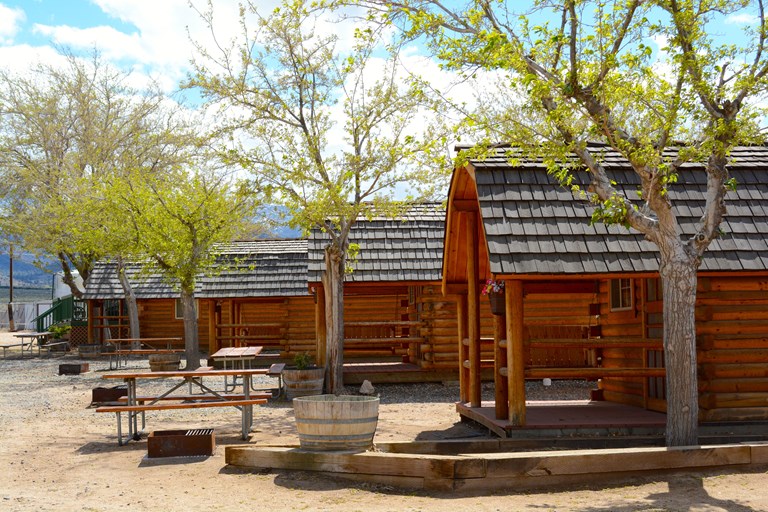 Lake Isabella / Kern River KOA Reviews
Directions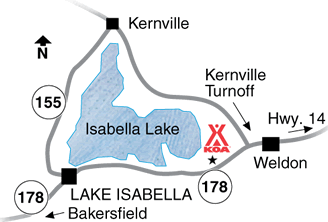 11 miles east of the town of Lake Isabella on Hwy 178. 32 miles west on 178 from Hwy 14.
GPS: N35.654805. W118.342632
Get Google Directions
Jul 08, 2020
http://www.onthegooc.com/2020/07/sequoia-kern-river-lake-isabella-more.html?m=1 We loved our stay at Lake Isabella KOA. Pool is perfection and the on site panning for gold is family fun. Great location to get to Sequoia south, kern river and more.
Jul 03, 2020
Not far from where we live experience was awesome friendly people around would definitely go back
Jul 01, 2020
the bathrooms were very very dirty
Jun 27, 2020
Sadie was welcoming and very helpful at front desk! Park was clean and tidy. Thank you for the hospitality!
Jun 26, 2020
Cool spot with everything you need for a camping trip. Staff was nice and helpful. Camping and feeling like it was easy to social distance was a great change from being in the city at home.
Jun 25, 2020
always wonderful
Jun 23, 2020
Close to the lake and rivers !! Lots to do at this Koa but the bathrooms need more attention more then once a day !! Friendly staff
Jun 20, 2020
Loved it. Facilities were kept up very well.
Jun 18, 2020
Deluxe cabin #48 was dirty and has not been maintained. Soda can and a dog bag with poop in front steps. Sink was dirty with red sticky residue and spiderwebs around entire place. Disappointed since we've stayed at this and other KOAs countless times.
Jun 16, 2020
We very much enjoyed our stay, your staff are all very professional and very nice people with superior attitude! Next time if the pools open it would be really cool!
Jun 15, 2020
The pool was clean send, the bar was closed and they charged us a $50 cleaning fee for each day we were there even though they did not clean while we were there. We left the cabin cabin cleaN so that money should have been refunded to us.
Jun 12, 2020
Tjd cabin was clean comfortable and relaxing I loved staying with KOA I will visit again soon with my family very very pleased
Jun 11, 2020
great time kids loved it
Jun 10, 2020
We rented a deluxe cabin over a busy Saturday. The cabin was in disrepair and obviously hadn't had a good cleaning in a very long time. 10:00 pm quiet time was ignored and not enforced. I would pass this one by in the future.
Jun 09, 2020
Cabin was dirty. Campground looked rundown. Campers were making noise way beyond quiet hours and there was no one around to regulate.
Jun 08, 2020
Had a great time, cabin were clean and campgrounds were nice. Will definitely be back.
May 23, 2020
Everything was fantastic EXCEPT the towel rack fell off and left a gash on my toe which put a damper on our trip.
Mar 15, 2020
We paid for the pet friendly cabin, and upon entry found vermin feces all over the floor, table, counters, bed. I called the office and they immediately came over and scoped it out and moved us into a much nicer cabin. Clean, beautiful, made me want a tiny home. The KOA needs to fix their communal stove because only 1.5 of the burners actually work - shouldn't be listed as an amenity until fixed
Mar 11, 2020
Off season, nice and quiet
Mar 10, 2020
The staff was very friendly and accessible. We loved our cabin! It was very clean and comfortable. We wished we could have used the community kitchen but our schedule did not allow us to. The set up was so cool! All the amenities were well maintained. Next time we plan to stay in one of the tiny homes on site.
Feb 24, 2020
Cabin was not super clean but it was a nice stay
Feb 10, 2020
Clean and accommodating. Camp hosts friendly and knowledgable about the area. Good info on hikes and local events.
Feb 10, 2020
Excellent site. We stayed in a deluxe cabin. It was great.
Jan 30, 2020
Lovely people
Jan 28, 2020
Our stay was short, the entire camp experience there was nice. The girl who checked us in was very helpful. She set us up with maps, nearby stores, answered all our questions. During our trip we visited other camp sites in the area to see if we might want to stay some where else next time and easily decided that we would stay at KOA again for sure and extend our trip. Having a dog park is awesome.
Jan 12, 2020
We came for a funeral. When We checked in to our pet friendly cabin, we found that a mouse had probably been there before us. The staff were apologetic and upgraded us to the super delux cabin which was much nicer. We were very comfortable. Great accomodations..We werent there long enough to enjoy the grounds..but we would definitely consider coming again.
Jan 04, 2020
I've been at this KOA many times, but this time I noticed everything was much cleaner and better organized. The lady that checked me in was so nice and lovely! Looking forward to our next trip!!
Dec 31, 2019
Loved our whole trip, our entire experience, however, I was double charged for my stay, I'm not mad or anything, it's just an inconvenience. Maybe better WiFi to help the employees, who were incredibly nice. Especially Sadie! Very very helpful and kind!
Dec 31, 2019
Loved this KOA spot! We had a deluxe cabin (which was great). My only suggestion is that there should be some lights outside for the evening (yes flash lights help but more light is needed)
Dec 17, 2019
They certainly took care of us. We were placed 3 cabins down from our friends and they upgraded us so we could be close. Super friendly, great facilities, awesome stay. Thank you!
Dec 02, 2019
The employees were great. Each one was very friendly and helpful. We were put in a smaller cabin than we reserved. But it ended up being okay.
Dec 02, 2019
We stayed in the largest cabin at $220 a night. Both queen size beds were old and lumpy and the frames were broken, held up by bricks! I don't think the sheets had been washed either. The master bathroom toilet was constantly running after each flushing. The faucet at the kitchen sink was super loose. The futon in the living room was screwed in the open position. Very unhappy.
Nov 25, 2019
Ditch in front of our steps full of water, heaters did not work, only one blanket, fire sensor beeped every forty seconds starting at midnight and all night and next day, Had microwave next to sign that says cannot use to prepare food...glasses and silverware were dirty and had to be rewashed..the dinner table was so sticky that we had to wash it several times and still felt sticky. We left early!
Oct 21, 2019
I stayed in the "big" cabin. Last time I was told I had to move cabins because they were renovating it. Well, nothing has changed. Added a different bed that was on concrete blocks. Still dirty. No trash can, paper towels or soap in any bathroom. very disappointing. Megan & Sadie were awesome and took good care of us. Cabin is DEFINITELY NOT worth $210.00 a night. I left it cleaner
Oct 15, 2019
All staff are very friendly
Oct 11, 2019
Shower water temperature kept changing from very hot to very cold. $25 a night cleaning fee seems a bit unreasonable. Cabin very run down and mattress extremely soft and bumpy.
Oct 08, 2019
I love everything about this campground! Awesome, friendly staff, great amenities and location..
Oct 01, 2019
We appreciate our stay at your KOAkabin tank you !
Sep 30, 2019
Excellent, thank you KOA.
Sep 17, 2019
Enjoyed our stay! Clean and staff was friendly. Too bad that movie night and pancake breakfast was not happening.
Sep 16, 2019
Coming for 5 yrs & we used to love it, but since ownership change gone downhill. Pool area absolutely infested w/yellow jackets patio & pool. Still advertising ice cream, movie & pancake breakfast online & in prints but they don't do anymore - did ice cream only because some folks complained. They added a cleaning fee on top of cabin rental fee - aren't you supposed to clean it anyways!
Aug 19, 2019
Good prices. Good store and pool area. Movie night on Saturday was great. The new manger Hope seemed to be a hard worker and all the staff was real helpful
Jun 27, 2020
It was hot! But the boys loved their time! Very fun campground!
- Lisa Griggs-Riordan on Google
May 28, 2020
Very nice people, very clean park, loved our time there
- kathleen curran on Google
Apr 19, 2020
Highway 178 give different curve roads from Bakersfield CA to lake Isabella CA to onxy ca to more until end of highway to other highway to mojave CA and Ridgecrest ca. Sometimes feel dizzed, so bored, fun, calm, and have many emotions to feel driving on highway 178. Good dream catcher, good thinking, and good view.
- Bianca Veisaida Borrero on Google

Lake Isabella / Kern River KOA
Open All Year
15627 Highway 178
Lake Isabella Kern River KOA
Weldon, CA 93283
Check-In/Check-Out Times
RV Sites, Tent Sites
Check-in: 2:00 pm, Check-out: 12:00 pm
Accommodations
Check-in: 2:00 pm, Check-out: 11:00 am
Operating Hours
Sunday: Open 8:00 AM to 10:00 PM
Monday: Open 8:00 AM to 10:00 PM
Tuesday: Open 8:00 AM to 10:00 PM
Wednesday: Open 8:00 AM to 10:00 PM
Thursday: Open 8:00 AM to 10:00 PM
Friday: Open 8:00 AM to 10:00 PM
Saturday: Open 8:00 AM to 10:00 PM
Lake Isabella / Kern River KOA
Get Google Directions

© 2020 Kampgrounds of America, Inc.