Directions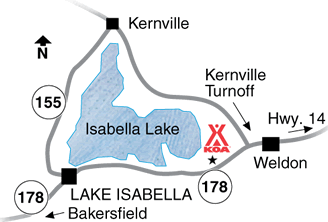 11 miles east of the town of Lake Isabella on Hwy 178. 32 miles west on 178 from Hwy 14.
GPS: N35.654805. W118.342632

WE ARE NOT LOCATED ON THE LAKE NOR ON THE RIVER, BOTH ARE WITHIN A 10 TO 15 MINUTE DRIVE
Get Google Directions
Apr 02, 2021
Staff was very nice and helpful, but we were SO bummed about the showers that flooded while taking a shower. There was always water running out of the shower that left the bathroom floor very wet.
Apr 02, 2021
We had a nice time. The showers would flood, didn't drain properly. Because of covid there was only one usable sink and half of the toilet stalls were locked. With the rules they have to follow, nothing they could really do about that. All in all, it was fun.
Mar 31, 2021
It was cold in the kabin (no bathroom) the first night. This site offers no space heaters, so we had to buy our own to sufficiently heat the kabin. The noise level is high at this site between dogs barking, kids yelling, and music blasting. The bathrooms are not cleaned regularly. The location is great to the Sequoias and distance to the nearest town.
Mar 29, 2021
The staff at Lake Isabella/Kern River KOA have always been accommodating, pleasant, and responsive to my needs. My stays there have been pleasant and hassle free.
Mar 22, 2021
It was a nice little escape for us. Loved how it felt like such a different area (we're from Santa Clarita) but wasn't some super far drive. Loving the fact we can make this trip a quick weekend getaway. The cabin was great and the heater worked SO WELL! We actually had to turn it off at one point in the middle of the night.
Mar 22, 2021
GREAT place to stay. Very friendly and welcoming � clean campgrounds and cabins. We have been visiting this KOA for the last 4 years in a row and a planning our next trip back already.
Mar 20, 2021
Friendly managers, clean, dog friendly! Great stay in our cabin!
Mar 11, 2021
The staff was SO great!!! They got us everything we needed to check in late, so it went perfectly smooth. The cabins are adorable and its such a cozy, inviting spot!
Mar 01, 2021
IT was fantastic! It was even better than we imagined! I am going to be joining the KOA membership so that we can experience your other properties! VERY WELL DONE! Than you! :)
Feb 27, 2021
Heat didn't work all night!! I couldn't sleep from 4am and blankets are super thin. They have upgraded to very nice AC/heater units but I guess power arriving to the cabin is not enough to make these units fully functional... they must have same problem in very hot summer days not cooling down enough. The fire pit outside is totally destroyed. Annoying And there is no sink in the "FULL"
Feb 23, 2021
We loved our time in the cozy cabin!! The camp hosts were so nice and so helpful! We cannot wait till our next time!
Feb 22, 2021
Everything was pretty nice at this site!
Feb 17, 2021
Great location, friendly staff. Was a much needed weekend away.
Feb 17, 2021
This is my second time at Lake Isabella KOA and I am always pleased with the lodging. This time we stayed in the cabin and it was great. Jackie assisted us on the telephone and at the counter with great customer service and covid protection. We have recommended your KOA to others and appreciate your efforts.
Feb 16, 2021
We had a blast!!!! The staff was AWESOME!!!!!
Feb 15, 2021
We stayed in the two bedroom cabin. It was nice and cozy with the heater. It wasn't far from the restroom and kitchen amenities. All the workers there were helpful and friendly. We'd love to visit again soon.
Feb 15, 2021
The 2 bedroom, 1 bath cabin (near the road, quiet at night). Big porch with seating, close to splashpad, ideal for kids in summer. Fire pit and picnic table in front, my teens built the fire/roasted marshmallows, I supervised from inside the warm kabin. Rain & winds both nights, no drafts. Good hot water pressure in the shower. Plenty of light for games and reading at night. We felt at home here
Feb 09, 2021
The bed was full of begs and somebody's hair. I didn't want to sleep on it but there was no choice. My neck and ankle were bitten by bugs after I wake up. I currently have a lot of blisters and swollen enormously on my ankle. I have to see my doctor.
Dec 08, 2020
Cabins are so cute and comfy! Best weekend ever
Nov 16, 2020
The KOA was great. Loved the spacing between the cabins and the shared Kitchen area was awesome.
Nov 10, 2020
Where do I start. I have been staying at this koa for at least 5 years about 15x a year . But the head maid dose not like me. She has accused me if smoking in the cabin once but your manager of 20 years stood up for me. And now she has accused me of moving furniture which is not true at all the only thing I have ever moved was a bunk bed mattress. And for that I have been put on a do not rent to l
Nov 04, 2020
Kids had an awesome time celebrating Halloween!!!
Nov 02, 2020
We just stayed one night to break up a long drive home. So we weren't fully prepared to camp. The best part was the customer service provided by the managers and staff. They were very attentive & friendly. The reason I did not give this place a 5-star rating is because the stoves in their outdoor kitchen were pretty banged up and malfunctioning. If we stay again, I will bring our propane stove.
Nov 02, 2020
Very Nice!!!!
Oct 26, 2020
I failed to mention that the hot water in the shower fluctuated from hot to cold then back to hot. Somewhat frustrating. The staff was very friendly. Grounds were clean
Oct 26, 2020
The staff was very friendly and accommodating to us. We forgot a blanket and they lent us one free of charge which normally costs a little bit. Overall it was a great stay.
Oct 26, 2020
Had a great tine! Jackie is a great manager.
Oct 26, 2020
Awesome. I bet the summer will be even better. Will come back again.
Oct 22, 2020
The deluxe cabin was great and plenty of space for our family of 5, and also very comfortable and clean. We had a big group of family and friends camping too so it was nice that everyone was in walking distance. Lots of things for the kids to do, they went to the splash pad, the pool, the play ground, and rode bikes around the park. We had camp fires at night and also went to Kern River.
Oct 21, 2020
Loved our cabin it was nice and quiet , close to the lake and Kern river.
Oct 13, 2020
I really liked it see you next time KOA
Oct 12, 2020
Very friendly and accommodating owners and staff. Well maintained campground with nice amenities.
Oct 07, 2020
Our stay was very nice. We enjoyed the cabin and the beds were comfortable. The children enjoyed the pool, playground, and the splash pad, and the Friday evening free ice cream was so nice after our long drive from Los Angeles. The staff were also very pleasant. We had stayed here before, but in a tent. I think we will stay in a cabin from now on. Thank you Kern River KOA for a nice experience.
Oct 05, 2020
Staff were helpful and friendly! Loved the facilities and grounds.
Oct 02, 2020
Great people and service
Oct 11, 2021
I appreciate the fact that this family run campground made things right over a bad situation. This is a well run KOA that is, unfortunately, from time to time, plagued with a derelict element from the city that has no respect for the rules.
- Anthony Zinnanti on Google
Jul 22, 2021
It's okay. Nothing to brag about.Big sites. 30 amp only. It was very hot and could only run one air conditioner.
- Letha Whipple on Google