Directions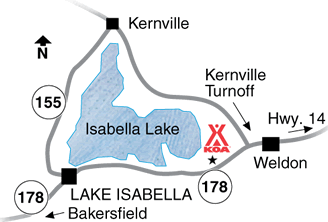 11 miles east of the town of Lake Isabella on Hwy 178. 32 miles west on 178 from Hwy 14.
GPS: N35.654805. W118.342632

WE ARE NOT LOCATED ON THE LAKE NOR ON THE RIVER, BOTH ARE WITHIN A 10 TO 15 MINUTE DRIVE
Get Google Directions
May 11, 2021
I have been camping here a long time. I WAS SHOCKED at how rund down and dirty EVERYTHING was. From our cabin to the bathroom and grounds. WHAT ON EARTH HAPPENED. We paid for a cabin that had a bathroom/kitchen that was out of order until 9pm that night. Water was shut off due to a leak and pipes that were nowhere near buried deep enough. It was a huge disappointment. I really should get a refund.
May 11, 2021
As always very positive experience: friendly, accommodating staff, clean facilities, quiet at night, and efficient administrative tasks like paying bills, getting receipts, etc. Glad to have such a convenient, well run campground to stay in.
May 10, 2021
Just overnight but, was able to do laundry. Everything was clean and everyone nice.
May 10, 2021
Staff was very friendly. The tent site was right next to the highway and on a hard dirt surface.
May 07, 2021
Horrible. Bathrooms are disgusting and never cleaned. Shower barely even works, the drains don't drain when showering.
May 05, 2021
Very nice. The staff are excellent. The view is breath taking.
May 05, 2021
Staff was extremely helpful and friendly. Very knowledgeable about the area
May 05, 2021
Very peaceful and beautiful. Friendly staff. Love that there was lots of shade.
May 03, 2021
Stayed over the weekend. I love staying here, safe, clean bathrooms, very nice camp staffs. Thank you KOA lake Isabelle for having us this pass weekend. I'll be back soon. Stay Awesome!
May 03, 2021
The actual tent site I stayed at was nice and roomy. But the issue for me were the facilities. Bathrooms had no toilet paper in the stalls. Out of three bathroom sink areas One had hand soap. (One dispenser was missing and the second was empty), first shower stall I�� used The drain clogged and flooded the stall, the second one the tiles were broken and coming up causing a hazard.
May 02, 2021
The facilities are complete, and public showers have 24-hour hot water, which provides guests with a very convenient experience. Very pleasant stay
Apr 29, 2021
Facilities were adequate, Lake Isabella is not a place I would likely visit for recreation,for one night camping while driving in it was gine
Apr 27, 2021
Please clean the bathrooms during the posted times. Cleaner told me she was cleaning the bathroom early due to Covid. What does Covid have to do with the time????? Very inconvenient. The men's room shower didn't drain. Yuck!
Apr 27, 2021
Great campground! Staff was very nice and entire campground was quite organized. Very close to Lake Isabella and Kern River for fishing. Be prepared for the wind.
Apr 27, 2021
Nice park, but disappointed that there was no cable TV or even antenna TV. Very nice staff and they were able to provide a spot for us last minute. We had reservations up the road, but not only was it not maintained, but we couldn't park our RV in the spot assigned.
Apr 26, 2021
We only spent one night. Pretty much a night to wash clothes and clean up our RV.... Laundry room was VERY clean, showers were ok. Seem to be water on the floor in shower areas on the floor?? All clean. I was disappointed the pool was open but it was way to windy to take a dip. Pool look so nice and clean and inviting.
Apr 26, 2021
Convenient location close to town. Cute "wild west" campground decorations. Very nice cabins Dog run/pet relief area and simple place ground. A little farther from the Lake than anticipated. Pool not heated. 2 Bathroom stalls "out of order, but to Covid" and the shower drains clogged/super slow and flood entire bathroom floor making it dangerous to walk around in pool of water after showe
Apr 26, 2021
The staff were friendly and helpful. We enjoyed are our stay. We probably will come back
Apr 23, 2021
New management, hopefully it will be a good season for them so as to complete projects and upgrades. Will definitely stay here again.
Apr 22, 2021
It was very clean and welcoming. Thank you
Apr 20, 2021
WE HAVE BEEN THERE SEVERAL TIMES, THEY ARE UNDER NEW OWNERS AND THEY HAVE CLEANED UP THE PLACE LOOKS GREAT, WE RIDE RZR RIGHT OUT THE KOA, IN WHICH OWNERS ARE VERY WELCOMING, I HAVE SEEN SOME COMPLAINTS OF RZR RIDING AROUND FYI WE HAVE NEVER SEEN ANY OTHER RZR'S THERE AND I KNOW IN FACT FOR THE LAST 3 YEARS GOING TO ISABELLA NEVER HAD ANY ISSUES, JUST FOLLOW RULES AND YOU BE GOOD GO.
Apr 20, 2021
Convenient site to stop at. I do love KOA's, but this one needs a bit of work in the bathrooms. We travel in a van so we use the facilities quite a bit. The shower ran full flow of water, hey we are in California, it would be good to have low flow showers! Then, the drainage was not very efficient. I had to dress in a pool of water! Out of 3 sink areas, 2 were taken out, leaving ugly empty space
Apr 20, 2021
Had a fantastic stay at the Lake Isabella/Kern River KOW from 4/15 thru 4/19. We had an RV site and a cabin with 2 bedrooms. Even though the booking was made on two separate days, the staff realized that we were one party and gave us a cabin that was really close to our RV site. Jackie, Sadie, Craig and Justin are a great team and they take care of the property and their guests extremely well!
Apr 20, 2021
I liked most of everything....Bathrooms need improved, showers drains were not working very well and all the water ran into the toilet stalls. There were campers staying that had motor bikes and were doing donuts in front of our campsite and stirring up dirt, no one said anything, even complained and the campers still carried on in the evening. Other than that it was a nice place.
Apr 20, 2021
There was no one at the campgrounds to check us in upon arrival in the evening. Had to wait an hour. We also noticed the manager, Craig, really knows how to make ethnicities at home. You could tell by the way he would come out with the blower and pelt them with dirt, poking trash and sticks that had collected on the ground. We watched him do this for 3 consecutive days. Only to minorities.
Apr 19, 2021
Overall... I enjoyed our weekend of camping here. Unfortunately they are very understaffed! I wanted to shower at 9:30 in the morning and the showers were closed for cleaning!!! The posted cleaning times are 10:00 to 1:00 am... which in its self is very very inconvenient given that check out time is 11:00. How are we supposed to get ready to leave if the showers are closed? Also, the store is not
Apr 19, 2021
When we arrived key wasn't ready spare key didn't work had to go back to receptionist. Cabin was dirty and dusty front light didn't work they said they will fix it Saturday morning. The next morning nobody came had to go to receptionist and they said they lightbulbs are made anymore. I have stayed in KOA before in other cities and never had this experience.
Apr 19, 2021
What a awesome place to stay. Space 10 was super level so didn't have to do alot to set up. KOA staff were excellent and professional super nice and out going we will make this campground our #1 stop if we ever stay in lake isabella. The manager "older guy" and the grounds guy gets a 10 star rating in my book they were on top of trash and maintenance around the park super clean Thank you KOA!!!!
Apr 19, 2021
Super cute place. Friendly staff!
Apr 18, 2021
While the employees I encountered were fantastic, the property was in bad shape. The bathrooms had 2 or the 3 sink areas ripped out and nothing was put in their place. The paper towel dispensers didn't work for the entire stay. The fridge in the food area was out, so no food was available. Nearly everything we came into contact with was broken, run-down, or both.
Apr 18, 2021
Beautiful sunsets. Helpful staff.
Apr 18, 2021
I stay there overnight when I'm on a road trip on my motorcycle, perfect location the end a day. I always get a small cabin and each time things are in order and reservations were spot on. I've stayed there before in my RV and things are the good, spots are clean, people are nice and the staff friendly and helpful. I'll be back there as soon as I can.
Apr 16, 2021
Clean friendly and great staff
Apr 15, 2021
Its a bear getting there but peaceful camping. Gota finish the restroom refurbishment.
Apr 13, 2021
Stayed 2 nites for a little R&R before returning home. Friendly staff, clean and quiet place near the main highway.
Apr 13, 2021
Staff are always pleasant and helpful and accommodating. The place is clean, neat and well-run. I highly recommend this campground.
Apr 12, 2021
The wife and I had a great time. This was our first time staying at a KOA. Quiet time was great and everyone including campers were courteous and polite. We look forward to coming back real soon. Please thank your staff for a, "great stay". Thank you!!
Apr 12, 2021
The family loved our stay. We had so much fun and the staff was excellent.
Apr 11, 2021
Sewage system on camp especially in the lower spots not sufficient Playground dangerous Pool most days closed Handling of water splash chloride poorly: chloride was too highly concentrated: cloths were ruined (health effect?)
Apr 11, 2021
Friendly folks run this KOA. Their store was lacking some.basic items. They were getting the pool ready to open.May 14. Hooked our rig up with no problems and used our awning. Kiddie water play area stayed busy.
Jul 20, 2021
Good
- Steve "S&R" Roze on Google
Jul 22, 2021
It's okay. Nothing to brag about.Big sites. 30 amp only. It was very hot and could only run one air conditioner.
- Letha Whipple on Google