Directions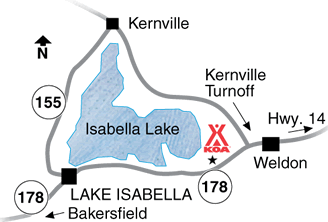 11 miles east of the town of Lake Isabella on Hwy 178. 32 miles west on 178 from Hwy 14.
GPS: N35.654805. W118.342632

WE ARE NOT LOCATED ON THE LAKE NOR ON THE RIVER, BOTH ARE WITHIN A 10 TO 15 MINUTE DRIVE
Get Google Directions
Jun 22, 2021
Awesome staff! Great campground!
Jun 21, 2021
Bathrooms need work (repairs) and maintenance.
Jun 20, 2021
Nice pool, friendly service. Small camping spots, only 30 amp hook-ups. Very hot while we were there, breaker kept tripping on the campsite hookup. Would come back to a hot camper.
Jun 20, 2021
Had to update to a cabin upon arrival due to the heat wave, Jaquie was very helpful and accommodated us quickly. The place is well taken care of, clean facilities. Try to visit during the weekdays to avoid the crowds. Thank you
Jun 20, 2021
The power was out and it 105 degrees. Not good. However my family went to the hot springs and survived. Who would of thought.
Jun 19, 2021
Our campsite was booked to be "under a canopy of trees". Our campsite did not have one tree, nor did it have any shade at all. Photos and information on your website are VERY misleading. Highly disappointing campsite!
Jun 18, 2021
Everything was great!
Jun 18, 2021
Arrangements were made for stay almost effortlessly. Conditions in and around cabin were quiet, clean and without annoyance.
Jun 17, 2021
dirty nasty never again
Jun 17, 2021
Clean, shade, noisy birds, lack of policing during quiet hours, people were not quiet, people trespassing on your campsite which I have never seen before in my over 50 years, the wind; trying to pitch a tent or light a fire was insane, but kept the bugs away. The stars at night were amazing as well as the pool. Not near body of water as advertised. Weather was amazing & staff was friendly.
Jun 16, 2021
The campsite is great, very clean and comfortable place. My family enjoyed the free ice cream and pancakes :) The staff is friendly and helpful.
Jun 15, 2021
The campsites were way too small and very ugly compared with other KOA's. The spots were very expensive for what KOA had to offer their guests. In the cabin the shower only had hot water and no cold. Very Tun down.
Jun 15, 2021
It was great. I only wish you guys had one or 2 more showers. But other than that we had a blast!!
Jun 13, 2021
Pull thru sites are big rig friendly and staff made me feel comfortable visiting there campground. Enjoyed our stay.
Jun 13, 2021
Adequate facilities. Friendly people. Park has spaces too tightly packed. But perfectly fine for an overnight stay.
Jun 11, 2021
We had an awesome week. The staff were as friendly as could be and were so kind and helpful. We will definitely be coming back and telling all our friends how great this KOA is.
Jun 10, 2021
We had a great couple days there I wasn't too busy just real windy you can't control that just be aware that it does say that you're allowed to have up to six people but they don't tell you that they're going to charge you extra for every person that you have which got sprung upon us because we had a couple friends show up halfway during are stay and they charge us, so just be aware, but great tim
Jun 09, 2021
Nice size sites with mature shade trees everywhere. Very friendly staff and well stocked store.
Jun 09, 2021
Very windy, very dry, facility needs to be updated
Jun 08, 2021
Ants came up the water line and invaded. We have spent 2 days so far killing a lot. Otherwise very nice KOA. Lots of amennities. Also quite the hill climb up and down to arrive and leave there.
Jun 07, 2021
Wonderful place, friendly clean and
Jun 07, 2021
Rented 1 room cabin. My grandkids and I left at ten pm as too hot. The cooler was minimal. Only rented as locals no longer welcome to pay to swim. Unfortunate.
Jun 06, 2021
Clean fun stay we stayed in cabin 53 A/C was very weak and in efficient fire pit/BBQ was bent/ smashed but we felt safe and made due fun stay I will be back. Thank you Jackie.
Jun 05, 2021
The campsites are so close together that my sister and I felt uncomfortable staying there. We ended up moving to a different campsite so that our site wasn't six feet away from a stranger's tent. It turned out ok for our one night stay but would never recommend it to anyone looking to go on a fun camping trip. Very disappointed in this place
Jun 02, 2021
Great as usual, all the staff are awesome we are booked again for August this year for 4 days can't wait to get back � thanx you guys once again.
Jun 01, 2021
Quiet hours were not enforced. Loud music and talking into the night both nights. We barely slept. Also, on a busy holiday weekend, the bathrooms should have been cleaned hourly. They got pretty gross. I appreciated the shade and the kids had a great time and enjoyed the pancake breakfast. Still better than the forest service campgrounds in the area.
Jun 01, 2021
Our family had a great time. Loved our spacious spot.
Jun 01, 2021
No Internet the entire 4 day stay. Had site wide power outage for about 30 minutes. Play ground equipment in urgent need of repair, one of the wooden structures would shift back and forth, dangerous. Pull thru's directly in front of dump station so we are blocked in when large groups are leaving.
Jun 01, 2021
Workers were all nice. Bathrooms were clean. The pool was a nice bonus especially for our son. Very family & dog friendly.
Jun 01, 2021
Beautiful place.. Comfortable and the Staff The best so nice people, I recommend this place I can live there forever with my family �� my sons love it
Jun 01, 2021
Really nice environment and easy to book
May 30, 2021
The staff at Lake Isabella KOA were happy to take my reservation and never bothered to disclose that their water isn't potable. Had I known that I would have made a point to fill my fresh water tank before we got there. Instead we had to go to a store every few days to buy bottled water. I consider it disingenuous and deceptive to NOT disclose this upon booking.
May 29, 2021
Been coming there over 15 years off and on stuff for always helpful and welcoming campsites always clean plus on the showers and restroom ���������I've always recommended this campsite
May 28, 2021
Very clean camp grounds , no trash, bathrooms clean, great campsites with campfire access. The pool was open and clean. Staff Very giving, kind and caring! Thank you so much. Had s great time!
May 28, 2021
Campground was clean and well maintained. Friendly staff
May 25, 2021
Great all around night at the Lake Isabella KOA. Would recommend to anyone!
May 25, 2021
Stayed two nights. Windy in the afternoon and early evenings, but the campground was nice and we had a good time. I am planning on returning for another visit.
May 24, 2021
Did not have enough for kids to do, no play park for kids to play on and no jacuzzi. A little disappointed.
May 24, 2021
We had 3 sites and a large group, our only issue is with only one bathroom for it to be closed for cleaning for one hour is a long time when you have 9 small children. Plus the tpaper was not stocked thur out the day.
May 24, 2021
Pros: This campsite was perfectly located near the motorcycle trails. The full hook ups were great and pads level. The sand volley ball court was a favorite. The pool was clean. Cons: The bike paths were not clearly defined or didn't exist. There wasn't access to the lake or wilderness area located behind the camp. The playground equipment needs to be replaced or maintenanced.
Oct 11, 2021
I appreciate the fact that this family run campground made things right over a bad situation. This is a well run KOA that is, unfortunately, from time to time, plagued with a derelict element from the city that has no respect for the rules.
- Anthony Zinnanti on Google
Jul 22, 2021
It's okay. Nothing to brag about.Big sites. 30 amp only. It was very hot and could only run one air conditioner.
- Letha Whipple on Google