Directions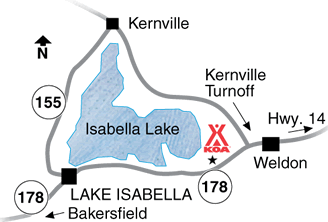 11 miles east of the town of Lake Isabella on Hwy 178. 32 miles west on 178 from Hwy 14.
GPS: N35.654805. W118.342632

WE ARE NOT LOCATED ON THE LAKE NOR ON THE RIVER, BOTH ARE WITHIN A 10 TO 15 MINUTE DRIVE
Get Google Directions
Jul 08, 2021
Triple digit summer days and electricity kept going out. Would go again with cooler weather. Other than that it was good.
Jul 07, 2021
The best way to camp at isabella
Jul 07, 2021
��ϋ��
Jul 07, 2021
The location was great, it has lots of stuff to do around that area. The only thing is the pool and bathroom where dirty but I think it was because of the 4th July weekend. Tip on holiday weekends clean the bathrooms at 9:30 PM so we there is not the wait time for cleaning and have extra toilets paper. Other then that was a nice place, would come back.
Jul 06, 2021
We left a day early due to obnoxious neighbors allowed for be disrespectful to the quite hours rules. Loud music, fluorescent light strung up into the tress allowed to run all night (which illuminated our tent). Children running through our campsite even after we personally told them not to run through our site. Neighbors also had a loose dog that would come over to our site and urinate.
Jul 05, 2021
Liked the location, the staff, and the amenities. Pancakes on Sunday morning were a cute touch. Bathrooms and showers were kept clean for a campground bathroom. Staff were helpful and pleasant.
Jul 04, 2021
Jackie was so welcoming, helpful and made our visit so much better. She was more than willing to share information about traveling to Death Valley even to the extent of sharing her phone number in case we had problems. It was 120 degrees that day. We can't say enough about her especially after going to two Koas following her where the help was not helpful or willing to give suggestions.
Jul 03, 2021
Got their late didn't see much of the area had a good steak house next to it food was very good
Jul 02, 2021
Bathrooms and pool needed to be cleaned. Tent site was small but good location.
Jul 01, 2021
Had a great stay, nice KOA !!!
Jun 30, 2021
Fiendly staff, good breakfast, thanks!
Jun 30, 2021
I love this campground and enjoy returning regularly. All of the amenities make it an enjoyable vacation with the kids. Only recommendation is the cabins need some upgrading such as new mattresses and sofa.
Jun 29, 2021
The splash pad and pool were great. My only complaint was that it was hot and when it gets hot the power shuts off. They need to upgrade their panel to cover the load from running all the AC's. Other than that the staff was very friendly and the amenities were clean.
Jun 29, 2021
The staff was very friendly and helpful
Jun 29, 2021
Good location as a base camp to Lake Isabella and Sequoia. Besides that, this location got a one star due to having a cockroach problem in at least its camp sites. I've never been to any campground that had this problem.
Jun 28, 2021
Let me just say the staff was excellent and a pleasure to speak with. Our site was a sad story. There was dog poop all over when we arrived. Our electrical box kept tripping off the first day. On the hottest day we had electrical issues again which made it almost 100 degrees in our trailer, we had a puppy and small children. Heard it's always an issue when they are crowded.
Jun 28, 2021
It was really great, the host are amazing. The only little negative part will be that bathroom and shower are very sleepery.... but the rest is amazing:) we will definitely come back
Jun 28, 2021
This review has been removed by KOA due to profanity.
Jun 28, 2021
This is the second time we stayed here and it was just as good as the first time.
Jun 28, 2021
Great didn't know they had full hook ups till we got there. Possible my mistake by our website showing full hook ups. Did res. Online
Jun 28, 2021
Great customer service, family focus, clean and koa. We will be back.
Jun 28, 2021
Everyone was so friendly. Splash pad/pool was fun for the kids. Playground was very cute. It was difficult to bring a large trailer in, as it was a tight squeeze. Trees were low above the campsites. Tall trailers will scrape. Other than that, very nice!
Jun 28, 2021
When I booked it said level sites and shade. We had spot 58 very uneven in part and shade was behind us in playground area not at site. Grandson loved the playground and pool. Pool very busy most of the time. There are better spots and shade. Staff friendly.
Jun 28, 2021
Fun place for the kids. It was super hot when we stayed so we didn't do much else. I don't think the splash of was working but the kids loved the pool and prospecting for gems and fossils.
Jun 27, 2021
If you're cool with dirt it's okay
Jun 23, 2021
No problems at all. We checked in facilities were working and kept clean. Trees provided adequate shade from the hot sun. 15 min or less drive to the town.
Jun 22, 2021
The eye is in the beholder. The lake is surrounded by barren landscape. To me, not very attractive. The people who work at the KOA are very friendly. The pool was awesome and was a great relief from the heat. Overall, had a good time and that is a win for me...
Jun 22, 2021
Awesome staff! Great campground!
Jun 21, 2021
Bathrooms need work (repairs) and maintenance.
Jun 20, 2021
Nice pool, friendly service. Small camping spots, only 30 amp hook-ups. Very hot while we were there, breaker kept tripping on the campsite hookup. Would come back to a hot camper.
Jun 20, 2021
Had to update to a cabin upon arrival due to the heat wave, Jaquie was very helpful and accommodated us quickly. The place is well taken care of, clean facilities. Try to visit during the weekdays to avoid the crowds. Thank you
Jun 20, 2021
The power was out and it 105 degrees. Not good. However my family went to the hot springs and survived. Who would of thought.
Jun 19, 2021
Our campsite was booked to be "under a canopy of trees". Our campsite did not have one tree, nor did it have any shade at all. Photos and information on your website are VERY misleading. Highly disappointing campsite!
Jun 18, 2021
Everything was great!
Jun 18, 2021
Arrangements were made for stay almost effortlessly. Conditions in and around cabin were quiet, clean and without annoyance.
Jun 17, 2021
dirty nasty never again
Jun 17, 2021
Clean, shade, noisy birds, lack of policing during quiet hours, people were not quiet, people trespassing on your campsite which I have never seen before in my over 50 years, the wind; trying to pitch a tent or light a fire was insane, but kept the bugs away. The stars at night were amazing as well as the pool. Not near body of water as advertised. Weather was amazing & staff was friendly.
Jun 16, 2021
The campsite is great, very clean and comfortable place. My family enjoyed the free ice cream and pancakes :) The staff is friendly and helpful.
Jun 15, 2021
The campsites were way too small and very ugly compared with other KOA's. The spots were very expensive for what KOA had to offer their guests. In the cabin the shower only had hot water and no cold. Very Tun down.
Jun 15, 2021
It was great. I only wish you guys had one or 2 more showers. But other than that we had a blast!!
Jun 13, 2021
Pull thru sites are big rig friendly and staff made me feel comfortable visiting there campground. Enjoyed our stay.
Jun 13, 2021
Adequate facilities. Friendly people. Park has spaces too tightly packed. But perfectly fine for an overnight stay.
Jul 20, 2021
Good
- Steve "S&R" Roze on Google
Jul 22, 2021
It's okay. Nothing to brag about.Big sites. 30 amp only. It was very hot and could only run one air conditioner.
- Letha Whipple on Google