Alert
We are still experiencing temporary restrictions on our Pizza Pub (take out only), pancake breakfast and summer weekend activities.
Please call or email for further details or updated information.

Thank you from
All the Staff at Lake Isabella Kern River KOA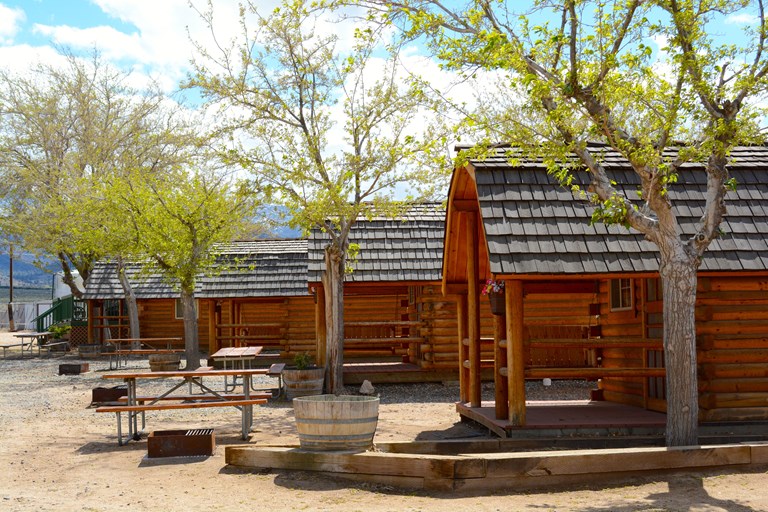 Lake Isabella / Kern River KOA Reviews
Directions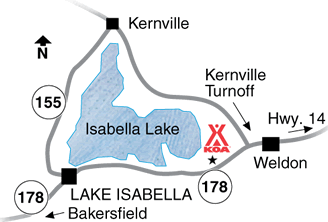 11 miles east of the town of Lake Isabella on Hwy 178. 32 miles west on 178 from Hwy 14.
GPS: N35.654805. W118.342632
Get Google Directions
May 26, 2020
The grounds needed more upkeep. Lots of overgrown weeds. Other than that, our kids had a great time.
May 26, 2020
Very friendly staff. Sites need to be better maintained.
May 26, 2020
Even though the owners/operators had plenty of time during the COVID-19, they opted to not keep the grounds clean and free of debris and garbage. There were only 6 campers but apparently they were still too busy to pick up the garbage that kept blowing in the wind across the property for four days. All amenities were closed so no review on them.
May 26, 2020
The whole campground is dead weeds. The sprinkler system is turned off and it's all dead. The trash is piled all over. Place could be great if they fixed it up. Usually KOA's are taken better care so we were very disappointed.
May 26, 2020
I was disappointed about the enforcement of quiet time hours; all 3 nights of my stay the adjacent tent site was extremely loud till nearly midnight. Even before 10pm their music was obnoxious and nothing was done. In general the site was decent, but the location right on the highway was less than desirable. It's tough to control highway noise or location, but that's my honest opinion.
May 26, 2020
Perfect place for family with kids , the hot showers and stove and microwave make life easier and store on site makes everything very convenient
May 26, 2020
Great!, Clean amenities. Although in COVID lock down, everything needed was provided and clean.
May 26, 2020
Staff was nice and friendly and was delighted to get a spot during Covid. We spent most of our time on the river and not at campsite, we just stayed at night. However, there was alot of "soar eye" stuff around grounds. I would clean up stuff dumped around camp ground like old chairs, doors, hide dump area so we can enjoy the natural ambiance. Area was quiet and I felt safe.
May 25, 2020
Considering the current situation and that all amenities were not available, it was still a very pleasant stay. Mike the campground host was very friendly and helpful to all campers.
May 24, 2020
Because of covid, the very nice facility wasn't able to open amenities. I would definitely come back! The folks from arroyo seco who are currently managing, were just awesome! Good size spaces,nice sunset nightly. Tough times for the parks. Please support KOA!
May 24, 2020
This is probably the worst KOA we have ever stayed out. We were booked for four night and only stayed one. It took us over four hours to get here and what a disappointment! Dead trees and vegetation everywhere. I would post pictures but you should know what it looks like.
May 24, 2020
Didn't appreciate camp attendant being intoxicated when we arrived
May 23, 2020
Our stay was pleasantly quiet, just the way we like our camping. The unfortunate part, due to the coronavirus, nothing was open for our use. We understood that, too. The grounds were a bit disheveled but clean otherwise.
May 23, 2020
Everything was fantastic EXCEPT the towel rack fell off and left a gash on my toe which put a damper on our trip.
May 23, 2020
To much weeds growing around the property
May 23, 2020
Michael was very friendly and helpful!!.. He would be a great choice for a managers position!!
May 23, 2020
Spot was very tight. We could not extend our awning. No place to go for a bike ride. Pretty isolated location.
May 13, 2020
No WiFi available during our stay. Since our stay was during coved 19, WiFi is important as part of social distancing. With all their amenities closed and lack of WiFi, perhaps the park should consider partial refunds to campers.
May 07, 2020
I have stayed at this KOA every year in Labor Day and it has been so wonderful and kept up. This stay, with COVID-19 I understand all facilities were closed as expected. However, every campsite was extremely over grown with weeds and it looked like it was not being kept up. I hope if we come on Labor Day weekend the sites are better kept up.
May 05, 2020
The campground was very clean and well maintained. The location is great relative to the lake small shopping centers. Only negative is that there was no WiFi during my stay.
May 04, 2020
the last 3 months we have stayed there for 5 days each stay we just left yesterday 5-3-20 along with our other campers which stayed each other visit. the grounds are not kept clean/the weeds or grass was so high throughout the ground had to pull the weeds in our sites the steps on our coach where covered with weeds when steps camp out everywhere else was the same the except where driving
May 04, 2020
Due to Corona, it isn't like normal.
May 03, 2020
Campground was run down - weeds everywhere- even an old toilet sitting in an RV space. Camp hosts were super nice
Apr 22, 2020
I am glad they were taking reservations during a time when a lot of areas are closed. I look forward to coming back when all the amenities are open.
Apr 19, 2020
Enjoyed the time away. We were sad that we could not enjoy the amenities due to COVID-19, but at least we had a change of view. Would have been nice to have the camp store open to for ice cream. We had the whole place to ourselves during the day as essential workers were camping there at night. Hope to be able to go back to make full use of the camp. Maybe a price break could be refunded. TY.
Apr 14, 2020
It was during covid outbreak, so couldn't use facilities. Did not see the camp host and our reservation envelope wasn't in the box. We had prepaid, so we found an empty space and hooked up.
Apr 06, 2020
The WiFi only worked for a few hours first day (Thursday). I really needed the WiFi to work since I was still working Thurs - Saturday. The whole point of us choosing the KOA campground was that WiFi was advertised.
Apr 06, 2020
Nice place. Love the cowboy theme.
Apr 02, 2020
Nice facilities, and well maintained. Only negative was the poor internet connection.
Mar 20, 2020
Well kept, friendly staff. Nice campsites. Strongly recommend
Mar 17, 2020
Unfortunately we were not super impressed with this facility. It was off season and they are repairing what looks like a fire on the property but the grounds were shabby, bathrooms were not clean. There was a cigarette butt in one of the mens shower stalls that was not recent. It had been there through many "cleanings ". That same shower didn't drain and ran out into the bathroom. Not the be
Mar 15, 2020
We paid for the pet friendly cabin, and upon entry found vermin feces all over the floor, table, counters, bed. I called the office and they immediately came over and scoped it out and moved us into a much nicer cabin. Clean, beautiful, made me want a tiny home. The KOA needs to fix their communal stove because only 1.5 of the burners actually work - shouldn't be listed as an amenity until fixed
Mar 11, 2020
Off season, nice and quiet
Mar 10, 2020
The staff was very friendly and accessible. We loved our cabin! It was very clean and comfortable. We wished we could have used the community kitchen but our schedule did not allow us to. The set up was so cool! All the amenities were well maintained. Next time we plan to stay in one of the tiny homes on site.
Feb 27, 2020
Nestled in a valley surrounded by mountains, this KOA is a diamond. Restrooms are well maintained and very clean. Sites are shaded with ample space. There is a pub style cafe in site and a restaurant within walking distance. Lovely area near Lake Isabella and lots of trails.
Feb 24, 2020
Very peaceful/pleasant. Cable would be a great addition. Wifi that works would help.
Feb 24, 2020
Cabin was not super clean but it was a nice stay
Feb 22, 2020
2 nights- loved the outdoor kitchen area
Feb 20, 2020
Staff was very helpful and friendly. Campground was clean and family oriented.
Feb 20, 2020
Bathrooms were very very dirty. From blood to mud. it was all there. My girlfriend said that while she was in the stall, a guy entered the bathrooms to clean it which is unacceptable when the stalls are occupied. We saw that the cleaning time was from 10:00-11:00am so made it a point to go freshen up by 9:00 am but they came in unannounced at 9:15. This is unacceptable.
Feb 18, 2020
The place is SO NICE!! Congratulations.
Feb 18, 2020
Great location and nice sites. Love that there are firepits available for each site and enough room to park the trailer, car and still move around. Staff were all super friendly but wanted to call out both Megan and Sierra for being extra nice and helpful! Stop into the saloon for a beer while your hear to chat and find out some fun locals spots to hit. We will be back again soon : )
Jun 27, 2020
It was hot! But the boys loved their time! Very fun campground!
- Lisa Griggs-Riordan on Google
May 28, 2020
Very nice people, very clean park, loved our time there
- kathleen curran on Google
Apr 19, 2020
Highway 178 give different curve roads from Bakersfield CA to lake Isabella CA to onxy ca to more until end of highway to other highway to mojave CA and Ridgecrest ca. Sometimes feel dizzed, so bored, fun, calm, and have many emotions to feel driving on highway 178. Good dream catcher, good thinking, and good view.
- Bianca Veisaida Borrero on Google

Lake Isabella / Kern River KOA
Open All Year
15627 Highway 178
Lake Isabella Kern River KOA
Weldon, CA 93283
Check-In/Check-Out Times
RV Sites, Tent Sites
Check-in: 2:00 pm, Check-out: 12:00 pm
Accommodations
Check-in: 2:00 pm, Check-out: 11:00 am
Operating Hours
Sunday: Open 8:00 AM to 10:00 PM
Monday: Open 8:00 AM to 10:00 PM
Tuesday: Open 8:00 AM to 10:00 PM
Wednesday: Open 8:00 AM to 10:00 PM
Thursday: Open 8:00 AM to 10:00 PM
Friday: Open 8:00 AM to 10:00 PM
Saturday: Open 8:00 AM to 10:00 PM
Lake Isabella / Kern River KOA
Get Google Directions

© 2020 Kampgrounds of America, Inc.