Alert
We are still experiencing temporary restrictions on our Pizza Pub (take out only), pancake breakfast and summer weekend activities.
Please call or email for further details or updated information.

Thank you from
All the Staff at Lake Isabella Kern River KOA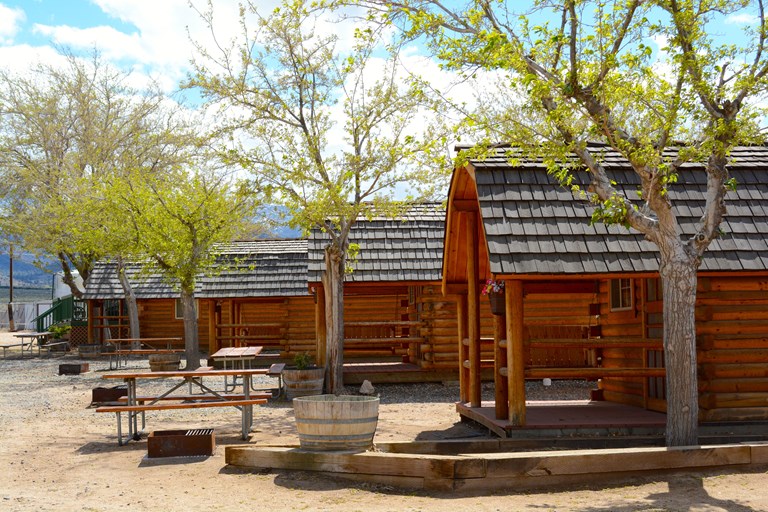 Lake Isabella / Kern River KOA Reviews
Directions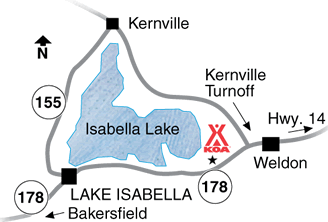 11 miles east of the town of Lake Isabella on Hwy 178. 32 miles west on 178 from Hwy 14.
GPS: N35.654805. W118.342632
Get Google Directions
Jul 25, 2020
Farther from lake than expected. Tent sites right on top of each other. Tent section seemed to not respect quiet hours. They were more like 2am-6am
Jul 25, 2020
The bathroom needs to be cleaned more than once a day, and more thoroughly. Filthy down on the bottom of the toilet near the floor every single time I used it. Gross.
Jul 25, 2020
Was very nice
Jul 23, 2020
We did not enjoy our stay. I called ahead to ask what was in the cabin and was told a kitchenette. In fact, it was a microwave and dishes, cups, and utensils. There were no cooking utensils. No sharp knives, prongs, oven mitts, etc. Two of the dishes in the stack were dirty. No hot water. No TV. And no WIFi. During the night, the AC would make loud noises.
Jul 23, 2020
Really enjoyed our time and will be coming back. The only suggestion I have is either provide a pooper scooper or poop pick up bags in the pet yard. I always have bags for my dog and clean her mess. But others do not and there were piles everywhere. I left some of my bags in the box where there was none provided and they were used. I think if provided others would use.
Jul 22, 2020
I rented a space at KOA for the past 5 years, always had a great time. This year we rented 4 cabins 2 of them were deluxe cabins. They were dirty, none of the conditioners works. I pulled out the filter they were caked with dirt. Pool was nasty. They canceled our reservation 5 days before were got there. Said our cabins were closed to maintenance. Did not notify call or email me. BAD MANAGEMENT!
Jul 22, 2020
One shower was out of order so there was a wait.The shower area is not sloped correctly so water stands all around the shower...not sanitary.The shower area is hot and and humid and appears to have no ventilation..started sweating after getting out of shower.Only one of several stalls had toilet paper.We went to use the dump station and it was full. They had us use a site that had a sewer hookups.
Jul 21, 2020
Everything was great! It was over 100 degrees, so we were very grateful for the AC in the camping cabin. My kids loved th Wild West theme, playground, pool and the splash pad! The campers kitchen made doing dishes easy. The ice cream social and Pancake breakfast were a nice touch! The only complaint is the day park is small and there were goat head thorns...my dog got 4 thorns in his paws.
Jul 21, 2020
We had a wonderful time! The pool was such a great feature with the hot summer days and the ice cream Fridays and pancake Sundays were a hit for the kids!
Jul 21, 2020
Quiet place and friendly staff. Nearly all spots are very well shaded aside from the back row (where we were) currently looking to book our next stay and try a larger site.
Jul 21, 2020
nice park. A little aged but a great staff.
Jul 20, 2020
We had a wonderful time here. Staff was friendly and facility was clean. Cute playground and splash pad. Will definitely return and recommend.
Jul 19, 2020
Men's restrooms were a mess and filthy, toilets were plugged every day, maintenance were terrible. I would not go back there unless they fix the men's restroom.
Jul 17, 2020
The location is a 15 min drive from the lake and/or river. It was super windy and hot with very few shade trees. The bathroom was wet every time I went in. The mask mandate was not being enforced. The spaces are fairly close together. Two stars for having electricity and water available at the tent sites.
Jul 17, 2020
This camper comment has been removed by KOA due to profanity.
Jul 16, 2020
Had great time friendly staff and very clean
Jul 15, 2020
We love to camp here is a nice, clean place great for the kids and very friendly and respectful staff. I would recommend it.
Jul 14, 2020
Extremely friendly staff! Loved the shade trees, too. Pool was kinda grungy due to heavy use by many kiddos in the sweltering heat.
Jul 13, 2020
Our reservation was mixed with someone else and we were forced to change spots 3 times in 3 days. It was extremely frustrating and each time our spot got worse. I do not think it was right to move us three times. One time we were out and came back to our stuff moved to another spot without us knowing. This means others were touching our personal belongings in times of COVID.
Jul 13, 2020
Great place that is conveniently located for activities in the Kern River Valley. The general store is well provisioned although they did run out of ice. Splash pad is great for the kiddos in the summer. Bathrooms didn't appear to be air conditioned but that's no biggie.
Jul 12, 2020
AC didn't work in our cabin and there were dead bugs all inside. Bathrooms were dirty as well. There are signs posted before entering general store saying that masks were required but this was not enforced (saw many people enter the store without masks). Pool was at an uncomfortable capacity during a pandemic. Will not return.
Jul 12, 2020
Very friendly and helpful staff.
Jul 11, 2020
Too many transients walking through the campsite. I did enjoy the shade from the trees.
Jul 11, 2020
This location is very very hot and windy during the day and tends to cool off after the sun goes down. It's quiet and generally a pleasant place to camp. There is no isolation, so if you're looking to camp alone, this is not the place. The on-site store tends to sell out of most things you would expect they would have endless amounts of, but they stock lots of stuff no one buys.
Jul 10, 2020
I loved staying in the deluxe cabin . It had everything we needed !
Jul 10, 2020
First time staying at a KOA. Stayed in a small cabin. Bed mattresses were uncomfortable-should be replaced. Loved the porch swing. Snack shop/store was great. Bathrooms and Showers were clean. Pool was small but wasn't crowded; great for son to dip in for a bit at night. So many starts at night. Great restaurants nearby. Lake & river were close. Overall, had a great stay.
Jul 10, 2020
The internet connection was pretty bad but other than it's a solid place to stay.
Jul 09, 2020
It's kind of far from the lake, but it has a nice swimming pool and a separate splash pad to keep cool in the summer heat.
Jul 08, 2020
It was beautiful,quite,and the staff was amazing, will camp there again
Jul 08, 2020
Enjoyed my stay over all. Staff is excellent. Very friendly and helpful. Suggest showers have elevated portions between to keep water within the shower's area and not in the other showers areas, toilet areas, or going out into the general areas near the sinks. It is a fall risk.
Jul 08, 2020
http://www.onthegooc.com/2020/07/sequoia-kern-river-lake-isabella-more.html?m=1 We loved our stay at Lake Isabella KOA. Pool is perfection and the on site panning for gold is family fun. Great location to get to Sequoia south, kern river and more.
Jul 08, 2020
everything was great i wish i would have booked sooner to get a shadier spot the employees were all very hospitable and the restrooms were private and clean.
Jul 08, 2020
We stayed on spot 25 the people on spot 26 allll they did was smoke mariguana day and night we have 2 small kids they keep saying whats the smell we had to stayed out of the campsite just so we can smell fresh air the smell was to strong i can't belive an associate didn't smell it my five year old felt sick at night our tent smell like pure mariguana
Jul 08, 2020
See you again tu
Jul 07, 2020
The bathrooms are the reason for the horrible rating, they were horrible!! We've stayed at old and new KOAs but no matter, there is a standard of cleanliness not kept here. It was disgusting - we have a 3 and 5 year old and were tired of trying to take them in the bathhouse so we ended up using a cup and bottle for them to pee. It was that gross. Bathrooms renovation and proper cleaning.
Jul 07, 2020
Great place. Thanks Family loved it.
Jul 07, 2020
This was our first RV trip, although we were already familiar with KOA Kampgrounds from our childhoods. We loved our stay and thought KOA just thought of everything! Sparkling clean bathrooms (warm in the early morning!), wide campsites, a long dog run, very helpful staff. We were especially impressed with the very effective COVID-19 safety precautions in place. We felt very safe and will return!
Jul 06, 2020
My family and I had a great time at this location! Everything was clean, staff where great and welcoming!
Jul 06, 2020
The staff was helpful, mostly wore masks and friendly. The campgrounds a clean and mostly shaded. We had a very nice time.

Lake Isabella / Kern River KOA
Open All Year
15627 Highway 178
Lake Isabella Kern River KOA
Weldon, CA 93283
Check-In/Check-Out Times
RV Sites, Tent Sites
Check-in: 2:00 pm, Check-out: 12:00 pm
Accommodations
Check-in: 2:00 pm, Check-out: 11:00 am
Operating Hours
Sunday: Open 8:00 AM to 10:00 PM
Monday: Open 8:00 AM to 10:00 PM
Tuesday: Open 8:00 AM to 10:00 PM
Wednesday: Open 8:00 AM to 10:00 PM
Thursday: Open 8:00 AM to 10:00 PM
Friday: Open 8:00 AM to 10:00 PM
Saturday: Open 8:00 AM to 10:00 PM
Lake Isabella / Kern River KOA
Get Google Directions

© 2020 Kampgrounds of America, Inc.