Directions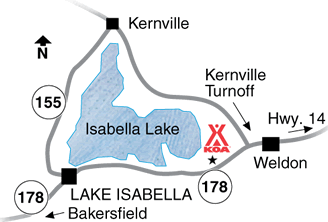 11 miles east of the town of Lake Isabella on Hwy 178. 32 miles west on 178 from Hwy 14.
GPS: N35.654805. W118.342632

WE ARE NOT LOCATED ON THE LAKE NOR ON THE RIVER, BOTH ARE WITHIN A 10 TO 15 MINUTE DRIVE
Get Google Directions
Jul 28, 2021
Our stay at KOA Campground was amazing there was alot of shade with the amazing trees the kids loved the pool it's was clean and campground had a dog park super plus for our dog's
Jul 27, 2021
Only negative is, bathrooms should be cleaner, or campers should be more respectful and same with the pool. Staff was super kind, i do feel bad for the indoor heat, they were pretty much sweating.
Jul 26, 2021
I had the best camper site
Jul 26, 2021
Such a beautiful campsite. We had big shady trees all around our camper. Pool was so nice and clean. Pancake breakfast was delicious and so awesome ���
Jul 26, 2021
Pool was fun in the 100 degree heat. Sierra host she was great! Charging 200% for ice is not appreciated. Went up to Kernville and got 20# bag of ice for $6 and not the $13 KOA price. Hook up costs seem higher than they need be. Traffic noise from highway was pretty loud from stall 47.
Jul 25, 2021
Loved the pool . Look forward to you starting the pizza Again.
Jul 25, 2021
Very rude to locals and they made my kids cry cause 9am they came and told us we hadd to leave cause we were locals
Jul 25, 2021
My 4 boys and I stayed for two nights and every thing was great, nice clean restrooms, hot showers and friendly staff…. We really enjoyed our stay.
Jul 24, 2021
The staff were extremely helpful. We had an issue with our trailer, and Jacqui did not give up until she found someone to help us! For that we are very thankful. Convenient to gas, groceries and Kernville.
Jul 24, 2021
We came for 3 days but we have a horrible experience we just stay 2 days . First night was ok but second night a tree family cheking with 3 spaces at the right they where like home and at 1 am they have all the lamps on and talking .on the left we get 4 drug people the talk super high like a party sleep at 2:30 am nobody come to check them embarrassing honestly we didn't sleep .
Jul 23, 2021
We rented a basic cabin for the night and were happy to discover upon arrival in 90+ degree weather they had already turned on the AC. The woman working was very helpful and the facilities were in good shape.
Jul 22, 2021
We have a 40ft 5th wheel, 13.5 height. Trees were tuff in pull thru spaces. We had to ask to cut down a small branch to open one slide. Then we realized we should have centered more because slide only able to open half way. Would have also made our space much tighter. Campgrounds need lots of work. They have put in some beautiful new cabins it looks like. I think for snow season. Tight areas!
Jul 22, 2021
Unlevel spots that were difficult to park, guests were loud after hours, facilities weren't the best, lots of ants in the trees which dropped on our RV and got inside everything. We woke up with ants crawling on us. The campground advertises it's on the lake but it's 10mins away. Misadvertising.
Jul 22, 2021
Quiet, even with kids on property. Campground had all it's amenities up and running (pool, bathrooms, showers, kids play area). Easy in and out, right off main road. Great smaller KOA campground.
Jul 21, 2021
Needs quite a bit of updating - it is like a broken down western town. The bathrooms need to be redone. They have no ac and are pieced together. The shower heads spray in a mist circle, making showering difficult and time consuming. One shower and one toilet were out of order. The grounds need a clean up. The staff were very pleasant and earned the stars given- the rest needs attention.
Jul 21, 2021
Restrooms smelled bad, old equipment laying on its side at the entrance of restrooms, low hanging branches over site needed to be trimmed, common area dirty and unclean from previous use.
Jul 20, 2021
I was told in the partial kitchen cabin there would be a propane grill provided outside the cabin but there wasn't one so all my food that i carried was sitting in the fridge and we had to end up eating out, i have stayed at 8 other Koa locations and this one is the worst of all - the common kitchen was very greasy and unpleasant to cook in, kids play area only had 4 swings, splash play areaclos
Jul 19, 2021
There was a tick on the bed which could have come from one of us, but the bottom of the inside of the light over the table inside the cabin (57) was full of dead bugs to the point it was black. The porch light as well. The futon was dirty. The floor under the futon was filthy. All drapes dirty and worn, front door especially. The bed was horrible. It sagged. Worst KOA I've stayed in.
Jul 18, 2021
The dog pen was not clean there was a lot of po on the ground
Jul 17, 2021
The staff was very polite and accommodating. The facility was tidy and maintained. All services were offered including WIFI. I am only rating the our experience as a 3 because the location was just not for us. We did not tow a vehicle and Lake Isabella was to far to access. There was not much to do at this location, so we checked out early. We did enjoy a lovely sunset over the near by foothills.
Jul 17, 2021
It was ok. The play area need upgrade many area had sharp edges for kids. Really have on people to clean after their dogs. The pool was extra cold. Staff was awesome. Lots of shade trees. Nice outdoor cooking area!
Jul 16, 2021
Clean and friendly staff!!
Jul 16, 2021
Very nice staff. Clean facilities. Quiet campground.
Jul 15, 2021
The staff and facilities were well kept and polite. The only complaint I have is the camp next to us came in at midnight on Friday 7/9 and was super loud and woke up my kids setting up camp.
Jul 15, 2021
Very friendly staff.
Jul 14, 2021
There's not much to do.
Jul 13, 2021
We had a great stay, the cabin was very clean and nice, just perfect for our family. AC work perfect for this 105+ weekend. everyone one of the employee's were very nice and helpful. answered all of our questions and took the time to offer suggestions of things to do around the area. Swimming Pool and Splash pad areas where well maintained and a refreshing way to spend the evenings. We'll be b
Jul 13, 2021
Fantastic. Absolutely Fantastic. I love this KOA. A Diamond in the Desert. Great People. Nice Accommodations. Thank you All.
Jul 13, 2021
We have been there 2 times and love it we will be returning some day soon and hopefully in the cooler weather ����
Jul 12, 2021
The hosts are excellent. They are friendly and knowledgeable about the area. I give them a 5. I scored the campground a 4 for three reasons: (1)the 50 amp service needs repaired; (2) of the three flag poles, only two had flags, the KOA flag was a rag; (3) one of the washers and one of the dryers was not working something we find at a number of KOAs.
Jul 12, 2021
Our second time camping here this year. Love the location. It's close to big trees and off roading, lakes and river swimming. It's hot but many ways to beat the heat. And the folks here are so nice. Will be back.
Jul 11, 2021
Always a great time! The staff is super friendly and trying out a cabin this time was a game changer!
Jul 10, 2021
We stay here for 2 days in our class A motorhome. We had business in Lake Isabella, which was a short drive from the park. We had a back in site with lots of shade & plenty of room for our 2 slides. Also there was room for our Jeep that we had towed behind our motorhome. Very quite at night even though it is on the hwy. Park needs a little TLC, but other than that we had a nice stay.
Jul 09, 2021
Very nice and plenty of fun water activities to do with the kids. The only problem was that the power kept going on and off. But the area was nice.
Jul 09, 2021
This was the first time using a KOA as we just purchased our first trailer on 7/3. Reserving, making changes, and the accommodations were very good! Even though it was a short stay, we were ver happy with everything!
Jul 08, 2021
My rig has 2 AC units and there for I reserved a site with 50 amp service. They were having issues with the electrical system, I was only able to use 30 amp (1ac unit) and there main breaker tripped several times during our stay, loosing power to several sites. Not to happy with this.������������
Jul 08, 2021
Hi, our short vacation was great staying in your campground, the only thing was with the stoves in the kitchen there wasn't working, thanks God wi brought our grill.
Jul 20, 2021
Good
- Steve "S&R" Roze on Google
Jul 22, 2021
It's okay. Nothing to brag about.Big sites. 30 amp only. It was very hot and could only run one air conditioner.
- Letha Whipple on Google