Alert
We are still experiencing temporary restrictions on our Pizza Pub (take out only), pancake breakfast and summer weekend activities.
Please call or email for further details or updated information.

Thank you from
All the Staff at Lake Isabella Kern River KOA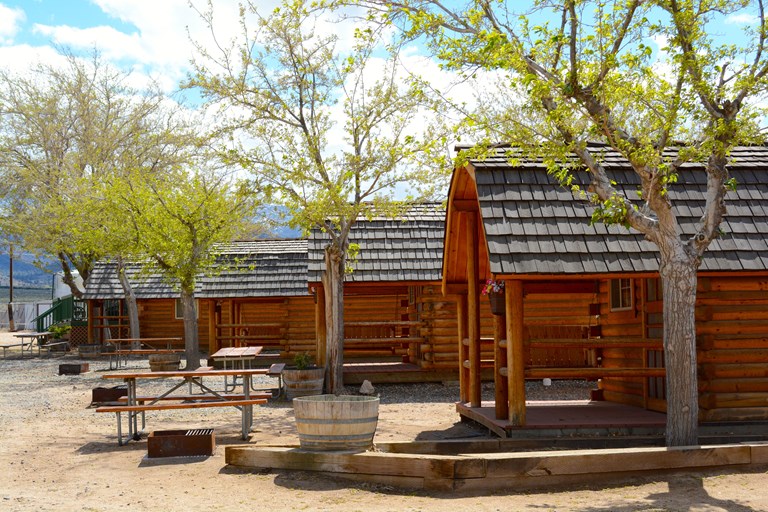 Lake Isabella / Kern River KOA Reviews
Directions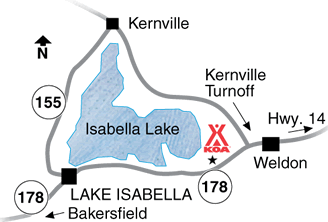 11 miles east of the town of Lake Isabella on Hwy 178. 32 miles west on 178 from Hwy 14.
GPS: N35.654805. W118.342632
Get Google Directions
Jul 07, 2020
The bathrooms are the reason for the horrible rating, they were horrible!! We've stayed at old and new KOAs but no matter, there is a standard of cleanliness not kept here. It was disgusting - we have a 3 and 5 year old and were tired of trying to take them in the bathhouse so we ended up using a cup and bottle for them to pee. It was that gross. Bathrooms renovation and proper cleaning.
Jul 07, 2020
Great place. Thanks Family loved it.
Jul 07, 2020
This was our first RV trip, although we were already familiar with KOA Kampgrounds from our childhoods. We loved our stay and thought KOA just thought of everything! Sparkling clean bathrooms (warm in the early morning!), wide campsites, a long dog run, very helpful staff. We were especially impressed with the very effective COVID-19 safety precautions in place. We felt very safe and will return!
Jul 06, 2020
My family and I had a great time at this location! Everything was clean, staff where great and welcoming!
Jul 06, 2020
The staff was helpful, mostly wore masks and friendly. The campgrounds a clean and mostly shaded. We had a very nice time.
Jul 06, 2020
Continued issues with power going on and off. Temperatures were in high 90s. We came very close to leaving that first day. The entire campground had issues and the
Jul 05, 2020
The first day we had no power and had to plug in to the adjoining spot. Although it was fixed the next day, I believe we should have been given a different site.
Jul 03, 2020
The staff were very kind and helpful.
Jul 03, 2020
Not far from where we live experience was awesome friendly people around would definitely go back
Jul 01, 2020
We had an excellent time. The staff regularly patroled the premises and kept the trash cans empty. They were also very friendly. Good amount of shade throughout the campsite.
Jul 01, 2020
We love Lake Isabella! Less wind would have been nice, but not your fault �. We hope all the fun activities can resume soon (Stupid Covid). The kids love the playground area! Keep up the great job!
Jul 01, 2020
Quiet hours were not enforced at all. No one was on site to enforce them and there was no phone number posted for someone to call.
Jul 01, 2020
the bathrooms were very very dirty
Jul 01, 2020
Very friendly staff and clean park.
Jul 01, 2020
Staff were not friendly in the office. Campground only a fraction filled, yet we all seemed to be bunched together. Site 14 where I was had a great smell of the dumpsters, thanks for that! And my fire pit was literally 12 inches from the next site's sewer receptacle. Loved the awkward moment of me eating dinner next to my campfire, and my neighbor rolls in looking to hook up.
Jun 30, 2020
Arrived and the place looked really run down. Checked in and was given a site that was "occupied by the owners broke down truck because we thought you wouldn't show". Not sure why they thought that. The quiet hour is posted at 10pm but partying and music went on well after midnight. Couldn't wait to leave. Cancelled return reservation. Very disappointed.
Jun 29, 2020
The only thing we didn't like about our stay was that "quiet time" is supposed to be no later than 10pm but there was 2 other sites that were very loud until 2AM and no staff members advised them to respect "quiet time".
Jun 29, 2020
Facilities were nice and staff was friendly. There was a dog that lived next door to the camp that barked a good portion of the night. The playground needed a little bit of maintenance but overall it wasn't a bad place to stay.
Jun 29, 2020
Had to go to to 3 different sites and was stuck in a site that the trees didn't allow us to pull into our site properly. No other sites were available. This was the dirtiest facility we have ever stayed at. The constant smell of sewer in the park was overwhelming. The pool was blue in the morning and green in the afternoon/evening. Horrible experience that we had to make work.
Jun 29, 2020
Friendly staff but whoever is in charge doesn't care
Jun 27, 2020
Pool was refreshing, staff welcoming, campsite maintained, not close to river, but we drove there easily. We had noisy neighbors, popping popcorn and talking loud til 2am, so we were exhausted. At another campsite someone was yelling out every hour very loudly til 3am ( possible handicap child?) .
Jun 27, 2020
This place has a ton of potential and I think it will be a five star by one years time. We met incredible people and the staff was very welcoming, friendly and accommodating. This place definitely gives the full "camping" experience. I think the pool area needs some work/upgrades and the place can use some grass, BUT overall this is a great, family-friendly campground. We had a blast!
Jun 27, 2020
We really loved camping at KOA. The only concerns are that we had no electricity after 10 PM on the night of 6/25 and there are no phone numbers or emergency numbers to call, so we had to share our neighbors electrical outlet. Also, when we checked out we were told we could stay a third night for free because we purchased 2 nights. Had we known that we would have planned to stay a third night.
Jun 27, 2020
Sadie was welcoming and very helpful at front desk! Park was clean and tidy. Thank you for the hospitality!
Jun 26, 2020
Cool spot with everything you need for a camping trip. Staff was nice and helpful. Camping and feeling like it was easy to social distance was a great change from being in the city at home.
Jun 26, 2020
We had a great stay! The staff was very helpful and nice � we can't wait to return!!
Jun 26, 2020
Their was trash in our fire pit from the last campers, that we asked to have cleaned and it was never cleaned. The trash bits for the camp were full and only dumped at the end of our 3 day stay. The campground could use some serious maintenance. The folks in the office were always nice and the price was great. The playground for the kids was REALLY nice.
Jun 26, 2020
Camp ground was alright, everyone there was very friendly. My issue with this KOA is that it was very dirty. The bathrooms were unkempt and there were so many bugs in and around the sink. My tent site had a big wet patch from someone perviously leaving the water running. This created a large area where I could not set my tent up as well as a 2-3 foot ditch. I do not think I would stay here again.
Jun 25, 2020
always wonderful
Jun 23, 2020
Site was well kept. Power on my site and the site next to us kept on popping the main breaker in the office. It was over 95 degrees out so we were hotter than all heck. They said there was nothing they could do that it was an electrical issue because they just had the breaker repaired. Overall it was okay. Pretty close to the river and lake. Within driving distance.
Jun 23, 2020
Close to the lake and rivers !! Lots to do at this Koa but the bathrooms need more attention more then once a day !! Friendly staff
Jun 23, 2020
Trash is full, the park looks dirty with old chairs piled out for everyone to see . The space is very reduced and to close to the people.
Jun 20, 2020
Staff was great, but this KOA looked and felt dilapidated and unmaintained. Trash bins were full to bursting and maintenance area trash/random objects were in full view. I understand the "mining town" theme, but I would have appreciated quaint, not derelict. We left two days early.
Jun 20, 2020
Been using this campsite for over 15 years never had an issue except this day but the manager of the camp took care of it everything was great she was great and double check on us to make sure we were happy ���������
Jun 20, 2020
Loved it. Facilities were kept up very well.
Jun 20, 2020
No late arrival package. We had to pick our own site after going through the late arrivals to figure out which were available. Was harassed by a person in the a.m. about throwing our trash away. I suppose it was an employee as we saw no one. Had to ask a fellow camper for the bathroom codes. Very disappointed expected more when paying for a night's stay.
Jun 18, 2020
Nice campgrounds, clean bathrooms, and had no issues with hook ups. Only issue was with the people staying in the site behind us. They continually had their trucks parked in other people's sites, and we were forced to listen to other people have to get in arguments with them about it. And the hosts even had to talk to them two or three times but they did not listen. Very annoying to deal with.
Jun 18, 2020
Deluxe cabin #48 was dirty and has not been maintained. Soda can and a dog bag with poop in front steps. Sink was dirty with red sticky residue and spiderwebs around entire place. Disappointed since we've stayed at this and other KOAs countless times.
Jun 17, 2020
Meghan is amazing! From the moment I rolled in, to the quick change for laundry even though the office was closed and she was walking out the door. Thanks megz....
Jun 17, 2020
We enjoyed our stay, the first two days were great but became very crowded the last day of our stay. The bathrooms could use some work so there is not flooding on the floors. And the doors need fixing they slammed all night long. And was expected but would have been nice to enjoy the pool.
Jun 16, 2020
We very much enjoyed our stay, your staff are all very professional and very nice people with superior attitude! Next time if the pools open it would be really cool!
Jun 27, 2020
It was hot! But the boys loved their time! Very fun campground!
- Lisa Griggs-Riordan on Google
May 28, 2020
Very nice people, very clean park, loved our time there
- kathleen curran on Google
Apr 19, 2020
Highway 178 give different curve roads from Bakersfield CA to lake Isabella CA to onxy ca to more until end of highway to other highway to mojave CA and Ridgecrest ca. Sometimes feel dizzed, so bored, fun, calm, and have many emotions to feel driving on highway 178. Good dream catcher, good thinking, and good view.
- Bianca Veisaida Borrero on Google

Lake Isabella / Kern River KOA
Open All Year
15627 Highway 178
Lake Isabella Kern River KOA
Weldon, CA 93283
Check-In/Check-Out Times
RV Sites, Tent Sites
Check-in: 2:00 pm, Check-out: 12:00 pm
Accommodations
Check-in: 2:00 pm, Check-out: 11:00 am
Operating Hours
Sunday: Open 8:00 AM to 10:00 PM
Monday: Open 8:00 AM to 10:00 PM
Tuesday: Open 8:00 AM to 10:00 PM
Wednesday: Open 8:00 AM to 10:00 PM
Thursday: Open 8:00 AM to 10:00 PM
Friday: Open 8:00 AM to 10:00 PM
Saturday: Open 8:00 AM to 10:00 PM
Lake Isabella / Kern River KOA
Get Google Directions

© 2020 Kampgrounds of America, Inc.