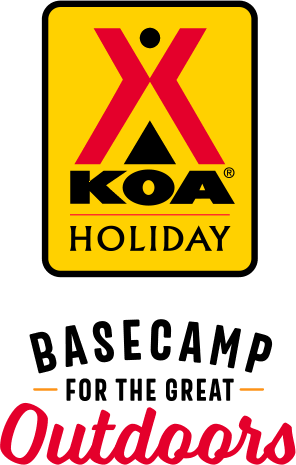 KOA Holiday Campgrounds
Whether you're exploring the local area or hanging out at the campground, KOA Holidays are an ideal place to relax and play. There's plenty to do, with amenities and services to make your stay memorable. Plus, you'll enjoy the outdoor experience with upgraded RV Sites with KOA Patio® and Deluxe Cabins with full baths for camping in comfort. Bring your family, bring your friends, or bring the whole group – there's plenty of ways to stay and explore.
KOA Holidays Feature:
RV Sites with a KOA Patio®
Deluxe Cabins with full baths
Premium Tent Sites
Group meeting facilities
Directions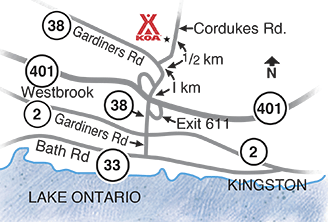 Take exit 611 off of the 401. Follow HWY 38 north for 1 km. Turn right on Cordukes Rd. We are on the left after 1/2 km.
GPS: N44.301247, W76.575136
Get Google Directions
Oct 14, 2020
Nice sites and very well maintained.
Oct 14, 2020
A very nice long-weekend, its nice to have great bike trails beside the KOA
Oct 14, 2020
Employees were friendly and very helpful. Appreciated the wood being delivered and the free pump out service.
Oct 14, 2020
GREAT STAY!!!! VERY PLEASANT FAMILY
Oct 14, 2020
Great stay. Park was very clean and staff was always around and very friendly. Will be that much better once the sewer upgrade is complete. Will be returning again next season.
Oct 14, 2020
Nice ,clean campground. Good size lots , will return next season .
Oct 13, 2020
We are kinda new to the whole camping thing but we ha e been to many different campgrounds this summer have never stayed at a koa before this place was immaculate so clean very accommodating the staff was very friendly due to the covid some stuff was not available but over all a very great experience will definitely go back to this campground
Oct 13, 2020
The new sites are fantastic. Had a wonderful fall camping weekend. Always a great stay at this park.
Oct 07, 2020
Beautiful fall stay at your campground! Quiet, clean, friendly. Loved the complimentary honey wagon service. We will be back!
Oct 07, 2020
very nice campground very competent employees . however the price was very high . Wifi was very bad to sometimes not working.
Oct 07, 2020
Upside: Seemed to have a lot of great facilities. Friendly staff. Easy to back in to. Good sized site. Downside: Giant cedar privacy hedge behind us was QUITE thin. Our site backed up onto a big green electrical box- it would have been nice to be warned about that.
Oct 07, 2020
Very nice, stayed in Oct so park was closed up a bit and very few others in the Park. Could hear Hwy 401 vehicle noise, not really bothersome just noted when quiet.
Oct 06, 2020
The new sites look very nice, having full hook ups now available is also very nice. It was near the end of the season so the office seemed to be closed a lot, but the park and sites were all in very good shape considering the amount of work they are putting in to expand.
Oct 06, 2020
It was just a weekend stay but the staff were wonderful and the site was beautiful although we didn't know there was no sewer at this site. I will definitely be going back next year.
Oct 06, 2020
We have stayed here many times over the years and keep going back. The camp grounds are very clean and the staff is always driving around to make sure everyone is satisfied with their stay.
Oct 05, 2020
People a couple over from us had very yappy dogs which was annoying as they would bark for an hour or more at a time but other than that it was a nice relaxing stay! Woman at the front desk was very pleasant as well :)
Oct 05, 2020
Nice campground well situated to Kingston, 1000 islands and other tourist designations. Very clean. Only question mark was base for Dog park is all sand. Didn't use as a result. No one want to drag that back to their RV.
Oct 02, 2020
Wi-fi too weak and price too high for that time of year
Oct 01, 2020
Very nice campground. Pleasant even in these difficult times.
Sep 29, 2020
Easy check in, friendly staff, spacious lots, clean facilities. Enjoyed walking the nearby K and P trail.
Sep 28, 2020
Very clean sites. Well respected privacy. Nice friendly staff. Felt very safe. Will come back again.
Sep 28, 2020
The place was clean and check in was very organized. Great camping experience. We will definitely be back.
Sep 27, 2020
No 3 service available had to use the wash out station
Sep 27, 2020
just an overnight stay. staff was very friendly and helpful.
Sep 26, 2020
Nice place and well managed We stayed at the newer sites that can easily accommodate a larger rig. Very easy to get in and out with motorhome and trailer. And thank you very much for your help with the dead battery. Hope to come back next year
Sep 25, 2020
Awesome campground. People friendly. Large sites. Extremely clean. Terrific trails. Close to everything. Highly recommended
Sep 24, 2020
Very quiet and relaxing. Only issue was upon departing, tree on site E6 rubbed against 5th Wheel. Unable to back up due to tightness of spot with other vehicles parked behind and in front. Excellent service with black / grey waste water pump out at site.
Sep 23, 2020
This has been our third time staying here and we had a great time. The biggest issue we had was the colder temperature and the staff had nothing to do with that. Thank you Patrick and staff for the great hospitality.
Sep 23, 2020
Very clean, well organized, lots of activities available. Very Covid aware with all safety protocols in place
Sep 22, 2020
Very friendly staff. Well maintained park. The owner even spent some time with us at our camp fire.
Sep 22, 2020
first time here, excellent campground. small but I see they're expanding. clean comfortable lots of things for the kids to play .
Sep 22, 2020
Everything was as super as it is each time I stay at K.O.A Kingston Management went above and beyond that which one would expect.
Sep 22, 2020
very nice love it they
Sep 22, 2020
Its always a great place to be and Patrick and his family are the nicest people to have operating the campground. Its a very clean place and a very safe place. We feel totally comfortable and happy to be there. Thank-you kindly, Evelyn.
Sep 22, 2020
Very jovial and helpful staff. Thank you for the wondeful experience at your site.
Sep 22, 2020
We read online they had good internet but the reviews said otherwise. When I asked to speak to the owner about it, he was very defensive and essentially shrugged me off. Nice camp, but sadly the initial interaction ruined it for us. We stayed the night and left in the morning.
Sep 22, 2020
Une seule critique à faire de ma part, les toilettes n'étaient pas assez propres (le plancher surtout) en période de pandémie, il faudrait le nettoyer plus souvent.
Sep 21, 2020
Conveniently located just a few minutes north of Kingston. Staff are friendly and helpful. They seem to do regular patrols of the park. A couple areas of the park are in the process of upgrades.
Sep 21, 2020
Great stay. Clean campground. Friendly staff. Sites are tight and very close together making it a little difficult for those with big trailers.
Sep 21, 2020
I understand KOA being more expensive in regular times with all the extra activities but since these have been cancelled the prices should reflect as such. Great campground. Awesome staff. But a bit too expensive for me.
Oct 12, 2021
ONE OF THE BEST KOA PARTS ON ONTARIO .
- Don Tobin on Google
Oct 03, 2021
What an amazing campground. We lived how clean and well kept it was. Our site was spacious and we felt spoiled by the on site garbage and recycling pick up. Staff are super friendly and helpful. Highly recommend!!!
- Sara Meulenaar on Google
Oct 03, 2021
A fun place to unwind. Summer is the best time to go. Take the boat ride too.
- Riri Shu on Google