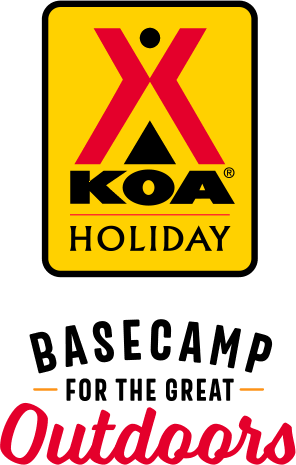 KOA Holiday Campgrounds
Whether you're exploring the local area or hanging out at the campground, KOA Holidays are an ideal place to relax and play. There's plenty to do, with amenities and services to make your stay memorable. Plus, you'll enjoy the outdoor experience with upgraded RV Sites with KOA Patio® and Deluxe Cabins with full baths for camping in comfort. Bring your family, bring your friends, or bring the whole group – there's plenty of ways to stay and explore.
KOA Holidays Feature:
RV Sites with a KOA Patio®
Deluxe Cabins with full baths
Premium Tent Sites
Group meeting facilities
Directions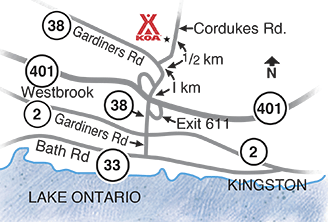 Take exit 611 off of the 401. Follow HWY 38 north for 1 km. Turn right on Cordukes Rd. We are on the left after 1/2 km.
GPS: N44.301247, W76.575136
Get Google Directions
Sep 22, 2021
The rooms were unclean - Dried strawberry under the bed, long dead bug on the bed, crawling insects in the dust bin, broken barbeque (lighter would not work). Far cry from being called a Deluxe Cabin. Owners really need to pay more attention to the cleaning and upkeep of these cabins. Only savior was the proximity to Kingston where we ended up spending most of our time. Would not recommend.
Sep 13, 2021
A great experience and the accommodations where perfect..
Sep 13, 2021
Wonderful time ,everything was in good working condition and clean. Very friendly staff and lots for kids to do. The pool was in good working condition and store was well stocked. Highly recommend for families.
Sep 13, 2021
Great weekend, loved the deluxe cabin,, clean and comfortable.KOA Kingston is my favourite, coming back in 2 weeks.♥��
Sep 13, 2021
Everything was as good as expected. Cabin's could have been a bit cleaner though. I was afraid to turn on the ceiling fan due to all the dust on it
Sep 13, 2021
It was a great stay, cabin was nice and clean, staff was friendly and efficient.
Sep 10, 2021
first our internet card did not work it was out,dated had to get another from office on tuesday after we checked in,.tuesday night our stove would not work, the propane tank was empty,could not cook no hot water tuseday night went to office wednesday, told girl no one came to help. some kind of reduction or companation should of been made for our inconvence..
Sep 09, 2021
Loved the stay. Very clean and comfortable.
Sep 07, 2021
We stayed in the cabin with a bathroom, it was very unclean when we arrived. Still doer and hair on the floors. The cabin was far away from all amenities. We were also quoted different prices for store items and paid amenities. Overall, probably not going to return again, unless we absolutely cannot book anywhere else!!
Sep 04, 2021
Overall it was a great stay. The first night we couldn't sleep because of a very loud noise coming from the water tank room(I think), so not worth the price. But the rest of the visit was great. Staff were all very nice. Love that they have someone come around to get garbage and recycling.
Sep 04, 2021
We loved our little cabin. The grounds were nice and spacious. Family bathrooms were great. Everything was clean. We'll be back.
Sep 03, 2021
Everything was great from the time we checked in until the time we left. Clean cabins, nice surroundings, lots of activities for kids. The only downfall was no kitchen sink to wash any dishes you may have taken. The bathroom sink is not really conducive to washing dishes. Other than that, all was good.
Sep 02, 2021
We had a great time! The kids loved it and we're already planning for next year. It's close to home so we plan on doing a few weekends next summer as well as a longer stay. Would definitely recommend to anyone. It is very clean and well taken care of.
Sep 02, 2021
There was one staff member who was nice and very knowledgeable. Unfortunately, the full bed in the cabin felt like a single sheet of paper. Another family member of mine stayed in a cabin at the same time and their bed was brand new. Little disappointed.
Sep 01, 2021
Better than staying in hotel. Room air conditioner is a bit louder though.
Aug 30, 2021
Overall it was an excellent weekend, however, it started off very stressful. We arranged late check-in but when we arrived there was no key. We called and left a message but that message was never returned. After waiting a few hours we discovered the back window was opened so my husband was able to climb through easily and open the door for us. We lost several hours use of the cabin.
Aug 29, 2021
The cabins were fairly clean and staff was knowledgeable and quick to respond to any inquiries. There are so many activities for the kids to do. I also liked that there's an awesome nearby gravel trail to explore!
Aug 29, 2021
Amazing! Clean grounds, many activities, friendly and courteous staff. Will be returning every year.
Aug 29, 2021
Close to Kingston, we stayed 3 days to explore the area, good location.
Aug 29, 2021
We stayed in a "deluxe" cabin which was far from deluxe. The cabin needed a good cleaning. The front door knob was loose and barely worked. The front door was filthy with handprints. The bathroom door would not close. The couch was stained. The air conditioner spewed out an awful smell. The table was sticky. Very poorly trained cleaning staff. Worst KOA experience we have ever had.
Aug 28, 2021
we rented cabin K83. toilet was very dirty around the bottom, shower head needs to be changed, just spits out water. bread crumbs all over the top shelf over the fridge, only one outlet in the kitchen which doesn't work, kitchen looked like it was wiped down with a dirty rag. we also had to sweep the floor when we arrived, hair and dirt on the floor. Appeared the camp was being run by young kids.
Aug 27, 2021
Absolutely loved the cabin! And the area surrounding. The pool could have been a little cleaner but otherwise everything was wonderful. We had such a great stay!
Aug 27, 2021
Wonderful as always!!
Aug 26, 2021
Staff was friendly and helpful, pool was great, and the cabins having air conditioning was AWESOME! Bathrooms were definitely not kept up unfortunately. Plugged toilet for two days before it was dealt with.
Aug 24, 2021
Clean cabin. New bathrooms could have dried floors to avoid falls.
Aug 24, 2021
it was an amazing and clean stay however the cottage we rented had a tree located above the rental, very disturbing in every way. we were woken up at 5am both days due to the squirrel activity dropping whatever was in the tree, this was very loud on the rooftop and was continuously all through out the day where we had to move table and chairs off the deck to avoid it. would not rent again
Aug 23, 2021
Clean, friendly staff lovely stay!
Aug 21, 2021
We thoroughly enjoyed our stay!! From the time of check in to our check out, the staff was so helpful, courteous and friendly. The facilities offer so much and always, always spotessly clean. We have been guests at many KOA's across Ontario and North Carolina and South Carolina. We are never disappointed. Thank you for making our stay awesome!! Louise Ontario, Canada
Aug 20, 2021
Cabin was clean and comfortable. It's not huge but room to prepare food, eat and relax inside in the central area. Kids loved the room with the bunk beds. We did some of the on-site activities, which were fun. Wish that mini golf had been included without having to pay extra for it. Patrick and the staff were friendly and went out of their way to make sure we had a good stay.
Aug 20, 2021
Awesome site,too many awesome activities to cram into a 4 day 3 night visit :( wish we could've stayed longer. My kids and I had a blast. Even before we left Kingston we wanted to come back.
Aug 18, 2021
Beautiful site Great dog park Loved the pool Friendly relaxed staff
Aug 18, 2021
We had the BEST time! The deluxe cabin was sparkling clean and so well equipped with everything we could need, all staff were friendly and helpful, the grounds and pool were lovely and well kept, and there was tons to do for the kids. We've already booked again! Thank you for a wonderful time!
Aug 18, 2021
Sadly we are not that happy with our stay at Kingston KOA, first linens( pillows,towels bed linens are not provided)compared to the other Koa campgrounds that we went thru.Second most of the electric outlets are not working.And the most important thing housekeeping they're not cleaning it properly like the cabin itself, fridge , grill and etc.Not like the first 3 other kOA that we had before.
Aug 18, 2021
Inadequate cleaning so much so Public Health should be notified. Zero security for campers. First campground I have visited with a open free flowing of traffic into the park. Low maintenance to campground and facilities. First KOA we have seen this untidy and dirty with lack of organization to facility use and recreation equipment use. Zero information or guidance provided upon check in.
Aug 16, 2021
As usual we had a great time. Campgrounds were nice and clean. Staff was very nice!!
Aug 16, 2021
Many things were not good. Told on email that we had a certain coffee machine and it was the wrong one. Also, we were told that dish soap was included and there was none. No outside light on RV as in the cabins. Blew the circuit breaker and then told because we had too much on, However not told ahead about it??? No ice trays. Firewood should be smaller. Bathroom van always on
Aug 14, 2021
Great place to take the family, lots to do and the cabins are clean and beautiful. The Staff are great and friendly. They even bring fire wood to your site and pick up garbage.
Aug 13, 2021
Cabin was clean and comfortable. We loved all the activities available to enjoy- especially the movies under the stars!
Aug 11, 2021
Had an amazing time!! Kids loved the pool And the movie nights
Aug 11, 2021
My only concern is the cleanliness of the cabin in that the floors were filthy as I had to clean up a spill and was grossed out by how dirty the paper towel was after. I found a soother and bottle under the bed. Fan cobwebs tell how mediocre cleaning is, especiallyduring a pandemic! Other KOAs supplied more, like a larger garbage and bags, bbq tools and scrubber, dish rack and dish towel, ice tray
Aug 09, 2021
Quick check in. Wifi password didn't work, outlet in kitchen of deluxe cabin didn't work, food on floor or cabin when checked in. We love this KOA so hoping it was just a one off as they do try hard and I am sure they are all exhausted from the ever changing regulations around covid.
Sep 17, 2021
Visited a friend at koa I was impressed with the whole park. Clean and quiet and some sites had interlocking brick planters and nice tables and chairs. Good work
- mike potwarka on Google
Sep 17, 2021
Really enjoyed our stay. Thank you
- Deb S on Google
Sep 12, 2021
Favourite camp site
- Husain Galadari on Google