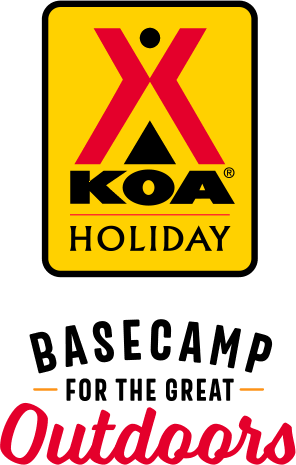 KOA Holiday Campgrounds
Whether you're exploring the local area or hanging out at the campground, KOA Holidays are an ideal place to relax and play. There's plenty to do, with amenities and services to make your stay memorable. Plus, you'll enjoy the outdoor experience with upgraded RV Sites with KOA Patio® and Deluxe Cabins with full baths for camping in comfort. Bring your family, bring your friends, or bring the whole group – there's plenty of ways to stay and explore.
KOA Holidays Feature:
RV Sites with a KOA Patio®
Deluxe Cabins with full baths
Premium Tent Sites
Group meeting facilities
Directions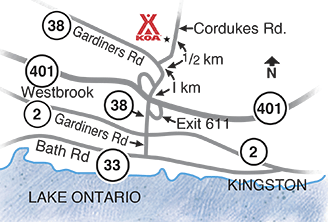 Take exit 611 off of the 401. Follow HWY 38 north for 1 km. Turn right on Cordukes Rd. We are on the left after 1/2 km.
GPS: N44.301247, W76.575136
Get Google Directions
Sep 25, 2021
A much needed getaway with the dogs. We had perfect weather . We are a repeat customer and will be back
Sep 25, 2021
I though all koas had the same requirements , we had just left one in niagara falls which was to us what a deluxe cabin should be.very helpful staff very clean cabin this one not so much no linens or soap no shampoo, the remote did not work. yet they charged the same as niagara are they not all same.
Sep 24, 2021
We were only there one night, but what a lovely campground!! Extremely impressed with how nicely it is maintained. We look forward to coming back when we can stay longer!!
Sep 22, 2021
This campground is excellent! Stayed there 3 times and will definitely go again. Couldn't access the WIFI most days. Maybe a WIFI signal booster for the trailer would solve that problem. The hamlet of Glenburnie is only 6 km from the camp, and is a great place to get fuel, propane, and groceries including meat, local produce, fresh pies, etc. Faster and easier to go there than into Kingston.
Sep 22, 2021
The rooms were unclean - Dried strawberry under the bed, long dead bug on the bed, crawling insects in the dust bin, broken barbeque (lighter would not work). Far cry from being called a Deluxe Cabin. Owners really need to pay more attention to the cleaning and upkeep of these cabins. Only savior was the proximity to Kingston where we ended up spending most of our time. Would not recommend.
Sep 22, 2021
We returned to the Kingston KOA after being away for three years. Lots of renovations that improved the park. We enjoyed this park before and will be back again. Staff is always pleasant and accomodating.
Sep 22, 2021
Friendly and very helpful staff. The camp grounds were very will kept. Very nice place to spend a weekend. Highly recommended.
Sep 22, 2021
Très beau site. Très propre. Près de la ville et belle piste cyclable
Sep 22, 2021
Nicely maintained. Good showers. Wifi not great and only available for 1 device per campsite which is ridiculous. Staff were great.
Sep 21, 2021
I was very impressed with the service. The cleanliness of all camp sites and facilities. Will definitely be back. Highly recommend your park.
Sep 21, 2021
Great stay. Activities enough to keep children busy and happy.
Sep 21, 2021
It was relaxing, friendly people, well accommodated and we will definitely be back
Sep 21, 2021
Sites are big and very clean. Staff where friendly and very helpful.
Sep 21, 2021
Amazing staff. Very clean and respectful staff. Access to the services offered is simple. Would definitely come back.
Sep 21, 2021
we asked to be moved to a better location for our rig and we were accommodated without a problem. The pool was still open and was warm enough to enjoy.
Sep 21, 2021
Disappointed that I did not get the Canadream 10% discount. Was told because I prepaid I could not get discount. I saw nowhere on your sight where I could indicate I was a Canadream customer. Found park was clean, well laid out, customer service was good.
Sep 20, 2021
The Kingston KOA is one of the very BEST. The pride, professionalism, and dedication from the entire Wagner family and KOA staff is outstanding. From full family activity to quiet, being left alone -- this KOA has it all. The location is close enough to all Kingston has to offer and yet has all of what you need if you want to stay on the Resort property. WELL DONE!!
Sep 20, 2021
Loved the patio site in this park!
Sep 20, 2021
Beaux aménagements, propre, excellent service. Nous avons bien aimé.
Sep 19, 2021
Good clean site. Helpful staff.rather like a transit camp, trailers in and out after a nights stay. Negative- Wifi is terrible. You have to pay for a code for each item connected. We needed two, I paid for the extra but my connection was terrible. I had a lot of mail when I returned home.
Sep 19, 2021
We love our time at your camp ground. The site was clean and the amenities great.
Sep 19, 2021
Quite place for an over night stay
Sep 19, 2021
Friendly staff. Outdoor noise mostly controlled. Would be nice if office had staffing until noon-lot of activity around the 11 a.m. checkout time that congests office area. Also disappointed in wifi. Five channels of tv were listed. Only one available after 8 p.m. Access to email non-existent after 8 p.m. as well. Older travelers don't use cell phones much. Better to not offer wifi at all
Sep 19, 2021
Sadly only one night
Sep 18, 2021
Appreciated the quiet and spacious site.
Sep 18, 2021
Site très propre, internet faible
Sep 18, 2021
The place was lovely. Great size sites. Friendly service. Well groomed property. Clean pool. Some nice extra touches, I.e. chairs at site, curb side garbage pick up. Dog park.
Sep 18, 2021
Very disappointed that you would only allow one device on free wifi ! Leaky faucet. Sewer pipe way too high.
Sep 18, 2021
pull through was very nice , large ,level, well appointed
Sep 17, 2021
We had an amazing time, their was a contest for the kids and they had a lot of fun. The staff are very helpful and great with kids. Planning our next trip there already for next summer.
Sep 17, 2021
This review has been removed by KOA due to profanity.
Sep 17, 2021
The campground was very very clean, the staff very friendly and helpful. We will be going there again next year.
Sep 16, 2021
Pros: clean, close to all major stores, friendly. Garbage Pick up. Cons: No cable Tv. Wi-fi is abysmal. Charge you for second phone if using WiFi. Because of wifi won't go back.
Sep 15, 2021
Was very impressed with the cleanliness and the incredible landscaping. The sites are large and it was nice to see mature trees. A very quiet facility too — no trains nearby. Enjoyed hiking on the nearby rail trail.
Sep 17, 2021
Visited a friend at koa I was impressed with the whole park. Clean and quiet and some sites had interlocking brick planters and nice tables and chairs. Good work
- mike potwarka on Google
Sep 17, 2021
Really enjoyed our stay. Thank you
- Deb S on Google
Sep 12, 2021
Favourite camp site
- Husain Galadari on Google