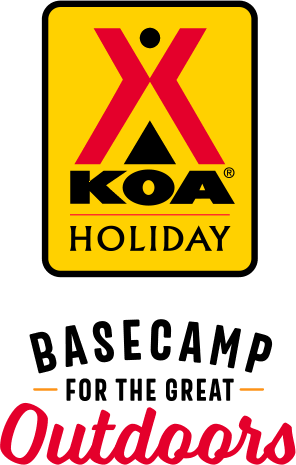 KOA Holiday Campgrounds
Whether you're exploring the local area or hanging out at the campground, KOA Holidays are an ideal place to relax and play. There's plenty to do, with amenities and services to make your stay memorable. Plus, you'll enjoy the outdoor experience with upgraded RV Sites with KOA Patio® and Deluxe Cabins with full baths for camping in comfort. Bring your family, bring your friends, or bring the whole group – there's plenty of ways to stay and explore.
KOA Holidays Feature:
RV Sites with a KOA Patio®
Deluxe Cabins with full baths
Premium Tent Sites
Group meeting facilities
Directions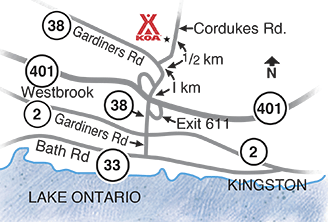 Take exit 611 off of the 401. Follow HWY 38 north for 1 km. Turn right on Cordukes Rd. We are on the left after 1/2 km.
GPS: N44.301247, W76.575136
Get Google Directions
Nov 23, 2020
Our neighbouring site played loud music all day, and didn't turn it down despite multiple requests
Oct 18, 2020
The staff were extremely friendly and the campground was well maintained ...quiet and relaxing .. we will definitely be back
Oct 16, 2020
Very clean campground and quiet
Oct 16, 2020
Patrick and his staff are amazing!
Oct 16, 2020
Very friendly and welcoming. Large, nicely freed, clean
Oct 16, 2020
Very friendly and helpful staff. Excellent facilities. Very clean, nice touches added such as lights at the end of each camp row, many trees planted that will provide privacy and shade in a few years. Awesome off lead dog play area. Let us stay until 1:00 pm to accommodate my husband's meeting. The camping pad was very level and there was ample slope for drainage of the black water tank.
Oct 15, 2020
We stayed here for Thanksgiving weekend and as usual we couldn't have asked for better service. Patrick and his staff are excellent. The rules due to Covid 19 were followed by everyone that we saw with wearing masks and 6feet social distancing. This KOA will be recommended to many.
Oct 15, 2020
Enjoyed our stay...flat property, close to a beautiful walking trail, quiet campground Was surprised that we had to go inside to check in as .any other camogrounds had the registration package taped to a table outside. As well, did not expect the traffic from. 401to be so noticeable.
Oct 15, 2020
Another awesome stay. Sorry to see another year end. Stay safe and see you next year!
Oct 15, 2020
Très court séjour (une nuit). Le service à la clientèle a retourné mon appel dans les 10 minutes et j'ai pu réserver mon site pour le soir même avec une arrivée tardive. Génial. Le terrain est propre et plat. Les gens sont respectueux. Seul bémol, le prix: 75$ pour électricité et eau avec Internet disponible que pour un seul appareil.
Oct 14, 2020
Nice sites and very well maintained.
Oct 14, 2020
A very nice long-weekend, its nice to have great bike trails beside the KOA
Oct 14, 2020
Employees were friendly and very helpful. Appreciated the wood being delivered and the free pump out service.
Oct 14, 2020
GREAT STAY!!!! VERY PLEASANT FAMILY
Oct 14, 2020
Great stay. Park was very clean and staff was always around and very friendly. Will be that much better once the sewer upgrade is complete. Will be returning again next season.
Oct 14, 2020
Nice ,clean campground. Good size lots , will return next season .
Oct 13, 2020
We are kinda new to the whole camping thing but we ha e been to many different campgrounds this summer have never stayed at a koa before this place was immaculate so clean very accommodating the staff was very friendly due to the covid some stuff was not available but over all a very great experience will definitely go back to this campground
Oct 13, 2020
The new sites are fantastic. Had a wonderful fall camping weekend. Always a great stay at this park.
Oct 07, 2020
Beautiful fall stay at your campground! Quiet, clean, friendly. Loved the complimentary honey wagon service. We will be back!
Oct 07, 2020
very nice campground very competent employees . however the price was very high . Wifi was very bad to sometimes not working.
Oct 07, 2020
Upside: Seemed to have a lot of great facilities. Friendly staff. Easy to back in to. Good sized site. Downside: Giant cedar privacy hedge behind us was QUITE thin. Our site backed up onto a big green electrical box- it would have been nice to be warned about that.
Oct 07, 2020
Very nice, stayed in Oct so park was closed up a bit and very few others in the Park. Could hear Hwy 401 vehicle noise, not really bothersome just noted when quiet.
Oct 06, 2020
The new sites look very nice, having full hook ups now available is also very nice. It was near the end of the season so the office seemed to be closed a lot, but the park and sites were all in very good shape considering the amount of work they are putting in to expand.
Oct 06, 2020
It was just a weekend stay but the staff were wonderful and the site was beautiful although we didn't know there was no sewer at this site. I will definitely be going back next year.
Oct 06, 2020
We have stayed here many times over the years and keep going back. The camp grounds are very clean and the staff is always driving around to make sure everyone is satisfied with their stay.
Oct 05, 2020
People a couple over from us had very yappy dogs which was annoying as they would bark for an hour or more at a time but other than that it was a nice relaxing stay! Woman at the front desk was very pleasant as well :)
Oct 05, 2020
Nice campground well situated to Kingston, 1000 islands and other tourist designations. Very clean. Only question mark was base for Dog park is all sand. Didn't use as a result. No one want to drag that back to their RV.
Oct 02, 2020
Wi-fi too weak and price too high for that time of year
Oct 01, 2020
Very nice campground. Pleasant even in these difficult times.
Sep 29, 2020
Easy check in, friendly staff, spacious lots, clean facilities. Enjoyed walking the nearby K and P trail.
Sep 28, 2020
Very clean sites. Well respected privacy. Nice friendly staff. Felt very safe. Will come back again.
Sep 28, 2020
The place was clean and check in was very organized. Great camping experience. We will definitely be back.
Sep 27, 2020
No 3 service available had to use the wash out station
Sep 27, 2020
just an overnight stay. staff was very friendly and helpful.
Sep 26, 2020
Nice place and well managed We stayed at the newer sites that can easily accommodate a larger rig. Very easy to get in and out with motorhome and trailer. And thank you very much for your help with the dead battery. Hope to come back next year
Sep 25, 2020
Awesome campground. People friendly. Large sites. Extremely clean. Terrific trails. Close to everything. Highly recommended
Sep 24, 2020
Very quiet and relaxing. Only issue was upon departing, tree on site E6 rubbed against 5th Wheel. Unable to back up due to tightness of spot with other vehicles parked behind and in front. Excellent service with black / grey waste water pump out at site.
Sep 23, 2020
This has been our third time staying here and we had a great time. The biggest issue we had was the colder temperature and the staff had nothing to do with that. Thank you Patrick and staff for the great hospitality.
Sep 23, 2020
Very clean, well organized, lots of activities available. Very Covid aware with all safety protocols in place
Dec 22, 2020
I fell in love with this wonderful place. It is a breath of fresh air. I loved the art and hand made figurines from aboriginal people. Amazing.♥️
- Jack Daniels on Google
Oct 12, 2020
Great place to camp. Close to Kingston. Great staff everything you need is readily available. Tha ms for the great facility.
- Andrew McCutcheon on Google
Sep 28, 2020
Campground was very clean and check in was very organized. We will definitely be back.
- Cindy McCutcheon on Google