Local Area Attractions Near 1000 Islands / Kingston KOA Holiday
Places To Visit Around Kingston, Ontario
While our campground may be jam-packed with fun activities and amazing amenities, we know you've got places to go and amazing attractions to visit in and around Kingston, Ontario. Let 1000 Islands/Kingston KOA be your home base! Stay in one of our cabins or park your RV in one of our pull thru or back in sites as you explore this beautiful and historic region and all the activities and attractions available.
Kingston, ON Attractions
If you're looking for things to do in downtown Kingston, Ontario, then you won't be without options. Take one of many historic Kingston tours to travel through time in Canada's First Capital. You can also take one of the many cruise line's Kingston / 1000 Islands boat tours, dine at one of the many delicious restaurants or spend the afternoon walking along the waterfront stopping at any of the local vendors.
Our knowledgeable staff will be able to direct you on the best sightseeing in Kingston to all the gems in this beautiful city. Since Kingston is the perfect location for your vacation or "stay"-cation, don't wait!
Historic Kingston Penitentiary
Visit the infamous Kingston Penitentiary and tour through Canada's oldest and most notorious maximum-security prison. Take a tour through the cells, common areas and much more. The Kingston Penitentiary didn't actually close its doors until 2013, so one of the most compelling features of your tour could be meeting some of the Penitentiary workers who act as "stations" on the tour. Their first-hand accounts can paint a vivid picture and help you imagine what life was like for the prisoners who lived there just a handful of years ago.This is one of the most popular tours in Kingston and highly recommended by all visitors. Tours last one and a half or two and a half hours.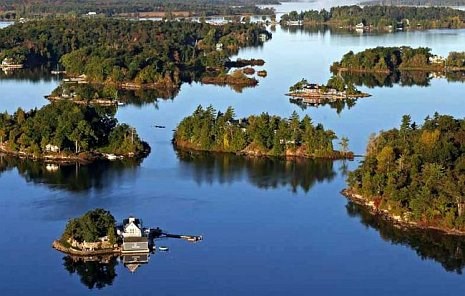 Boat Tours to the 1000 Islands
Experience fairy tale castles, exquisite natural beauty, historic lighthouses and luxurious mansions on your boat tour of the 1000 Islands. Let us arrange a cruise for you to enjoy the magnificent views of the 1000 Islands. Scenic narrated boat tours meander between islands, under bridges and through channels, sharing the colorful history of this archipelago. You'll hear stories of industry titans and bootleggers as well as social elites and pirates. You'll also experience the awe-inspiring wonder of famed Boldt and Singer Castles.Cruises are one and a half or three hours and depart daily. Treat your family to a lunch or sunset dinner cruise through the islands up the St. Lawrence River. Kingston 1000 Island cruises starting only minutes away from our campground. WE HAVE DISCOUNT COUPONS AVAILABLE.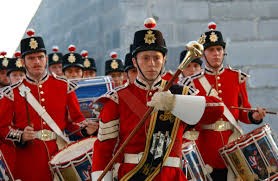 Old Fort Henry
Fort Henry national historical site is Kingston's award-winning premier historic attraction and outdoor military museum. The original fort was built during the War of 1812. A second fort was completed in 1837 on the site of the first and is the historic landmark that visitors enjoy today.Fort Henry presents a fun and stimulating visitor program daily from 10 a.m. to 5 p.m. Retrace the soldiers' steps at Fort Henry and watch the Guards perform military drills, changes of guards and the artillery detachment fire the "big guns." Don't miss the spectacular sunset ceremony every Wednesday in July and August. For more information, visit www.forthenry.com.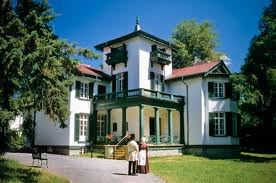 Bellevue House
Explore the fine grounds and historic halls of Bellevue House. Built in 1840, this house is a rare and fine example in Canada of Itallinate Villa Architecture. Bellevue was home to Sir John A. Macdonald, Canada's first Prime Minister, in the late 1840s. One can imagine that the seeds of Canadian democracy were planted on these historic grounds.Today, the house is a national historic site commemorating Macdonald's contribution to the development of Canada. Visit Bellevue House and be part of the costumed interpreters' day-to-day life in the 1840s. You'll be treated to information about the site and stories about Sir John A. Macdonald's legacy and Canada's Confederation.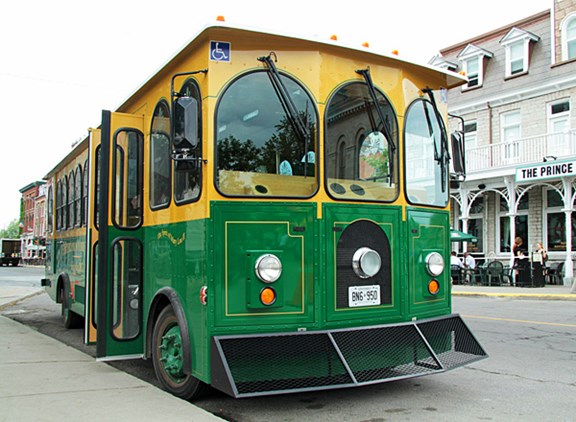 Confederation Tour Trolley
When visiting the area, you can take one of the historic Kingston tours — and what better way than on board a jolly red trolley. Discover Kingston, relax and let the guides take you through an exploration of the historic sites and attractions of Canada's second-oldest city. You'll learn all about Kingston's vibrant history dating back 300 years and how its heritage continues to impact the nation.Highlights of this entertaining hour-long tour include the Royal Military College, Fort Henry, Fort Frontenac, Penitentiaries, Olympic Harbor (home of the 1976 Olympic Sailing), Bellevue House (residence of Sir John A. Macdonald, Canada's first Prime Minister) and Queens University.
Local Area Recreation Near 1000 Islands / Kingston KOA Holiday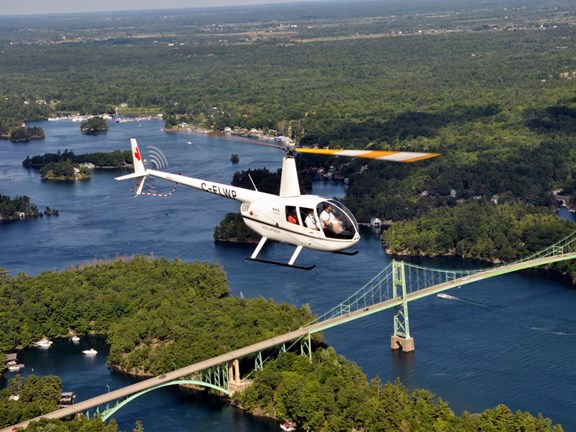 Sightseeing Tours of the 1000 Islands
A visit to Kingston wouldn't be complete without a tour of the 1000 Islands. This archipelago of more than 1,800 islands is one of the region's most popular draws. One of the best ways to experience its storied past, fairy tale castles, stately mansions and historic lighthouses is aboard one of the many Kingston and 1000 Island boat tours. These narrated cruises offer visitors insight into what drew the rich and famous of the 19th century to these mysterious and lovely islands. Many sightseeing boat tours include stops at the Island's most famous attractions, including Boldt Castle, Singer Castle and Rock Island Lighthouse. For a different option, see the beautiful Islands from the sky in a plane or a helicopter. Experience the 1000 Islands a little different from everyone else by flying above them. This mesmerizing journey will allow you to experience the area in its full wonder. Helicopter and plane tours are available from Kingston airport.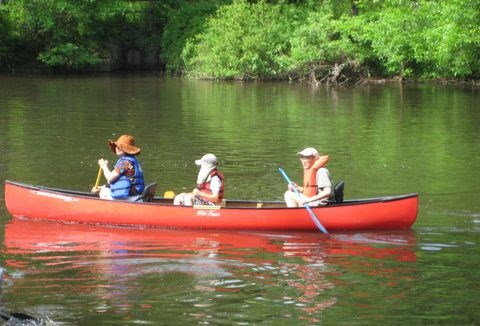 Canoe Trips
Kingston sits on the eastern end of Lake Ontario, with the entrance of the Saint Lawerence River, the mouth of the Cataraqui River and the Rideau Canal all within the city limits. With these wonderful waterways, Kingston is full of areas to explore by canoe or kayak. There are also the breathtakingly beautiful 1000 Islands close by, steeped in history and surrounded by natural beauty. You'll love skimming along the water,  paddling your way by one astounding sight after another. There are even on-the-water dining opportunities.Several outfitters within the Kingston area can take groups of any size for two- to six-hour day trips for any skill level.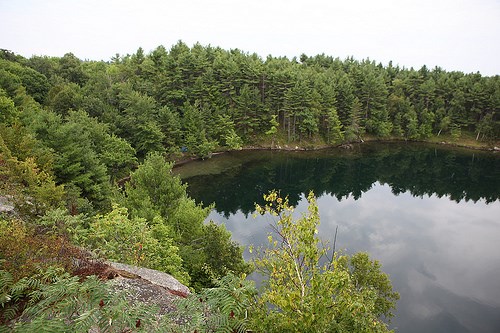 Kingston and 1000 Islands Hiking and Walking Trails
Whether you want to take a leisurely stroll along the water's edge or grip, climb and wiggle your way through some rocky terrain, Kingston is Canada's hidden hiking gem. There are plenty of trails throughout the Kingston area and enjoyable hiking experiences among the 1000 Islands. Within walking distance from the campground is the K&P Trail that will take you for a nice leisurely walk along a beautifully maintained trail. If you're more adventurous, visit Frontenac Park for hiking for all fitness levels. The 1000 Islands Parkway Trail is renowned as one of the province's best trails and features picturesque paved paths where you can enjoy the Islands' fascinating beauty up close.
Boutique Shopping
Kingston is a shopaholic's paradise. Whether you love stylish garments or glimmering jewelry, take a day to stroll down the cobblestone streets and pop into some of the city's many boutique stores.Visit downtown Kingston for wonderful shopping in fantastic locally owned shops or find everything you need at the Cataraqui Mall. If you'd prefer a day trip, take a drive to Westport for beautiful scenery, delicious cafés and fantastic boutique shopping.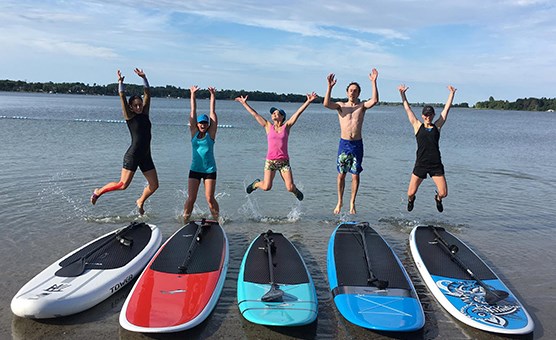 Watersports on Lake Ontario
If you're an adrenaline junky who loves the water and wants an unforgettable experience, there's an impressive array of watersports just a short jaunt from our campground. Sailing, paddle boarding and kayaking are all wonderful ways to experience Kingston from the water. Lessons and equipment are available from multiple different companies in Downtown Kingston. They also provide all safety equipment and instruction to ensure your launch and return from the lake are as safe as possible.Paddle Board Yoga is available every day downtown.