1000 Islands / Kingston KOA Holiday Recreation
When you want to plan the perfect family vacation, you need a location that offers fun-filled outdoor activities that everyone can enjoy together. At 1000 Islands/Kingston KOA, we believe that family time is the most important part of camping with your kids. Spend it making wonderful memories with one of the many on-site activities we offer including themed weekends throughout July and August.
Our family campground is filled to the brim with exciting recreational activities, whether you enjoy sports, leisure or socializing with your fellow Kingston visitors. We are also a pet-friendly campground, so feel free to bring your four-legged friends along. Get ready to start your unforgettable vacation and book your stay at the 1000 Islands / Kingston KOA Holiday campground.
All Aboard Boat Ride
ALL ABOARD!
Join the forgetful Captain on the KOA Island Queen for a wild "Boat Ride" through the "rivers" of the campground. Help the captain find his missing fishing gear as you tour through the park. A great experience for young and old with no chance of getting splashed or seasick.
GaGa Ball
Check out the new craze called GaGa ball. Play with two or play with 20 in our octagonal pit as you run, jump, dodge and strike, attempting to hit your fellow players with a ball below the knees. This fast-paced, high-energy game has all the excitement of dodgeball, just a lot kinder and gentler. GaGa ball is a great way to spend the day outside and get some exercise while having fun.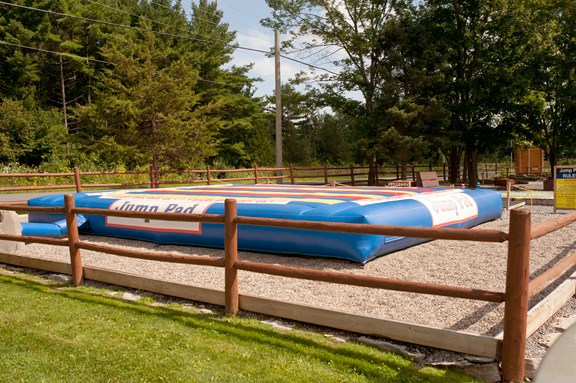 Jumping Pad
Bounce, hop and reach the skies for hours on our Jumping Pad. This safe and fun variation of the trampoline is suitable for all ages to bounce at the same time as it is designed to eliminate "launching." With the Jumping Pad, toddlers, young children, teens and adults can all jump simultaneously, making this an experience the whole family can enjoy together. After all, high-flying adventures are fun for all ages, so why leave it just to the kids?
Mining Station
Discover a hidden treasure or sparkly gemstone that your kids can take home. You and your kids will sift through the dirt, grit and sand to uncover a precious souvenir of your time at our campground. Look for treasure in one of our six mining rough bags. Find everything from fossils, to gold, to jewelry.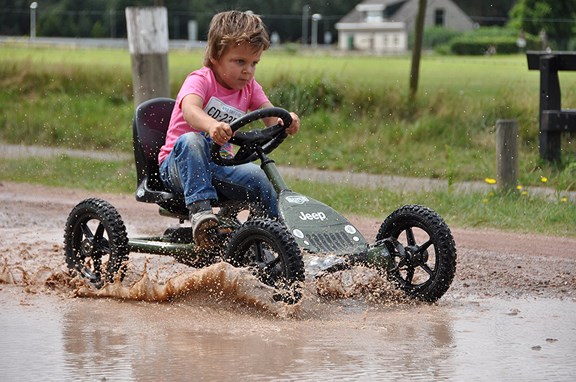 Pedal Cart Rentals
Ride around the campground on these exciting four-wheeled pedal carts. Pedal carts are for young and young at heart and require no previous experience to hop in and take one for a spin. Even our youngest campers get to experience the thrill of taking the wheel and hitting the road. Young riders love navigating curves and adjusting their speed as they zoom past family with a huge smile on their face. Add-on seats are available for parents to ride with little ones.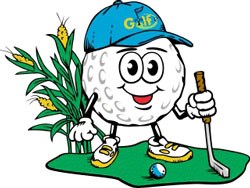 Mini Golf
Show off your skill on our nine-hole mini-golf course. Mini golf, also known as miniature golf or putt-putt, is a highly popular activity that people of all ages and abilities can enjoy. This smaller version of golf is played on our adorable mini-golf green. Just tee off and aim to use as few shots as possible.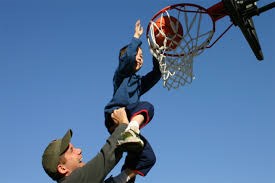 Basketball
Dunk some hoops or play HORSE with the kids on our outdoor half-court. Located at the front of the park inside our playground, basketball is a great way to get some exercise or enjoy a little friendly competition with your fellow campers.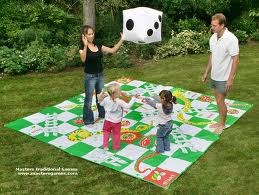 Giant Checkers and Oversized Snakes and Ladders
Oversized games take fun to a whole new level. Spend time with the kids playing with our giant bucket checkers set and see who will be king of the black and white board. You can also experience a classic children's game like never before on the 10'x10' snakes and ladders board.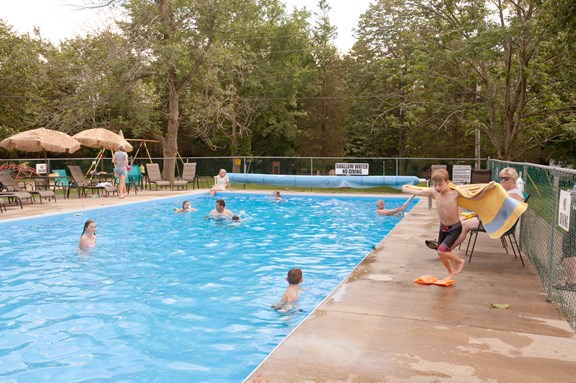 Heated Pool
Whether it is a hot day or there is a slight chill, you and your kids will love spending hours in our large heated outdoor pool. The spacious sun deck is a great place to lounge and catch some rays as you watch your little campers splash around and play Marco Polo. Open Victoria Day Weekend to Labour Day.
The shallow end is 2.5 feet, and the deep end is 5 feet. Our pool is heated to 82 degrees all summer long.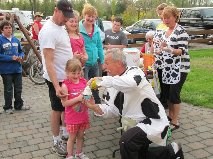 Ice Cream Social
Every Saturday evening throughout the main season, you and your family can indulge in a sweet treat. "Cow Elsa" and the rest of the herd serve a variety of ice cream sundaes and toppings. Be prepared to "Moooooo" for cream. All of the proceeds will be donated to Camps for Children with Cancer. Theme Weekends
Join us every weekend for a special theme. You can dress up with the kids and expand your imaginations with some creative and unique entertainment. Our themes include: Pirate, Hill Billy, Halloween and many more. Check out our upcoming events to see what is going on when you are visiting. 50/50 Draws for Camps for Children With Cancer
A 50/50 draw is a special raffle where campers buy tickets for a chance to win half the proceeds. The other half goes to a special cause — Camps for Children with Cancer. Every long weekend, we will be selling 50/50 tickets to our guests to support kids with cancer going to camp. Buy a ticket, win big and help a worthy cause — it is a win-win. Snack Bar
At 1000 Islands/Kingston KOA, we believe hospitality is something every guest should enjoy. That is why we have delicious food and drinks just waiting for you and your family to enjoy. Come into the office and have freshly brewed coffee in the mornings and fresh-baked pizza for dinner.
Local Area Recreation