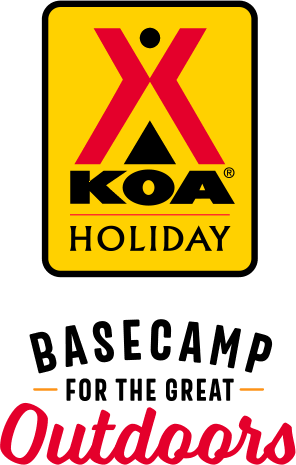 KOA Holiday Campgrounds
Whether you're exploring the local area or hanging out at the campground, KOA Holidays are an ideal place to relax and play. There's plenty to do, with amenities and services to make your stay memorable. Plus, you'll enjoy the outdoor experience with upgraded RV Sites with KOA Patio® and Deluxe Cabins with full baths for camping in comfort. Bring your family, bring your friends, or bring the whole group – there's plenty of ways to stay and explore.
KOA Holidays Feature:
RV Sites with a KOA Patio®
Deluxe Cabins with full baths
Premium Tent Sites
Group meeting facilities
Directions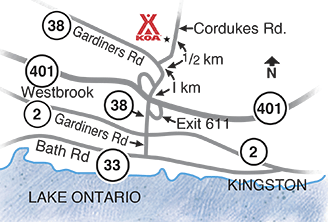 Take exit 611 off of the 401. Follow HWY 38 north for 1 km. Turn right on Cordukes Rd. We are on the left after 1/2 km.
GPS: N44.301247, W76.575136
Get Google Directions
Sep 15, 2021
Was very impressed with the cleanliness and the incredible landscaping. The sites are large and it was nice to see mature trees. A very quiet facility too — no trains nearby. Enjoyed hiking on the nearby rail trail.
Sep 15, 2021
Enjoyed my stay. The WIFI is not the best.
Sep 14, 2021
The only negative thing I have to say is we were in a site beside some guests who were noisy both nights. Noise, music till almost 2 pm both nights. Still waiting for owner to call me.
Sep 14, 2021
Wonderful friendly staff
Sep 14, 2021
This KOA is very well maintained and likely the cleanest park we have stayed in. Staff are amazing and friendly.
Sep 14, 2021
Absolutely wonderful. Large pull through sites with full hook up. Grounds are well maintained. Kudos to the team.
Sep 14, 2021
we Enjoyed We enjoyed our stay, convenient to Kingston.
Sep 13, 2021
Always a great place to camp. Very clean and well maintained. However, wifi never works at this KOA.
Sep 13, 2021
Everything was five star.Only recommendation would be to train your front desk staff. I was in several times and always walked away shaking my head with frustration. First visit was when my husband got bit in the dog run. I went looking for first aid items for cleaning and advice. The answer I got was no we don't have anything. Lack of heater in parents cabin and told there was ine(there wasn'
Sep 13, 2021
From the efficient check in, clean bathrooms,and level and pleasant site our 2 night stay was everything that we hoped it would be.
Sep 13, 2021
Good and fun stay.
Sep 13, 2021
Kids had a great time with their friends playing outside which allowed me more time to relax. The campground property is nice and well kept.
Sep 13, 2021
Great place for family and kids
Sep 13, 2021
Great location and a very clean park
Sep 13, 2021
Beau camping ! Bien entretenu ! on y dort bien car c'est calme et le personnel est aimable . Pas trop loin de Kingston downtown. J'y retournerais !
Sep 13, 2021
Love all the upgrades that have been made. We stayed on a site with a concrete patio that I just loved.
Sep 13, 2021
My sister was having a life threatening operation at the hospital. Unfortunately, it kept being delayed each day. We wanted to extend our booking but it was during a very busy weekend and there were no spots available but to be on a waiting list. After speaking to the owner, he said, don't you worry, we will look after you. which he did. Thank you so much! Patrick. Very clean and well run!
Sep 13, 2021
Clean, Friendly, our daughter had a great
Sep 11, 2021
The pool could have been better cleaned- it definitely needed a water vacuum for the leaves and bugs that went to the bottom.
Sep 11, 2021
Outstanding campground. Clean. Large sites with patios - excellent (expensive but excellent). The only drawback to this KOA - "you'all got to fix your internet!" This is almost a "show stopper" for us to ever return! We were there 3 and 1/2 days. I could rarely attach to internet. And even when I could, the time delay to access even simple websites - such as weather - took over 4 min.
Sep 11, 2021
Other than the fact that the office opens at 3pm this is a great place to stay! Beautiful sites, well-equipped and all around enjoyable!
Sep 11, 2021
TRANQUILLE ET TRÈS BIEN TENU PROPRIÉTAIRES ET GENS À L'ACCUEIL AFFABLES ET COURTOIS NOUS Y RETOURNERONS!
Sep 10, 2021
Stayed in b section facing the pool, the 5 km an hr was never reinforced. For 3 days vehicles sped through. Next time we will reserve a lot at back of campground, hopefully it's slow traffic . Overall campground is well kept ,good friendly staff. Will return . Thank you
Sep 09, 2021
Great place to spend a few days. The lot we stay at was very nice, clean and great for our RV. We will be returning for sure. Would recommend to our friends.
Sep 08, 2021
Very clean and quiet campsite. Close to many activities for sight seeing.
Sep 07, 2021
Thank you for an enjoyable stay. Great for an overnight when passing through the area. We will likely not book again due to distance
Sep 07, 2021
Just perfect! Thanks
Sep 07, 2021
Very nice people large sites lots of activity
Sep 07, 2021
We had a great stay. Easy pull through sites for our 38' 5th wheel. Owners and staff were very friendly. �
Sep 07, 2021
It was a very nice small park. Lots for the kids to do, I do suggest making a bigger basketball court area though :) we had a great time!
Sep 07, 2021
Staff is great. We like camping at this KOA. We are here at least once every summer
Sep 07, 2021
Sites are very well maintained. Staff is very helpful. Park is very expensive though
Sep 07, 2021
Was very nice.
Sep 07, 2021
Very clean place. Nice to be there with kids. Perfect place for RV campers
Sep 06, 2021
We were so impressed we plan to stay here whenever you are open when we visit our daughter who just moved to Kingston. Very clean. Well maintained landscape. Organized. Great atmosphere. Family oriented. Quiet nights. Amenities. Dogs welcome! I plan to return for the heated pool and mini golf. Thank you for a memorable and relaxing camping experience. Tamara and Kevin
Sep 05, 2021
Park was nice, clean, and roomy. I would rank 3.5 star. Wish the wifi as more stable and an option for high speed internet connection. We plan to come back.
Sep 05, 2021
Excellent facility that is well maintained by staff. Staff were very friendly and helpful. Looking forward to a return visit.
Sep 04, 2021
Pros: The campground/cabins/pool very clean. Location close to K&P trail, or town for necessities. Nice for RVs-patios, etc Cons: The washrooms for the cabins that do not include one, are a trek especially at night. And the showers were not working. Had to cross the whole camp to use the ones that were. Limited privacy especially for those tenting. Store closed mid-day which was inconvenient.
Sep 04, 2021
When I am camping at at campground on of the most important thing for us is wifi. The wifi at your campground was abysmal!! Do you réalise that the world depends on connectivity? When you advertise "Wi-Fi" people expect to have a reliable and unblocked Wi-Fi connection. It would seem that all KOA campgrounds all have the same pathetic excuse for Wi-Fi. With good Wi-Fi, I would have given 10 a
Sep 03, 2021
Highly convenient on our way to Niagara Lake. Patio site size and furniture are great and the overall park is awesome.
Sep 02, 2021
Nice park Sites were a little close together Friendly staff
Sep 12, 2021
Favourite camp site
- Husain Galadari on Google
Sep 08, 2021
Must go list every year
- JIE CAI on Google
Aug 29, 2021
Wonderful:)
- Glads Moshi on Google