Directions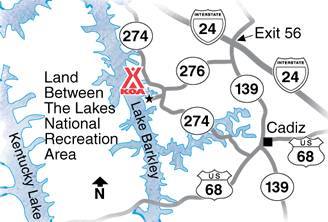 I-24 to Exit 56: Go south on 139 to 276 West (Second right, about 2 miles). Take 276 W to T and turn left on 274 (about 6 miles). Take 274 to Prizer Point Road (First right about 1/4 mile). KOA is about 1.3 miles on right.
Exit 56 is currently under construction.  Will need to come through Eddyville or Princeton. Princeton you Must use the truck route with Campers
Get Google Directions
Nov 13, 2021
We have stayed here so many times it was a great koa we discovered 3 years ago!
Nov 12, 2021
Good place to stay. Our 2nd time there. This time was just for our last camping of the season. Only wish that they would state that there is a early entry fee. We were only 1 hour early but the fee was for something being built for the area so it was no problem. I would have given a donation without having to be charged for checking in early. No more early check-in.
Nov 10, 2021
Check in was super easy. The sites we had reserved were where we stayed. Weather cooperated. Scouted out some other sites for future stays. And, there will be future stays!
Nov 10, 2021
In season prices seem high. Camp might use more shower/bath services and washrooms could be MUCH cleaner. Staff might respond to texts on number provided in a more timely manner.
Nov 10, 2021
Nice clean campground and friendly staff. Great place to camp with a beautiful view of the lake on some sites.
Nov 10, 2021
The sites are great- just wish they were paved.
Nov 10, 2021
Beautiful site and grounds. I've stayed 3 times in 2021. Jess always goes above and beyond! Y'all have an amazing employee there! Also got to meet Miles. He dropped off some wood for us. Another solid employee who wanted to make our stay the best! It's because of employees like that we will keep coming back! Thanks for all the hard work for making the KOA amazing! Job well done!
Nov 05, 2021
We love the Expansion Area and really enjoyed the Halloween Activities!!
Nov 03, 2021
Great campgound....making plans to return
Nov 02, 2021
From the beginning of the stay to check out the staff was friendly & very helpful. Our site was perfect. Thank you very much for everything.
Nov 02, 2021
Love this campground! We stayed the month of October in their new section that was just built. Everyone is so nice and welcoming! So many amenities and my 10 year old loves it! We will definitely be back!
Nov 02, 2021
You are 30 min from anything, no walking trails, the laundry facilities were poor (most units out of order), don't arrive 30 min early, WiFi good, sites had large holes between parking area & street (bottom out as you back in). Probably will not return. Had fair activities for kids.
Nov 02, 2021
We stayed at the end of their season so many activities were either closed or had limited hours with lower staff numbers. Even with that, all the staff we met were extremely helpful and friendly. The views of the lake are beautiful from almost every campsite. They've added a large new section and paved the road in the expansion section which made driving through much nicer.
Nov 02, 2021
The location/site were nice, but office service was lacking. Called for same-day res with an evening arrival after 10 hrs. of driving. Told to call office number on arrival. Took 4 phone calls, a rude security person, 10-min wait for someone to meet us. They couldn't find our reservation, so they didn't have any paperwork/bathroom codes to give us. Told office the next day, but no apologies.
Nov 01, 2021
Beautiful place. When you are open and charging regular rates for sites, you should also offer the listed amenities. Restaurant was pathetic: small frozen pizza was only offering and was $16.
Oct 30, 2021
Nice park… spots on some areas are somewhat narrow..mostly all good.
Oct 30, 2021
We had a wonderful time staying at the Kentucky Lakes/Prizer Point KOA. The staff were amazing and the campsite we were at had a beautiful view of the lake. I would highly recommend staying at Kentucky Lakes/Prizer Point KOA.
Oct 30, 2021
Absolutely beautiful park and lake with some of the friendliest staff I've met at a KOA everyone here goes the extra mile! We stayed here 10 days and we were consistently impressed the whole time.
Oct 29, 2021
We really wish the heater was on in the pool
Oct 28, 2021
The campground is huge! The laundry facilities are below par for that large of a campground! The game rooms looked like they haven't been updated in years. There were kids driving golf carts all weekend long without driver licenses! Our site was very nice!
Oct 28, 2021
Beautiful area and beautiful grounds. Definitely will be coming back.
Oct 27, 2021
Nice, relaxing, and clean. Plenty of Halloween activities for the little ones! We had a great time!!!
Oct 27, 2021
Nice, level site, plenty of space between sites! Only hitch in our stay was laundry... The drying process required $10 to dry two average loads! We would stay here again in a heartbeat!
Oct 27, 2021
What a great campground. I would say this is more of a resort instead of a campground without the resort prices. We are already planning on our return in Spring of 2022. Staff was so nice and helpful.
Oct 26, 2021
Very nice campground and we had a beautiful fall view of the lake from our site. The lady that helped us get parked and setup was great (really helped having someone navigate us to the site and help us back in since it was our first time there). Any staff I interacted with during my stay was helpful and very sociable. We certainly plan to come back again. Thanks!
Oct 26, 2021
First time visiting this KOA and it was the best one we have ever been to. My wife and I have been to several KOA'S but this one stands out. Great people working there and met a lot of friendly campers. Love the concrete pads and easy hook ups. Good cable TV. Will definitely be back.
Oct 26, 2021
Check-in was easy and the girl that greeted us was friendly and answered all our questions. Site was very clean and had everything we needed for an enjoyable stay. We plan to return someday.
Oct 26, 2021
Best KOA we have been at. Beautiful scenery. Friendly and helpful staff. The up keep on the grounds was A+ We will be back in 2021. Already made our reservation.
Oct 26, 2021
Loved it. Will definitely come back.
Oct 26, 2021
We love Prizer Point and just when we thought we could not love more they knocked it out of the park with their Halloween celebration!!
Oct 26, 2021
Very friendly and helpful staff and great activity's for the kids.
Oct 26, 2021
Nice lake views, very clean and friendly employees. Many amenities for all age group. Dry county on Sunday so stock up on spirits Saturday!
Oct 26, 2021
Although the campground was a bit difficult to get to the staff there was outstanding!! We had problems with our Jeep that we were towing behind our motorhome. The staff went above and beyond the ordinary to accommodate us. Super!
Oct 24, 2021
3:00 pm is too late for checking. Time to get set up and settle I. Leaves you no time for anything else. First time we have ever had to pay a fine for early check in and we have traveled across the country many times. Tacky, Prizer point
Oct 24, 2021
I was able to get a premium location with water all around. The staff is very helpful. The owners son works in the business which I like to see. If ownership doesn't take interest things kind of run down hill. Not in this park.
Nov 06, 2021
Awesome campground, we loved our stay!
- Angela Hoover on Google
Oct 30, 2021
Never disappointed
- Courtney Craddock on Google
Oct 21, 2021
Destination type KOA....could spend entire vacation here
- Jeff The Customer on Google