Kentucky Lakes / Prizer Point KOA Recreation
The Kentucky Lakes region offers unparalleled attractions around every corner. However, when you find that perfect vacation destination, with incredible amenities and tons of recreational opportunities, there may be no reason to venture out at all. Whether you're on a Family Vacation, a Kentucky Lakes Church Retreat, a Family Reunion, Fishing Trip or Corporate Retreat, we will bring out the kid in EVERYONE at the Kentucky Lakes / Prizer Point KOA! 
Book Your Next Vacation Today!
While staying at one of our cabins, tent, or RV sites, enjoy endless water activities! Whether you have your own boat or rent a boat for the day, you can spend the day fishing and swimming. We also offer tons of waterpark activities to ensure your summer excitement never ends. Experience the best Kentucky Lake waterpark activities at Prizer Lagoon, right on our campground! Weekends Only
Even if you would like to keep your feet dry, you will find plenty of things to do at Kentucky Lakes. Our campsites come complete with epic zip lines, movies under the stars and plenty of outdoor adventures throughout Kentucky Lake. (Not Open at this time) We are one of the most pet-friendly Kentucky Lake resorts, appealing to families with four-legged companions.
If you are looking for a place to stay and create memories with your nearest and dearest, our resort amenities offer unmatched family fun on Lake Barkley! Book your stay at our KOA!
Adventure Ropes Course and Zipline (Not Currently Open)
Take your fun to new heights as you soar through the air at our NEW Adventure Ropes Course and Zipline. Guests staying at Kentucky Lakes KOA Campground and Prizer Point Marina & Resort will enjoy discounted tickets to this unforgettable experience. Launch off for adventure with our aerial zip lines. We have more than six lines totaling 1,235 feet in length. The final, epic zip line is 600 feet long and will have you soaring over Lake Barkley, enjoying magnificent views every bit of the way. This attraction also includes a family-friendly adventure ropes course. From rope fences to planked bridges, each of the 14 obstacles will take approximately 35-45 minutes to conquer. Be sure to contact one of our friendly staff members to include this experience as part of your stay.
BOAT RENTALS: Floating Cabins, Deck Boats, Pontoons and More
There is no better way to explore the area than onboard a lake-friendly boat. We have a boat to fit everyone's personality — whether you want to cruise slowly and enjoy the scenery or have a need for speed! We offer half-day and full-day rental options, so you can either take a short jaunt on the water or an all-day excursion. Or, if you don't want the fun to stop — spend the night on a Hassle-free floating cabin! Boats are available Memorial Day through Labor Day from 9 a.m.-5 p.m, and in the spring and fall from 10 a.m.-4 p.m. We have many options to choose from:

Slidezilla, our epic 36-foot pontoon with slides, a grill and a bathroom

30-foot pontoon with slide

24-foot pontoon

Tritoon, our popular triple-hull pontoon boat

14-foot Aluminum Jon Boat, perfect for fishing

Hassle-free houseboat, which sleeps 12 and includes a bathroom and upper deck with bar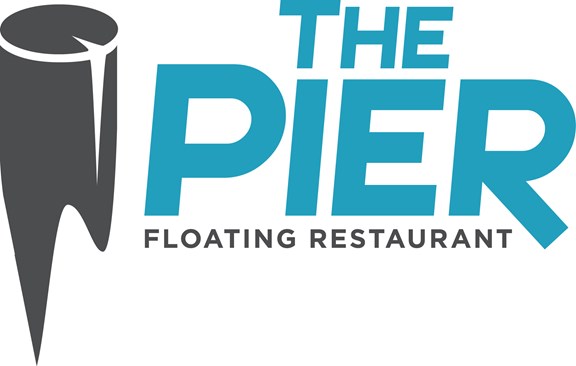 The Pier Floating Restuarant
Enjoy your favorite American cuisine at our onsite eatery. The Pier Floating Restaurant offers casual Lakeside dining for breakfast, lunch and dinner during the summer season. This fabulous addition to your resort experience serves up delicious meals that the whole family is sure to enjoy. Dine on scrumptious charbroiled burgers and other classics, or stop in during the weekend for our fish fry. The Pier is open seven days a week, April through October. Memorial Day-Labor Day Hours: 9 a.m.-9 p.m.
Spring and Fall Hours: 11 a.m.-4 p.m. Transient Boat Slips / Over Night Boat Slips
At Kentucky Lakes KOA Campground and Prizer Point Marina & Resort, in addition to providing lodgings for groups and families, we also have plenty of space to accommodate your boat. Stay with us in the Marina and enjoy all the amazing resort amenities! Our transient boat slips and overnight boat slips are great for travelers on the Intracoastal Waterway or local guests with boats. Here are some of the benefits you will enjoy when choosing our marina:

24-foot daily overnight boat slips that come with water and electric 

Check-in is at 2 p.m. Check-out is at 1 p.m.

Transient Slips up to 80'

Rates start at $50/night + $1 per foot over 50'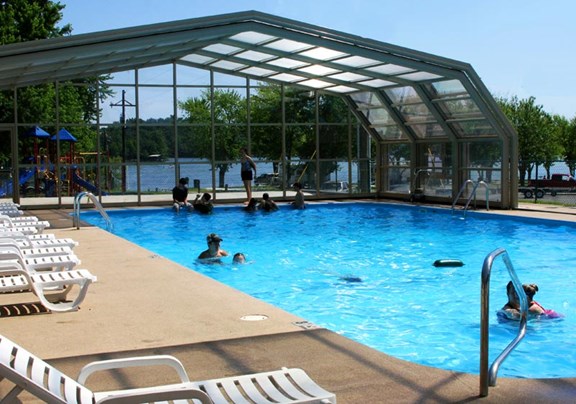 Indoor-Outdoor Pool
This Lake Front Pool is perfect for cooling off on hot summer days or enjoying during crisp weather. The moveable glass enclosure provides a bit of shade and relief from the scorching sun. Kids enjoy splashing around and playing pool games, while adults love to lounge, cool off and enjoy some poolside conversation. Our pool is open May 2-Nov 15.
Zero Entry Splash Pool
Even if your little one is too small to enjoy swimming in the lake or pool, our Zero Entry Splash Pool offers up tons of watery fun. This wet and wild attraction is the perfect spot to spend the day for our littlest guests — or those who like to make a Splash! Open Memorial Day-Labor Day, daily from 9 a.m. 'til dusk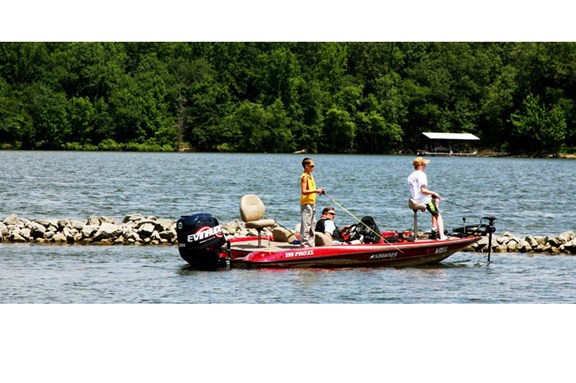 Fishing
Kentucky Lakes KOA Campground and Prizer Point Marina & Resort is among the Top Fishing Spots on Lake Barkley! Our private shoreline ensures our registered guests have lucky catches each time they cast off. We sell fishing licenses on-site for guests 16 and up. Fishing Poles, Live Bait and all the gear you will need are also for sale in the store. Rent a fishing boat for the day and set off for adventure. Or, bring a fishing group to stay in the Marina or Cabins. If you want to hire a guide for an unforgettable fishing tour of Lake Barkley and Kentucky Lake, we would be happy to make a recommendation. Of course, you can also just walk down to the shore and cast your line. Our waters are brimming with trophy size bass, bluegill, crappie and catfish. Just be sure to tell us your 'Tall Tails' at the end of the day! Find out more about fishing boat rentals.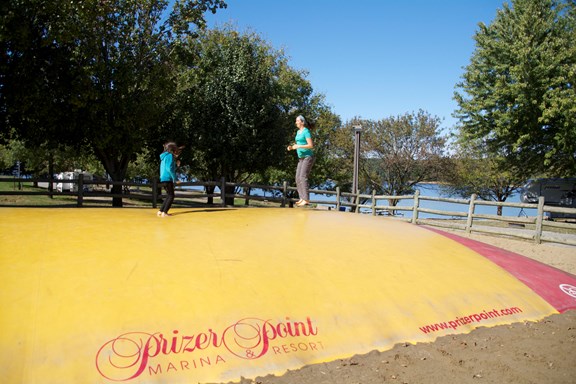 Jumping Pillow
Bounce the day away on our huge and very fun Jumping Pillow. While kids love this modern (and way cooler) version of the trampoline, your whole family can join in on the fun. You will love soaring through the air as you reach new heights — and this air-filled pillow will be there to cushion your fall and send you back up with ease. This is just one more complimentary activity you can enjoy with your resort wrist band. Plus, after all that hopping, jumping and flying, your family is sure to sleep well! Our Jumping Pillow is open daily from 10 a.m. until dusk.
Movies Under the Stars
Each Friday and Saturday night of summer, we'll be showing a Family Feature Film outdoors under the stars. Join us for a movie after a full day of boating, fishing and fun in the sun. Bring a chair or blanket and a snack to enjoy to this complimentary activity! Check with our campground staff for the movie schedule.
Golf Cart Rental
Cruise around and explore our resort in style with your own golf cart rental! These cozy modes of transportation are available all season, from March through November. Check with our staff for daily hours.
Playground
The creativity and imagination of children know no bounds. For families traveling to our campground and lakeside resort with little ones, we present our colorful and fun-filled playground. Your kids will enjoy endless hours of fun as they swing across monkey bars, speed down slides, battle to keep their balance and create new worlds and amazing adventures.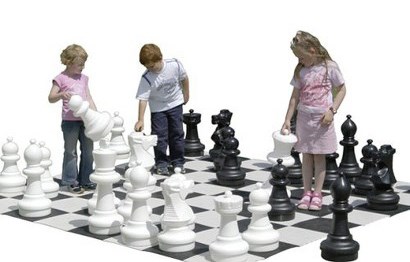 Giant Chess Set
Challenge your family or fellow campers to a larger than life game of strategy! Available Memorial Day through Labor Day daily, chess is a game of skill and strategy that everyone should learn. Introduce your children to this classic game, and get ready to do battle. Subject to weather for open times.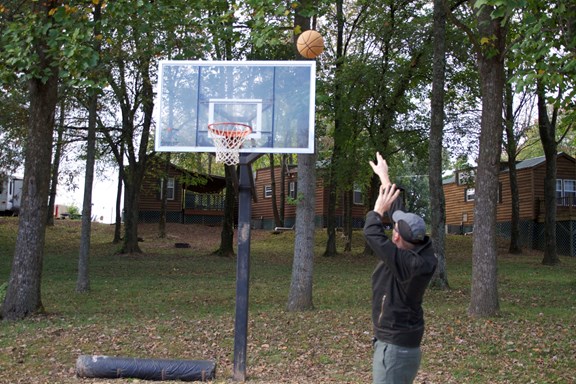 Basketball and Soccer
For those with a sporty side, the basketball courts and soccer fields of our KOA Campground are at your disposal. Summon your family for an epic game of HORSE, or challenge your fellow campers and boaters to a round of soccer! Stop by the front office to check out complimentary balls for your game. Of course, you are always welcome to bring your own as well.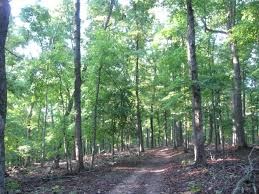 Biking and Hiking Trails
Whether you wish to stroll the trails and explore the beauty of Kentucky Lakes or you want a wilderness excursion in the Land Between The Lakes, there are plenty of options. Our staff would be happy to point you to the best hiking and biking trails on the Point.
Polypong / 4-person Ping Pong Table
This is ping pong to the extreme that four people can play at once! Challenge your family to a game or enlist some friendly campers and make some new friends through a bit of friendly competition.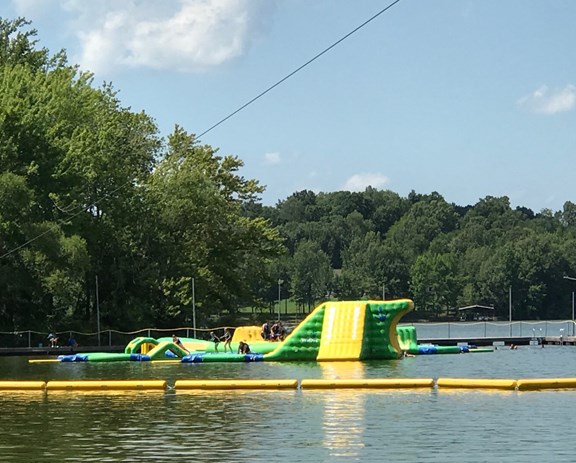 2021 Prizer Lagoon Weekends Only
Besides our epic zip line and ropes course, you will not want to miss the other adventures on offer at Prizer Lagoon. An inflatable water park sits atop the lake's surface, enticing guests to jump, slide and swim. Lounge at the water's edge and enjoy snacks or a rigorous game of beach volleyball. There is also a summer concert series located on the floating docks.
Local Area Recreation