Directions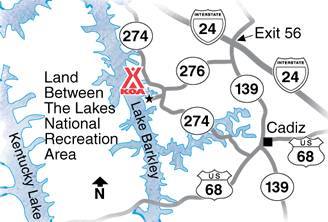 I-24 to Exit 56: Go south on 139 to 276 West (Second right, about 2 miles). Take 276 W to T and turn left on 274 (about 6 miles). Take 274 to Prizer Point Road (First right about 1/4 mile). KOA is about 1.3 miles on right.
Exit 56 is currently under construction.  Will need to come through Eddyville or Princeton. Princeton you Must use the truck route with Campers
Get Google Directions
Oct 13, 2021
We had a great weekend!! My kids loved the standup paddle boards we could borrow for free. We also enjoyed the outdoor movie and Saturday night.
Oct 13, 2021
My stay was spoiled by being penalized $25 for an early arrival. I have never been penalized at an independent campground for an early arrival and I felt it to be an insult as a KOA reward member for the penalty. Therefore, I truly don't find much value in the program and intend to not renew again and definitely limit my future stays at any KOA.
Oct 13, 2021
Disappointed that a KOA right on a lake lacks good fishing access for those without a boat or unwilling to pay the high prices to rent one. Granted the water level seemed low but there was no way kids could realistically fish from the bank regardless of water levels. RV/travel trailer sites had plenty of space in between and were well maintained.
Oct 13, 2021
This is a beautiful campground with friendly staff. If fact, the staff are very helpful and kind. I wish I could remember all of there names because everyone was fantastic! Some names I do remember are, Jess, Dallas and Skyler. We defiantly will be back! We would like to thank everyone there for a wonderful time! Blessings to all!
Oct 12, 2021
Great location. Unbelievably quiet. No coons, squirrels... how does that happen? Clean, easy in and out. Activities for kids.
Oct 12, 2021
We all enjoyed this beautiful place..an the gorgeous sunsets in the eve..children enjoyed the pool an playground, immensely �
Oct 11, 2021
Very enjoyable stay. Everything was clean and well maintained. Only issue we had was quickly addressed by management.
Oct 11, 2021
Great experience staying at Prizer Point. Staff are all friendly and very helpful.
Oct 11, 2021
The staff was friendly & professional, & the grounds were very clean and well kept. I definitely appreciated the privacy of locking, individual showers and bathrooms. Unfortunately, they were very dirty, and never seemed to get cleaned during the three days I was there. Also, it would be great if the campsites were relocated, with views of gorgeous Lake Barkley. Need closer bathrooms/showers.
Oct 11, 2021
Nice property & clean but....cable is very poor, not only us but our neighbors too. The office DOES NOT answer the phone EVER. The dog barking never stops. On our first night, we suspect teens, beat on our slide out around midnight. Other than those things it is a beautifully landscaped park. Cadiz is a 30 minute drive. We stayed in a 38 foot motorhome on the lake front. Probably will not return.
Oct 11, 2021
Very nice KOA. Well kept and clean. Will definitely stay again.
Oct 11, 2021
We just returned from a trip out to Rocky Mountain National Park and points in between and Prizer Point was the nicest KOA we stayed in. We had a perfect weekend. Thanks!
Oct 11, 2021
By far one of the most beautiful places we have stayed in. Wish we could have stayed longer but the road was calling. Will definitely be back
Oct 10, 2021
We absolutely love Prizer point koa...we come every year in October its always such fun for the entire family!!
Oct 10, 2021
The reason we booked this KOA was for all the amenities for kids. But the pool did not open until 11am. The jumping pillow wasn't blown up until about 10:30am. Our young kids were waiting for hours on the only full day to enjoy these anticipated amenities. Half the day was gone before we were allowed to enjoy them. Spot #56 was so tiny that there was no room to gather around the fire ring and…
Oct 10, 2021
It was a nice campground with nice cabins. The staff was very friendly and very accommodating. There were a fair amount of things to do, my only complaint was there was a charge for most everything including pavilion usage. Golf cart rental per day was $65-$70 with no "extended rental" discounts.
Oct 09, 2021
Nice people, nice campground but due to no t-mobile service I had to rely on the WiFi, and the WiFi is terrible. Also the restaurant in the marina…would fail a health department inspection. Filthy. If you are working out of your camping and have t-mobile, don't go here. WiFi doesn't work most of the time. Don't bother trying to eat food from the restaurant. It will just make you s
Oct 09, 2021
It was a nightmare getting there at night.i called them and they couldn't tell how to get there..They need to have it mark better on how to get there. Once there it was very nice and the office staff was awesome. They help us alot. Thankyou
Oct 08, 2021
Very courteous staff. Clean showers
Oct 07, 2021
Very limited supplies in cabins. Lost a whole day with the checkin and out times. Some areas are very run down. Everyone was very friendly once we arrived. We enjoyed getting out on the lake and exploring.
Oct 07, 2021
The office staff was great in trying to set up us and our friend in a Buddy site however they put us in a site that we had to run the electric, water and sewer under the trailer because we had to pull in backwards! Thanks but next time we will just do it the way the park was laid out!
Oct 07, 2021
We really love everything about the Prizer Point KOA. We've stayed there on 3 different occasions and have enjoyed it every time. This KOA gives you a number of "glamping" options. It's a great place to escape and relax, it's quiet, the staff is great and we love waking up to a lake side view.
Oct 07, 2021
We had a great time... Loved it..
Oct 07, 2021
Loved our nice site! Spacious and quiet. Very impressed with the clean campground:-) Friendly helpful staff! Love KOAs :-)
Oct 05, 2021
Absolutely loved it here! From the moment we met Jess we knew it would be a great place. We were looking forward to meeting her after speaking with her on the phone! Everyone is so friendly and helpful. From the store to the maintenance man (sorry I missed your names) were full of knowledge and again so helpful. Mia loved the attention from Miles and Jeffrey. Made alot of lasting friends! Stay he
Oct 05, 2021
Site was clean and well organized. Quite time was observed, everyone was polite and friendly. A shout out to Jess, the employee who took us to the site. We truly enjoyed our stay and will return. Thank You
Oct 05, 2021
Very pleased however the flies were terrible! We didn't keep any trash outside but we could hardly open the door without then flying in and eating outside was out of the question. Not sure if it was the rain that brought them out or what.
Oct 05, 2021
very relaxing !!!!!!!!!!!!
Oct 04, 2021
Beautiful views with lots of fun things to do at the campground. The ladies bathhouse was a little dirty, but I think it was because of sloppy guests that didn't clean up after themselves as they should have.
Oct 04, 2021
Beautiful place… cabins are rustic and clean. Free kayaks, paddle boats and paddle boards on 1st come 1st serve basis. Game room and swimming pool.
Oct 04, 2021
All staff members were friendly and helpful with all our needs. Very clean and well maintained. Thank You
Oct 04, 2021
Great weekend getaway!
Oct 04, 2021
We had a great time! The cabin had everything we needed and there was lots to do on the campground. We would definitely stay here again.
Oct 04, 2021
Great stay. well maintained. Great views
Oct 04, 2021
Amazing. Great customer service
Oct 03, 2021
Tracey, Jess, Jeffrey & Skylar were instrumental in keeping me & my large group of campers happy, welcomed, and relaxed!! We will return again next year... different theme!
Oct 03, 2021
Friendly staff - great accommodations - would visit again if I am in the area
Oct 02, 2021
Very friendly and helpful staff. We had problems before we left and someone came over to see if we were ok or if there was anything they could do to help.
Oct 02, 2021
It was beautiful, well kept, and the staff was friendly. We loved it there. It is one of our favorite spots now. We will definitely return.
Sep 28, 2021
Spacious sites with trees. Great service by there personnel. Beautiful setting.
Oct 07, 2021
We wanted to visit the area, but both my husband and myself have had medical challenges. We chose Prizer Point KOA based on reviews and are so glad we did! It was a long and challenging trip for us to get there, but the moment Jessie checked us in, we knew we had found a guardian angel. She went above and beyond for us over the long holiday weekend. From having tree branches trimmed so that we could get one of our slide outs extended, to offering to take us places if needed since neither my husband or I can walk very far. I told her it was going to be his birthday while we were there and she helped arrange for Nicole at the Marina to make him a delicious cheesecake. In addition, she managed to find us a golf cart to use on his birthday to see the rest of the campground, as well as attend the fireworks. The two of us did not use the pool or the Marina, but thoroughly enjoyed a relaxing weekend. All of the staff we encountered were friendly, but we are extra grateful for Jessie's compassionate and friendly demeanor. We will be back and hope to bring family and their Motorhomes from different parts of the country. We've never been to a better campground to suit all ages. Thank you KOA for a clean, welcoming facility, and especially for Jessie!
- west73 on Trip Advisor
Oct 07, 2021
Beautiful campground, terrific customer service. We arrived at Prizer Point KOA in September for a long Labor Day weekend. We were apprehensive about a trip in our Motorhome because both my husband and I are older with physical limitations. We were greeted upon checking by Jessie, who was like our guardian angel. She drove the golf cart to show us to our site, had branches removed to facilitate opening one of our slide outs, checked on us throughout the weekend, and even arranged for us to have a Birthday Cake made by Nicole at the Marina. We do not have a tow vehicle and neither of us can walk very far, so Jessie told me to let her know if we needed to go anywhere and she would pick us up. As if all of that was not wonderful enough customer service by a compassionate lady, she arranged a golf cart for us on my husband's birthday so we could drive over to see the fireworks over the lake, which were beautiful. We thoroughly enjoyed our stay and will be back because Jessie went above and beyond in every possible way to show compassion and change what was a stressful attempt to go to a campground into a relaxing and happy experience. Thank you Jessie!
- Beverly Ellithorp on Google
Oct 05, 2021
We had a large group of around 30 people coming in for a retreat from all over the states. Prizer Point made it an incredible experience! The staff was very friendly and helpful, and went out of their way to make sure we were having a good time. The lodgings were basic, but clean and had everything we needed to make food. Of course, it's right by the lake so there were some bugs on the windows and floors, but that's to be expected! Some in the group rented a pontoon, and the propeller broke but the marina quickly fixed it and they had a great time on the lake. There were plenty of activities for kids and adults alike, and even when it rained we had the option of the enclosed pool and various board games + a variation of ping pong. We even set up corn hole in the lounge until the rain stopped. I was a little worried about some things because of some of the negative reviews, but I am happy to say we didn't have a single bad thing to say about the place or the people! I'm thinking some people just can't be pleased and expect bad things so that's why they don't have much nice to say! Highly recommend Prizer Point and KOA for anyone who wants to stay at a beautiful resort tucked away in the country... The drive to the resort was breathtaking, but a little challenging for inexperienced RV pullers as there are lots of curves and hills!
- jaclynpeachey on Trip Advisor