Directions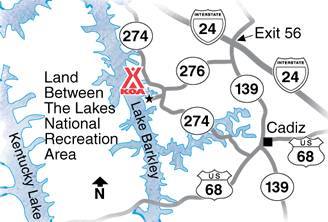 I-24 to Exit 56: Go south on 139 to 276 West (Second right, about 2 miles). Take 276 W to T and turn left on 274 (about 6 miles). Take 274 to Prizer Point Road (First right about 1/4 mile). KOA is about 1.3 miles on right.
Exit 56 is currently under construction.  Will need to come through Eddyville or Princeton. Princeton you Must use the truck route with Campers
Get Google Directions
Nov 10, 2021
What an awesome place to stay. So much to do during the summer months. We love it there and plan to be back with our kids and grandkids
Oct 28, 2021
As usual, all staff are very attentive. Always plenty to do, I was excited to see some new restrooms and showers added. This koa has grown very much over the past couple years. Nice to see! BUT, being tent campers, we have not seen much growth in that area. No restrooms there or showers still ����
Oct 27, 2021
Had a great time. Cabin was clean no issues. Camp ground is cramped with sites though.
Oct 26, 2021
We had the best weekend stay!!!! The freak or treating was so much fun! And the cabin was excellent! Will definitely be back!
Oct 24, 2021
Need a landscaper. Grounds are a mess. Mold in my cabin in the bathroom. Light bulb burned out in ceiling fan. No privacy for the cabins, to close to each other. This koa could use alot of work.
Oct 21, 2021
This was our first time at KOA. We loved it and decided to become members. The staff was very helpful, knowledgeable and polite. We will definitely be back
Oct 18, 2021
Our stay was great except the shower houses nearest to Treehouse 1, did not have hot water at all. I alerted several employees about it. One employee said it might be a propane issue and another said there should be instant hot water but maybe the settings were on "summer settings" and needed switched, in which case that would've been an instant fix. We were there 4 days. it was never fixed.
Oct 14, 2021
We've been every year for three years, and not a single complaint. We enjoy it every time, and everyone is so kind.
Oct 10, 2021
We absolutely love Prizer point koa...we come every year in October its always such fun for the entire family!!
Oct 10, 2021
It was a nice campground with nice cabins. The staff was very friendly and very accommodating. There were a fair amount of things to do, my only complaint was there was a charge for most everything including pavilion usage. Golf cart rental per day was $65-$70 with no "extended rental" discounts.
Oct 07, 2021
Very limited supplies in cabins. Lost a whole day with the checkin and out times. Some areas are very run down. Everyone was very friendly once we arrived. We enjoyed getting out on the lake and exploring.
Oct 07, 2021
We really love everything about the Prizer Point KOA. We've stayed there on 3 different occasions and have enjoyed it every time. This KOA gives you a number of "glamping" options. It's a great place to escape and relax, it's quiet, the staff is great and we love waking up to a lake side view.
Oct 04, 2021
Beautiful place… cabins are rustic and clean. Free kayaks, paddle boats and paddle boards on 1st come 1st serve basis. Game room and swimming pool.
Oct 04, 2021
Great weekend getaway!
Oct 04, 2021
We had a great time! The cabin had everything we needed and there was lots to do on the campground. We would definitely stay here again.
Oct 04, 2021
Amazing. Great customer service
Sep 21, 2021
The campground was nice and well taken care of. The beds in the cabin could have been softer. The only complaint that I have was the cabin we were in needed to have rock or pavement coming to the stairs of the cabin instead of dirt or mud
Sep 20, 2021
The chalet could have been cleaner inside and outside which would have made the view more enjoyable.
Sep 17, 2021
Went for rest and relaxation so scheduled during the week. It was clean and quiet and exactly what I wanted. You really need a drop box for keys though.
Sep 16, 2021
Great as always. I usually make 2 visits a year for a week at a time and have never been disappointed.
Sep 14, 2021
The KOA camp was in a great area and the grounds were clean and well manicured. Staff was friendly. We had a couple issues with our cabin due to the fact they had just moved it. The front door was hard to close and lock and the toilet would not stop running. Some blinds had been broken from prior campers but staff had run out of replacements so could not change them. But we had a great time.
Sep 14, 2021
We loved the place but had some issues. The internet was too weak to connect in our cabin. I had to make my phone a "hot spot" to have internet because I needed it for work. Also, the swimming pools were filthy! Our 2 grandchildren both came down with strep throat on Tuesday after being in the pools on Saturday. The amount of time to check out a golf cart is way too long. Your people were great
Sep 08, 2021
Great experience, loved our pontoon boat out on the lake!
Sep 08, 2021
They have expanded & unfortunately in the expansion the majority of the cabins lost their covered decks so in a cabin that sleeps 6 but only has 4 chairs it gets very cramped when it rains. The kitchen was missing key utensils & the knives were pitiful for cutting any vegetable & there was no pan for oven use either. The restaurant is extremely overpriced! The staff was wonderful.
Sep 03, 2021
It was very peaceful during our stay while celebrating our wedding anniversary.. loved the catfish dinner at The Pier!! Enjoyed walking through " when it wasn't raining " to the lake.. Only a few down falls .. very low WiFi connection and the beds were very uncomfortable.. uncontrollable bug situation . We did our best to enjoy ourselves .. situations about the beds and bugs were mentioned.
Aug 30, 2021
We had mold or something coming out of the AC vents. It was on a cooler and our grandson's toothbrush witch we threw both away. We are very upset having to sleep in these conditions. This cabin should be destroyed and taken out and buried. We will never stay in one of them again and no one I know will ever stay there at all
Aug 30, 2021
The campground was nice and the kids loved the pool etc., but the cabin could use some updating. There were areas that needed attention: grass growing around the pool area, paper said it opened at 10:00, but it wasn't until 11:00! mattresses torn in bunk room, windows were so dirty, I had to sweep the floor and patio before coming inside, no bakeware to use stove. $650 for 36hr was a little ste
Aug 28, 2021
I had a blast....it was just good to get away and Prizer Point did the trick. Not very far from home. The scenery was spectacular. Looking for to next year.
Aug 23, 2021
I was not happy with the first cabin, it was dirty. Smoke detector was out of date 2007 and missing battery. The blinds when I closed them were broken so changing clothing someone could definitely see inside. The huge mud hole at bottom of stairs. I was greatful they were able to give us another cabin. Still not really clean but better. Alot if the laundry machines were broken. Needs more love.
Aug 18, 2021
I felt that the amenities were good. However, I think the Cabin is not worth the high $. The TV did not work as advertised. We had 22 channels with poor reception. I believe that there was some animals living in the south side wall. The shower drain seemed to go straight to the ground outside. The last night we stayed it rained and we had a lot of water coming in from the door through the kitchen.
Aug 16, 2021
We had a great time! Loved the paddle boats and obstacle course! Thank you!
Aug 10, 2021
We were disappointed in the quality of linens provided for sleeping. The sheets smelled bad and felt sticky, as if they were not rinsed well in the wash. We knew about the check out time being early, but felt it was sooooo early (10am) that you couldn't even enjoy breakfast before having to pack up.
Aug 09, 2021
Great people and easy check in and out. Would prefer checkout to be at noon, not 10 am as it really removes the entire day. Also, lighting in cabins all needs improvement, but the grounds were great and lots offered!
Aug 09, 2021
My girls had a great time. Few issues with staff conduct and demeanor were handled professionally by Tiffany and Jessica.
Aug 09, 2021
Great views, great campground. Whether you want to tent camp, bring an RV, or stay in lodging, Lots of fun things to do, no matter the age. Very well-maintained sites and facilities. Staff went above and beyond…..every single one, from the initial call for reservations, all the way thru to check-out and after. We will be back!
Aug 07, 2021
The staff were all TERRIBLE. Noone knew anything about times things were open. Every washing machine and dryer were broken. The pool had grime all around the outside. The cabin was filthy . The restaurant had all dirty table and the staff would not clean them off for our party of 7.
Aug 06, 2021
Gorgeous place, only negative was lack of staff. Knowing for the next time we will be better prepared. Recommended to several friends but told them prepare for limited staff and be as self sufficient as possible.
Aug 05, 2021
We stayed last year with some of our kids, but this year we bought them all and had 31 people. It was even better this year and I hope we can come again in 2022
Aug 05, 2021
Staff wasn't great. We were consistently given wrong info regarding basic stuff like "Where is my cabin?" and "How do I get to the water park?" More than once I had to urge a staff member into helping us, otherwise they would just look around blankly. It's a shame because the water park was awesome and the KOA was clean and well-maintained, but bad service can really put a damper on things.
Aug 04, 2021
I love the ease of check in and out I always rent a cabin and have never had any issues The lake is beautiful
Nov 06, 2021
Awesome campground, we loved our stay!
- Angela Hoover on Google
Oct 30, 2021
Never disappointed
- Courtney Craddock on Google
Oct 21, 2021
Destination type KOA....could spend entire vacation here
- Jeff The Customer on Google