Alert
July 7th

The total Fire ban effect on this area.

Dear camper

The health and safety of our guests is top priority 1000 Islands Ivy Lea KOA

For safety, following amenities remain closed
-Playgrounds, play structures (jumping pillow) and outdoor fitness equipment will remain closed.
-Hot tub and water slide are remain closed

-removed with high chance to contact event

Pools are open with restriction - Please sign up for guest service
washroom and shower facility is open with restriction

While in park:

limited social gathering in one place. Maximum 10 people
Keep the social distance
Mask require on register and store area

If you have question or inquire
please Contact us

E-mail: ivylea@koa.com
Phone: 613-659-2817 (Sunday to Thursday 8:30 am to 6 pm, Friday and Saturday 8:30 am to 9:00 PM)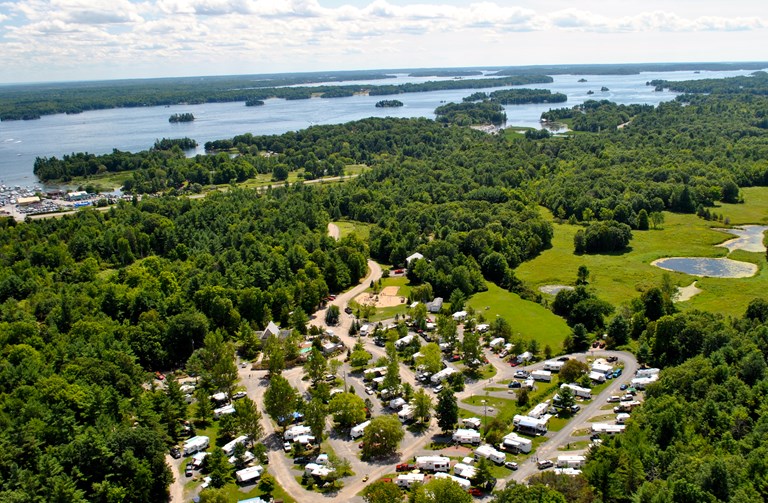 1000 Islands / Ivy Lea KOA Reviews
Directions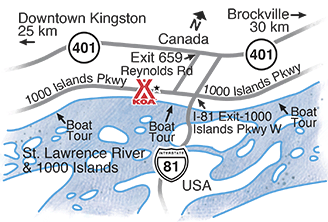 From East or West take Highway 401 Exit 659. Travel South to the T Junction, turn right ( you are now on the 1000 Islands Pkwy traveling West). KOA on your right approximately 3 km. From the United States , coming into Canada on 81 North. Cross into Canada and after bridge you will an option for either 1000 Parkway East ( not this one) or West ( take this one, its the second exit with a sharp curve so slow down before exiting). Travel Westbound 3 miles, KOA on your right.
GPS: N44.361026, W76.020772
Note: some GPS units show us near " Charleston Lake", this is INCORRECT! This will take you down a small country road 45 minutes away from us. Please check carefully and if yours does use map coordinates or call us for assistance.
Get Google Directions
Aug 26, 2019
C'est très familiale
Aug 26, 2019
Kids had a great time, hoping the new owners make some improvements, grounds need some work but otherwise all good... some amenities like the splash pad were not operational. Staff friendly and patient with the kids !
Aug 26, 2019
Beautiful with trees . Quiet and clean
Aug 25, 2019
Everything was great. Very clean. Just felt the cabin for 6 was a little small for 6 adults. Next time will book the bigger cabin for 7. Store didn't have as many treats and things we needed as well. Still had a great time!
Aug 25, 2019
Beautiful and very well kept KOA. Best we've been to
Aug 25, 2019
We had a great time, so much that we booked another site in two weeks. Hoping to bring our Grand Children next summer for a week or two. JOHN B STABLES
Aug 25, 2019
Good stay, nice camp ground. When checking in we found out that the staff had moved us from the site we specifically requested and put us in a small site meant for a 28 ft trailer and we have a 37 ft trailer. Min the manager was very rude to my wife and the activity staff didn't really care at all. Some of the activities only lasted a couple minutes and the two staff girls just sat in the golf ca
Aug 25, 2019
Lack of bathrooms, I find it strange that there is only one bathroom for the entire campground. Other than that the camp is very nice and well run. We enjoyed our stay. Thank You
Aug 25, 2019
Great camping, it's our 6th time here&will come again!
Aug 24, 2019
We have been here before 5 times and plan on coming back again great campground
Aug 23, 2019
Some of the staff were there soon after we needed help with the sewer connection. The sights are good. Washroom facilities are dated with no washroom for people with disabilities. Our grandchildren enjoyed the playground, jumping pillow, pool, and the activities. The staff could be more friendly .
Aug 22, 2019
Wonderful staff Clean campground. We had an amazing four days . We're sad to leave. We will be back
Aug 22, 2019
Very Nice Kampground, many activities and proximity of the town, make this stay one of our top pick� We'll come back�
Aug 22, 2019
Although there are many attractions and activities, the campground needs an update, particularly in the washrooms. There was little signage through the camp to the locations of the washrooms and directions to the exit. The cost of our stay (thankfully it was only one night) was very expensive!
Aug 21, 2019
We enjoyed our 5 days there. Staff was helpful and pool was a hit with the kids. The only surprise was the tenting sites. When we selected them we expected they would be bigger and it was difficult to peg in cause of the many rocks. This was not clear to us when speaking to staff. Next time we will ask more questions before booking.
Aug 20, 2019
Daily has a great time. We had a pull through patio site (site 21). Site was very large with a great fire pit. Plenty of activities for the kids going all day, they loved all the activities. Playground and jumping bubble were a hit too. Pools were small that would be only complaint.
Aug 20, 2019
Great campground to stay at. Small drawbacks for us were the sloped, back in site but that's not unusual and we don't have RV jacks to level us out. The store could use a few more RV related items such as water hoses and stuff like that but otherwise it was well stocked. Wonderful and clean pool, store, lavatories, etc; and fellow campers were considerate and friendly.
Aug 20, 2019
found out that Dave and Sue no longer the owners, the upkeep of the grounds is lacking, also the amount of BARKING dogs was way higher than the last time we were there (owners were warned to keep pets quiet before) the store was not as stocked as usual also when I asked for a shaded site I was told they did not have any! there were 3 free for our total stay in the trees! we will not return here
Aug 19, 2019
Nice campground, lots of activities for the kids, friendly staff
Aug 19, 2019
Pools were very tiny for the number of guests. The adults hot tub didn't have the waterfall working. The jets barely gave a few bubbles as well. The activities sounded great online, but in reality weren't exciting at all. They were very repetitive and often required you make a purchase to participate. (ie. tie dyeing shirts) we loved our actual campsite, lots of shade trees, and the location i
Aug 19, 2019
Our stay ay Ivy LeaKOA was excellent.all services we requested were supplied and in good working order,camp groun ds were very clean and all facilities were in good working order and areas very clean.Grand kids had enough play areas and enjoyed very much. Thank-You
Aug 19, 2019
We were just a bit disappointed in our site. All shade and could not get camper up to the patio. We would come back but just choose a different site. Otherwise it was a great weekend!!
Aug 19, 2019
I'm assuming that this KOA is under net management or ownership as it is evident that things have gone downhill slightly since we last stayed there. It's not quite as clean, activities are a bit lessened and the overall vibe has changed a bit. It was ok just not usual great time we are used to. As it's the most expensive campground in the area, we have higher expectations for it.
Aug 19, 2019
1. Sofas are very old and dusty. 2. AC vents are not clean. Furnace door vary dusty 3. staff are very helpful.
Aug 18, 2019
The site, playground and staff are excellent. Ladies shower and bathroom were supposed to be closed for cleaning 2-3 pm Saturday but was not and showers really needed to be cleaned. Sink are is wonderful. Family pool and hot tub was a huge dissapointment. It was dirty and cold. Only half the jets were working and of that only 2 were circulating hit water while the others were circulating COLD.
Aug 17, 2019
Great place for children. Lots to do and see in the area. Very clean campgrounds with friendly staff. Thanks for a great stay.
Aug 17, 2019
Site was small, (43) but ok. Kids loved the pool and jumping pillow and the daily activities were great. One nice thing about this KOA is that sites were set up so that trailers could pull in from opposit sides so that if you were traveling with another group in a trailer the doors would face each other. Campground was kept very clean. We will likely be back!
Aug 17, 2019
Bien sauf que la réception ont dit qu il maviserais si un terrain se libererais pour le vendredi cela n a pas été fait donc jetais prête à partir j'ai décidé d aller leur demande et il en avait un perte de temps inutile
Aug 16, 2019
This is our fourth year, very pleasant staff, never too busy to wave or give information, grounds and washrooms well kept..
Aug 15, 2019
Very pleasant !!
Aug 15, 2019
When we arrived, we were greeted immediately by staff member Mike, who quickly and efficiently checked us in and had us in our way to set up for our 5 night stay. Very clean campground and close to many attractions. Would definitely recommend.
Aug 14, 2019
I reserved a large pull through site as I wanted to putter around my class b motor home w tire pressure, empty tanks, etc, I liked the site set up, I liked that the site was level and sewer opening was low to the ground. Friendly staff. All good.
Aug 13, 2019
Site was reasonably clean but not big enough for our 35' fifth wheel. Too short, too narrow and there were tree limbs that hung low enough to be a concern. Much too pricey at $100/night (summer weekend rate). We did not use any of the facilities as we just wanted the location close to Gananoque to visit friends and family in the area. We probably won't return.
Aug 13, 2019
Très beau camping, bien situé, calme et bien entretenu!
Aug 13, 2019
Nice camping with good facilities.
Aug 13, 2019
Wonderful KOA park to stay at with family. Enjoyed our stay, small site, prices could be cheaper but IMO all KOA's are expensive! Very kind and friendly people working there. Would go back in a heart beat.
Aug 13, 2019
Great location, friendly staff, good facilities.
Aug 12, 2019
We had a great time at the KOA with 9. children aged 9 to 18 . A little earlier opening for the pool would be good and the driers went on the fritz but otherwise we all had a great time.
Aug 12, 2019
Clean, quiet and child friendly campground. The staff were friendly and accommodating they brought us wood when we asked them to. They were very visible cleaning and maintaining the grounds.
Aug 12, 2019
I have a 21 foot travel trailer and the spot I was given to park was very unlevel and I had an very hard time trying to level my trailer front to back as I was at my limits on my Jack after removing the foot piece . Secondly the washrooms were disgusting as they only clean them once a day which is not enough in a campground that busy . Sorry but you wanted the truth
Jul 03, 2020
Great experience with the family
- Daniel Colque on Google
Jul 02, 2020
Very friendly staff and campers. Quiet at night and very clean. Lots of activities for the kids. We stayed 6 nights and loved it. Only complaint is that the WiFi was very intermittent.
- Ryan Sell on Google
Jul 13, 2020
Ce Koa n'est pas très grand, mais vraiment très agréable. Belles installations, beaucoup de beaux grands arbres matures. Plusieurs terrains sont très grands. Nous avions le terrain 82 avec patio, table style bistro, chaises, parasol et table picnic.
- Gina C on Google

1000 Islands / Ivy Lea KOA
Open May 1 - October 12
514 1000 Island Parkway
Lansdowne, ON K0E 1L0 Canada
Check-In/Check-Out Times
RV Sites, Tent Sites
Check-in: 1:00 pm, Check-out: 11:00 am
Accommodations
Check-in: 2:00 pm, Check-out: 10:00 am
1000 Islands / Ivy Lea KOA
Get Google Directions

© 2020 Kampgrounds of America, Inc.