Alert
July 7th

The total Fire ban effect on this area.

Dear camper

The health and safety of our guests is top priority 1000 Islands Ivy Lea KOA

For safety, following amenities remain closed
-Playgrounds, play structures (jumping pillow) and outdoor fitness equipment will remain closed.
-Hot tub and water slide are remain closed

-removed with high chance to contact event

Pools are open with restriction - Please sign up for guest service
washroom and shower facility is open with restriction

While in park:

limited social gathering in one place. Maximum 10 people
Keep the social distance
Mask require on register and store area

If you have question or inquire
please Contact us

E-mail: ivylea@koa.com
Phone: 613-659-2817 (Sunday to Thursday 8:30 am to 6 pm, Friday and Saturday 8:30 am to 9:00 PM)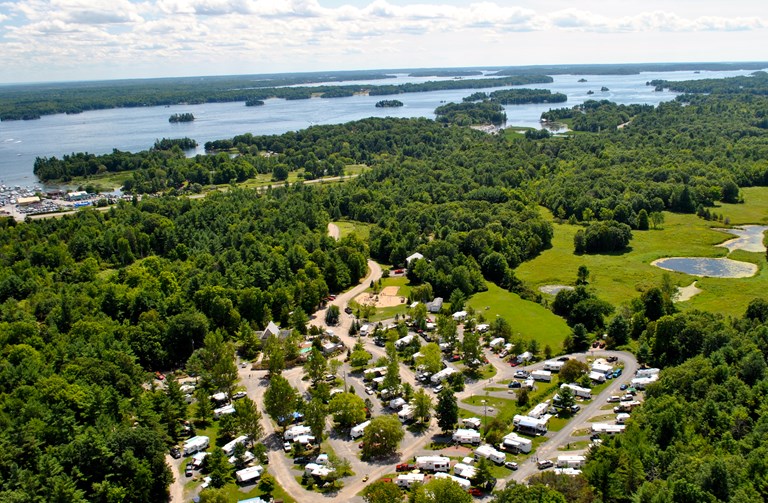 1000 Islands / Ivy Lea KOA Reviews
Directions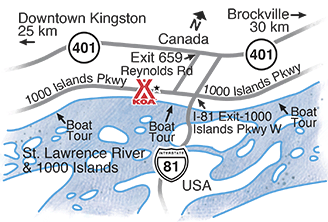 From East or West take Highway 401 Exit 659. Travel South to the T Junction, turn right ( you are now on the 1000 Islands Pkwy traveling West). KOA on your right approximately 3 km. From the United States , coming into Canada on 81 North. Cross into Canada and after bridge you will an option for either 1000 Parkway East ( not this one) or West ( take this one, its the second exit with a sharp curve so slow down before exiting). Travel Westbound 3 miles, KOA on your right.
GPS: N44.361026, W76.020772
Note: some GPS units show us near " Charleston Lake", this is INCORRECT! This will take you down a small country road 45 minutes away from us. Please check carefully and if yours does use map coordinates or call us for assistance.
Get Google Directions
Jul 12, 2020
Very clean campsites. They really take care of the grounds. The bathrooms are very clean.
Jul 11, 2020
Too much noise all day by the staff and their vehicles. Sold us firewood and then told us that there was a fire ban.
Jul 10, 2020
Enjoyed it and our location was great! Compared to other campings I find it expensive. Don't know if I will return.
Jul 10, 2020
The park is nice in general but the pull through lots we stayed in were overpriced at $100/night. For the same price, Niagara Falls KOA offers superior lots. A fire ban sign should be posted at the entrance or office.
Jul 09, 2020
So glad to be camping!! The way the swimming pool was timed it gave everyone a chance for everyone to get wet. The staff in the office were great! Not so much for your outside staff. We were there for 4 nights and only once did anyone say hello or good bye. Maybe a class in manners would help!!
Jul 08, 2020
Had a great stay. Very friendly staff
Jul 07, 2020
The facilities and camp placement are not corresponds the price at all. It is a problem to buy a coffee on reception: we have been waiting about 10-15 minutes :-(
Jul 07, 2020
Unfortunately not many of the regular amenities were available due to Covid19 but still a good family experience.
Jul 06, 2020
The grounds were nice but due to COVID many of the amenities were closed. We did receive a small discount as a result. The site was ok but not really worth the value. We had a "garden" site and the garden (although very nice) took up a great deal of the site. Our campfire pit was basically on the road and we had to move our truck to have a campfire And sit so close to the roadway.
Jul 06, 2020
Still welcomed with a smile even in these difficult times!
Jul 06, 2020
Enjoy the area and campground. We were however disappointed that the breaker tripped off twice. No different accessories then our friends that had no problems (our trailer is only 4 years old). We have 2 dogs, keeping them cool on a hot week was critical. Panel had to be reset by staff and an off site location. We weren't the only ones with hydro issues. Never had this before.
Jul 06, 2020
Compared to other KOA's this was not on par. Needs to be accessible not only for those who rely on mobility devices but for strollers.
Jul 06, 2020
Very nice place and location. We enjoyed the 5 day stay. Very friendly staff. WiFi was spotty but that is the same in a lot of places.
Jul 06, 2020
All kid activites were extra, lack of planned acitivities, lack of disinfecting pool area after each family and no shade in most of the campsites. There werent any purell stations and only 1 main bathroom for the whole site.
Jul 06, 2020
Everyone was friendly and very accommodating.
Jul 06, 2020
Very nice stay. Will be back in two weeks.
Jul 06, 2020
The sites had no privacy!! The rules to the pool were unreal!! We had 12 people(including a 3month old baby and a year old) and were told to get out of the pool as there were over 10 people. The park was closed. The jumping pillow closed. No beaches. Had to drive 20 minutes to the closet one which was not a nice beach. Some of the staff were nice. The Texas couple were so nice!!!
Jul 06, 2020
It was so hot this weekend and without water access to a beach or use of the pool unless you booked a time slot due to COVID restrictions It was not an enjoyable stay with 3 children. I believe it would have been a great time with the children's play areas open and pool. I feel it was very expensive as no amenities were available.
Jul 06, 2020
Camping spots are closely spaced. #67 gravel spot was not at all level and required a number of blocks to get even close Our A/C kept cycling on and off ( same problem experienced with neighbours A/Cs ) even though the pedestal voltage was between 110v and 121v. Weather was hot so perhaps heavy load of many A/Cs running caused a problem; but voltage reading OK?? Not a good situation.
Jul 06, 2020
We had a nice spot! With trees and shade, which really helped since it was so hot! We loved the strawberry/banana slushy drink, got one everyday! Helped cool us down. Friendly staff and clean park. Second time staying at a KOA. Very pleased with your parks! Thank you for such a wonderful long weekend away! Great team working there!
Jul 06, 2020
My husband and I were extremely disappointed with our stay. We paid a premium for your campsite and only received a $10 discount due to "amenities closed." The pool was not available to us (again, we paid a lot of money to stay). You need a better system for pool sign-ups. We will certainly NOT be camping with KOA again.
Jul 05, 2020
Personnel accueillant. Camping très propre et bien entretenu. Calme et très familial.
Jul 04, 2020
Stayed 4 nights and was impressed with how clean the toilet ,pool and all the common areas were.i will definitly camp here when in 1000 Islands.The sites were very nice and I loved the entire experiance.
Jul 02, 2020
WiFi was not very good. Washrooms were very clean. Pool closed too early on weekdays.
Jul 02, 2020
We had a great stay and everything was just wonderful! The only thing was the internet sevice wasn't very good...
Jul 02, 2020
Was as good as can be considering COVID restrictions
Jul 01, 2020
We had a wonderful time getting away from home (finally!). We appreciated the discount on our stay due to some of the amenities being closed. We also were really impressed with all the safety measures and the cleanliness of the washrooms. The campers all seemed very respectful of the new rules, which made us feel safe there.
Jul 01, 2020
Great place to camp and would come back again
Jul 01, 2020
It was great! Very nice place!
Jun 30, 2020
Love Ivy Lea KOA! Feels like a home away from home.
Jun 30, 2020
It was a nice place. Limited pool time because of covid , nice staff. Will go again once covid percautions lift
Jun 30, 2020
Due to the current situation some things were not open, but that was to be expected. The staff was very friendly and helpful. The campground was very clean and the restrooms were well taken care of. There was almost always someone cleaning, and the floors always looked freshly washed. Front part was very crowded, back part lovely large sites nicely spaced. We were happy to be in the back!
Jun 30, 2020
Beautiful campground. Well maintained and helpful and friendly staff. Looking forward to our next stay.
Jun 29, 2020
Very pleasant stay. I was happy to see that the cleaning of the washrooms and showers were being done multiple times a day.
Jun 29, 2020
Despite Covid and its effects, we had a delightful stay with our friends as always!
Jun 29, 2020
The Campground was nice and clean, friendly staff but the wood was almost impossible to burn as most campers struggled to keep their fire going.
Jul 03, 2020
Great experience with the family
- Daniel Colque on Google
Jul 02, 2020
Very friendly staff and campers. Quiet at night and very clean. Lots of activities for the kids. We stayed 6 nights and loved it. Only complaint is that the WiFi was very intermittent.
- Ryan Sell on Google
Jul 13, 2020
Ce Koa n'est pas très grand, mais vraiment très agréable. Belles installations, beaucoup de beaux grands arbres matures. Plusieurs terrains sont très grands. Nous avions le terrain 82 avec patio, table style bistro, chaises, parasol et table picnic.
- Gina C on Google

1000 Islands / Ivy Lea KOA
Open May 1 - October 12
514 1000 Island Parkway
Lansdowne, ON K0E 1L0 Canada
Check-In/Check-Out Times
RV Sites, Tent Sites
Check-in: 1:00 pm, Check-out: 11:00 am
Accommodations
Check-in: 2:00 pm, Check-out: 10:00 am
1000 Islands / Ivy Lea KOA
Get Google Directions

© 2020 Kampgrounds of America, Inc.