Local Area Attractions Near 1000 Islands / Ivy Lea KOA Holiday
Contained here you will find lots of different area attractions and things to do while visiting our area. Though we are small is size and population, you will be amazed at the local offerings.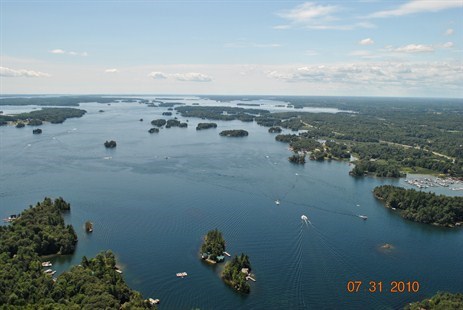 1000 Islands Boat Tours
ou will be amazed at the local beauty of the St Lawrence River. Whether you go for an hour or three you will just get a small idea of how beautiful it really is. See multi-million dollar homes and ones so small they are more like sheds. Look over the edge and you might see the International Border. Check out "http://www.rockportcruises.com/" , Rockport Boat , or Gananoque Boat Line. www.gananoqueboatline.com Some you can walk to from our campground. If you want to see ,http://www.singercastle.com, Singer Castle http:// www.boldtcastle.com Boldt Castle, these are the tours to take. There are two tours within walking distance or a short bike ride plus two more within a 10 minute drive. These Cruise operators offer tours of Boldt and Singer Castle, Millionaires Row and Zavikon Island that has the shortest International Bridge in the world. If you come to the 1000 Islands make sure you see the Islands! WE HAVE DISCOUNT COUPONS AVAILABLE. Traveling to either Castle will require a valid Passport by USA Border Services for all persons Rockport Cruises 23 Front Street, Rockport, ON
www.rockportcruises.comRockport is located in the `Heart of the 1000 islands`on the St. Lawrence River. We offer waterfront dining and scenic cruises. From the moment you step aboard, the picture perfect setting will fill your mind and you will be captured by an essence of excitement..1-hour Heart of The Islands Cruise
3.5-hour Boldt Castle Tour
Two Castle Tour
2-hour Palaces & Palisades Cruise
2-hour St.Lawrence Lunch Cruise
3-hour Sunset Cruise
3-hour Sunset Dinner Cruise Gananoque Boat Line6 Water St, Gananoque, ON www.ganboatline.com All Aboard Gananoque Boat Line operates five triple-decker, all-aluminum vessels. Facilities on board include: rest rooms on each deck, coffee shop and refreshments. There are five open decks and two fully enclosed decks. The Gananoque Boat Line fleet is inspected and certified by Transport Canada - one of the highest standards in the world!2 Locations
* 1-hour, 2.5-hour, and Boldt Castle Stopover tours.
* You start and finish your tour in the Heart of the 1000 Islands at either Gananoque or the 1000 Islands Bridge location in Ivy Lea (one hour tour only).Day Cruises
Gananoque Boat Line is the largest and oldest cruise company in the 1000 Islands. Having five vessels ranging in size from 350 to 500 passengers, enables us to offer a cruise for any interest and any schedule!1-hour Beauty of the Islands Cruise
1-hour Ivy Lea Cruise
2.5-hour Lost Ships of the 1000 Islands Cruise
5-Hour Boldt Castle Stopover CruiseGananoque is located just 20 minutes east of Kingston, Ontario; in the beautiful 1000 Islands.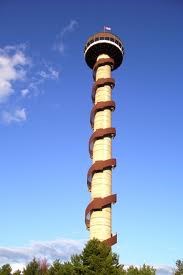 Sky Deck
Get a bird's eye view of the 1000 Islands. The Sky Deck is only minutes away from the campground and right beside a factory outlet. An elevator makes it easy. Don't forget your camera. Click here for more information.The 1000 Islands Tower will be open for the season on Saturday, April 19th 2014!
The opening hours for April are
Monday to Friday + Sunday from 10 am to 5 pm
Saturday from 9 am to 5 pm
We welcome you to the heart of the 1000 Islands.Enjoy the breathtaking view from the 1000 Islands Tower, see the 1000 Islands & St. Lawrence River.
The 1000 Islands Tower is a unique tourist attraction, the only one of it's kind in the 1000 Islands.
From the top you will see the best of what the area has to offer.
Running continuously, the elevator takes only 40 seconds to reach the first of three observation decks and provide visitors with a spectacular photographic opportunity as they enjoy the panoramic view of the 1000 Islands and St Lawrence River stretched out 130 metres or 400' below.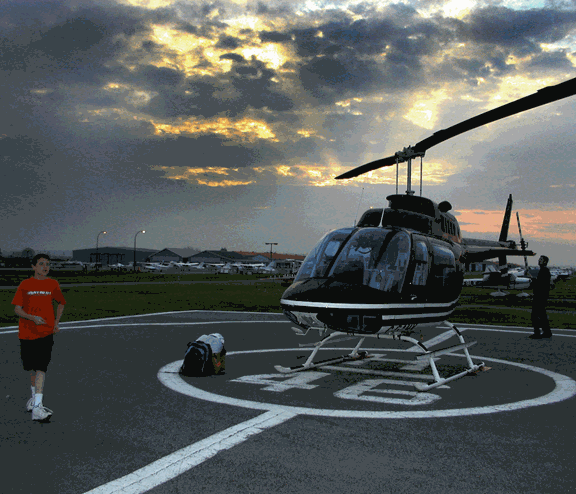 Helicopter Tours
Kouri's Kopters Inc
www.kouriskopters.com
1-855-855-4354Exclusive Helicopter tours of the 1000 Islands, Boldt Castle and Private Helicopter Charters.1000 Islands TourBeginning in the spring 2014 season, our new location in the 1000 Islands allows us to cut our tour prices in half!Within seconds after takeoff, you will see the beauty and splendor of the 1000 Islands that no other tour can provide. On clear days, you can see both the 1000 Islands bridge, the Ivy Lea bridge and hundreds of private islands that make this region so beautiful.This tour is approximately 10 minutes in duration.$99 per person*1000 Islands Boldt Castle TourOver 4.5 million people visit the 1000 Islands region annually - many come to experience the beauty of the islands but some come to see the incredible grandure of the many mansions built upon these granite islands.Inarguably the most famous of all is Boldt Castle on Heart Island. Built by George Boldt in the late 1800s, he abandoned the structure before it was finished when his wife suddenly died.Passports are not required.
This tour is approximately 18 minutes in duration. Castle TourHow can you see nearly all the islands in the 1000 Islands, both bridges, Boldt Castle and Singer Castle all in about 30 minutes?The only aswer to that question is to climb aboard one of our helicopters and experience it for yourself. There is nothing that can compare to the breathaking views in the helicopter and we want to share the experience with you.This tour is offered in limited availability and is typically flown after 3pm in the summer season. Please ask about other times as it may be available based on peak hour demand. feel free to ask about a custom tour.If you're staying at one of the many hotels or bed & breakfasts in the 1000 Islands and would like either more time or just have a private flight, please ask our staff for information on private tours.Our central location allows us to offer tours anywhere in the 1000 Islands, the Historic Rideau Canal, The City of Kingston, and more.Please call for pricing.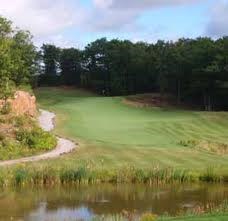 Go Golfing
Golf courses in and around the famous Thousand Islands, Gananoque,Ontario, East, Canada. Several Islands have golf courses offering excellent golf and beautiful scenery at the same time. Of course (excuse the pun) Smuggler's Glen is our favorite course. An outstanding new facility awaits you! Located in the heart of the 1000 Islands, Canada; world famous destination for boating, fishing, vacationing and now golfing. This professionally designed 18-hole championship course features bent grass greens and fairways, brilliant white sand bunkers and fabulous vistas from several highly elevated tees. This newly built (opened July 2005) hidden gem, 6502 yard, championship design, par 72 golf course opened to rave reviews in 2005. The course design takes full advantage of the rugged and beautiful Canadian Shield landscape of mature mixed forests, tall white pines, high granite cliffs and rolling hills and valleys. Smuggler's provides the ideal setting for your next round of golf, tournament event.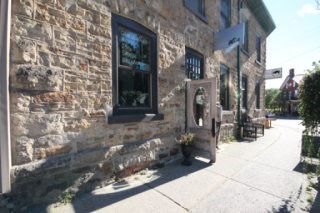 Not what you think you find in a small town- a great shopping experience
Steel doesn't simply sell a mix of wares—apparel, home decor, jewelry, gifts—it provides a range of ideas. We have taken great care to create an experience that will set up the possibility of change and transformation, where the customer's imagination is just as important as the designer's.Flirty skirts and vintage-inspired summer frocks hang alongside tailored trousers with quirky detailing on hand-crafted wood and metal racks, and lace-edged blouses share space with colourful striped tees on old copper pipes. Old meets new, and new ideas break down old, tired patterns of shopping.This carefully-edited collection reflects our commitment to making people feeling comfortable to experiment and explore styles they might normally not think of.
Local Area Recreation Near 1000 Islands / Ivy Lea KOA Holiday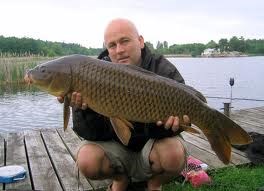 Fishing
The St. Lawrence River offers some of the best fishing in the world. Pickerel, crappies, walleye, muskies and lake trout are just a few of the available angling. Whether its family fishing or sport you can find it here. You may just catch the big one. Our staff can even arrange a fishing guide for you. Go off the shore or rent a boat at 2 of the marinas right across the parkway from the campground. Here is a good guide should you require one:
http://http://www.fishing1000islands.com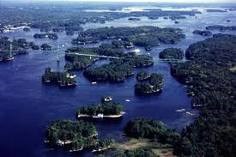 Boating
Bring your own or rent one, as long as you get out in the river. . You can spend days out there but never fear of getting lost, explore the magnificent St. Lawrence National Island Parks. Rental boats are available right across the street at  marinas. Visit Peck's Marina for rental availability. Tell them we sent you!  Traveling to Boldt Castle ? The USA will require a valid Passport for entry to the Castle.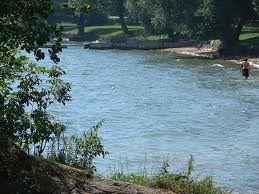 Swimming and Beaches
Deep water swim dock and sand beach can be found at the Gananoque Joel Stone Beach. Grays Beach is just along the Parkway and is great for windsurfers too. Landon Bay Point is a long narrow spit of rock that goes for many metres into the river. Browns Bay Day Park includes a sand beach, change facilities and playground. All the beaches are just a short trip from the campground.

Scuba Diving
Diving in the Upper St. Lawrence River can be many things. From shallow shipwrecks to 200-foot granite walls the waters between Kingston Ontario and Montreal Quebec has everything a fresh water diver could ask for. The river was the freeway of yesterday that the supplies to build two countries were delivered on. Many ships have gone to the bottom, leaving us time capsules to explore. We have two excellent dive companies just across the road from the resort. Some of the best Diving is only minutes from the campground.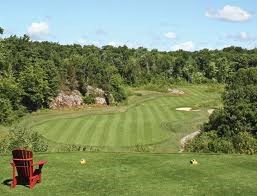 Golfing
With over 40 courses in the area there are plenty of places to lose a few balls and make some divots. Check out: http://www.gananoque.com/golf.html www.gananoque.com/golf.html for some ideas. When in the islands, play on the islands. There are several courses wonderful Island golf courses, that offer great golfing combined with panoramic views. Some are available by car and others only by boat or water taxi.