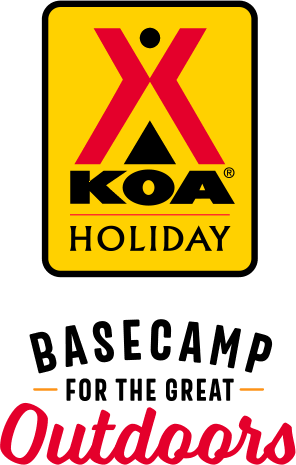 KOA Holiday Campgrounds
Whether you're exploring the local area or hanging out at the campground, KOA Holidays are an ideal place to relax and play. There's plenty to do, with amenities and services to make your stay memorable. Plus, you'll enjoy the outdoor experience with upgraded RV Sites with KOA Patio® and Deluxe Cabins with full baths for camping in comfort. Bring your family, bring your friends, or bring the whole group – there's plenty of ways to stay and explore.
KOA Holidays Feature:
RV Sites with a KOA Patio®
Deluxe Cabins with full baths
Premium Tent Sites
Group meeting facilities
Directions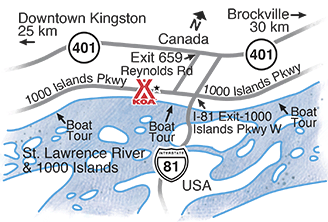 From East or West take Highway 401 Exit 659. Travel South to the T Junction, turn right ( you are now on the 1000 Islands Pkwy traveling West). KOA on your right approximately 3 km. From the United States , coming into Canada on 81 North. Cross into Canada and after bridge you will an option for either 1000 Parkway East ( not this one) or West ( take this one, its the second exit with a sharp curve so slow down before exiting). Travel Westbound 3 miles, KOA on your right.
GPS: N44.361026, W76.020772
Note: some GPS units show us near " Charleston Lake", this is INCORRECT! This will take you down a small country road 45 minutes away from us. Please check carefully and if yours does use map coordinates or call us for assistance.
Get Google Directions
Oct 15, 2021
We booked the Fall Program at this campground. The place is very clean, well kept and well managed. The staff are very friendly and organize many fun activities like ice cream social, BBQ and bingo. There are also many fundraising activities for kids care camp. We highly recommend this campground.
Oct 13, 2021
Great weekend with lots of great people and fun things to do! Thanks for everything!
Oct 12, 2021
Thank you for a great season
Oct 12, 2021
Always a good time when we stay @ KOA
Oct 12, 2021
Very enjoyable.
Oct 12, 2021
The stay was excellent we go every year for the last weekend of the season. The only reason I didn't rate it higher was as few reasons: Sunday dinner they seemed to run out of food by the time our family reached the front of the line which is weird they always have plenty. Lastly on the day we were leaving there was a huge issue with the septic system and was overflowing on our site not great
Oct 12, 2021
Worse experience ever the stuff was very rude and left the campground crying. Don't recommend my worst enemy.
Oct 12, 2021
Very nice campground, had a nice site away from the hustle and bustle of the other sites, very nice people enjoyed it will come back next year.
Oct 12, 2021
Check in smooth, staff very helpful and pleasant. Lots of activities. Campground clean and well cared for.
Oct 12, 2021
This was our first visit to this K0A and we were quite disappointed with it compared to other K0A's that we have been to. Sites were average, water pressure was terrible & no connectable Wi-Fi. We paid $122.36/ night and it definitely wasn't worth it.
Oct 12, 2021
Nothing seems to have changed here in 10 years. You can't get WiFi unless you're at the office, the water pressure is really low and when you dump your tanks (on your site) the system seems to be full. Very disappointed considering the premium price paid to stay here.
Oct 12, 2021
Our stay was great. Very clean, staff was great. Lots of activities for the kids. The only reason I give it a 4 out of 5 is because the the site set ups. They are so close together, which is a normal thing at the KOA, but the firepits were side by side.
Oct 12, 2021
Had to fight with staff to get the camp site we booked. Too much noise and activity.
Oct 11, 2021
I still don't understand what happened there. The staff was super rude and aggressive. My kids left the place crying. They treated us as criminals. I don't recommend this place.
Oct 11, 2021
Was the worst camp of my life. I don't recommend this place to Anyone. The staff is really rude and disrespectful specially with the kids.
Oct 11, 2021
We only stayed there overnight on the way further east, but would love to come back and spend more time. We got in quite late, and called the emergency number and the staff graciously came right away to let us into our cabin. Friendly and clean.
Oct 09, 2021
Late Fall so not many campers but I was delighted to see hot tub and pool still open.....Loved the dog friendly aspect. Camp Host stopped by for a chat which was nice. Office staff very helpful and accommodating.
Oct 07, 2021
Awesome camping
Oct 05, 2021
Great park, the only minor issue we had was the sewage dump pipe on site was too high for our rv to take advantage of, used dumping station on way out of park.
Oct 04, 2021
We love staying at this KOA so much but this weekend was above and beyond all others. The owners of this KOA allowed me and my husband to get married in a quiet and beautiful section in the back of the park. It was perfect. The staff were incredibly helpful and it felt like we were getting married exactly where we wanted to be. Thank you so much to Min, Jun, Jin and Sunny for allowing this event.
Oct 04, 2021
We stayed at one of the full service cabins, it was clean and well equipped. The campground is great for kids and well run, we enjoyed our stay very much !!
Oct 04, 2021
Just our favourite KOA, great staff, nice guests , lots of old farts like us .
Oct 04, 2021
Many activities, gracious staff, fantastic pool
Oct 04, 2021
All the cabins are nestled in the trees. This is an ideal place to relax in peace and tranquility. Staff are helpful and professional. I am quite certain we will meet again.
Oct 03, 2021
Nice clean bathrooms, quiet location. Easy access from 401 and close to amenities.
Oct 02, 2021
Very, very wet.
Oct 02, 2021
Great time awesome staff, very clean. Two suggestions would be move the site numbers to the road, also in our site 130 if possible could the fire pit be moved to the front area on the site, instead at the rear. Provides more privacy and in our opinion a better location. Thanks again - great park and staff. Len and Fraser worked tirelessly and were a pleasure to chat with.
Oct 02, 2021
WE HAD A GOOD STAY - OUR CAMPSITE WAS #125, THE SEWAGE VENT NEXT DOOR WAS OFF GASING QUIT A BIT - NOT VERY PLEASANT. MAYBE THIS COULD BE EXTENDED OR RAISED AS TO DISPERSE THE ODOUR BETTER.
Oct 02, 2021
Always nice to say there. Love the Parkway
Oct 02, 2021
Spaces for 44 ft rvs need to be leveled out more. And some spaces had power lines that were concerningly low. Other than that its a great campground. And password for wifi would be great bc the signal is very weak and non existent mostly.
Sep 30, 2021
Poor entrance, rough road, no attention to landscaping, vent pipe for holding tank needs to be extended (smelly site #123 & 124)
Sep 30, 2021
We were in site 124 beside a sewage holding tank and the smell when anyone dumped was terrible. The vent pipe should be at least another 10 feet higher and maybe the smell would disappear. Other than that we enjoyed our stay.
Sep 30, 2021
Dog friendly, awesome staff, clean cabin. A few minor repairs we addressed in the cabin (which in no way affected our stay) and we noticed maintenance men on their way as we were leaving. Awesome attention to customer wants & needs. We will be back! And, have already recommended to friends.
Sep 30, 2021
Very accommodating and spacious, well-equipped cabin. Staffs were very friendly as well. Public restroom was well maintained and clean.
Sep 29, 2021
Our favourite spot , staff great . Only comment (and its not a complaint) is that the internet is poor and often doesn't work at all . They are , unfortunately stuck with some mockery mouse local internet firm and as such at there mercy. No fault of KOA.
Oct 06, 2021
Fantastic family fun. Heated pull with a slide that my kids went crazy for not to mention all the kid friendly activities the rocket launch was an amazing time. Would definitely recommend staying here for a weekend to anyone.
- John Patenaude on Google
Sep 21, 2021
We booked the 7 person cabin for a weekend and we're very impressed. Clean, spacious, private cabin. The cabin also comes with a private hot tub that fits 4 comfortably. The cabin has two outdoor areas, a deck with a hot tub, bbq, picnic table and chairs. The second one is in the front of the house with a small table umbrella and fire pit area. Would recommend this cabin at KOA. Staff were friendly and attentive to our needs.
- ppatricia3 on Trip Advisor
Sep 18, 2021
Wonderful location and great campgrounds. Will gladly return
- Melanie McAvoy on Google