Directions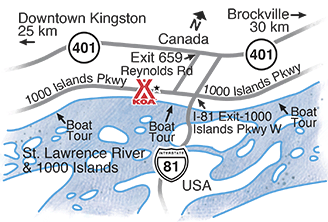 From East or West take Highway 401 Exit 659. Travel South to the T Junction, turn right ( you are now on the 1000 Islands Pkwy traveling West). KOA on your right approximately 3 km. From the United States , coming into Canada on 81 North. Cross into Canada and after bridge you will an option for either 1000 Parkway East ( not this one) or West ( take this one, its the second exit with a sharp curve so slow down before exiting). Travel Westbound 3 miles, KOA on your right.
GPS: N44.361026, W76.020772
Note: some GPS units show us near " Charleston Lake", this is INCORRECT! This will take you down a small country road 45 minutes away from us. Please check carefully and if yours does use map coordinates or call us for assistance.
Get Google Directions
Oct 14, 2020
Staff very accomodating and grounds are clean. Washroom is always clean
Oct 14, 2020
Next time I really recommend always to get full hookup
Oct 13, 2020
We really enjoyed our camping season this year at the Ivy Lea KOA. We can hardly wait until it opens again in Spring 2021. Thank you to the Lee family and we look forward to see you next season!
Oct 13, 2020
The cliquey groups of seasonal guests are loud, unruly, uncensored, rude, and nothing is said to them. I might stay a night here and there, but I'd never register for the Spring or Fall programme again. It's unfortunate as the grounds are lovely and the counter staff are great!
Oct 13, 2020
Awesome, as always. Cant wait to May 2021.
Oct 13, 2020
Very nice campground,beautiful area
Oct 11, 2020
The cabin we were in was very clean and had everything we needed. The camp ground was gorgeous full of fall colors, all the staff we met were very polite and helpful. We will definitely be back next year. Thanks for a great holiday. John & Wendy Cakebread & (the dogs Oliver & Mocha)
Oct 11, 2020
Good location, close to attractions, clean grounds and washrooms. Poor WIFI connection and interruptions when you have signal.
Oct 10, 2020
Very pleasant, the site is quiet and the staff were extremely friendly and helpful. Very clean well laid out with plenty of room and amenities. Close to town and tourism areas.. The only down side we saw was during a walk around the camp was how far some of the areas were from the washrooms (particularly the tenting sites that would not have access to onboard washrooms).
Oct 10, 2020
Everything was perfect! Deluxe cabin, cleanliness, staff, everything!!!
Oct 07, 2020
Customer service was super! They all went above and beyond to help us with our 1st RV trip.
Oct 06, 2020
Very friendly staff, lots of activities and events, very clean cabin. Had a great stay.
Oct 06, 2020
This KOA location is the favorite for us. There are times when something doesn't go well as expected. Our last stay October 4-5,2020 we had an issue. The staff member was closing down the pool at 5:45pm while I was told at my checkin time that pool is open until 6pm. Every minute counts for someone who has only few hours to use the pool between checkin and pool closure. That behaviour is wrong!
Oct 05, 2020
Another wonderful weekend!! Callie is a pleasure to deal with!! We've been very impressed with our trips and the safety precautions in place.
Oct 03, 2020
We stayed in a deluxe cabin. Very clean. Staff friendly and helpful. We come once or twice a year the last several years. Highly recommend. A very peaceful and romantic setting....the cabins in the woods. Had a great stay.
Oct 03, 2020
Clean campground, with friendly staff.
Oct 03, 2020
Stayed at Ivy League 30 Sep -2 Oct 2020. Clean,, relaxing, quiet; we enjoyed the serenity and beauty of the location. It rained hard the night of 1/2 Oct. Our teardrop camper became bogged down on the grassy site. The owner seeing us struggle to get the camper free, came over with his son and their tractor to help us. We will definitely stay there again.
Oct 03, 2020
Un-even site held rain-water, dog-dumpling (a lot) on grasses, fire-pit needs great improvements. We stayed at Niagara Fall KOA days before where found Thousand Island KOA largely inferior.
Sep 30, 2020
We really enjoyed our stay at this campground. Our site had a few small trees on it and was a bit larger than the typical site at a KOA campground. Right outside the campground is a beautiful pathway for walking or cycling that extends for many miles. They have full hookups available, which isn't common in the area due to the Canadian Shield bedrock. We wouldn't hesitate to stay here again.
Sep 30, 2020
As always, we enjoyed it greatly. The Staff is amazing. The campground is very clean. We will return.
Sep 30, 2020
Excellent campground Staff are very helpful.
Sep 29, 2020
Had a great experience. Plenty of activities and quiet to sleep. Campground was clean and well maintained.
Sep 29, 2020
Very friendly staff. Clean sites. Very nice stay. Some noisy campers doing karaoke on mega phones well after the 10pm posted quiet time.
Sep 29, 2020
More can be done to maintain the grounds (i.e. gardening and weeding). The activities should be changed from week to week or at least rotated for variety since they are very repetitive. Stricter rules regarding dogs; three times dogs were loose and came running after our dog. One dog was on such a long leash he could run to the middle of the road. Pool times should be 30 minutes not 20.
Sep 29, 2020
Terrific park for friendly people who have/like kids and dogs. Terrific playground and bouncy pad, nice pool, safe environment, great activities. Really good value if you want to keep your rig there for successive weekends; they'll store it for free. Smart — would mitigate the high cost of nightly rates. Best store we've seen in these Covid-constricted times.
Sep 28, 2020
Great! Place is clean, fun, and enjoyable. Perfect for families.
Sep 28, 2020
Very Clean Restrooms and shower area. Nice quiet private site .
Sep 28, 2020
very nice campground & facilities.
Sep 27, 2020
We enjoyed this park. A full array of amenities were available for the 33' motor home we were using on this trip. Although it was just two of us this time around, we noted fully equipped playground we would be very happy to use for our grandchildren on future trips. We did appreciate the friendly welcoming staff. The only drawback was the closeness of the campsites.
Sep 27, 2020
Fun but a bir expensive
Sep 27, 2020
Personnel à la réception très gentil. Terrain pas très au niveau
Sep 26, 2020
Had a great time.
Oct 18, 2020
Clean and quiet camp site. With decent wifi close to office.
- Mark Dean on Google
Sep 29, 2020
We decided last minute to book a site end of September. So glad we did, we had beautiful weather. We enjoyed our stay, everyone was so friendly. Campground is very clean.
- Cindy Fleming on Google
Oct 02, 2020
Fascinating spot with hilly sites, open & flat areas away from water, great views and clear water but there's the ever present highway and bridge to the US.
- Marshall Johnson on Google