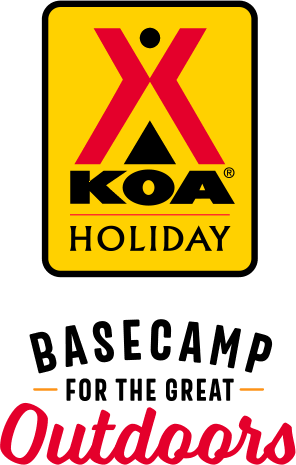 KOA Holiday Campgrounds
Whether you're exploring the local area or hanging out at the campground, KOA Holidays are an ideal place to relax and play. There's plenty to do, with amenities and services to make your stay memorable. Plus, you'll enjoy the outdoor experience with upgraded RV Sites with KOA Patio® and Deluxe Cabins with full baths for camping in comfort. Bring your family, bring your friends, or bring the whole group – there's plenty of ways to stay and explore.
KOA Holidays Feature:
RV Sites with a KOA Patio®
Deluxe Cabins with full baths
Premium Tent Sites
Group meeting facilities
Directions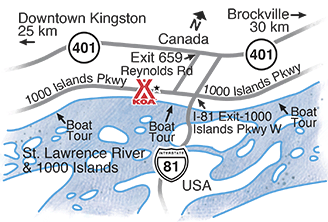 From East or West take Highway 401 Exit 659. Travel South to the T Junction, turn right ( you are now on the 1000 Islands Pkwy traveling West). KOA on your right approximately 3 km. From the United States , coming into Canada on 81 North. Cross into Canada and after bridge you will an option for either 1000 Parkway East ( not this one) or West ( take this one, its the second exit with a sharp curve so slow down before exiting). Travel Westbound 3 miles, KOA on your right.
GPS: N44.361026, W76.020772
Note: some GPS units show us near " Charleston Lake", this is INCORRECT! This will take you down a small country road 45 minutes away from us. Please check carefully and if yours does use map coordinates or call us for assistance.
Get Google Directions
Jul 21, 2021
I reserved camping site #21 from July 6th to July 20th. Upon our arrival our site was filthy. There were weeds, garbage, and tree branches scattered on the brick patio, which I ended up cleaning. The swimming pool area and the kids hot tub were dirty. The owners who took over the KOA appear to be negligent regarding upkeep. I do not know if I will ever go back or recommend this KOA.
Jul 21, 2021
I rented cabin DC2 for our son's family from July 12th to July 18th. Air conditioner failed to work for 4 days and the owners of the KOA failed to fix the problem. It was very hot and very uncomfortable for my son's family, especially the 1 year old, 4 yr. old and 6 yr. old. We received no apology from the owners and their attituded was despicable. I am extremely disappointed.
Jul 21, 2021
Very nice place, and nice staff
Jul 20, 2021
Site 73 was perfect for what we were looking for. Staff was friendly. We were with people that had been there in the past and they noticed that the flower beds/grounds, the pool cleaning and minor other things are not at the same standard as the previous owners. Its was not dirty by any means, just not the same standard.
Jul 20, 2021
Pourquoi vous chargez si cher pour un campeur cyclisme comme moi qui utilise 5 x 6 pieds de terrain sans services extras, où il n'y a même pas d'abris (en cas de pluie) et qu'en plus vous exigiez de réserver 2 nuits si on arrive le samedi. ou vendredi. Au total j'ai couché 2 nuits et ça m'a coûté 188$ Trouvez-vous ça normal ? Je suis guide pour Velo Quebec et celà ne vous fera pas une b
Jul 20, 2021
Great activities for the kids. The tenting site were really nice and check in was a breeze! Only improvement would be having more garbage bins throughout the campground and another washroom (even an outhouse) on the back of the property for tenting sites to have a closer option.
Jul 20, 2021
Très agréable! Service de qualité ! Camping très bien entretenu et sanitaire très propre ! Les piscines sont propres et très belles ! L'emplacement de la tente était également parfait !
Jul 20, 2021
To much expensive and very small place … toi much close…
Jul 19, 2021
Great resort. Friendly, amazingly clean.
Jul 19, 2021
Beautiful and well maintained park!! Staff were great and always happy
Jul 19, 2021
We appreciated the staff providing us with another site, as our sewer and electrical were too far apart to use both. Check-in was easy, washrooms super clean and there was a great system in place for social distancing in the hot-tub/pool area. My only suggestion is to better inform guests about the scheduling for these areas and many others were trying to use the hot tub during our scheduled time.
Jul 19, 2021
Very nice place to take the family. Lots of kids around and plenty for them to do.
Jul 19, 2021
Grand site privé, et camping très bien entretenu
Jul 18, 2021
Awesome pools and location
Jul 18, 2021
RV Park appears well run with friendly staff & represents the best one would expect from a first class park.
Jul 18, 2021
Votre personnel très gentil et veux aider , nous reviendrons!
Jul 18, 2021
Were there 8 days - Far too expensive- No Bathhouses / showers ( What !) Our site was in poor shape, not cleaned up , leaves from last fall . BBQ coals in the way, very near our door. Picnic table in the weeds far away. Soggy unusable grassed area , Think it was a full time site at one time. We never saw the staff , Wi Fi was down 4 of the 8 days , no escort to our site . Not great ..
Jul 18, 2021
The park rates are overpriced and the upgraded site photos online are misleading. There were 15 minute time slots for the pool use and the kids rental ride on cars were not available because there were only 3 in the park and someone rented them for the day. I would not recommend this place and will not return. It was disappointing.
Jul 18, 2021
Staff was super friendly, facilties were clean! Our kids enjoyed their time there, going to the playground, pool and bouncing pillow. The only negative was the two bags of wet wood we got.
Jul 17, 2021
Great stay, love the pools and activities! Wish the wifi worked, had a really hard time getting a connection. The public areas were clean and well maintained.
Jul 17, 2021
Our stay was nice, wish the gardens were maintained better and swim times were longer. Overall really enjoyed the park and would return again
Jul 17, 2021
Very impressed with wifi reception. Best of any campground. Everything very well kept. Only downside is the price. As all KOAs. more expensive than most other campgrounds with comparable facilities.
Jul 15, 2021
There are some nice sites in this campground unfortunately ours was not one of them. Our site was small but at least we had enough room around our firepit, whereas the sites on either side of us, the firepits were unuseable for a family. Flower gardens were unkempt & needed much attention. Lane way into park had too many potholes. On a positive note our grandkids enjoyed the activities.
Jul 15, 2021
Very nice sites with trees, plants and flowers to separate from neighbouring site.
Jul 14, 2021
Clean Kabin and well serviced by staff. We would recommend screen doors on Kabins.
Jul 14, 2021
We had a great weekend at Ivy Lea KOA. Lots of activities and the beautiful landscape of the surrounding area makes us wanting to go back there.
Jul 14, 2021
Friendly and helpful staff! Campground was very clean and well kept.
Jul 13, 2021
Loved the cabin, it was very clean inside. The hot tub was an added bonus. I would have loved a list of what was provided (have always had one at other KOAs) it would have been easier for packing and then we wouldn't have been without coffee all weekend. The one staff with the curly blonde hair was awesome. I found the other store staff rather lazy hanging out in the office. We Will be back �
Jul 13, 2021
Staff was amazing as usual,That's why we booked next week at Kingston KOA then back to Ivy lea KOA.
Jul 13, 2021
terrain de camping très propre bon service à l'accueil par contre assez $$$ et aucune surveillance après 22h donc ns avons été déranger par le bruit tard dans la nuit
Jul 13, 2021
Wonderful family campground!!! From staff to activities alike - everyone is having a great time. Daily activities for children, which keeps them busy, big park and jumping pillow for hours of fun! When your kids are happy, parents are happy:)
Jul 13, 2021
Very enjoyable stay!!
Jul 19, 2021
Très bon service client ! Belles piscines avec un spa pour adultes. Sanitaires propres et camping bien entretenu. Notre emplacement tente sans service était également très bien !! Je recommande !
- Eloïse GARCIA on Google
Jul 17, 2021
Amazing place
- Omar Hashim on Google
Jul 18, 2021
Great time at 1000 Islands Ivy Lea this weekend. Clean facilities and well managed. System for registering for pool time was easy and never felt like you were on top of eachother. The back in sites are a little too close for my liking, but beyond that, great location. 👍
- Anne on Google