Alert
Dear camper

The health and safety of our guests is top priority 1000 Islands Ivy Lea KOA


During the Ontario re-open stage 3
-
The Hot tub remain closed

Void any high chance to contact event

Pools are open with restriction - Please sign up for guest service
The washroom and shower facility is open with restriction

While in park:

limited social gathering in one place (10 people social circle)

Keep the social distance with other camper

Mask require*
*Public indoor area require to wear the Mask
**Some Events require to wear the Mask

If you have question or inquire
please Contact us

E-mail: ivylea@koa.com
Phone: 613-659-2817 (Sunday to Thursday 8:30 am to 6 pm, Friday and Saturday 8:30 am to 9:00 PM)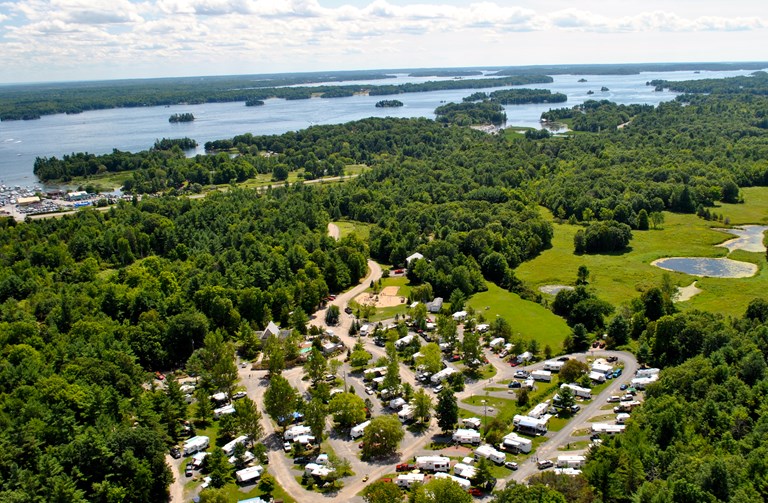 1000 Islands / Ivy Lea KOA Reviews
Directions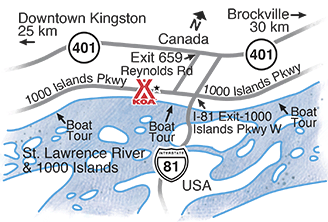 From East or West take Highway 401 Exit 659. Travel South to the T Junction, turn right ( you are now on the 1000 Islands Pkwy traveling West). KOA on your right approximately 3 km. From the United States , coming into Canada on 81 North. Cross into Canada and after bridge you will an option for either 1000 Parkway East ( not this one) or West ( take this one, its the second exit with a sharp curve so slow down before exiting). Travel Westbound 3 miles, KOA on your right.
GPS: N44.361026, W76.020772
Note: some GPS units show us near " Charleston Lake", this is INCORRECT! This will take you down a small country road 45 minutes away from us. Please check carefully and if yours does use map coordinates or call us for assistance.
Get Google Directions
Aug 06, 2020
We had a lovey week and great holiday. Ivy Lea did a great job even under the restrictions due to covid 19. Will see you again soon.
Aug 06, 2020
Great place for kids - even on rainy days - plenty of activities
Aug 06, 2020
Beautiful grounds and an enjoyable stay.
Aug 06, 2020
We are satisfied with the friendly staff,convenient facilities,etc.
Aug 06, 2020
It is a beautiful park and the staff are very friendly are always there to help. Thank you for a super fun weekend
Aug 06, 2020
We met up with family and camped for 5 days. the park is very clean and supplies at the store are fully stocked. The dog park is great and the kids playground is pretty impressive. The only down side of our visit was the layout of the campsites. our neighbors were 10 feet away and our doors were facing each other, so there was zero privacy.
Aug 04, 2020
Mauvaise expérience en ce qui me concerne. Site pas adapté pour le genre d'équipement que je possède, motorisé de 34` ( site #20). Service WiFi très médiocre. Piscine et animation de première classe et terrain en général bien entretenu.
Aug 04, 2020
Great vaca , very well organized even with the COVID restrictions , we will definitely be back year after year!
Aug 04, 2020
The cabin we stayed in was cozy. Washrooms/showers were close by and cleaned often by the campground staff. Very efficient way to allow every family use of the pool area. Daily activities planned for younger children and different age groups. Enjoyed our stay and would definitely recommend this campground to others.
Aug 04, 2020
It was very disappointing that we had to have fires out by 10pm because of a fire ban...which when I looked it up there wasn't a fire ban. It doesn't get dark until 830-9pm. This doesn't give you much time to enjoy a fire.
Aug 04, 2020
It was a great weekend. Only comment would be to have staff members on hand to clean the pool . After the rain/wind storm on Sunday a lot of debris from trees floating in pools did not make for a pleasant swim. Ideally they should have staff cleaning it.
Aug 04, 2020
It was perfect in every way. Very good covid regulations and the campground was very clean. The only thing I'd modify is the 15 minute pool sessions to maybe 20 mins. 15 goes by way to fast. See you again soon.
Aug 04, 2020
small sites, overgrown trees making it difficult to drive thru, no upkeep or maintenance. It was obvious it hasn't been updated for quite awhile
Aug 04, 2020
Accommodating Professional Friendly Very Clean Washrooms Great Sites
Aug 04, 2020
Quick check in. Clean. Rules were explained and posted. I wish when the staff came around on carts they would grab the larger garbage bags as it was hard to dispose of. It seemed a lot more rocky than i expected therefore tent set up was difficult. Overall the kids had a good time at the pool and doing activities.
Aug 04, 2020
Lovely location, amenities are awesome, but the at least for July 2020, the pool was almost impossible to access for more than 30 minutes per 40 degree summer day, and on the 4th day of our stay - not even once. This is obviously frustrating. We were also very disappointed to see many sites have ultra cheap plastic and metal picnic tables, of which screws would fall out throughout our stay.
Aug 04, 2020
We really enjoyed our stay. We loved how dog friendly and kid friendly it was even though we didn't travel with kids. Also loved your activities ie: rocket launch, bingo, nightly popcorn. If I had to make any suggestions it would be to throw in a couple of adult activities besides the Kids activities as not all of us travel with kids. Maybe an adult bingo or adult only swim. Loved your KOA
Aug 04, 2020
As expected had a pleasant stay
Aug 04, 2020
Was not impressed. Paid premium price. Camp fires had to be out by 10 pm, that was complete bullshit. Was right on a site next to one of the busiest roads on the grounds. Staff constantly driving around on their golf carts, very annoying. Pool had to be booked at least 12 hrs on advance, to get 15 minutes. Will not be returning and will not recommend to anyone. The most expensive .
Aug 04, 2020
We stayed at KOA because they are child friendly. When your Grandson says to you Nanny this is the best weekend ever. You you have succeeded. Hats off to Ivy Lea KOA
Aug 04, 2020
The wifi didn't work for us - we emailed the team about it. The dog park smells really bad. Guests were smoking marijuana beside the kid's park - I understand that it's legal now but maybe there should be no smoking signs by kid areas. The lots are too close to one another. The kids programming though was very good.
Aug 04, 2020
We were very dissapointed by the fact that the WIFI was not working Saturday evening and Sunday morning. This is why we decided to leave one day earlier...Water pressure was also very low at our campsite.
Aug 04, 2020
We enjoyed our time camping and although, our campsite got washed out you were able to accommodate us in a delux cabin in an expeditious manner within our budget. The bathroom facilities and cabin was immaculate. Thank you! The wi-fi was lacklustre but, that is to be expected while camping. We definitely recommend KOA Thousand Islands to our family and friends.
Aug 03, 2020
Our stay was great. The pool schedule you had worked great and we felt safe our entire stay. Having the pool almost to ourselves worked out great! Thank you! Your staff were polite and very nice!
Aug 03, 2020
Very nice, would like to visit when the park is back to normal from the corona virus. I would like to thank Val from your staff, she was very helpful and a pleasant person to communicate with.
Aug 03, 2020
Overpriced for what you get. I understand with covid their are precautions but with 15 to 30 min is pool is absurd. We could not get a time to use the pool this weekend because it was full. Also 10 pm curfew for campfires is too early. Internet was terrible. Overall for the amenities you were offering and lack of being able to use, it was not good value for what you were paying.
Aug 03, 2020
Too congested! Too many aggressive dogs!!! Constantly barking anytime someone walked by! No space to breath and enjoy the outdoors!! We were stacked like sardines! The neighbor farted and belched and I heard it!!! Very very disappointed!!!
Aug 02, 2020
This place is fantastic. Very busy. Lots of people with happy faces. We canceled our Algonquin trip and came here instead. I emailed them and asked them for their best nature site. We had T2. Complete with rocks in the forest and cute chipmunks visiting. The shower are beautifully decorated and clean with shampoo just in case you forgot yours. There are 2 pools and great water slide. 100%!
Aug 02, 2020
Nice campground!
Aug 02, 2020
Very pleasant. Propre very nice
Aug 01, 2020
It was great!
Aug 01, 2020
Expensive for what the campground is offering Beau terrain mais dispendieux pour les services offerts However location is great if you want to do watersport in the thousand island
Aug 01, 2020
Our stay was fine. The primary issue was the lack of basic precautions for coronavirus spread. The only hand sanitizer we saw was at the check in counter. It was also the only are where masks were required. At KOA Cardinal, there was hand sanitizer stations at the pool, the play park, all washroom facilities as well as the office. they also required masses for the play areas.
Aug 01, 2020
Loved the location of the KOA Ivy Lea! Everything was great! The only thing I'd say is that they advertise that they have bike rentals. We had brought a friend with us who didn't have a bike and were counting on that. They have these little cart things for kids, but not bicycles. That should be addressed!!
Aug 01, 2020
Everyone did a great job trying to keep everyone safe due to covid 19. The staff kept the washrooms very clean and tidy. The park was clean and beautiful. The only thing I was disappointed in were the other campers who thought it was ok not to wear their masks in the wshrooms. Big 2 thumbs up.
Aug 01, 2020
Enjoyable stay but starting to get a little shabby. Found it pricey for what you get. No complaints, just suggestions.
Aug 01, 2020
The staff are very friendly, the washrooms clean, but the sites for tents are small. There ok if you're couple camping though and they are extremely secluded and private. My partner isn't a camper, but he did it for me as he knows I love it and enjoyed being at one with nature as well as the town of Gananoque (very historical). Surprisingly, he says he'd do it again!
Aug 01, 2020
Un peu trop cher par contre 107$ par nuit c'est trop cher
Jul 31, 2020
Everything was clean and the staff was super friendly and helpful.
Jul 31, 2020
Greatly enjoyed our stay. Staff is amazingly helpful and respectful. Look forward to our next visit.
Aug 10, 2020
What a great campground tons to do for kids
- 50ten on Google
Aug 07, 2020
Always lots to keep the kids busy at KOA.
- Chris Kidney on Google
Aug 05, 2020
We recently stayed in the campground and although it may be considered rather expensive considering the COVID-19 limitations (limited activities) the friendliness and professionalism of the staff, particularly Clifford, made it a great experience. We had an issue and Clifford and Leonard went above and beyond expectations to help us. When I told Clifford that I could not thank him enough, he said that he was just doing his job. Huge kudos to Clifford and Leonard for their exceptional customer service and professional know how. In addition, the campground was very clean, washrooms were awesome and all employees were courteous.
- K447JAbarbaraj on Trip Advisor

1000 Islands / Ivy Lea KOA
Open May 1 - October 12
514 1000 Island Parkway
Lansdowne, ON K0E 1L0 Canada
Check-In/Check-Out Times
RV Sites, Tent Sites
Check-in: 1:00 pm, Check-out: 11:00 am
Accommodations
Check-in: 2:00 pm, Check-out: 10:00 am
1000 Islands / Ivy Lea KOA
Get Google Directions

© 2020 Kampgrounds of America, Inc.