Alert
July 7th

The total Fire ban effect on this area.

Dear camper

The health and safety of our guests is top priority 1000 Islands Ivy Lea KOA

For safety, following amenities remain closed
-Playgrounds, play structures (jumping pillow) and outdoor fitness equipment will remain closed.
-Hot tub and water slide are remain closed

-removed with high chance to contact event

Pools are open with restriction - Please sign up for guest service
washroom and shower facility is open with restriction

While in park:

limited social gathering in one place. Maximum 10 people
Keep the social distance
Mask require on register and store area

If you have question or inquire
please Contact us

E-mail: ivylea@koa.com
Phone: 613-659-2817 (Sunday to Thursday 8:30 am to 6 pm, Friday and Saturday 8:30 am to 9:00 PM)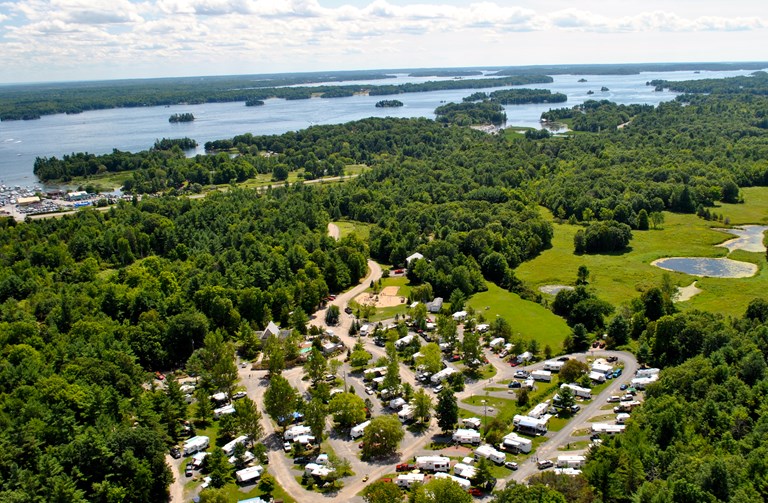 1000 Islands / Ivy Lea KOA Reviews
Directions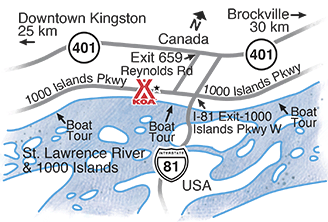 From East or West take Highway 401 Exit 659. Travel South to the T Junction, turn right ( you are now on the 1000 Islands Pkwy traveling West). KOA on your right approximately 3 km. From the United States , coming into Canada on 81 North. Cross into Canada and after bridge you will an option for either 1000 Parkway East ( not this one) or West ( take this one, its the second exit with a sharp curve so slow down before exiting). Travel Westbound 3 miles, KOA on your right.
GPS: N44.361026, W76.020772
Note: some GPS units show us near " Charleston Lake", this is INCORRECT! This will take you down a small country road 45 minutes away from us. Please check carefully and if yours does use map coordinates or call us for assistance.
Get Google Directions
Jul 12, 2020
HELLO, There is only two problems at your KOA: 1- Dogs are allowed, so many of them bark at all hours. Please do NOT allow dogs at your KOA. 2- Bugs. Please get rid of the swamp (dry it) at the West side of your camping. I know you try to hide it from the access of the trails, but just look at Google Earth and we can all see it. Dry it ASAP, there is enough water at the St-Laurence river 500 m.
Jul 06, 2020
It was really good but I thought you guys are overbooking during this difficult times of corona. By the end of our stay the park was completely full and the facilities were nowhere near clean! Also....I would recommend investing in a bigger pool because when things are back to normal, there is no way that accommodates the guests. It is a beautiful place...great location. I would certainly go back.
Jun 25, 2020
Excellent staff and amenities.
Sep 03, 2019
Great friendly staff, wonderful activities all weekend long.
Aug 27, 2019
Nice KOA Clean operation, friendly staff , enjoyed our tenting experience, I would return ! Only complaint was the alcohol consumption at the adult hot tub , no food or beverage allowed might work �Ϧ
Aug 21, 2019
We enjoyed our 5 days there. Staff was helpful and pool was a hit with the kids. The only surprise was the tenting sites. When we selected them we expected they would be bigger and it was difficult to peg in cause of the many rocks. This was not clear to us when speaking to staff. Next time we will ask more questions before booking.
Aug 13, 2019
Très beau camping, bien situé, calme et bien entretenu!
Jul 29, 2019
The main thing I look for in a campground is a pool as my daughter loves to swim...the pools here unfortunately are way too small and crowded for the number of guests. Lots of drinking happening at the pool as well. Very expensive $65 for a small tent site is way too much, should be $45 max. Will probably not return.
Jul 26, 2019
Bien agréable, les enfants ont bcp profité, néanmoins le terrain attribué était vraiment petit comme qq autres. Difficile de placer la tente
Oct 11, 2018
Awesome yet again
Sep 28, 2018
We booked for a tent site. The first site we were given, you couldn't put a 6x6 tent on it! It's only meant for tent trailers & trailers. There weren't very many of the "tent" sites meant for actual tenting. Some up on a rock face! Since we arrived the day before the big rush for the long weekend, we managed to get a switch, but if we had come later, we would have been SOL and NOT happy
Sep 11, 2018
beaux sites pour camping en tente. beaucoup d'activités offertes.
Sep 10, 2018
We stayed 2 nights in a Cabin and 2 nights in a tent. We loved both. The staff were very helpful and friendly. We loved the pool area. One comment I would make is to make a post about the pool time closing as it changed from night to night. If there is somewhere for people to check so they know when it will close on a specific day.
Sep 10, 2018
Ryan greeted us and was very thorough in explaining all the features and activities at the campsite. We were there for a doodle dog reunion and the staff went out of their way to make sure we were taken care of and helped us setup and takedown. The pool and hot tub were icing on the cake. We truly enjoyed our stay.
Sep 04, 2018
We loved our campsite very confortable!! Our dog was able to play with other dogs! The location is great close to several awesome places! I would change the showers curtains!
Sep 02, 2018
Washrooms were messy, no shelter for tent camping
Aug 28, 2018
It was great and lots of activities for kids. Great park for kids and the jumping pillow was awesome. Pools are very clean and kids. Only negative, there should be toilets At the end of the camping, close to the tents and group sites.
Aug 28, 2018
It's just like a resort!!! We loved camping here!
Aug 27, 2018
I came back yesterday and already recommended this campground to 2 friends! The staff was so friendly and helpful, the washrooms and showers were very clean, the main lodge is close from anywhere really, a lot of activities organized every day (we enjoyed some free AND delicious hot-dogs) and the fact that they are pet friendly is a + !!! Honestly, everything was great, I am now a KOA fan!!! :)
Aug 27, 2018
Kids loved it! Great place for family camping.
Aug 16, 2018
We had a group of 12 kids and 5 adults on 3 sites and they were fantastic! The sites themselves had a ton of room. The staff we dealt with were all fantastic! We had all brought shirts to do tie-dye, which we learned was not scheduled until the day after we checked out...the staff went above and beyond and set the tie-dye station up a day early so the kids wouldn't be disappointed!
Aug 10, 2018
First time camping at a KOA. For an unserviced tent site, the prices were a bit higher than expected. I would have liked to seen grates on the fire pits. Pool was great during the heat wave. Would definitely recommend to have more garbage stations.
Aug 05, 2018
Great campground, nice amenities. I would suggest adding a few toilets at the far end, since the main block can be quite far. Thank you !!
Aug 05, 2018
just stayed one night, but the facility was perfect. We were adults using the 1000 islands for cycling to and from Kingston. Stayed on a tent site- in the woods- no electricity site- felt like a provincial park but...with a hot tub feature! the bathrooms were very clean- showers were great- staff very friendly and helpful.
Aug 02, 2018
I just found the wood extremely expensive. But I did like all of the activities that we're available for the children.
Jul 30, 2018
We had a great time. The desk staff was friendly and helpful, and the grounds were clean. The kids had a ball in the playground, and in the pools. I'm sure we will be back soon!
Jul 03, 2020
Great experience with the family
- Daniel Colque on Google
Jul 02, 2020
Very friendly staff and campers. Quiet at night and very clean. Lots of activities for the kids. We stayed 6 nights and loved it. Only complaint is that the WiFi was very intermittent.
- Ryan Sell on Google
Jul 13, 2020
Ce Koa n'est pas très grand, mais vraiment très agréable. Belles installations, beaucoup de beaux grands arbres matures. Plusieurs terrains sont très grands. Nous avions le terrain 82 avec patio, table style bistro, chaises, parasol et table picnic.
- Gina C on Google

1000 Islands / Ivy Lea KOA
Open May 1 - October 12
514 1000 Island Parkway
Lansdowne, ON K0E 1L0 Canada
Check-In/Check-Out Times
RV Sites, Tent Sites
Check-in: 1:00 pm, Check-out: 11:00 am
Accommodations
Check-in: 2:00 pm, Check-out: 10:00 am
1000 Islands / Ivy Lea KOA
Get Google Directions

© 2020 Kampgrounds of America, Inc.