Alert
July 7th

The total Fire ban effect on this area.

Dear camper

The health and safety of our guests is top priority 1000 Islands Ivy Lea KOA

For safety, following amenities remain closed
-Playgrounds, play structures (jumping pillow) and outdoor fitness equipment will remain closed.
-Hot tub and water slide are remain closed

-removed with high chance to contact event

Pools are open with restriction - Please sign up for guest service
washroom and shower facility is open with restriction

While in park:

limited social gathering in one place. Maximum 10 people
Keep the social distance
Mask require on register and store area

If you have question or inquire
please Contact us

E-mail: ivylea@koa.com
Phone: 613-659-2817 (Sunday to Thursday 8:30 am to 6 pm, Friday and Saturday 8:30 am to 9:00 PM)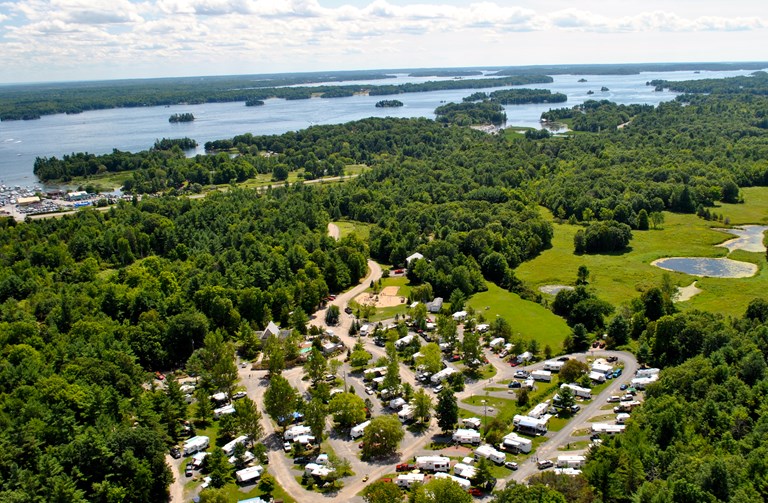 1000 Islands / Ivy Lea KOA Reviews
Directions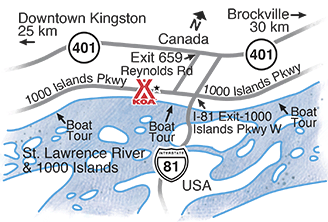 From East or West take Highway 401 Exit 659. Travel South to the T Junction, turn right ( you are now on the 1000 Islands Pkwy traveling West). KOA on your right approximately 3 km. From the United States , coming into Canada on 81 North. Cross into Canada and after bridge you will an option for either 1000 Parkway East ( not this one) or West ( take this one, its the second exit with a sharp curve so slow down before exiting). Travel Westbound 3 miles, KOA on your right.
GPS: N44.361026, W76.020772
Note: some GPS units show us near " Charleston Lake", this is INCORRECT! This will take you down a small country road 45 minutes away from us. Please check carefully and if yours does use map coordinates or call us for assistance.
Get Google Directions
Jul 11, 2020
We were very impressed with the care that owners and staff took to ensure everything was frequently cleaned and that social distancing and reduced numbers in the pool was followed. I felt completely safe and in good hands. Thank you
Jul 09, 2020
First time camping with our pet. Cabin was clean but tv did not work . Loved the pool and most of the staff were friendly. Things we didnt like : we advise the front desk night before we departed that we were leaving early and was told to leave the key in mailbox. Got 2 calls at home we left without notifying them and we didnt pay for certain items in store when we did with office manager.
Jul 09, 2020
Friendly staff and clean cabin!
Jul 09, 2020
I stayed in a deluxe cabin for 2 nights. The cabin was very clean and well equipped. Pool visits needed to be scheduled but it was well organized. Another great stay at KOA Ivy Lea!
Jul 01, 2020
Great fun great people had a good time
Jun 27, 2020
It was wonderful ! The cabin was fresh clean and perfect
Jun 27, 2020
Was a very nice stay. Very nice, clean facility. Staff were helpful and kind. Due to COVID, most activities closed, but we were aware of this before staying. Will hopefully come back when normal scheduling resumes.
Jun 27, 2020
Very friendly staff. Clean amenities. Quiet. Dog friendly. We very much enjoyed our stay �ϋ�
Jun 24, 2020
We loved the location and the cabin we stayed in was in the woods. Everyone was so helpful and friendly. The pool was fantastic and the ids didn't want to leave. It is also close to the bike trail and Gananoque. Everything was clean and well maintained.We will definitely go back.
Jun 22, 2020
stayed in cabin c5 was very very clean and exceeded my expectations...the private hottub was a big plus for my family....we will be back for sure..the park staff were very friendly
Jun 16, 2020
Nice time staying in a delux cabin. Staff were friendly and kids had a great time!
Jun 16, 2020
Cabins were well kept and clean. Grounds well maintained. Will definitely return.
Oct 14, 2019
We found the cabin that we rented for our mid week stay to be very comfortable. The facility was clean and we especially enjoyed the heated pool & spa. We hope to come back next year.
Oct 12, 2019
THE CABIN WAS BETTER THAN A MOTEL WE WILL GET TO RENT ONE AGAIN IT WAS WONDERFUL AND THE STAFF WAS GREAT TOO CLIFF AND NINA MALLETTE
Oct 09, 2019
I've been there multiple times before with the old owners but the new ones have taken the fun out of it. Prices have gone up on everything, rules have changed, not as clean, not friendly, pools not as hot etc.... my family and friends will not be returning to this KOA till changes are made for the better .. Thanks Shawn
Oct 08, 2019
I can't say enough great things about the employees. They bend over backwards for everyone, especially children and I love seeing the same employees year after year. It is a real family atmosphere.
Oct 07, 2019
My two adult sons and I had a great weekend at your KOA. Weve been staying with you for the chocolate weekend for the last few years and Im sure we will be back again. Thanks
Oct 06, 2019
The host staff were very friendly and very helpful. Great stay. Really enjoyed the pools and hot tubs. Beautiful weather and temperature. Very enjoyable stay in the cabin. Close to all the amenities.
Sep 23, 2019
This is an awesome place to go and my kids adore it
Sep 23, 2019
Amazing to say the least!
Sep 21, 2019
we have stayed here 3 times and will be back. Staff is so nice and very helpful.
Sep 20, 2019
No problems was a great stay
Sep 20, 2019
We stayed 4 nights in one of the cabins and it was excellent. Very helpful staff!
Sep 16, 2019
We have come here for many years. Great campsite. So many activities for the kids. We stayed in a cabin. Very clean and comfortable. cannot wait until next year. we are already making our plans to return at least 2 more times next year.
Sep 09, 2019
I'm not sure if we would rent the hot tub cabin again. Hot tub wasn't as big as we thought it would be or hot and the lights outside didn't work. My husband had to change them with some from the kitchen so the kids could see and safely use the hot tub on our first night. Other than that, the kids enjoyed the stay and all the activities for the weekend.
Sep 09, 2019
We had a great weekend. Our son had a blast with all the activities and the large playground. I would also like to highlight Jennifer, Min and Riley that welcomed us and helped make our weekend great!
Sep 05, 2019
Le personnel a été très courtois, les installations très propres, le site est très beau.
Sep 05, 2019
Been camping here now for 5 consecutive years and this is the 1st year under new management - not impressed with bathroom cleanliness Jury is still out but general consensus is thumbs down. Never felt like I was being gauged before at any of the many KOAs I've stayed. Ivy Lea KOA had overpriced, stale-dated hotdog buns (3 days past due date) and ceramic KOA cups costing $13. Quite disconcerting...
Aug 31, 2019
We had a great stay -at our Kabin. The kids didn't want to leave! The only complaint at our site (Kabin C1) was the light at the back door of the store that shone in our faces as we enjoyed the campfire at night. Some sort of screen would make a big difference.
Aug 31, 2019
Wifi is terrible. Kept bumping us off...and we had a cabin at the front with no trees! Campground a bit tired in some areas...garden areas need upkeep...outside trim in our cabin rotten.
Aug 28, 2019
We stayed in Kabin DL1 and it was super clean when we arrived. Discount given when hot tub was down for 2 days as well as when we had to leave early due to our dog being sick. Staff we exceptionally friendly and helpful. You can tell they like their job! Fire wood was dry and perfect for burning. Couch was uncomfortable and BBQ hard to tell dial settings though. Great stay! Thanks!!
Aug 25, 2019
Everything was great. Very clean. Just felt the cabin for 6 was a little small for 6 adults. Next time will book the bigger cabin for 7. Store didn't have as many treats and things we needed as well. Still had a great time!
Aug 19, 2019
1. Sofas are very old and dusty. 2. AC vents are not clean. Furnace door vary dusty 3. staff are very helpful.
Aug 12, 2019
We had a great time at the KOA with 9. children aged 9 to 18 . A little earlier opening for the pool would be good and the driers went on the fritz but otherwise we all had a great time.
Aug 12, 2019
Kids had a blast with all the activities.
Jul 03, 2020
Great experience with the family
- Daniel Colque on Google
Jul 02, 2020
Very friendly staff and campers. Quiet at night and very clean. Lots of activities for the kids. We stayed 6 nights and loved it. Only complaint is that the WiFi was very intermittent.
- Ryan Sell on Google
Jul 13, 2020
Ce Koa n'est pas très grand, mais vraiment très agréable. Belles installations, beaucoup de beaux grands arbres matures. Plusieurs terrains sont très grands. Nous avions le terrain 82 avec patio, table style bistro, chaises, parasol et table picnic.
- Gina C on Google

1000 Islands / Ivy Lea KOA
Open May 1 - October 12
514 1000 Island Parkway
Lansdowne, ON K0E 1L0 Canada
Check-In/Check-Out Times
RV Sites, Tent Sites
Check-in: 1:00 pm, Check-out: 11:00 am
Accommodations
Check-in: 2:00 pm, Check-out: 10:00 am
1000 Islands / Ivy Lea KOA
Get Google Directions

© 2020 Kampgrounds of America, Inc.