Alert
July 7th

The total Fire ban effect on this area.

Dear camper

The health and safety of our guests is top priority 1000 Islands Ivy Lea KOA

For safety, following amenities remain closed
-Playgrounds, play structures (jumping pillow) and outdoor fitness equipment will remain closed.
-Hot tub and water slide are remain closed

-removed with high chance to contact event

Pools are open with restriction - Please sign up for guest service
washroom and shower facility is open with restriction

While in park:

limited social gathering in one place. Maximum 10 people
Keep the social distance
Mask require on register and store area

If you have question or inquire
please Contact us

E-mail: ivylea@koa.com
Phone: 613-659-2817 (Sunday to Thursday 8:30 am to 6 pm, Friday and Saturday 8:30 am to 9:00 PM)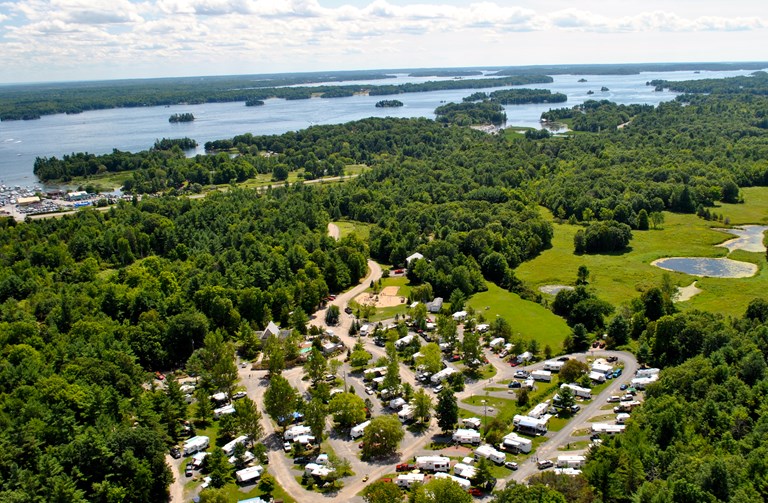 1000 Islands / Ivy Lea KOA Reviews
Directions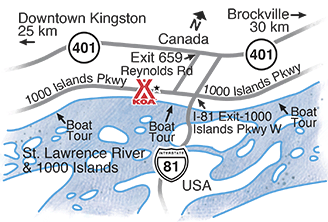 From East or West take Highway 401 Exit 659. Travel South to the T Junction, turn right ( you are now on the 1000 Islands Pkwy traveling West). KOA on your right approximately 3 km. From the United States , coming into Canada on 81 North. Cross into Canada and after bridge you will an option for either 1000 Parkway East ( not this one) or West ( take this one, its the second exit with a sharp curve so slow down before exiting). Travel Westbound 3 miles, KOA on your right.
GPS: N44.361026, W76.020772
Note: some GPS units show us near " Charleston Lake", this is INCORRECT! This will take you down a small country road 45 minutes away from us. Please check carefully and if yours does use map coordinates or call us for assistance.
Get Google Directions
Sep 04, 2018
Bon accueil, service impeccable, endroit très calme avec commodités, bonne accessibilité au plan d'eau. Nous avons passé un très bon séjour avec notre fille et nos petits enfants. Merci !
Sep 04, 2018
Lots are very small. We thought we reserved a 3way service but only got a 2way service lot. Very small pool; basically standing room only! Over priced! Campsite was clean. Showers were free. Friendly staff.
Sep 04, 2018
Wifi is no good. Only able to connect first thing in the morning. It also does not connect on Sunday or Monday (if it's a long weekend) and I am parked right under a wifi hub. If you advertise free wifi, it should at least work/be available to connect to.
Sep 04, 2018
we had a grant time its was fun
Sep 04, 2018
We loved our campsite very confortable!! Our dog was able to play with other dogs! The location is great close to several awesome places! I would change the showers curtains!
Sep 04, 2018
Our stay was nice but we expected the pool/hot tub area to be clean. We arrived Thursday afternoon and people had been writing their names in the dirt around the hot tub. The railing to get in and out of the pool was flopping badly and Friday it was not any different. That day the railing came off in a boys hand as we sat in the chairs. His father tried to fix it but was unable to.
Sep 04, 2018
It Was our 1st stay at a comp ground and we enjoyed it very much. We met out son and his family there. They have their own trailer and use KOA all the time. We will be doing it again in the future.
Sep 04, 2018
Excellent camping ground. Thank you!
Sep 04, 2018
Excellent camp ground with lots of very helpful people - both staff and visitors - friendly place. So much to do and see in the area as well - beautiful, beautiful location to visit and tour. One thing could improve - the store could be a little better stocked with the every day things - groc, junk food, etc - it was quite lacking and the nearest town is 10-15 mins away.
Sep 04, 2018
Our KOA stay was excellent. Sites and facilities were very clean.
Sep 04, 2018
great campsite and staff, will be back next year for sure!
Sep 04, 2018
Les gens à la réception étaient très sympatiques et compétants. Terrain très propre malgré les chiens et surtout pas bruyant. Excellent séjour.
Sep 03, 2018
Adult hot tub was not cleaned often, but really that's my only complaint!
Sep 03, 2018
The location is great, sites are okay, facilities are good and staff is great. The only negative we have about this campground is that the wifi is poor!
Sep 03, 2018
We had an outstanding time !
Sep 03, 2018
ZERO rating. We had a reservation made 6 weeks earlier for a 40 ft. coach 3 nights $303. 1st and 2nd sites did not work and got to a 3rd site with no directions, or escort. We could not open the slide due to branches. We asked to have a branch cut. The new owner refused. He had limited English and said "I don't want you here, you go now". It was 7 pm and we said no. Left next am. Appalling.
Sep 03, 2018
- Friendly staff - Good facilities (large playground, swimming pools, entertainment, wash rooms, store) - Perfect location - Spacious-ish places Would camp here again!
Sep 03, 2018

I have been to your camping ground three times and I really enjoyed it everytime. It is very clean, staff are very nice and friendly. I saw that all your staff are working very hard to keep the place clean and trying their best to accommodate everyone. I will return for sure next year in the cabin for 7. :-)
Sep 03, 2018
Friendly staff, very clean park. Debris in pool could be cleaned more. Pools not deep. Hot tubs nice. Bike rentals too heavy & couldn't pedal. We rented bikes at Kingston KOA and they were easier to use. We had plans to do daily rentals only to find the bikes were no good. Get rid of them! Had an item stolen from site, son cried, Cliff was awesome. He put word out & it was returned. Thanks Cliff!
Sep 03, 2018
Great hot tub. Adult only. Pools nice. Extremely noisy. More for young families.
Sep 02, 2018
Totally enjoyed our stay. Great playground for the kids. Bouncy pillow and the pools were so enjoyable. Staff was very helpful and friendly. We will return.
Sep 02, 2018
We have been coming for over 5 years. The staff continue to be very friendly, but they no longer check to make sure camp fires are out by 11pm and it is quiet. We had very noisy neighbours until after midnight. Also it wouold be great to have another pool and a basketball court. The free food is always a nice bonus.
Sep 02, 2018
Stayed 2 nights. Had a great time. The employee's were very helpful and friendly. The bathrooms were clean and well kept. We will come back for sure.
Sep 02, 2018
Washrooms were messy, no shelter for tent camping
Sep 01, 2018
Great location, Clean, well developed, nice people, will come back again.
Sep 01, 2018
A little disappointed - WiFi was mostly not working, no cable and extremely small pool for the amount of guests this campground holds.
Sep 01, 2018
Great place but expensive. They need to offer a rate without the attractions at the KOA.
Aug 31, 2018
My family and I stayed here for the very first time. Both my wife and I enjoyed our 8 day stay. So did our 13 and 11 year old boys. After our stay we have to say this is one of our favourite Koa campgrounds in Ontario. We will definitely be returning and recommending this KOA to others.
Aug 31, 2018
This is our third year there, and look forward to going again next year. Well kept park, friendly staff, good locTion
Aug 31, 2018
The facility was not as well kept as we found it in previous stays. The pool area was especially rough with very little sign of maintenance. The area was also poorly monitored with several people drinking and causing problems. We were so displeased with our stay that we may not visit again.
Aug 31, 2018
We have been coming back for the last 3 years. We feel that between the natural beauty of the area and the exceptional quality of the Campgrounds that this is one of the best KOAS in the Hempisphere.
Aug 31, 2018
We did not have kids with us and it would be nice to have a short time in the pool for just adults.
Aug 30, 2018
Pools are too small as are the sites. Great things for kids to do.
Aug 29, 2018
Lots of activities for the kids to do and a very nice playground area.
Aug 29, 2018
Clean. Well laid out. Lots of activities and amenities.
Aug 29, 2018
Nice park staff were very courteous and helpful
Aug 29, 2018
one night stay park clean and friendly staff pool very refreshing on a very muggy day
Jul 03, 2020
Great experience with the family
- Daniel Colque on Google
Jul 02, 2020
Very friendly staff and campers. Quiet at night and very clean. Lots of activities for the kids. We stayed 6 nights and loved it. Only complaint is that the WiFi was very intermittent.
- Ryan Sell on Google

1000 Islands / Ivy Lea KOA
Open May 1 - October 12
514 1000 Island Parkway
Lansdowne, ON K0E 1L0 Canada
Check-In/Check-Out Times
RV Sites, Tent Sites
Check-in: 1:00 pm, Check-out: 11:00 am
Accommodations
Check-in: 2:00 pm, Check-out: 10:00 am
1000 Islands / Ivy Lea KOA
Get Google Directions

© 2020 Kampgrounds of America, Inc.