Local Area Attractions Near Grand Junction KOA Holiday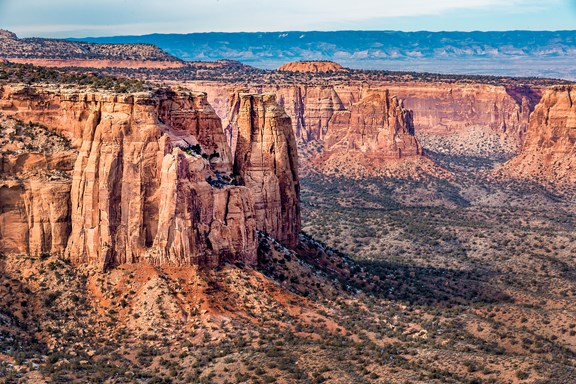 Colorado National Monument
Established in 1911, these desolate canyons southwest of Grand Junction provide spectacular sights and many miles of hiking trails. Enjoy unusual rock formations, great photo opportunities, wildlife, and hundreds of hiking and cycling trails. Many have compared the Colorado National Monument to a mixture of the Grand Canyon and Arches National Park. With 23 miles of adventure, this National Monument is a must see! It is easily our town's biggest attraction.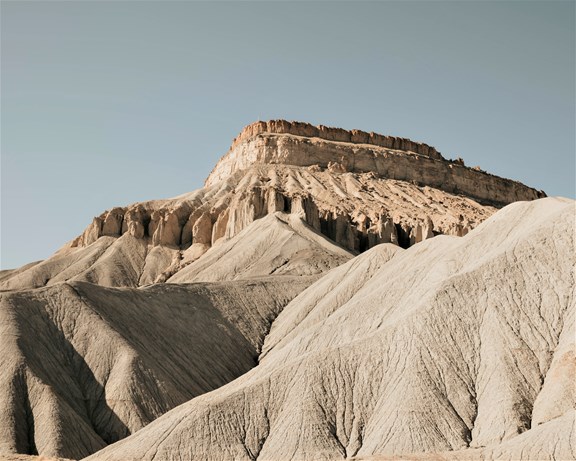 Mount Garfield of The Book Cliffs
Located on the north side of Grand Junction is The Book Cliffs mountain range and The Mount Garfield hiking trails. If you like challenging hikes, these trails are for you. The Mount Garfield trail is two miles long with an elevation climb of 2,000 feet. The trail leads you to the top of Mount Garfield where you can witness spectacular views of the Grand Valley. The reward for the hike is well worth it. It is recommended to have proper hiking shoes and a hiking pole for the rocky terrain and soft dirt. Grand Mesa Scenic Bypass
Grand Mesa is known as the world's largest flat top mountain. The 63 mile scenic bypass overlooks endless forests and 300 lakes. Enjoy the great trout fishing, ATV trails, skiing, snowboarding, snow shoeing, hiking, and the beautiful scenery.
The Grand Mesa also host events throughout our four seasons including Color Weekend at the end of September. The colors of the aspens are unbelievable! Historical Downtown Grand Junction
Historical Downtown Grand Junction is full of life and beauty! It's the best way to experience the heart of the town. From popular local restaurants to art galleries, from the historical Avalon Theater to local shoppes, you can find something for everyone to enjoy. During the summer there is always events, parades, and festivals happening. This pedestrian friendly environment is the perfect place to stroll down the tree lined sidewalks, observe the large collection of public art, and experience the preserved historic buildings. For more information about upcoming events and festivals, check out the website linked. Mountain Biking and Cycling Events
Grand Junction and the Colorado National Monument have become an essential place for off-road, on-road, and bicycling events. Every year the Grand Valley hosts major bike events such as Tour of the Valley, Tour De Vineyards, Tour of the Moon, the Coors Classic and much more.
Not interested in competing, no problem! Colorado National Monument, Grand Junction, Fruita, Palisade, and The Grand Mesa is filled with trails for all levels of experience. One of the most popular trails to experience is Lunch Loops!
If you're interested in more information about upcoming bike events check out the website link for a schedule. For websites for the tours check out http://www.visitgrandjunction.com. Go to the events page to find out about all the events we host and the hundreds of trails to experience. Colorado River and the One Riverfront Trail System
The Colorado River and the One Riverfront Trail System is located 5 minutes driving from campground. The One Riverfront Trail System is the best way to see and experience our beautiful Colorado River. The One Riverfront, preserves the rich wildlife and vegetation from the conjunction of the Gunnison and Colorado Rivers, giving the town the name Grand Junction. The trail system is great of recreational opportunities for walking, jogging, cycling, skating, and fishing.
Visit www.oneriverfront.org for complete information regarding accessibility and events. Rafting, Floating, and Horseback Riding
There are various rafting trips ranging from 2 hours to multiple day expeditions. With multiple rivers to explore and rapid classifications ranging from 1(easy) to 5(difficult) you can have a wet and wild time!
Not interested in rafting but you want to spend the day in the water. Floating the Colorado River is a local favorite! You can do a half day float or full day float for free! Just make sure you have the right equipment and someone to pick you up once you're finished. Need more information, feel free to ask one of our front desk agents for more information. Trust us, we've all done it.
Horseback trips are also very popular in the Grand Valley. Saddle up and go for a ride into the sunset in the old west. Check our brochure rack upon arrival for more information or you can visit Rimrock Adventures for both rafting and horseback riding. Wine Country
Welcome to the heart of Colorado's wine country. Take a trip to the many award winning wineries with a vast variety of delicious tasting wines. With over 20 local wineries, Grand Junction and Palisade produce some of the best wine in the state and hosts numerous wine tasting events all year round.
Looking for an afternoon get away? Take a drive down the Wine and Produce By-Way, located 10 minutes away from our campground, and stop to explore the unique tastes of Grand Junction.
For more information visit www.visitgrandjunction.com/wine-country for information on wineries, locations, tasting rooms, and tours. Mesa County Fairgrounds
The Mesa County Fairgrounds is the main host for events in Grand Junction. Throughout the year you can witness horse shows, bull riding, auctions, national BMX events, monster trucks, mud truck events, carnivals, concerts, dog shows, the Shrine Circus, our Mesa County Fair and so much more. Located right next door, you can walk right over from the gate we share and be entertained weekly. You might be able to see some of the folks performing or participating in the events in our campground. Many of them like to stay with us during their events! Check out the website for the Mesa County Fairgrounds for events and more information. Museums
Grand Junction has very select but highly praised museums throughout the area. The most significant and closest museum to our location is the Museum of the West. Located three miles away, you can explore famous people, history of our Historic Downtown, and experience the high tower which gives you a full view of the town of Grand Junction. Other wonderful museums to experience would be Dinosaur Journey Museum and Cross Orchards Historic Site. Dinosaur Journey takes you on the wild ride of the history of dinosaurs that lived in the area and what it would of been like to live during those times. Cross Orchards celebrates the agriculture that lead this town to grow and become the town it is today. Visit the link below for more information and for more museums. Golf Courses
Playing golf in Grand Junction is an experience that you will always remember. Our golf courses combines challenging course designs and unbelievable scenery. Anywhere you play, you will have options for skill levels, from challenging 18-hole championship course to an easy going 9-hole course. There is a course for everyone! Some of the most popular and requested golf courses include Chipeta, Lincoln Park, Redlands Mesa, Tiara Rado, and Adobe Creek. Visit www.visitgrandjunction.com/golf for all the information you need to plan a great golfing experience. Breweries and Distilleries
Colorado is famous for its variety of locally made brews and Grand Junction is no different. The Grand Valley is home more than 5 breweries and distilleries. Come enjoy good food and good brews at any of the many restaurants located in the heart of the town. Palisade Brewery, Peach Street Distillery, Edgewater Brewery and Restaurant, Kannah Creek, Ale House, and the famous Rockslide Brewery and Restaurant. Los Colonias Amphitheater
Discover our newest attraction to Grand Junction, our first ever outdoor music and event amphitheater. Los Colonias is the hotspot of local music artist and professional artists alike. We have seen artists including Los Lonely Boys, Starship, and Mickey Thomas. Located on the banks of the Colorado River and next to one of the best breweries in town, this amphitheater is becoming a local favorite. Visit the link below for upcoming concerts happening this year! Historic Avalon Theatre
The Avalon Theatre is Western Colorado's largest performing arts hall located on Main Street in Grand Junction. The newly updated theatre seats up to 1,096 patrons offering an intimate theater experience. Throughout the year, you are able to attend comedy shows, symphonies, dance company performances, music artists, and movies. The Avalon was build for the people of Grand Junction therefore they offer special deals. Every Tuesday, if you eat at a restaurant downtown, you will have free admission to the movie playing that night. All you need to do is bring in your dinner receipt! It's a great deal for a romantic night out or a fun filled night for the whole family. Visit their website for more information regarding a schedule and special offers. Botanical Gardens
The Western Colorado Botanical Gardens and Butterfly House is paradise in the great west. Between the butterfly exhibit and over 600 tropical plants from all over the world, you can witness tree frogs, turtles, and fish in their natural habitat. The outdoor garden is filled with native plants and flowers from the western ecosystem. Visit their website for events and entry information. ATV Trails
Western Colorado and Grand Junction is becoming a beacon for ATV and off road trails. Our unique area gives you the opportunity to ATV or off-road in many different types of terrains, making it a fun filled weekend. Although we have no ATV trails directly from our campground, we have numerous trails only 10-15 minutes away. Hint hint: Cactus Park is one of our favorites. Check out the link for more ATV trail information, tours, guides, and maps. Bangs Canyon and Lunch Loops
Bangs Canyon and the Lunch Loop trails are the most popular mountain biking trails in Grand Junction. Bangs Canyon is BLM land just south of the Colorado National Monument. You can find mountain biking trails from easy to very difficult. Bangs Canyon is also for ATV enthusiasts, avid hikers and hikers who love to bring their dog along!