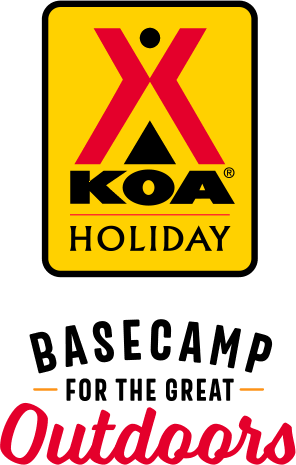 KOA Holiday Campgrounds
Whether you're exploring the local area or hanging out at the campground, KOA Holidays are an ideal place to relax and play. There's plenty to do, with amenities and services to make your stay memorable. Plus, you'll enjoy the outdoor experience with upgraded RV Sites with KOA Patio® and Deluxe Cabins with full baths for camping in comfort. Bring your family, bring your friends, or bring the whole group – there's plenty of ways to stay and explore.
KOA Holidays Feature:
RV Sites with a KOA Patio®
Deluxe Cabins with full baths
Premium Tent Sites
Group meeting facilities
Directions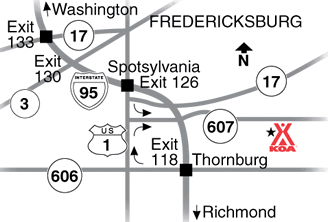 Located midway between two I-95 exits.
If traveling Southbound:  take Exit 126 for Spotsylvania, south 4 miles on US 1, left on VA 607.
Northbound:  Exit 118 for Thornburg, left to US 1, north 4 miles on US 1, right on VA 607. We are located 2.5 miles south on VA 607.
Get Google Directions
May 03, 2021
Upon arrival I had to go to the office and request another site that cost more as they had put me right on top of and in between two other campsites that were already full when I got there after I specifically asked for that to be avoided when I made my reservation. Quiet time was not enforced. I heard drunks playing cards and yelling a cursing well past 11pm the night of my stay
Apr 26, 2021
Got a beautiful tent site next to the pond, secluded from the RC/camper sections. Staff was friendly and helpful, location looked nice and well maintained, though it rained most of while I was there so I didn't see much of it.
Apr 19, 2021
Great little campground! It's almost our second home...
Apr 05, 2021
Campground was so clean and the owners and employees are super friendly. Can't wait to come back.
Apr 05, 2021
Professional staff and clean campground.
Mar 19, 2021
Loved waking up to the sound of bird & a view of a peaceful pond. Clean bathrooms & nice staff!
Jan 20, 2021
My experience at the KOA was better than a $250/night hotel, thanks to the front desk staff that was gracious and welcoming. The area gets very damp and cold so plan accordingly, fires are a must! A place to visit again for sure. Thank you.
Nov 30, 2020
We rented out 2 spaces for tent camping and all went well ! Bathrooms were always clean and organized as well.
Nov 11, 2020
Got that KOA happy camper welcome. Staff were great. Camp sit was great. Set by the pond under moonlight nights. Just what we needed. Restrooms/showers were very clean, well maintained.
Oct 28, 2020
The Halloween contest for best decorated RV, campsite was fun!
Oct 26, 2020
Beautiful campground
Oct 26, 2020
Every time we stay here at KOA we have a blast. Everyone is always so welcoming and enjoyable to spend time with and we always look forward to coming back!
Oct 26, 2020
Quite get-away,hikibg trails close by.tent pads were great,bathrooms were clean.staff was very pleasant.Will return.
Oct 19, 2020
The staff was incredibly friendly and helpful! The grounds and facilities were very well kept!
Oct 19, 2020
the camp site was little crowded for our liking
Oct 19, 2020
Campsite was nice. Bathrooms immaculate. However, potholes need filled throughout the entire park and the roads need to be marked better. Something glow in the dark on the road or neon markers on one side of the road, because at night you can not see where the road ends and the grass begins, especially in the fall when there are leaves everywhere.
Oct 17, 2020
Great overnight stay, very friendly staff, very clean bathrooms and campground. Will definitely stay here again.
Oct 10, 2020
Lovely campground and friendly staff
Oct 05, 2020
The campground and facilities were very clean. I would suggest a night time firewood purchase shed as there is a no outside firewood policy. If you don't arrive before the store closes at 5pm or you run out of wood then you are out of luck. As a tent camper, the fire was our source of heat in the cooler fall weather as well as our method to cook food. Sadly, we ran out of wood one night.
Sep 28, 2020
Check in was easy, amenities were great, and the location was ideal for my trip. I will be returning!
Sep 28, 2020
We have camped here for a couple years and have loved it. Very clean and kept up.
Sep 21, 2020
Campgrounds were very well maintained and our site was beautiful. Even for the season and weekend, the grounds were not too busy. The folks that worked at the store were very nice and all facilities were clean and in good condition. There were a lot more amenities available than I would have expected. I will definitely be camping here again.
Sep 08, 2020
We had a great time at this KOA. It was clean and safe and just what we were looking for for a quick getaway. The only negative feedback I have is that the wood bundles we bought at the store were wet and wouldn't burn very well. Other than that, everything was perfect! Thanks for a fun Labor Day weekend!
Sep 08, 2020
Love staying at this KOA. We live local and love to get away for the weekends. Everyone is very nice and there's always something nice to do while you are there. Highly recommend!
Aug 26, 2020
Be careful - the grounds get dangerously flooded after a thunderstorm with no warning. Even though we had paid for a campsite at KOA and they knew we were arriving, they gave us no notice about the dangerous conditions (e.g. water too deep to drive in, rapid flooding of areas) and took no responsibility. Luckily we left the campsite just before the water was too deep to drive out of/
Aug 23, 2020
I picked the KOA Fredricksburg beacause of location, but the grounds and hospitality exceeded any expectations. Clean, shady and beautiful scenery. Camped next to a stream. I needed to get my son to Yale and the camp was 12 hrs from our home in Fl. It was another 6 to Yale. It was during the covid-19 quarantine threats and I couldn't stay in NY, CT or NJ. Worked out great and we will be bac
Aug 18, 2020
I had made a late reservation and was told I would have a packet waiting for me. There was no packet. I did appreciate the night box and was able to still get a site. The site itself was very wet with a large puddle next to it. We did not use the facilities at all so this is all I can evaluate for the grounds.
Aug 09, 2020
Nice little Campground wish there was more fish in the pond didn't get a nibble they say you can drink beer around the pool but only sell bottled beer no glass allowed owner yelled at me about it didn't see the sign other than that it was pretty nice might be back sometime in the near future make sure I'm bringing my own can beer LOL
Aug 01, 2020
Excellent stay. Customer service was great. Everyone was friendly, sites were very clean.
Jul 27, 2020
This review has been removed by KOA due to profanity.
Jul 19, 2020
Very nice and clean. Well situated for a quick overnight stay very small tent sites, but workable.
Jul 13, 2020
I stayed at a tent site with full hookup. The camp ground was clean and very user friendly. It was quiet during my stay, due to Covid-19 the pool wasnt open. The camp ground had a lot to offer with other activities. The camp staff was very helpful and pleasant when in contact. I will stay here again. Thanks for the hospitality.
Jul 13, 2020
It was beautiful, nobody was bothersome and I was spaced away from everyone else.
Jul 06, 2020
Staff was friendly Pond side Site was clean and comfortable 2nd site with water and electric small and not as good for tent camping Overall a nice stay and get together with My family
Jun 30, 2020
Location was great, staff was attentive and friendly. All kids and adults had a great time! Our kids spent most of their time at the pond fishing and loved it! Clean, well kept and all around great site.
Jun 29, 2020
Bathrooms and showers were clean. Kids had a blast fishing. Very friendly staff! Will definitely stay here again. We stayed at a tent site.
May 04, 2021
Thank you BetteAnn for everything you did for us! You're amazing !
- Joan Mobley on Google
Apr 26, 2021
We had so much fun at this campground. Our kids rode their bikes, played on the playground and rode on the barrel train ride that took them through the campground. The people working at the KOA went above and beyond to make sure we had a great stay, they were all so kind and friendly, even stopping to chat with us on their off time, as most of them live at the campground in their campers. We packed up a day early due to rain coming in that evening, with three kids and two dogs, we didn't want to deal with wet stuff and mud. They noticed us leaving and stopped by to check on us, to make sure everything was okay. They keep the campground spotless and take great pride in their jobs. And it shows. We will be heading back for another week long stay on August and we can't wait!!
- Jenni Walker on Google
May 02, 2021
Worked here for almost 7 years it was a great place to work. Owners sold in 2019.
- Ron Hardbower on Google