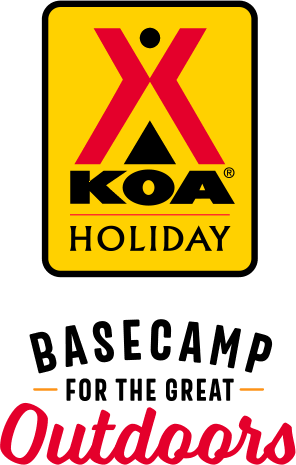 KOA Holiday Campgrounds
Whether you're exploring the local area or hanging out at the campground, KOA Holidays are an ideal place to relax and play. There's plenty to do, with amenities and services to make your stay memorable. Plus, you'll enjoy the outdoor experience with upgraded RV Sites with KOA Patio® and Deluxe Cabins with full baths for camping in comfort. Bring your family, bring your friends, or bring the whole group – there's plenty of ways to stay and explore.
KOA Holidays Feature:
RV Sites with a KOA Patio®
Deluxe Cabins with full baths
Premium Tent Sites
Group meeting facilities
Directions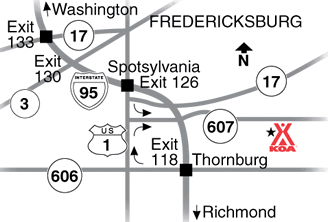 Located midway between two I-95 exits.
If traveling Southbound:  take Exit 126 for Spotsylvania, south 4 miles on US 1, left on VA 607.
Northbound:  Exit 118 for Thornburg, left to US 1, north 4 miles on US 1, right on VA 607. We are located 2.5 miles south on VA 607.
Get Google Directions
Feb 21, 2021
Only overnight on our way to New Jersey. Very nice place, clean, very friendly staff.
Feb 21, 2021
I might pull through going home to NY from snowbirding.
Feb 16, 2021
Location and facilities were great. Customer service was unsatisfactory. Due to snow storm I arrived early, 1130, check in is 1. The park had a few others camping. My reserved site was unoccupied. I asked if I could check in early and they charged me $20.
Feb 16, 2021
Very friendly and accommodating
Feb 15, 2021
It was lovely! The weather was crappy but the cabin was cozy and we enjoyed our time there away from the world. The staff was friendly and very helpful with anything we needed. They made sure the steps were salted and safe to walk on. We had a bit of an ice storm And the staff was on top of it ensuring our safety and to make sure we never lost our power or our heat.
Feb 12, 2021
This is our third time staying there. We are not campers, but we have a home in Florida and due to covid and my chronic illness, we can not fly there or stay in a hotel. Your cabin provides me a clean, safe place to spend the night on our drive. We may never go back to hotels.
Feb 08, 2021
We just stayed overnight on our way to North Carolina., but everything was top notch
Feb 07, 2021
Great campground been there many times.
Feb 06, 2021
Nice clean and quiet campground with a friendly and professional staff.
Feb 04, 2021
I think the park is a nice park we were there for a month and a half taking care of doctor appointments and the Wi-Fi is terrible There was times when we can't even get calls from doctors so we moved down the road to Americamps RV you don't have to login Every day like i said its a nice and Quiet park all that Being said I will use Them again
Feb 03, 2021
The site was nice and level. There is a lot of area for walking. We just stayed overnight but would definitely stop here again!
Feb 02, 2021
Always enjoy staying here. The staff is super professional and friendly. The power went out at about 12AM and therefore nothing in the cabin worked, no fault of the KOA. I attempted to find an after hours number but couldn't find one, not saying there wasn't one, I just couldn't find it. Overall though, will always be a patron here.
Feb 01, 2021
Always a fantastic stay!
Feb 01, 2021
We stayed in a cabin, and it was a great alternative to a hotel for us. The cabin was very comfortable and accommodating with shower and restroom on board.
Jan 31, 2021
People were very nice and the location was convenient. Will come back again!
Jan 31, 2021
We had a short stay. So, we were unable to see and enjoy all the beauty there! We had wonderful, welcoming experience. I wish I could remember her name. The woman who we worked with. Scheduling, needed an early check-in. Was so professional, kind, and accommodating. The campground we so well kept.. It's beautiful there! A lot of care, and beauty was out into it.. I look forward to visiting again
Jan 30, 2021
A one nighter on our way to Fl. It was nice to see owners from our home state of RI.
Jan 30, 2021
Everything was great, we arrived late and instructions were left on my cell phone about the procedure. Very clean sites, nice wooded area. Thank you!
Jan 28, 2021
Beautiful campground with quiet forested sites. Friendly staff. Dark at night as a campground should be. Best KOA we have stayed in.
Jan 26, 2021
first time staying in a KOA camping cabin, and really enjoyed it. The person I spoke to on the phone explained the late check-in process to me, and when we arrived, the cabin was clean, easy to find, and nice and warm.
Jan 25, 2021
Showers very clean, wifi worked. Site was good. Loved the dog walk trail!
Jan 24, 2021
2nd stay at this property. Friendly staff a d great location
Jan 24, 2021
Very friendly and professional staff. Clean and well manged. I could see lots of little improvements all over the campground.
Jan 21, 2021
Best one yet!
Jan 20, 2021
Stayed in the deluxe cabin with my pets. This is one of the few KOAs that allow pets in the deluxe cabin which is wonderful. It beats having to go outside on 30 something degrees to use the community bathroom. Thank you!!!!!!
Jan 20, 2021
Excellent place to stay. The deluxe spots are very nice. Some of the spots can use more gravel.
Jan 20, 2021
My experience at the KOA was better than a $250/night hotel, thanks to the front desk staff that was gracious and welcoming. The area gets very damp and cold so plan accordingly, fires are a must! A place to visit again for sure. Thank you.
Jan 19, 2021
Beautiful park, friendly staff, and would love to stay again. Thanks for a great place stay while visiting DC.
Jan 17, 2021
It was a quick stop on our way south, and was great!
Jan 17, 2021
Quiet and clean place to stay. The whole family had a nice and relaxing time. The staff was so friendly. We will definitely be back. Can't wait to try out the pool in the summer!
Jan 12, 2021
Great facility, family friendly
Jan 08, 2021
The Camp host and hostess were very helpful and friendly. They assisted us with local attractions and transportation information as well. Nice clean facilities. Wonderful trip!
Jan 08, 2021
Stayed for 3 nights. Nice clean park. Friendly staff. Great rates. My only issue is the wifi internet, which was throttled to only 356 mbps & only available during daytime. Seems like wifi was turned off after office closed at 5 p.m. as we did not have any internet connection at all the whole 3 nights we were there.
Jan 08, 2021
The campground is located in a great area. There is plenty of room to maneuver getting to the site. The sites are very spacious as well.
Jan 08, 2021
Always enjoyable.
Jan 07, 2021
Our site was a muddy mess. The wifi was virtually nonexistent. Every cable channel was too fuzzy to watch. My husband informed the lady at the office and she said are you sure it isn't your camper? She said she would send someone to look at it. No one ever came. We were told we needed to not have our water hooked up after dusk because it was going to get cold. A disgrace for $58.00.
Jan 07, 2021
I paid for a site with electricity. It didn't work. I asked the lady about nearest Ride and Drive. She wouldn't tell me. Very cold and unfriendly person. Site is almost 9 miles off I-95. Warning given they are not responsible for your safety or anything that might happen to you or your property. :(
Jan 06, 2021
We always stay here when traveling South to Southern states or North to back home. Campground is always very clean, well maintained and very friendly.
Jan 02, 2021
I was great there nice there
Dec 29, 2020
Friendl, clean,helpful
Dec 29, 2020
Easy access, well maintained and friendly staff.
Feb 21, 2021
We had a great time! Clean facilities and friendly staff!
- frostee dove on Google
Jan 02, 2021
Stayed here for a night during march break of 2020. Yep, when the pandemic was fairly recent. Nevertheless, my stay was not impacted by the pandemic. I had some fun, took some pictures, looked at the beautiful view. Although I wish I had more time to explore around the place and go for a hike. Hopefully next time🤞😉
- Hossai Masroor on Google
Dec 22, 2020
Quiet here right now before Christmas.
- Ramunas Svarcas on Google