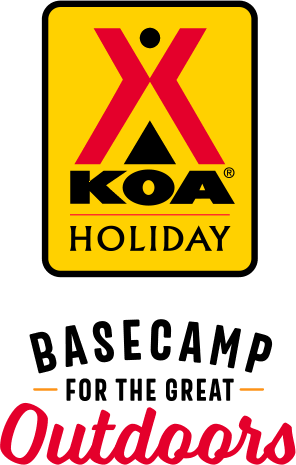 KOA Holiday Campgrounds
Whether you're exploring the local area or hanging out at the campground, KOA Holidays are an ideal place to relax and play. There's plenty to do, with amenities and services to make your stay memorable. Plus, you'll enjoy the outdoor experience with upgraded RV Sites with KOA Patio® and Deluxe Cabins with full baths for camping in comfort. Bring your family, bring your friends, or bring the whole group – there's plenty of ways to stay and explore.
KOA Holidays Feature:
RV Sites with a KOA Patio®
Deluxe Cabins with full baths
Premium Tent Sites
Group meeting facilities
Directions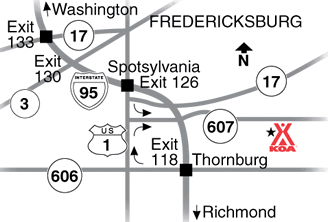 Located midway between two I-95 exits.
If traveling Southbound:  take Exit 126 for Spotsylvania, south 4 miles on US 1, left on VA 607.
Northbound:  Exit 118 for Thornburg, left to US 1, north 4 miles on US 1, right on VA 607. We are located 2.5 miles south on VA 607.
Get Google Directions
Jul 22, 2021
Love the pool it's the reason I come back. Would be nice to have umbrellas. I'd like to see the sites be a little more smooth. My rug area was so rough and no way you can walk without good shoes on. My grandson loved the catch and release pond, he spent hours there. We love your park and it's so convenient for us.
Jul 22, 2021
Very nice, quiet, shady campground. Plenty of space between sites. Well away from the interstate traffic. Only downside was the poor cell phone reception and the slo-fi. However, lack of traffic noise was an excellent trade-off. Would DEFINITELY stay there again!
Jul 22, 2021
Our stay was a great relaxing trip. We have family in Fredericksburg and were able to visit and come back and relax. The area is also rich in history and visiting the sites is always a pleasure. Also our next site over had a problem disconnecting their 5th wheel camper and KOA staff members Stephanie and Rob went far and above the call to work on the hitch and get them squared away. Thanks KOA
Jul 22, 2021
Extremely level site. Every quite and relaxing after a days drive. We will be back when passing through.
Jul 22, 2021
I loved this campsite from the moment I started to get there! They have a lot of signs along the country road leading there so that you know you are not lost. The campground is beautiful and the staff is very nice.
Jul 22, 2021
Way too expensive
Jul 22, 2021
Beautiful campground staff was very friendly. I already recommended this campground to camping friends!
Jul 21, 2021
Great facilities. Very clean. Lot of things to do.
Jul 21, 2021
The campground is nice. The only thing I didn't care for was we stayed at a KOA in SC - same cabin outline. Issue we paid the same amount per night. The cabin in SC was fully stocked. This cabin you have to bring everything. Same price. That's my only issue besides that the cabin was nice.
Jul 21, 2021
Amazing place to spend time with friends and family
Jul 20, 2021
We love the campground, close to our home , a very quiet peaceful place. The campsites are large, THE ONE thing that is an issue is the WiFI is totally inadequate and the Cable TV is un watchable, in fact we could never use the TV. In this day and time this is very important to campers. Stephene and her staff were extremely helpful when we had an issue . They went out of ther way to help us.
Jul 20, 2021
Water pressure in showers is awful. Also meed more showers. Otherwise we enjoyed our stay alot.
Jul 20, 2021
We had a wonderful stay at the Fredericksburg/Washington DC KOA. Very clean and very quiet. No partying or loud music. The staff seemed constantly busy keeping the campground cleaning and running smoothly. We were at site 55 directly across from the store. It turn out to be the prime site of the campground!!!!!
Jul 20, 2021
Clean and quiet... friendly people nice oasis far enough away from 95, but easy access back.
Jul 20, 2021
Lovely park and nice level spots. Only there for one night. About 20 min away from Fredericksburg
Jul 20, 2021
It was my first time for my daughter's birthday. She loved all the experiences there. Thanks
Jul 20, 2021
Very clean park and friendly staff. Easy pull in and out.
Jul 20, 2021
Very enjoyable stay. The staff is very helpful and friendly…we are new campers. Very clean! The bathrooms were spotless!
Jul 20, 2021
Did not like getting charged 2.00 for the dog I clean up my dogs mess.
Jul 20, 2021
Take a detour to stay here is my recommendation. Wooded campground, friendly staff, clean facilities and plenty of chairs on the porch to relax and watch the kids play. One of our favorite campgrounds we've stayed.
Jul 19, 2021
Only 1 night but everything was great. Need to widen the roads for larger rigs.
Jul 19, 2021
Was a great stay! Site was perfect for my van camper. It was a super nice store too and showers were hot and clean. : D
Jul 19, 2021
The folks at the campground were more than accommodating. The held discussions with me about things in general. I have already book sites for Labor Day. KOA Fredricksburg has become my home campground.
Jul 19, 2021
No matter how busy this koa is, they always find a space for our overnight stop on our way home to SC. Great staff and always helpful.
Jul 18, 2021
Stayed 7 nights. Clean restrooms, clean grounds and friendly staff.
Jul 18, 2021
Park and bathhouses was very clean. Love all the shade trees. Staff was very friendly and helpful. Planning on staying again this fall.
Jul 18, 2021
This was the cleanest KOA I have ever stayed at!! However, there was no train, no paddle boats and no bikes. There was however, bike like go carts that would have been great, but kids over 12 are not allowed to use them. I had 3 kids with me with not much to do but swim. Place is quiet and best for an older clientele. Customer service was fair, ladies not the friendliest, yet the manager was...
Jul 18, 2021
Very relaxing, quiet, and peaceful.
Jul 18, 2021
Great place to stay outside of DC
Jul 18, 2021
The staff was very friendly. Cabin clean.
Jul 17, 2021
We had a wonderful stay. We stayed in cabin 12 and everything met our needs and expectations. We loved that we all had our own beds, a private bathroom and air conditioning. We love the amenities as well. We plan to return in the not so distant future.
Jul 17, 2021
The staff was absolutely great. After a medical issue, we had to extend a few days. They went out of their way to extend our site and that of our traveling companions. The sites were very well shaded. Side-to-side was good but some are very sloped. The only downside is the internet service is poor away from the office. Cell coverage is almost non-existent. Otherwise, this is a great place.
Jul 17, 2021
Everyone was very nice and the cabin was great! Plus you can't beat the price. I was very happy with my one night stay.
Jul 17, 2021
Loved: laundry, the pool, hot water showers, quiet place, actually had fair prices at the store except for the little bit of wood they offer. The bag it came seemed like a waste of money and material.. But theres a guy down the rd with a sign for 10bucks a stack that is a little better.
Jul 16, 2021
Very nice campground. Smaller than most, but quiet and well maintained.
Jul 16, 2021
Nice place! Friendly staff, shaded sites, nice location, clean facilities. All good!
Jul 15, 2021
People who work here are VERY nice and friendly ! Campground is nice ! But........ cable TV SUCKS ! and I mean SUCKS !! You really need to get this fixed. Please.....
Jul 15, 2021
As alwYs very pleasant staff and helpful. Vivian was very helpful with our stay. We will be back soon
Jul 15, 2021
WiFi was a little weak but other than that it was a great stay . Thank you all!!
Jul 14, 2021
It was my second time renting a travel trailer so I am very new to the entire experience. This camp site makes things easy for newbies like me. Only stayed two nights but we had a great time. The check in experience was easy and the staff was extremely helpful. The bathrooms, pool and laudry room were incredibly clean. I will definately stay here again.
Jul 14, 2021
As always, the Fredericksburg KOA was wonderful. Staff is very friendly, campground is always clean and we always enjoy ourselves. Thank you!
Jul 14, 2021
Loved our stay in Fredericksburg, an this campground was top notch.
Jul 14, 2021
The manager was very rude over and indent that happened with some kids after i told her what was going on to all 3 party's that was involved when the lady at the deck told we all were going to check out so she was like good to hear that i want someone to call me because i just got the koa card and want my money back never had i ever been talked to like that in front of people 804 878 7107 call me
Jul 13, 2021
This is a very friendly and clean park. Will stay again.
Jul 18, 2021
Thia campground was clean and quite. Just what we needed for an overnight stay. It's well off the highway so no road noise.
- Sean Elliott on Google
Jul 14, 2021
Beautiful area with all the amenities.
- Gloria Smejkal on Google
Jul 13, 2021
The campground was nice and spacious. The staff was very professional and assisted when needes. The facilities and campground was clean.
- J H on Google