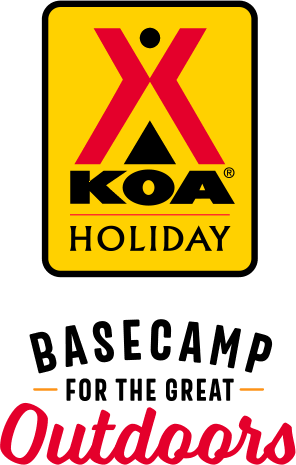 KOA Holiday Campgrounds
Whether you're exploring the local area or hanging out at the campground, KOA Holidays are an ideal place to relax and play. There's plenty to do, with amenities and services to make your stay memorable. Plus, you'll enjoy the outdoor experience with upgraded RV Sites with KOA Patio® and Deluxe Cabins with full baths for camping in comfort. Bring your family, bring your friends, or bring the whole group – there's plenty of ways to stay and explore.
KOA Holidays Feature:
RV Sites with a KOA Patio®
Deluxe Cabins with full baths
Premium Tent Sites
Group meeting facilities
Directions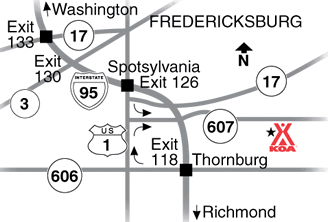 Located midway between two I-95 exits.
If traveling Southbound:  take Exit 126 for Spotsylvania, south 4 miles on US 1, left on VA 607.
Northbound:  Exit 118 for Thornburg, left to US 1, north 4 miles on US 1, right on VA 607. We are located 2.5 miles south on VA 607.
Get Google Directions
May 08, 2021
Stayed one night, but the KOA staff were helpful. They assisted us with a low pressured tire.
May 08, 2021
It was brief but the place was clean and pretty and so friendly
May 07, 2021
This was my first time staying at KOA campgrounds. Loved it.
May 06, 2021
Clean camping and no road noise.
May 06, 2021
Very nice place! Will be back. So peaceful. Easy check in staff so nice.
May 06, 2021
We were only there for an overnight but found the campground clean, staff was friendly, site more than adequate for our 5th wheel trailer.
May 05, 2021
nice and quiet
May 05, 2021
Nice quiet park... really beautiful under the trees. No WiFi at all... does not reach through the trees. Sometimes that is a good thing if you don't card to have any media.... not as many Amenities as other KOAs we have stayed at... at least for kids. Seems to be more of an older persons park. Does have a pool! Most important it's a very beautiful park!
May 05, 2021
Stayed here before for RNR. This stop was just a rest stop for an overnight.
May 04, 2021
We loved this site. Super clean and very friendly.
May 04, 2021
Sites are to close and campfire smoke from site behind us drifted into our camper. Fine as a quick overnight stop but definitely not for a pleasurable stay.
May 03, 2021
This campground is very well maintained. The sights are large and was very easy to get I and out of. Staff was very pleasant. Our group will definitely be returning.
May 03, 2021
I have stayed for many years and always look forward to going back.
May 03, 2021
This was my first stay at this KOA with my RV. This was the nicest, well maintained campground I have seen and of course everyone was wonderful.
May 03, 2021
We stayed at site 24 which is a deluxe KOA Patio. It was great! Theonly issue we had was the wifi was pretty bad; however, i would stay again!
May 03, 2021
Upon arrival I had to go to the office and request another site that cost more as they had put me right on top of and in between two other campsites that were already full when I got there after I specifically asked for that to be avoided when I made my reservation. Quiet time was not enforced. I heard drunks playing cards and yelling a cursing well past 11pm the night of my stay
May 03, 2021
Everything was very clean and the staff was very friendly. We enjoyed our cabin and would definitely come back again!
May 03, 2021
They happened to have one spot left so we grabbed it. Staff was friendly, especially the young girl who checked us in. Restrooms were very clean. Well kept park. Nicely treed. There was a disgusting swamp running behind our spot. I can see it being a big mosquito issue plus our dog managed to find it. Really needs filled in with lots of soil and mulch. Really gross.
May 02, 2021
Awesome trip. The staff was very friendly and helpful.
May 02, 2021
We had a very nice time. Staff was friendly and helpful.
May 01, 2021
Clean, friendly, safe, and nice.
Apr 30, 2021
We have stayed here before and was able to get site 116 our requested/favorite site. Were not able to connect to the sewer line for the 1st couple of days but that was not a problem. We had family issues left one day earlier but all in all our stay was great. The staff and guess have been very friendly and helpful. We will definitely be coming back in the very near future. Thanks for a great stay.
Apr 30, 2021
Very quite and off and away from everything.
Apr 29, 2021
Lovely campground! Lots of room for our 45 ft bus. Very nice neighbors.
Apr 29, 2021
Nice spot. Nice staff.
Apr 29, 2021
They put us in a site, that smelled like sewage. We went back in the office and they said they had a backup and the plumber worked all day. Keep in mind, they were not full, so why would they put us in that site. So they switched us to another and charged us the difference because it had a sewer drain. Very unhappy with the whole situation.
Apr 29, 2021
This campground was absolutely beautiful. You feel miles away from it all and not just a smidge off 95. The sites were super spacious, something I'm not used to with KOA. The check in staff were super sweet. We were only there for a night as a stop through but we are excited to go back when. We have more time.
Apr 28, 2021
Accidentally showed up a day early and they were very helpful and accommodating.
Apr 28, 2021
This is a really nice campground with spacious sites, lots of trees, and a very nice and accommodating staff. We will definitely be back here in the future.
Apr 28, 2021
Very well kept grounds.
Apr 28, 2021
we spend to nights to end our vacation, its a nice place but a bit pricy for the amenities, location and lack of things to do
Apr 27, 2021
Always love staying here. Clean facilities. Friendly staff.
Apr 27, 2021
Other than a plumbing system issue that would not allow the camper system to drain after paying extra for full hook-up the place was great. We will go back! People were friendly and helpful.
Apr 26, 2021
stayed a extra night ...... enjoyed
Apr 26, 2021
We had the best stay. Everyone there is so friendly and helpful. The campground is kept spotless. We loved it so much we have booked another week long stay for August.
Apr 26, 2021
It was great the filters needs to be cleaned on the heaters and Ac units
Apr 26, 2021
Staff members were great! Check-in was pleasant and carefree. Firewood was delivered to our campsite before we even left the store! The campsite was great & our neighbors (experienced campers) were kind, sharing useful tips on this, our maiden voyage with our new camper. We will stay at this KOA again in a few weeks on our return trip thru the area. Highly recommend this KOA.
Apr 26, 2021
Most KOAs are great campgrounds including the Fredericksburg/Washington KOA That's why I have been a member of KOA for several years.
May 10, 2021
A very friendly staff, my stay was very relaxing. (Small cabin)-liked it.
- PATRICIA Hilliker on Google
May 04, 2021
Thank you BetteAnn for everything you did for us! You're amazing !
- Joan Mobley on Google
Apr 26, 2021
We had so much fun at this campground. Our kids rode their bikes, played on the playground and rode on the barrel train ride that took them through the campground. The people working at the KOA went above and beyond to make sure we had a great stay, they were all so kind and friendly, even stopping to chat with us on their off time, as most of them live at the campground in their campers. We packed up a day early due to rain coming in that evening, with three kids and two dogs, we didn't want to deal with wet stuff and mud. They noticed us leaving and stopped by to check on us, to make sure everything was okay. They keep the campground spotless and take great pride in their jobs. And it shows. We will be heading back for another week long stay on August and we can't wait!!
- Jenni Walker on Google