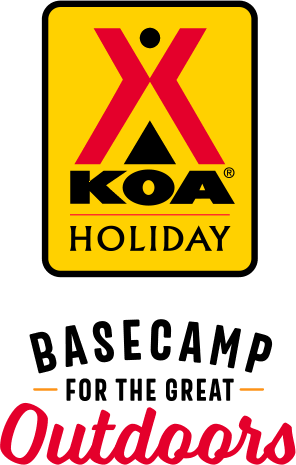 KOA Holiday Campgrounds
Whether you're exploring the local area or hanging out at the campground, KOA Holidays are an ideal place to relax and play. There's plenty to do, with amenities and services to make your stay memorable. Plus, you'll enjoy the outdoor experience with upgraded RV Sites with KOA Patio® and Deluxe Cabins with full baths for camping in comfort. Bring your family, bring your friends, or bring the whole group – there's plenty of ways to stay and explore.
KOA Holidays Feature:
RV Sites with a KOA Patio®
Deluxe Cabins with full baths
Premium Tent Sites
Group meeting facilities
Directions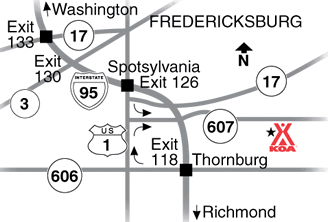 Located midway between two I-95 exits.
If traveling Southbound:  take Exit 126 for Spotsylvania, south 4 miles on US 1, left on VA 607.
Northbound:  Exit 118 for Thornburg, left to US 1, north 4 miles on US 1, right on VA 607. We are located 2.5 miles south on VA 607.
Get Google Directions
Sep 17, 2021
Continues to be one of our favorite campgrounds. Very clean and the owners are helpful and wonderful.
Sep 17, 2021
Very nice place and we will be back and tell our friends
Sep 17, 2021
Nice Quiet park, plenty of shade trees.
Sep 17, 2021
Both of our stays have been quick overnighters. A mid-point rest for our trip. But I really want to come and spend some time here. Staff has been great and campground is cozy and clean.
Sep 17, 2021
Friendly staff. Clean. WiFi terrible even close to main building (signal ok but bandwidth mostly unusable). Cell signal 1 bar (T-Mobile). Washer and dryer should be free.
Sep 16, 2021
Rented a small cabin. Was disappointed in how small the bed was(full size) for 2 adults plus a set of twin bunks. It said it slept 4 but there was no way 2 adults could fit comfortably in that bed.
Sep 16, 2021
Loved the campground and the staff. Only drawback was internet connection. We work from our rig
Sep 16, 2021
it's the best koa I have stayed at ever!
Sep 15, 2021
Way exceeded expectations of comfort and cleanliness… staff was beyond nice as well!! Wonderful experience!
Sep 15, 2021
Nice shady spot, pleanty of room, clean, well maintained.
Sep 15, 2021
I really enjoyed my short stay. Great for big rigs and in spite of the fact I was on a hill, the site was still very level. We had a nice view of the pond and fountain. Store was well stocked. The road going in was a bit narrow and beat up so please take your time. I didn't try the pool or bathrooms.
Sep 14, 2021
Excellent campground. Friendly and helpful workers. Level sites
Sep 14, 2021
Other than it being a race weekend and we heard that all day Saturday stay was great.
Sep 14, 2021
Very helpful and friendly staff accommodated us at checkin. We don't use many of the facilities since we are there to visit our family in their homes.
Sep 14, 2021
It was so peaceful. All staff were friendly & very helpful. We will definitely come back.
Sep 14, 2021
Quiet well-maintained and very friendly campground, staff we're very friendly and accommodating
Sep 14, 2021
Campground nicely updated.
Sep 13, 2021
We stayed in cabin 11. Our stay started with the wrong foot when I found a HUGE yellow stain in the queen bed mattress (had to sleep on the opposite side of the bed to avoid it, yuck). The mattess pad had pet hair and a bug before I could even put our sheets on so maintenance had to come and exchange it for me. My chldren enjoyed the fishing pond and mining (but too expensive $23 per bag).
Sep 13, 2021
BEAUTIFUL camp ground! The staff is super friendly and helpful. We booked our next stay while we were still at the campground!
Sep 13, 2021
It was one of our first camping experiences and I may never stay at another campsite unless it is a KOA! Everything was immaculate, a pet park! and the friendliest people anywhere. Just booked our next site at another KOA. Hope it measures up to this one.
Sep 13, 2021
Group of four campers this time(can have up to 10 different campers in the group) 3 were grouped together but one did not sign up with the group and got left at the opposite end of the park. Visit was great, some local friends came by to visit, causing a parking jam but the staff nicely helped us thru it
Sep 13, 2021
very clean, friendly staff, easy check in and quiet location
Sep 13, 2021
Wonderful! Can't wait to go back!
Sep 13, 2021
We had a wonderful time camping at the Fredericksburg KOA. The bathrooms were close, clean, well lit, and safe. Everyone there was friendly.
Sep 13, 2021
This was our first stay with a KOA and it was a good one. The reservation process was really easy, and the welcoming committee when we pulled up was equally easy. Joe led us to our site and helped us back in. He was sure to take the time to check back in on us after we had a little time to get settled in. The wifi, cable were insufficient. The sewage drain is too high and did not allow for flow.
Sep 12, 2021
Stayed overnight as a stop over. Staff was very friendly and helpful.
Sep 12, 2021
Perfect site by the lake, staff very pleasant. Would definitely stay again.
Sep 12, 2021
Good website to make reservations. Dogs allowed, convenient location close to 95, beautiful country side, easy check in, friendly people, good amenities, pool and lake, cosy family friendly atmosphere. Will definitely come again.
Sep 11, 2021
The campground was suitable for one nights stay. The employees were great, very friendly and accommodating, the campground was a bit run down and the site we had was a bit tricky for parking.
Sep 11, 2021
The facility was well kept and the staff was friendly and helpfull
Sep 11, 2021
This place is absolutely perfect. The only reason I didn't rated it a 5 is because we need good phone/internet when we travel and they didn't have it. We will be back and just make sure we have any calls or emails out of the way. The atmosphere of this location is fantastic and we look forward to returning!
Sep 10, 2021
Nice site, easy pull through but hate the speed bumps! Even crawling over them at 2 mph shakes the heck out of our very expensive motorhomes.
Sep 09, 2021
The campground is very nice. Very clean restrooms and showers. Our site was just OK, not level and not much room. Awkward actually. There were nicer sites available.
Sep 09, 2021
Loved our stay at this campground, unfortunately we had only booked one night here. The campground was beautiful, the employees were wonderful and will definitely stay here again and recommend this campground. Unfortunately our Sprint MIFI and Verizon cell service did not work, but they did have cable available which we used.
Sep 09, 2021
We were in need of a last minute mid-trip stop due to some problems. They were able to accommodate us-which was amazing by itself since it was Labor Day weekend-but the staff was so kind and helpful. Our stay was a brief overnighter but from what we experienced and saw the campground was clean, comfortable, and cozy. We will be back for a "stay" to enjoy this KOA! Nice off leash dog park too!
Sep 08, 2021
it was amazing. My 7 year old had the best time. will definetly continue to come back. Staff is exceptional. thank you
Sep 07, 2021
Awesome stay! Loved our sites and rebooked for next year. Staff was friendly and helpful.
Sep 07, 2021
Very nice and large patio sites. All KOA employees were very friendly!! Bathrooms were always clean. Kids enjoyed the bikes for rent and we all enjoyed the pool and fishing in the pond.
Sep 07, 2021
Not only would I recommend Fredericksburg KOA, but I already have numerous times. Clean, quiet and beautiful...we've never had a bad stay.
Sep 07, 2021
I like your campground but the Wi-Fi is no good and cable service sucked and everybody around had the same problem in our location all you do is see snow poor cable connections says something to the front desk lady she said it should be working fine because y'all just redid all the cable networking from Comcast so I advise you to get them to redo it because it ain't no good
Sep 07, 2021
We stayed for 3 nights and it was wonderful. We loved having the dog park nearby
Sep 07, 2021
Some of the upper level staff were not friendly AT ALL ... We didn't get welcomed in a friendly way and there were times like we felt like being there just caused more work for them. The couple that drove the kids around on the train were super nice. We loved them.
Sep 07, 2021
Always a great place to stay. Bathrooms were very clean.
Sep 10, 2021
Excellent staff, especially Stephanie! Campground is quiet and peaceful. A great stay!
- Dylan Ross on Google