Fredericksburg / Washington DC South KOA Holiday Recreation
Please come join us between Memorial day weekend to Labor day weekend to experience our family fun activities that everyone will sure to love!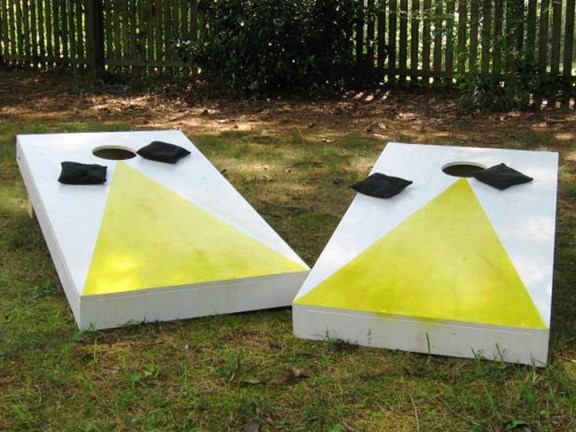 Cornhole
Ask our front desk for details and availability
Cornhole matches are played with two sets of bags, two platforms and two to four players
Cornhole is an international lawn game in which players take turns throwing bags of corn (or bean bags) at a raised platform with a hole in the far end. A bag in the hole scores 3 points, while one on the platform scores 1 point. Play continues until a team or player reaches (or exceeds) the score of 21.
Get your teams together and have a friendly Match! GOOD LUCK!!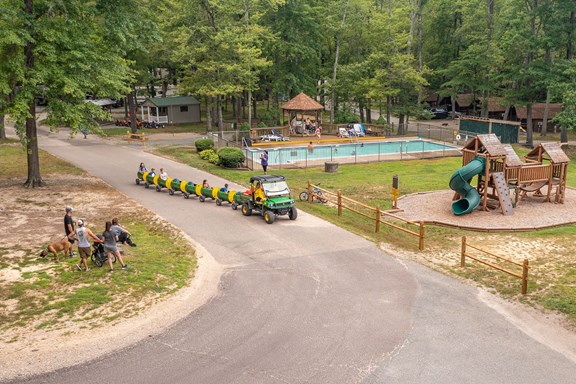 Barrel Train
Train Ride Barrel Style! Join the fun, schedule posted in General Store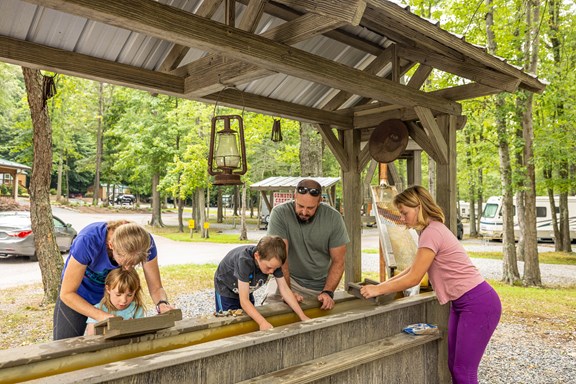 Gemstone Creek Mining Company
Gemstone and Fossil Panning.  A new activity to enjoy at the Fredericksburg KOA.  Pan for treasures, such as sharks teeth, fossils, rubies, emeralds, and many other gemstones.  Buy your supplies at the store, then go enjoy some fun with the whole family!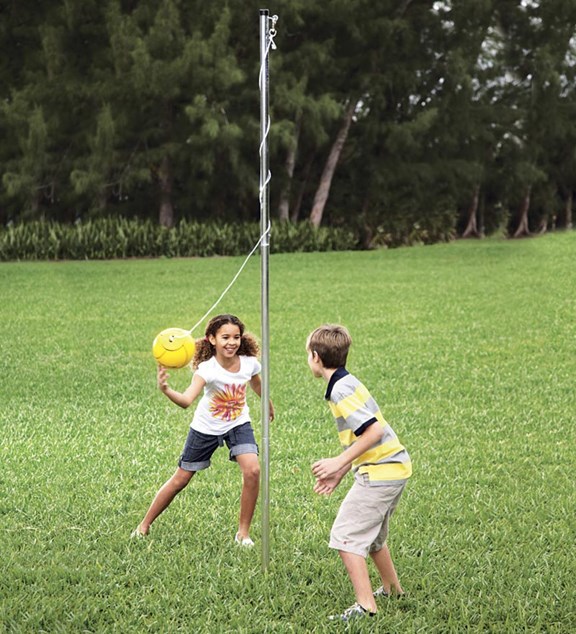 Tetherball
We now have Tetherball!! 
Tetherball: is a game for two opposing players. The equipment consists of a stationary metal pole, from which is hung a volleyball from a rope or tether. The two players stand on opposite sides of the pole. Each player tries to hit the ball one way; one clockwise, and one counterclockwise. The game ends when one player manages to wind the ball all the way around the pole so that it is stopped by the rope. It must not bounce.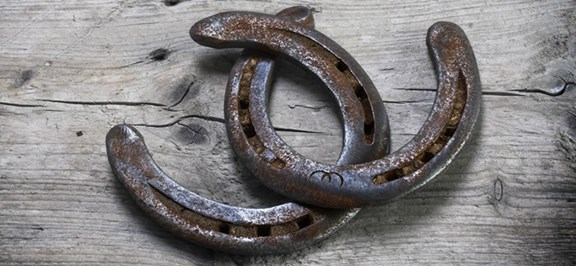 Horseshoe Pit
We NOW have horseshoe pits!! Come try your luck!!!
Ask our front desk for details and availability
Horseshoes is an outdoor game played between two people (or two teams of two people) using four horseshoes and two throwing targets (stakes) set in a sandbox area. The game begins with a horseshoe toss to decide who goes first. The winner of the toss throws both horseshoes—one at a time—at the opposite stake, and then the second player throws both of their horseshoes—again, one at a time—at their end. After scoring, the next round is done in reverse order, or by throwing back at the original stake. Play continues until one player has at least 15 points at the end of a round. Games are generally played to 40 points, or a shoe limit of 40 or 50 shoes. The horseshoes can be made of either plastic or metal.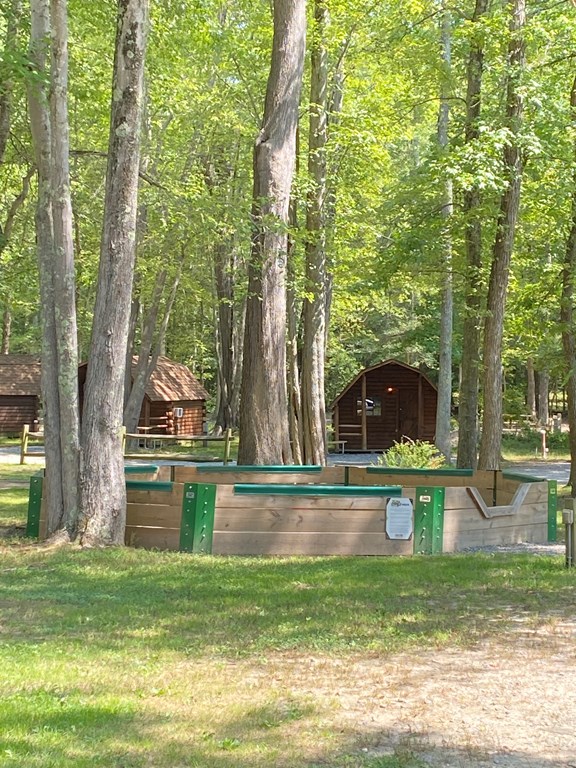 Gaga Ball Pit
Gaga is a fast paced, high energy sport played in an octagonal pit. The more players the better! Dubbed a kinder gentler version of dodge ball, the game is played with a soft foam ball, and combines the skills of dodging, striking, running, and jumping, while trying to hit opponents with a ball below the knees. Players need to keep moving to avoid getting hit by the ball. Fun and easy, everyone gets a serious workout.
Local Area Recreation