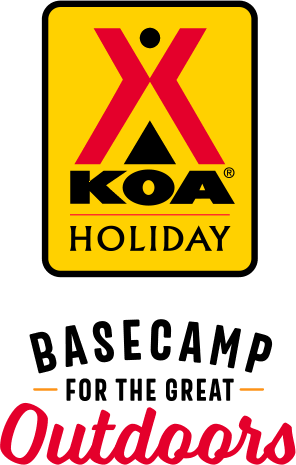 KOA Holiday Campgrounds
Whether you're exploring the local area or hanging out at the campground, KOA Holidays are an ideal place to relax and play. There's plenty to do, with amenities and services to make your stay memorable. Plus, you'll enjoy the outdoor experience with upgraded RV Sites with KOA Patio® and Deluxe Cabins with full baths for camping in comfort. Bring your family, bring your friends, or bring the whole group – there's plenty of ways to stay and explore.
KOA Holidays Feature:
RV Sites with a KOA Patio®
Deluxe Cabins with full baths
Premium Tent Sites
Group meeting facilities
Directions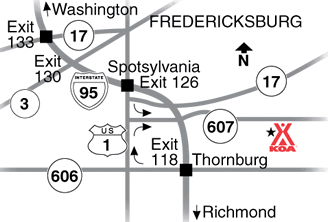 Located midway between two I-95 exits.
If traveling Southbound:  take Exit 126 for Spotsylvania, south 4 miles on US 1, left on VA 607.
Northbound:  Exit 118 for Thornburg, left to US 1, north 4 miles on US 1, right on VA 607. We are located 2.5 miles south on VA 607.
Get Google Directions
Apr 06, 2021
We Had a great time we all enjoyed the Easter activities.over all great and clean. Very nice staff .we will be back
Apr 05, 2021
We love this KOA! Staff is so friendly and the place is so clean.
Apr 01, 2021
As with all my visits to the Fredericksburg KOA, all aspects of my visit were excellent. The staff was warm and welcoming, the grounds were perfectly maintained, and the cabin was very clean and comfortable. Though this KOA is very convenient from I-95, there is no road noise and the feel is more of a mountainside campground. My preference when traveling this route is to try to stay at this KOA.
Mar 31, 2021
We enjoyed our cabin and fire pit. The store clerk was very friendly and helpful!
Mar 26, 2021
Ive stayed a couple times here, and this visit was a great visit. Our cabin was clean and we enjoyed our Keurig. We were actually able to have Doordash deliver one day at our site. We love that the parkbis pet friendly even for our super big boy! They were doing alot around the campground to spruce up getting ready for the busy season! They really had cleaned up the Camp K9 since the last time.
Mar 19, 2021
Campground was easy to find, quiet, friendly and clean. I stayed in a deluxe cabin, again, as this was my second visit to this KOA. I prefer staying here during my travels over any hotel. I had a great night sleep, coffee and coffee maker was supplied in the room. The cabin was clean, heated and cozy. I will be back!
Mar 18, 2021
This was our first stay at a KOA and we enjoyed it! Very clean, quite, and peaceful.
Mar 15, 2021
Our family had a excellent time at Fredericksburg/Washington DC S KOA. My daughter lost her cellphone; the staff and other families at the camp was very helpful in searching for her iPhone but no luck. If your staying at this KOA, and a purple iPhone 11 in a clear case, please turn it into the office. A Reward/Finder fee will be provided, thanks and join your stay.
Mar 15, 2021
Welcoming pretty and clean ...all amenties in our cabin
Mar 01, 2021
Camping cabin was nice, enjoyed the patio and fire pit. Could have used a cleaning on the table and kitchen counter, both were sticky when we arrived. Also what looked like mold was on ceiling above top bunk but it wiped off with a cloth. Office staff was not too friendly when I had questions to ask. Bed comfortable but would have been nice to know trains came through in the middle of the night.
Feb 22, 2021
We had a great time. Very clean and easy to navigate. Friendly staff made it even better. Not sure of exact amenities and activities because it was very icy and cold (Feb.). Would definitely return.
Feb 15, 2021
It was lovely! The weather was crappy but the cabin was cozy and we enjoyed our time there away from the world. The staff was friendly and very helpful with anything we needed. They made sure the steps were salted and safe to walk on. We had a bit of an ice storm And the staff was on top of it ensuring our safety and to make sure we never lost our power or our heat.
Feb 12, 2021
This is our third time staying there. We are not campers, but we have a home in Florida and due to covid and my chronic illness, we can not fly there or stay in a hotel. Your cabin provides me a clean, safe place to spend the night on our drive. We may never go back to hotels.
Feb 02, 2021
Always enjoy staying here. The staff is super professional and friendly. The power went out at about 12AM and therefore nothing in the cabin worked, no fault of the KOA. I attempted to find an after hours number but couldn't find one, not saying there wasn't one, I just couldn't find it. Overall though, will always be a patron here.
Feb 01, 2021
We stayed in a cabin, and it was a great alternative to a hotel for us. The cabin was very comfortable and accommodating with shower and restroom on board.
Jan 26, 2021
first time staying in a KOA camping cabin, and really enjoyed it. The person I spoke to on the phone explained the late check-in process to me, and when we arrived, the cabin was clean, easy to find, and nice and warm.
Jan 20, 2021
Stayed in the deluxe cabin with my pets. This is one of the few KOAs that allow pets in the deluxe cabin which is wonderful. It beats having to go outside on 30 something degrees to use the community bathroom. Thank you!!!!!!
Jan 19, 2021
Beautiful park, friendly staff, and would love to stay again. Thanks for a great place stay while visiting DC.
Jan 08, 2021
The Camp host and hostess were very helpful and friendly. They assisted us with local attractions and transportation information as well. Nice clean facilities. Wonderful trip!
Jan 02, 2021
I was great there nice there
Dec 27, 2020
The cabin was very clean and comfortable, it was exactly what I needed!
Dec 21, 2020
Really nice campground and cabin. We enjoyed the deck and firepit very much. A very friendly and cute cat came to visit. I didn't know that this amenity was provided with the cabin!
Dec 15, 2020
This was our first time staying at a KOA , everything was great and the cabin was very clean. My only concern was that I wore a face mask out of respect, but not all the employees wore masks. Other than that it was great!
Nov 30, 2020
Our stay in a cabin without a bathroom was excellent. Bathhouse facilities were clean and well-maintained even though the campground was quite full over the Thanksgiving holiday.
Nov 25, 2020
Been coming since you open backup May 15, 2020. Coming back every two weeks in a cabin. I have always enjoyed my stay. I made a reservation for November 27th Through 29th. I would like to know my cabin number. I have stayed in 51 and 47. Please let me know. Thank you Rick
Nov 25, 2020
One of my most favorite locations to stay. This is a beautiful, mountain-like setting, yet it is located near I-95 and Washington D.C.. All staff members were warm and welcoming.
Nov 24, 2020
Wonderful stay. Great playground. Very clean.
Nov 05, 2020
It was a great weekend. My only concern was women's bathroom on Saturday night / Sunday morning before 9 was gross. It needs an extra bit of attention during a big weekend.
Nov 04, 2020
We stayed in a delux cabin and loved the amenities. The patio and fire pit were really nice. We loved the full sized gas grill, also! We really appreciate the minor details inside the cabin (including ample towel bars, retractable clothesline over the bathtub, hooks, ample electrical outlets, USB ports and built-in shelving). We'll definitely consider returning the next time we are in the area!
Nov 03, 2020
Everything was wonderful as normal. This is not our first stay and won't be our last. Only complaint I had was the charge for extra child but on the website it said 4 and under free....and the other complain is the heater was not working properly inside of the cabin.
Nov 02, 2020
Mattress in cabin was way too soft.
Oct 26, 2020
Staff was very surley when asked a question about our site. The staff person drove up on his cart did not get off & said loudly "is there a problem here?"He proceeded to talk right over what our concern was. Not friendly a smile & a wave wouldnt hurt . Sorely disappointed with the new management. Have camped here since 2008 . Poor customer service.
Oct 26, 2020
WIFI is very poor quality and lot of issue to communicate with friends and family also to call each other inside the Camp. This needs to be improved Immediately.
Oct 26, 2020
It was a great to be there, kids activities, nice community - felt safe and secure. Only reason I am giving it 4 start is due to very poor WiFi connection. If WiFi is offered, it should be adequate service, not offering poor service.
Oct 26, 2020
Our trip overall was nice, until the morning we were leaving, as we discovered someone had stolen our bag of firewood from the porch of our camping cabin. The front desk staff didn't seem as concerned about this as I would have hoped.
Apr 16, 2021
Great place to stop. Easy on/off interstate.
- Jerry Durmis on Google
Apr 17, 2021
Clean bathrooms. Nice facility. Concierge location to everything.
- Michael Holmes on Google